Cakes, oh my! I haven't made a cake in so long. I usually stick to raw desserts and smoothies, as you probably already know. But last weekend, I tried a delicious paleo apple cake and suddenly felt inspired to make a paleo cake of my own. In honor of bunnies, eggs and flowers, I am happy to share this dairy, refined sugar and grain-free Coconut Cake with Strawberry Whipped Coconut Cream Frosting with you.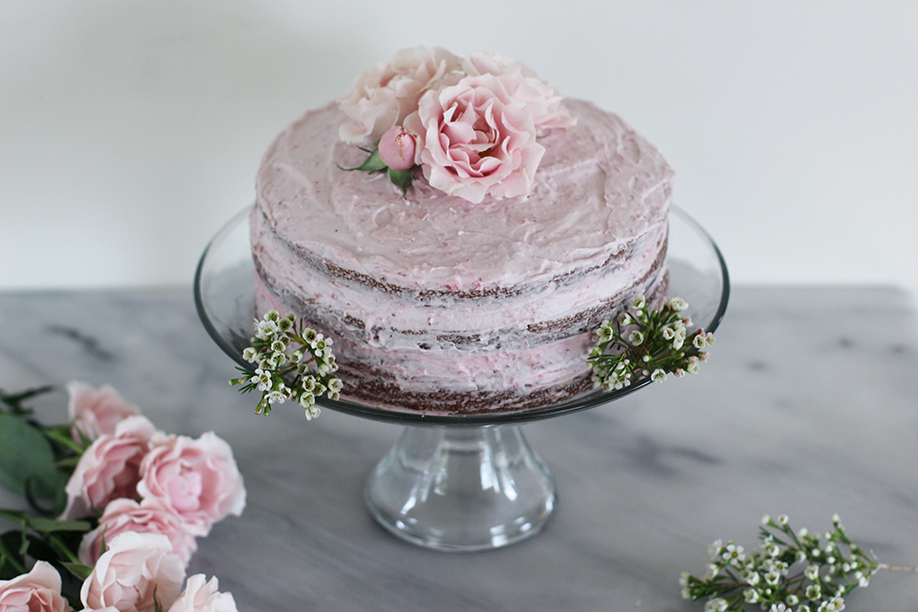 Coconut Cake with Strawberry Whipped Coconut Cream Frosting
[Serves 12}
Cake
3/4 cup coconut flour
3/4 coconut oil, melted
3/4 maple syrup
1 cup dried coconut
10 eggs
1 tablespoon vanilla extract, or vanilla bean
1 teaspoon baking soda
a pinch or two of sea salt
Frosting
2 cans full-fat coconut milk, chilled overnight
1 cup fresh strawberries
1 teaspoon vanilla extract, or vanilla bean
[Optional] Sweetener of choice
[Night before:] Place two cans of coconut milk upside down in the refrigerator overnight. This will allow the cream to settle to the bottom, making it easy to separate the liquid.
Preheat oven to 325°. Grease two 7.5″ cake pans with coconut oil.
Mix the dry ingredients (coconut flour, baking soda and salt) in a small bowl. In a larger bowl, using an electric mixer, combine the eggs, melted coconut oil, maple syrup and vanilla extract until smooth. Slowly add the dry ingredients and mix until well combined.
Pour cake batter evenly into two pans. Bake for about 35 minutes, until a toothpick inserted in the center of the cake comes out clean.
Remove cake pans from oven and allow to cool. After cooling and before frosting, slice each cake into two layers, creating four layers total.
To make the frosting, blend strawberries in high-speed blender or food processor until pureed. Transfer strawberry puree to small saucepan. Bring to a boil then turn down heat to simmer, stirring often, for about 20 minutes. Remove from heat and allow to cool completely.
Open the cans of coconut milk from the bottom. You can save the coconut liquid for smoothies. Scoop the thick coconut cream into a mixing bowl. Add the vanilla extract and sweetener (if using). Using a hand mixer, whip on medium speed until light and fluffy. Fold the strawberry puree into the whipped coconut cream until well combined.
Spread an equal amount of the strawberry coconut cream frosting in between each layer of cake. Decorate with fresh flowers, berries or dried rose petals. You probably won't have any leftovers, but if you do, store in an airtight container for up to 5 days.