Tacos are one meal we never get sick of around here. These tacos specifically. This year being the International Year of Pulses, I've been incorporating more pulses (dry peas, chickpeas, lentils and beans) into my diet than ever before. Packed with protein and rich in fiber and folate, pulses are an affordable, delicious and sustainable food choice. I love adding chickpeas or kidney beans to just about any salad. This lentil salad recipe is also one of my all-time favorites. Join me in taking the Pulse Pledge by committing to eating pulses once a week for 10 weeks. It's easy and inspiring!
You can make the black beans from scratch using dry pulses, or for convenience, keep your pantry stocked with canned pulses. Before mashing the yams, I roasted them in the oven to get a deeper flavor, but you could always steam them and then mash if you prefer. This recipe requires little prep. Just be sure to soak the cashews overnight in the refrigerator, or for at least 4 hours. I've said it before, but I just love the creaminess cashews bring to vegan dishes. This spicy sauce is the perfect addition to these tacos. I garnished these tacos with avocado and cilantro. Scallions and salsa would also be great toppings.
[This post was sponsored by USA Pulses & Pulse Canada. All thoughts and opinions are my own.]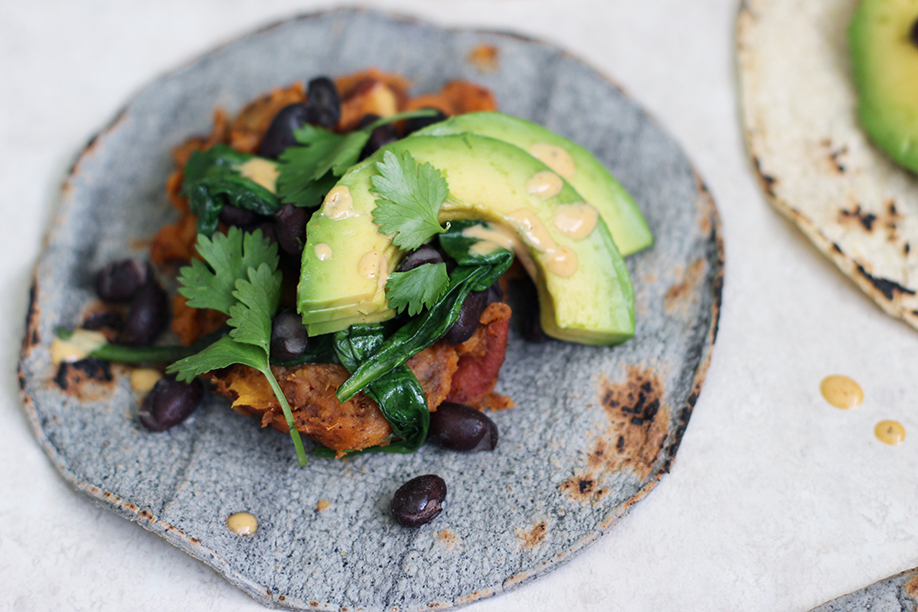 Roasted Yam, Black Bean and Spinach Tacos with Cashew Cream Sauce
[Makes 8-10 tacos]
For the tacos:
1 3/4 cup cooked black beans, equivalent to 1 can of beans
2 medium yams
2 large handfuls of spinach
3 teaspoons chili powder
3 tablespoons of oil (I used avocado oil)
Juice from 1/2 a lime
Corn tortillas (I used a mix of blue and white corn)
For the cashew sauce:
1 cup cashews, soaked overnight
2/3 cup water
2 1/2 tablespoons nutritional yeast
1 tablespoon lime juice
1 teaspoon cumin
1/2 teaspoon chili powder
1 chile in adobo
1 small garlic clove
Sea salt, to taste
To garnish:
Avocado
Cilantro
Scallions
Lime
Preheat the oven to 425°. Cube the yams then toss with 2 tablespoons of the oil and 3 teaspoons chili powder. Spread on a rimmed baking sheet, and roast for 25 minutes, turning 2-3 times during cooking.
Blend the soaked cashews, water, yeast, lime juice, cumin, chili powder, chile in adobo, garlic clove and sea salt in a high-speed blender until very smooth. Add more water to achieve desired consistency.
Over medium heat, sauté the black beans and spinach in 1 tablespoon of oil until the spinach is wilted.
Meanwhile, once the yams are done, move to a bowl and using a fork or masher, mash to desired consistency.
Heat tortillas. (I place the tortillas directly on my gas range burner to heat up. This gives them a grilled taste.) To assemble tacos, scoop a couple spoonfuls of the mashed yams onto tortillas then top with spinach and black bean mixture. Drizzle with cashew sauce, and garnish with cilantro, avocado and any other toppings you are using. Serve immediately.