My incredibly talented friend and fellow food-lover, Shannon Sims and I got together this week to shoot 3 holiday-inspired recipes that I'll be sharing here on Wu Haus over the next few weeks. First up, this pie is an unexpected twist on a holiday classic. And Thanksgiving just got a whole lot better! After finding this recipe in the November issue of Bon Appétit, I knew I had to put the Wu Haus spin on it. Shannon also happens to be very well versed on raw food and making raw desserts, so needless to say, she was the perfect person to help me develop this recipe.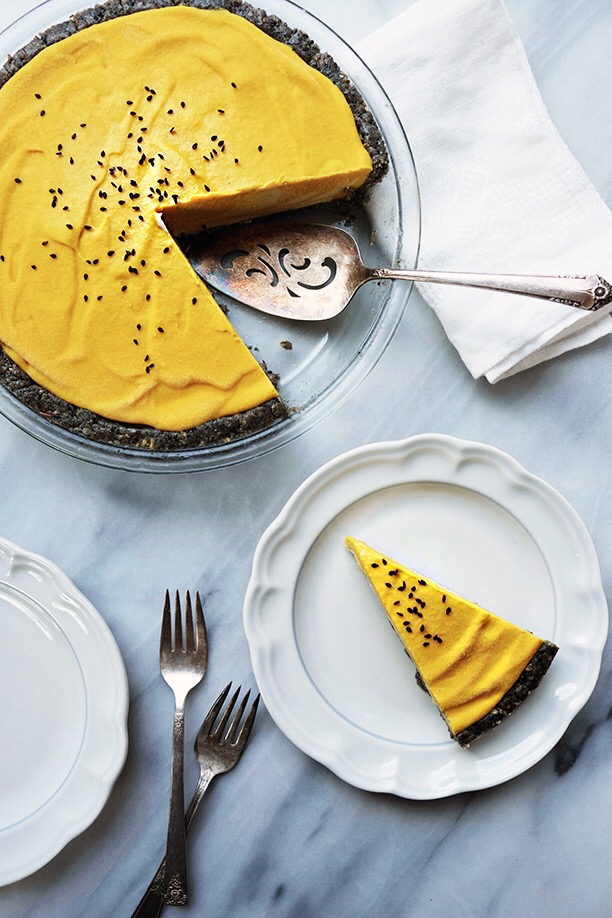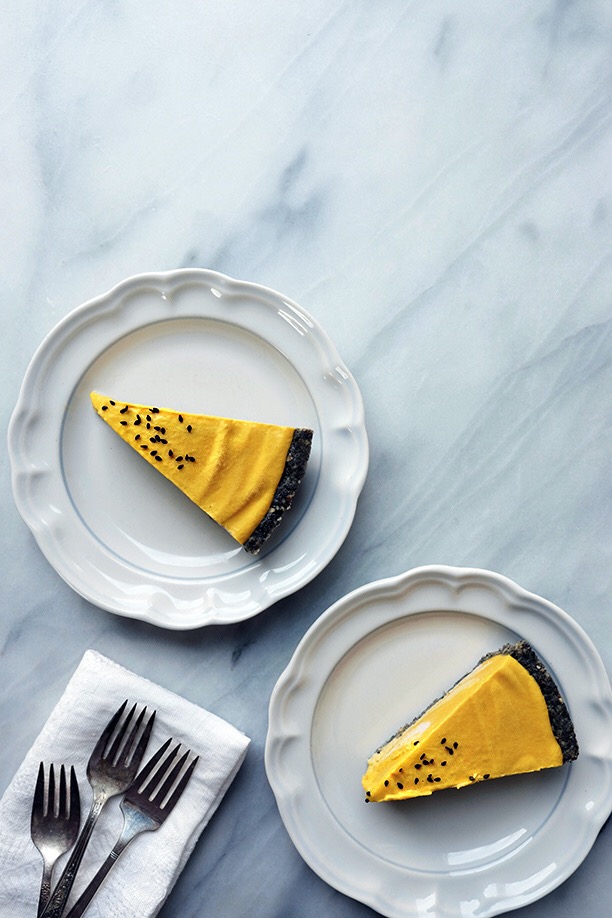 If you want to make it completely raw, you could experiment with using raw pumpkin and extra coconut mylk in place of the pumpkin puree. I'm sure it would work great. Otherwise, this pie is vegan and refined sugar and grain free. The crust can be made ahead. Just cover the pan with plastic wrap and leave in the refrigerator over night until you are ready to make your filling. Be sure to allow a couple hours for the pie to set in the freezer once it's constructed. Wishing you all a lovely holiday filled with family, friends, delicious food, love and gratitude.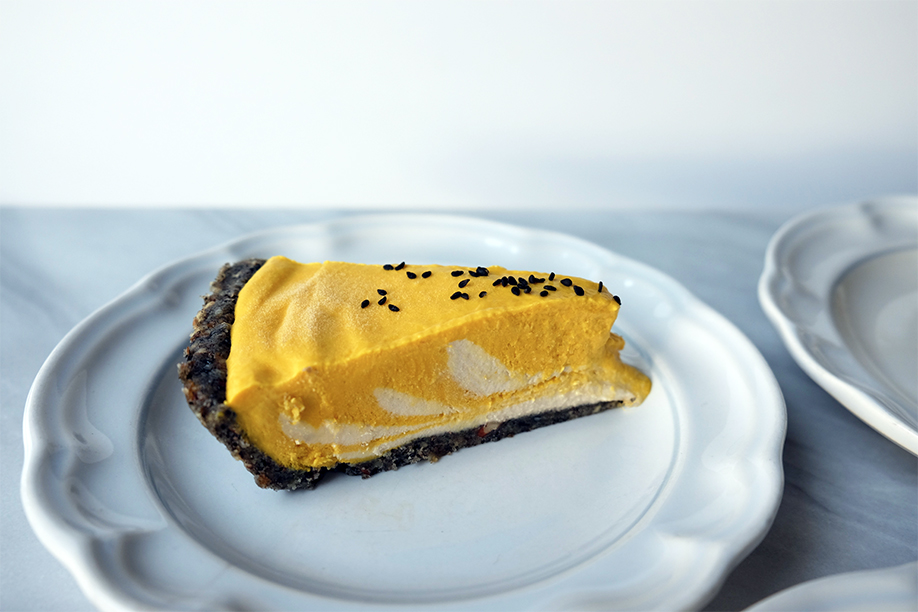 Mostly Raw Pumpkin-Miso Pie with Black Sesame-Nut Crust
Inspired by Bon Appétit
[Serves 8]
For the black sesame-nut crust:
1/2 cup almond meal
1/2 cup raw walnuts
1/2 cup raw pecans
1/3 cup black sesame seeds, finely ground
6 dates
2 Tablespoons extra virgin coconut oil
Pinch of salt
For the filling:
2 cups raw cashews, soaked in water for at least 6 hours
2 Tablespoons white miso
1 1/2 Tablespoons extra virgin coconut oil
1/2 cup + 1 Tablespoon coconut milk, from a carton (can use any nut or soy mylk)
1/3 cup maple syrup
2 Tablespoons sunflower lecithin
1 Tablespoon water
1 teaspoon vanilla extract or vanilla powder
Pinch or two of salt
1 1/2 cups pumpkin puree
1 Tablespoon miso
3 Tablespoons coconut milk
2 Tablespoons maple syrup
Pinch of salt
Soak the raw cashews in water in the refrigerator overnight, or on the counter for at least 6 hours.
To make the crust, finely grind black sesame seeds in a coffee grinder or mortar and pestle. Set aside. In a high-speed blender or food processor, pulse walnuts and pecans until finely ground. Some small chunks okay. Add the dates and coconut oil and process until well combined. Finally, add the almond meal and ground black sesame seeds and process until combined. The dough should stick together when pressed between fingers.
Using a 9″ pie pan, press the dough evenly throughout the bottom of the pan until the entire bottom and sides are covered. Cover the crust with plastic wrap, and place pan in the freezer to chill while you make the filling.
In a high-speed blender, combine the first set of pie filling ingredients (cashews, miso, coconut oil, coconut mylk, maple syrup, water, vanilla and salt). Blend on medium until very smooth. Pour 3/4 of the mixture into a bowl and set aside.
Add the remaining ingredients (pumpkin, miso, coconut mylk, maple syrup and salt) to the remaining 1/4 of the filling in the blender and blend on medium until very smooth.
Remove the crust from the freezer. Using 2 separate containers of the same size (a 1 cup measuring cup works great), alternate pouring the pumpkin filling and the cream-colored filling on top on each other in the center of the pie until the mixture spreads to the edges and fills the whole pie. This will create a subtle marbling that you can see when you cut into the pie. Using a rubber spatula, smooth over the top of the pie to create an even finish.
Place pie in the freezer and allow to set for about 2 hours. Remove pie from freezer 10-20 minutes before serving. Garnish with black sesame seeds. Cut into 8 slices and enjoy!
Store any leftovers in an airtight container in the freezer or refrigerator. Will keep for quite a while in the freezer. Just be sure to remove from freezer 30 minutes before serving, or move to the refrigerator several hours before serving.