I decided kind of last minute and on a whim that I wanted to do some sort of cleanse post holidays and Mexico travel. I looked into Whole30's basic rules, and decided to follow similar guidelines. For the month of January, I'm eliminating sugar, grains, diary, legumes, eggs and alcohol. I'm not a huge fan of some of the language and "rules" of Whole30, but I like the basic guidelines of their cleanse. I created the #Wu30 hashtag to build a community of my followers who are cleansing for the month of January. I've opened up this group to people strictly following Whole30, vegetarians and vegans and anyone else who may be following a modified version of the cleanse. Most importantly, I want to encourage you to do what is best for you. I've chosen to eliminate eggs because they don't agree with me. I've also chosen not to take a hard stance on some of the rules and mentality behind the Whole30 plan. Ultimately, you do you! You are the only person who knows what is best for your body, what foods you may use as crutches and what kind of cleanse is right for you. Trust yourself and what your body (not your mind) is telling you.
This week's meal prep includes roasted chicken, lamb meatballs (literally just local grass-fed ground lamb, chopped dill, basil and S&P rolled into balls, browned in a skillet on the stovetop and then finished in a 350° oven for a few minutes), roasted delicata squash and rainbow carrots, homemade bone (or veggie) broth (recipe here), romesco sauce, purple sweet potato and zucchini noodles, my go-to mustard salad dressing, mixed lettuce and radicchio, homemade almond butter and cauliflower rice. Also prepped, but not pictured: homemade coconut and Brazil nut mylks. These are just the items I've prepped ahead of time (or made from scratch) to make it quick and easy to create meals for the workweek. Of course, I'm supplementing this with other fresh veggies, fruits, seeds, nuts and fresh seafood.
My protein breakdown for the week is as follows: Chicken 5 meals a week, seafood 3 meals a week, lamb 2 meals a week and the rest plant-based options. Of course, if you're not eliminating eggs, you could certainly add those in as a protein source. If you are doing the cleanse vegan or vegetarian and aren't eliminating legumes, you could prep some roasted garbanzo beans, as well as making a big pot of whatever your favorite bean is. I've been doing smoothies as my breakfast everyday, and I'm happy with how I feel so far. On the weekends, I might switch it up and do a sweet potato hash or chia pudding.
A few recipe ideas using the meal prepped items this week:
Zucchini noodles with romesco (recipe below) and lamb meatballs served with simple side salad with avocado
Cauliflower rice (heated in a skillet with some avocado oil over medium-high heat for about 5 minutes or until slightly browned), roasted chicken (recipe at the end of this post), roasted carrots, arugula, preserved lemon and romesco. See inspiration here.
Bone broth soup with sweet potato noodles and other veggies. See inspiration here.
You could add a pesto and a few other sauces to your meal prep mix to have some variety to play with. I'm planning to make a few pesto variations that I hope to share in the coming weeks. I also have 2 new recipes planned for the blog for next week, so stay tuned for those! Also planning to share my weekly meal prep on Instagram for the remainder of the cleanse to give you guys an idea of what I'm eating week to week.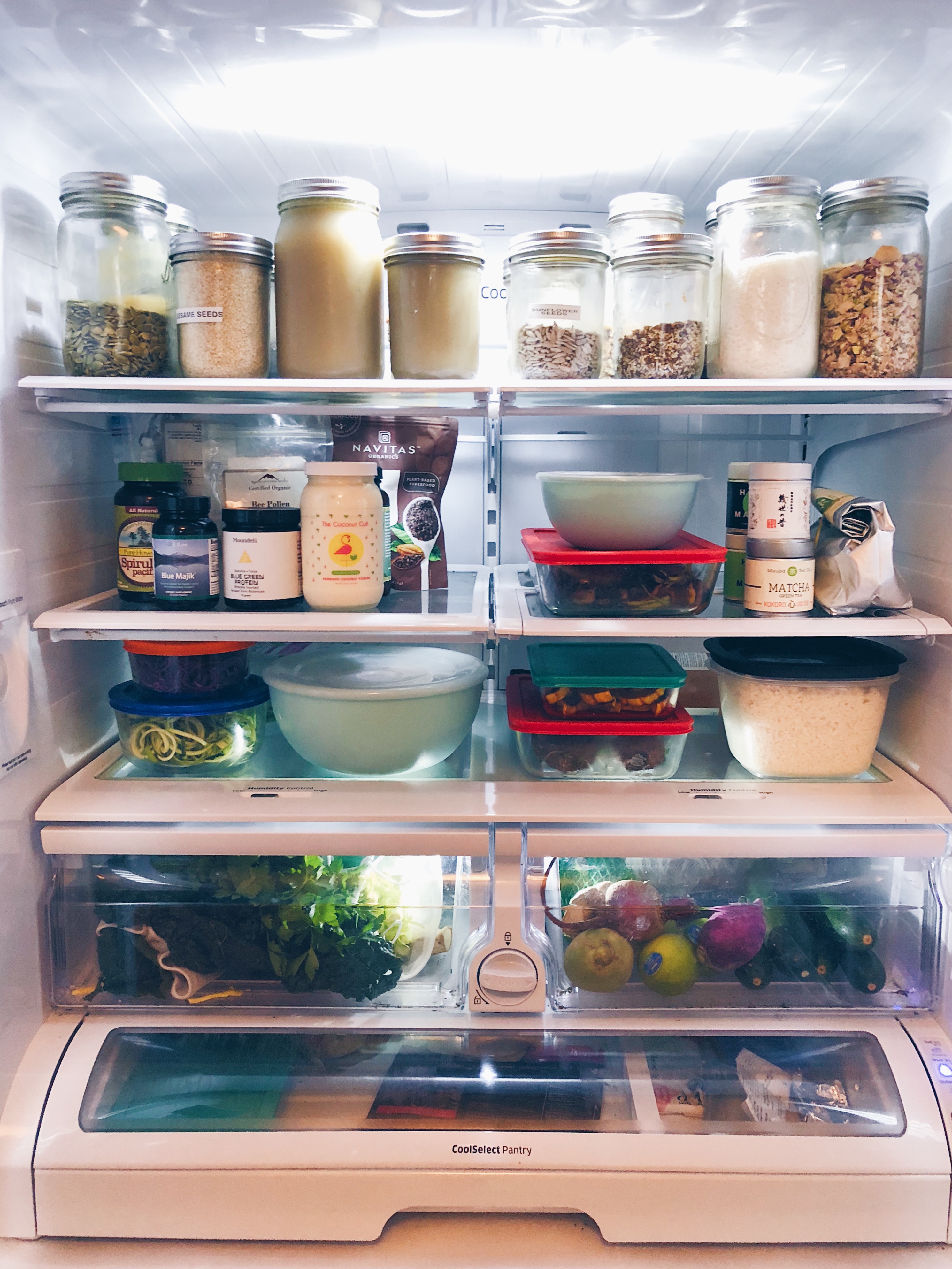 My Top Tips for Success on a Cleanse:
Be compassionate with yourself. And take it easy!
Remember you are cleansing. It's not necessarily going to be all good all the time. It can be frustrating. Emotions can come out. You may feel like you don't have the energy you normally have. And that's all okay. Notice how you're feeling, what emotions come up and how you respond to the cleanse overall. All of these things can teach us a lot about who we are as people. Take it all in, be easy on yourself and remember how amazing and brave you are for even getting this far.
Meal prep and plan.
This helps take the guess work out of what you are going to eat from meal to meal. When you're cleansing or eliminating certain foods and are eating a diet that is different from what you normally eat, the last thing you want to be is starving when you're trying to figure out what to make for lunch everyday. I don't plan out exactly what I'm going to eat for every meal, but the meal prepped items help and then I have about 3-5 meal ideas beyond the meal prepped items that I want to make that week.
Movement + meditation.
This is key for me. If you're feeling lower energy, try a restorative or yin yoga class (remember tip #1!). If you are feeling more energetic, feel free to go for your normal workout routine. I've done so many cleanses over the years that I'm at a point where for the most part I can go about my typical routine, but of course I have days where I need to be way more gentle with myself and not workout at all. I think committing to a 5-10 minute meditation practice everyday (preferably in the morning to start your day) is a great tool for success. Meditation allows me to ground and center. After meditating I feel way more in my body and ready to take on whatever comes my way. If you're looking for an at-home movement + meditation, try the video Kait and I just released.
Hydrate! Water and herbal tea.
Drink more water than you normally do. I also love to drink more herbal tea than I normally do. I usually have 3-4 cups a day when I'm cleansing. It can be great to incorporate teas with herbs for liver detoxing as well as herbs that aid in digestion. Traditional Medicinals, Mountain Rose Herbs and Pukka both make great blends.
Self-care central.
Seriously. Self care like never before. I already have plans to soak and sauna both days this weekend. If you have the means, soaking, saunaing, acupuncture, cupping and massage are all great to do while cleansing. All promote relaxation while helping the body release toxins. At home, I'm dry brushing everyday and taking baths 2-3 times a week. Overall, try to give your body some extra love. Whatever that means for you.
Ease off the cleanse. Don't just dive right back into old habits.
Tendencies are to jump right back into old eating habits immediately following the cleanse. I can't stress enough how important it is to take it slow. Give your body a chance to process the new things you are throwing at it. Slowly start to reintroduce foods, one at a time. This will also be helpful in finding out which foods, if any, trigger digestive upset or any other symptoms in the body.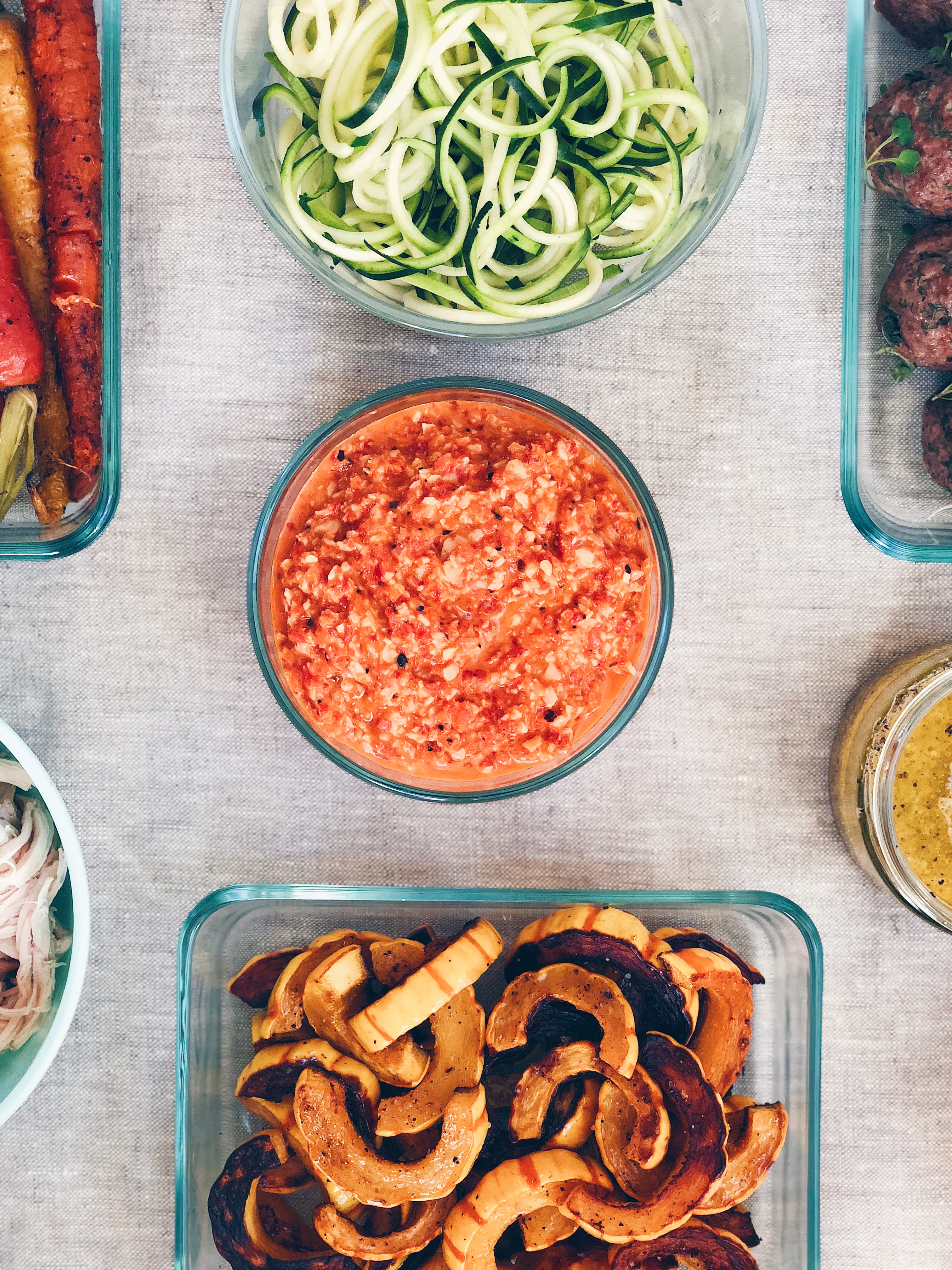 Romesco Sauce
[Makes about 4 cups]
5 roasted red peppers
1 1/2 cups slivered blanched almonds
1 large shallot, chopped
1 Tablespoon white wine vinegar
Juice from 1 lemon
1/3 cup + 2 Tablespoons extra virgin olive oil
2 teaspoons salt
1 teaspoon urfa pepper (or black pepper if you can't find urfa)
Pulse all ingredients in a food processor to desired consistency (should be chunky and crunchy still).
My Go-To Salad Dressing
[Makes 1 1/2 cups]
1 cup extra virgin olive oil
Juice from 2 small lemons
1/4 cup mustard (I use stone ground or dijon)
1 teaspoon (or more) sea salt
1 teaspoon freshly ground black pepper
Whisk all ingredients together. Store in an airtight jar on the counter for up to 3 days
[Note: Be sure to use a whisk, not a fork, especially if you're using dijon. This will help emulsify the dressing making it more even and smooth.]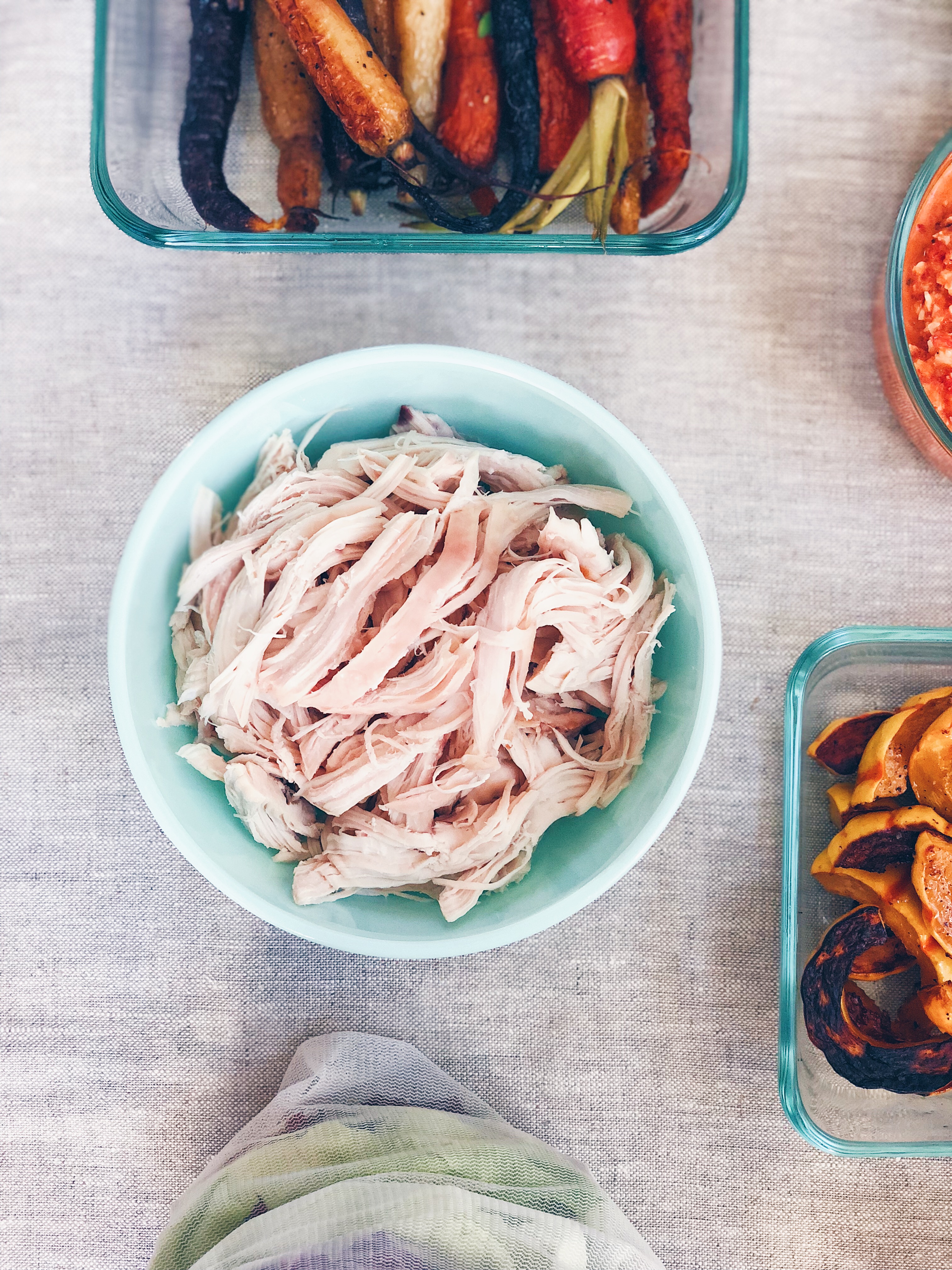 Slow-Roasted Chicken

2 bone-in breasts (skin on)
4 thighs (skin on)
Sea salt
Allow chicken to come to room temperature before cooking – leave out on counter for 30-45 minutes. Preheat the oven to 250°.
Pat chicken dry with paper towels. Using a knife, make a slit on one edge of the skin. Peel open skin (but do not remove) and generously sprinkle and work salt onto the meat under the skin before covering the meat again with the skin as it was.
Roast chicken pieces on a rimmed baking sheet for about 2 hours or until a thermometer reads 165°. Remove from oven and allow to rest for 10-15 minutes before shredding meat. Discard skin. Save bones for bone broth. Store chicken in an airtight container in the refrigerator for 3-4 days. You can also freeze the chicken by placing the meat in a container with bone broth. Chicken and broth are safe in the freezer for up to 9 months.