I get countless questions on what I keep stocked in my pantry, and I'm finally telling all! I enlisted the help of my dear friend, Shannon Sims, to help me replicate my pantry on a shelf we painted and set up in my living room (TRUE CONFESSIONS!). The Wu Haus Kitchen is going through a remodel right now, so I couldn't share my actual pantry, which is a bunch of bins packed full with dry goods that are currently being stored in my dining room. Anyways, I'm excited to share with you the items I always keep on hand at home. As you can tell from the photos, I favor buying in bulk and storing everything in reusable jars. I'll be doing a similar post with what I keep in my spice cabinet in the next couple months, so stayed for that!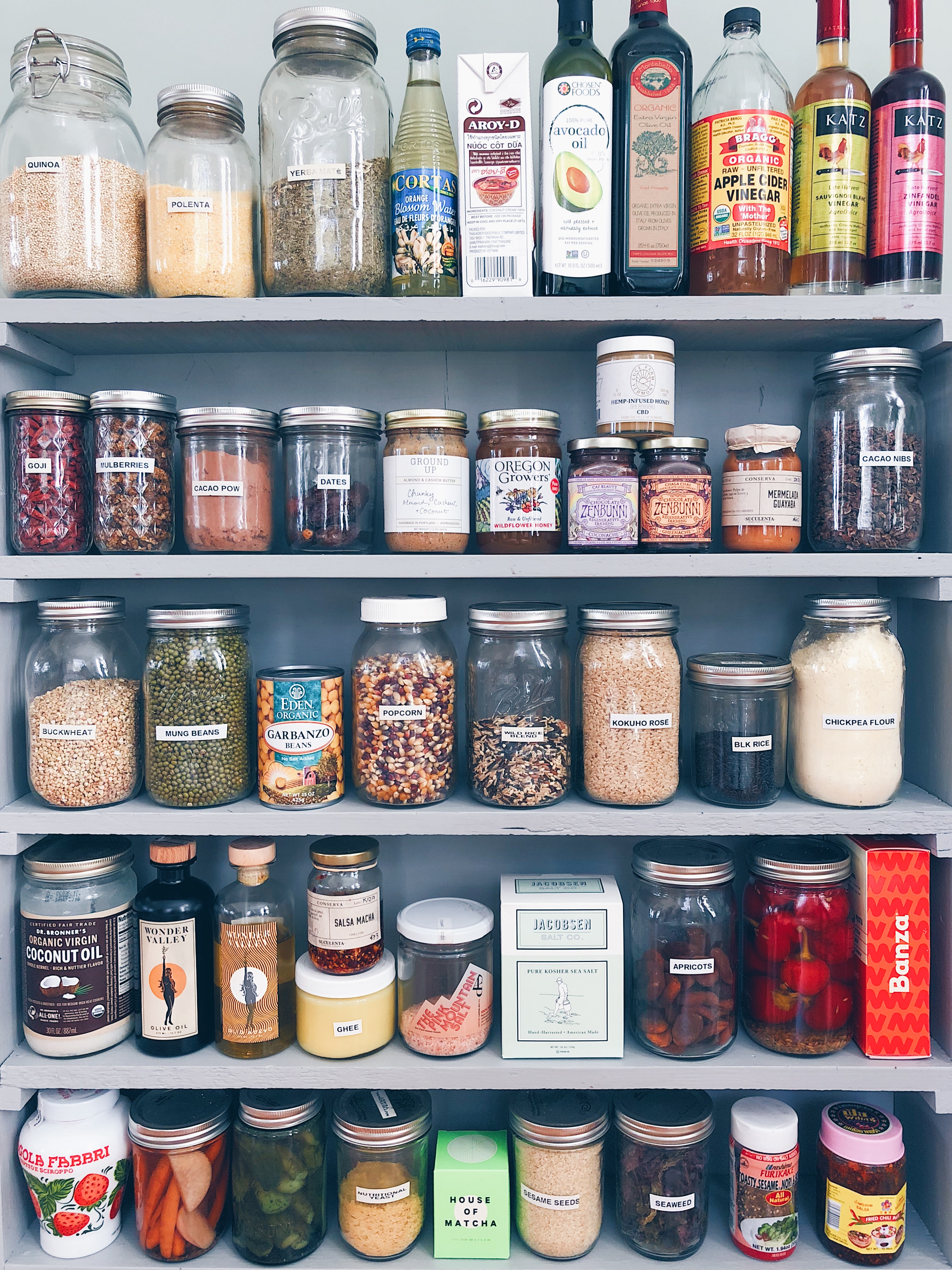 High quality extra-virgin olive oil
One of my favorite foods on earth. I could seriously survive on olive oil if I had to. I usually have a few varieties in my pantry. Read my top tips for choosing, storing and using olive oil.
Coconut butter and oil
If you know me, you know how obsessed I am with coconut butter. I use it in my matcha every morning and for moon milks in the evening. It's also great in smoothies. I buy it in bulk because I move through it so fast. I also always keep coconut oil around for cooking and to use in raw treats, bliss balls and baking.
Avocado oil
My go-to cooking oil. I usually keep 2 bottles on hand at all times. This is the brand I prefer.
Ghee
I love ghee. I don't use it as much as avocado or coconut oil, but I still keep it stocked in my pantry at all times. I love using it in golden milk tea lattes. It is super simple to make, just follow this tutorial.
Salts
Salt may be my favorite ingredient next to extra-virgin olive oil. I love it so much that I usually have 5 different kinds on hand at all times. I love Jacobsen kosher sea salt, pink Himalayan salt, Maldon finishing salt, fleur de sea, sel gris and infused salts like the copal salt I just picked up on my recent trip to Oaxaca.
Dried and/or canned beans
Canned beans are my favorite "I'm lazy and didn't plan dinner" item to have on hand. Dried beans are great if you want to make a big batch of beans for the week, or if you're making homemade hummus. Beans are fiber-rich and a good plant-based source of protein.
Extra matcha
Literally can never have too much matcha. I keep my pantry stocked with a few extra tins just in case I run out of my supply in the fridge. [Note: In case you missed it… Matcha should always be stored in the refrigerator after opening to preserve the flavor.] This brand and this brand are my favorites.
Medjool dates
I love dates SO much. I use these in my bliss balls, and occasionally I throw one in my matcha or moon milk if I'm feeling like I want some sweetness.
Dried apricots
Always go for organic, unsulfured apricots. They will be brown in color, not bright orange like you may be used to. I top these with a little of my favorite nut butter, and this is my go-to sweet treat.
Banza
I really don't know what I did before Banza came along. I love this chickpea pasta so much. I always keep a few boxes on hand for easy weeknight dinners or to cook and add to lunch salads.
Chickpea flour
If you didn't know, I'm obsessed with socca (chickpea flatbread). See here, here and here. Socca batter is SO easy to whip up. It's literally just one part chickpea flour and one part water whisked together and seasoned with salt and pepper and a couple glugs of avocado oil. Let the batter stand for at least 30 minutes before making your socca.
Nut butter
You probably know how much I love this nut butter by now. I seriously can't get enough. I drizzle it over yogurt bowls or eat it smeared on a banana for a simple snack.
Raw wildflower honey
I don't use much honey or sweetener in general, but I always keep honey on hand. I use it occasionally in raw treats, as well as in an apple cider vinegar tonic when I'm feeling the first signs of a sore throat.
Apple cider vinegar
ACV is basically like coconut oil in that it has SO many uses. I'm a strong believer in the magically healing properties of this stuff. I use it in wellness tonics, salad dressings, for quick pickled veggies, and my husband even uses it as a hair rinse.
Quinoa
I've been eating less grains these days, but quinoa is definitely my go-to grain (although it's technically a seed). It cooks up in 18 minutes and is so nourishing and satisfying. I opt for the sprouted kind since it's easier on the digestive system, or if you want to save money, just soak your quinoa over night, drain, rinse well and cook.
100% pure coconut cream
I recently discovered this stuff, and I'm completely obsessed. It's basically a replacement for coconut milk that doesn't have any gums like the canned stuff does. I use it for homemade curries, raw treats and occasionally I'll use it in my matcha if I have leftovers from making a curry this night before. Since it doesn't have any preservatives, it spoils pretty quickly after opening – 2 days.
Cacao nibs
My love for cacao knows no limits. This magical plant food has more antioxidant flavonoids than any other food on the planet. The nibs are delish ground up in smoothies, topped on yogurt bowls or in my Golden Chip Bliss Balls.
Sesame seeds and toasted sesame oil
From homemade tahini to dukkahs, sesame seeds know the way to my heart. I love using them in both sweet and savory preparations. Toasted sesame oil packs a flavor punch and is so great for drizzling over Asian-inspired salads.