In January I asked you guys if a printable grocery list would be something that would be helpful for your weekly shopping trips, and I got a resounding YES! I totally know what it feels like to be overwhelmed at the grocery store. Those moments when even with so many choices and you still reach for the same items week after week. I created this grocery list to share with you the items that I most often buy week after week. It's meant to be a starting place for your shopping trips or at least inspire you to add some of these items to your cart. You can print it off, glance over it for ideas or screenshot it so it's on your phone. Whatever's most useful for you.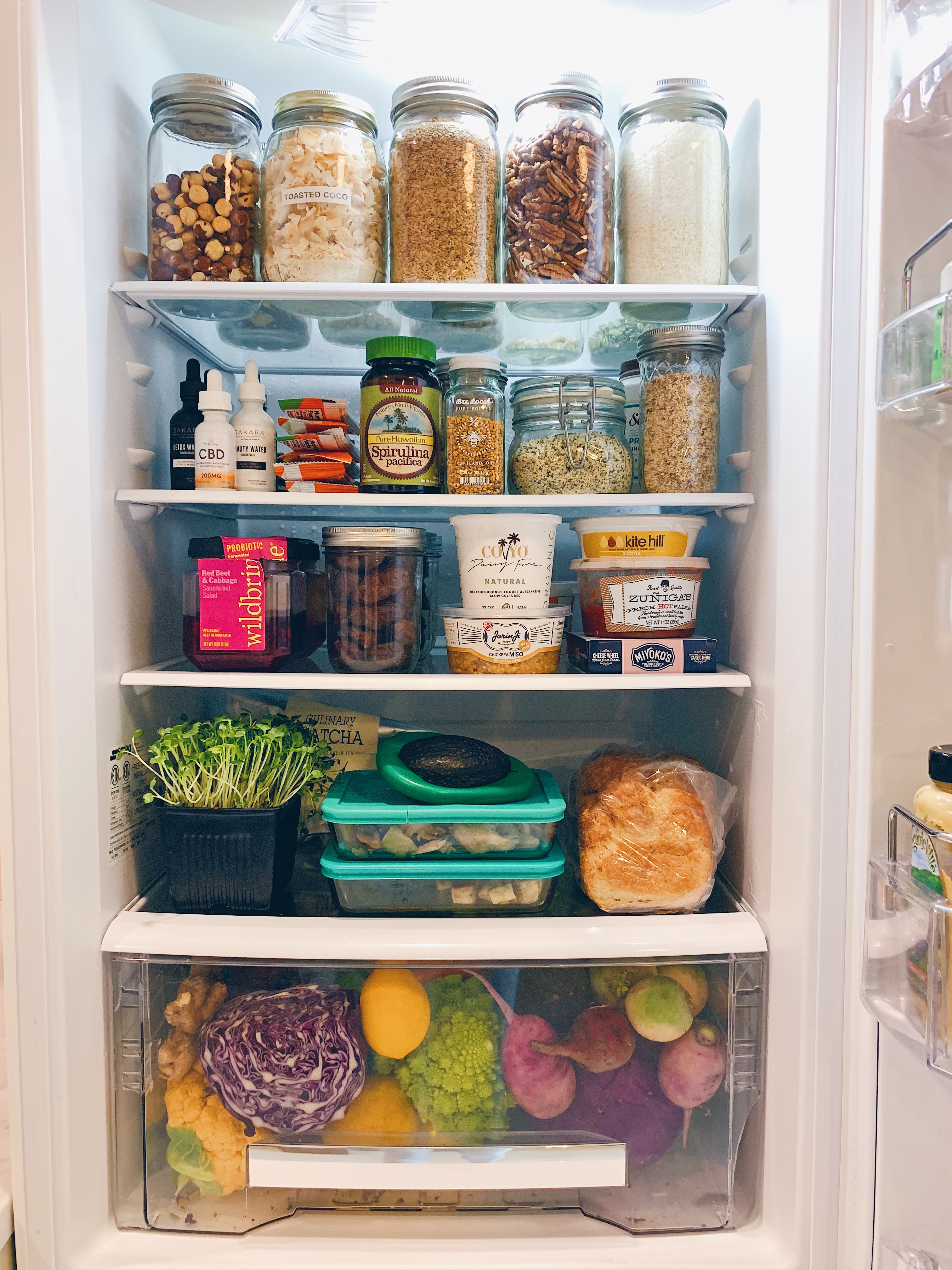 We have a relatively small fridge (as you may have seen), but it works with the way I do the grocery shopping. I prefer to go to the store every few days and stock up on what I know I'll use. Personally, a super packed fridge gives me anxiety. I like to have a clear radar on what's in my fridge at all times. I find by going to the grocery store more frequently, I waste less food. I completely understand this is not practical for everyone's lifestyle. Do what works for you.
I keep my pantry more stocked. You can read all about what items I usually keep on hand, here. This printable grocery list includes the pantry items I use more often therefore need to shop for more frequently. As much as possible, I try to bring my jars to the store with me to refill with items I buy in bulk. Here are some more of my tips for helping reduce waste and plastic use, many of them applicable to our kitchen practices.
I store all my nuts and seeds in mason jars in my fridge, which isn't absolutely necessary, but it does keep them fresher for longer. Bonus: it keeps your dried coconut chips way more crunchy! Nuts and seeds can also be stored in the freezer (extends shelf life to 1 year). If you don't have the fridge room to store all your nuts and seeds in the fridge, consider storing the ones you less frequently to extend their shelf life (3 months in the pantry versus 6 months in the fridge). I'd recommend at least storing your almond flour, flaxseed meal, hemp seeds and sunflower seeds in there. Refrigerating bee pollen and spirulina also extends their shelf lives. I store my opened matcha in the fridge as well to preserve the flavor.
Almost every shopping trip, I fill my cart with at least 50% produce. Fresh vegetables and some fruits make the basis of my diet. I find by stocking my pantry with some staples and regularly buying fresh produce, I can always throw together a meal in a pinch combining a starch and fresh vegetables. Though I was a vegetarian for nearly 12 years, I now eat animal protein pretty regularly. I typically roast a whole chicken once a week for dinner and then use the leftovers to throw into lunches throughout the week. I've been trying to incorporate more red meat into my diet and have been making lamb or beef at home once a week. Still learning the best ways to cook meat, as my skills aren't fine tuned with so many years as a vegetarian. I used to eat a lot of fish, but I've drastically cut back. With everything happening with our oceans environmentally, I find myself not as interested in eating fish and seafood. I still do occasionally, but I don't include it on my weekly shopping list.
I hope you find this grocery list helpful for your weekly shopping and perhaps it inspires you to buy something new! Enjoy!