I am SO excited about this recipe and this post. Over the last few months since I've been living in Mexico, Pablo's made Pescado a la Veracruzana, or Veracruz-style fish, for dinner several times. It's a recipe he learned from his Abuela Chiquis, who learned it from her mother when she was growing up in Veracruz. We asked Chiquis if I could share the recipe here on Wu Haus, and if she could tell us a little bit about where she learned how to make it. This is what she said (translated from Spanish by Pablo):
This dish is 100% from Veracruz. My parents, like me, were from Guadalajara which, being a city without beaches, did not have any fish dishes. Because my dad was a civil engineer, he had to go to places at sea in the construction of piers for the docking of ships and highways, that was his specialty. The first place in the sea that they had to go to live in was the Port of Tampico, Tamaulipas, where they got lucky to meet this woman who taught my mom the art of stewing seafood. Later on they lived in the Port of Manzanillo, Mazatlán and finally in the state of Veracruz, where this dish is from. That is when my mom taught me to cook it because she used to cook it for me and my sisters when we were little. Since then I always lived in Veracruz where I got married, and right there was when I started to cook this amazing dish and have been doing it ever since.
Because of Covid, we haven't been able to visit Chiquis in Mexico City where she lives now. But I'm dreaming of the day when we can share Pescado a la Veracruzano all together at one table. I hope you enjoy Chiquis' recipe as much as we do.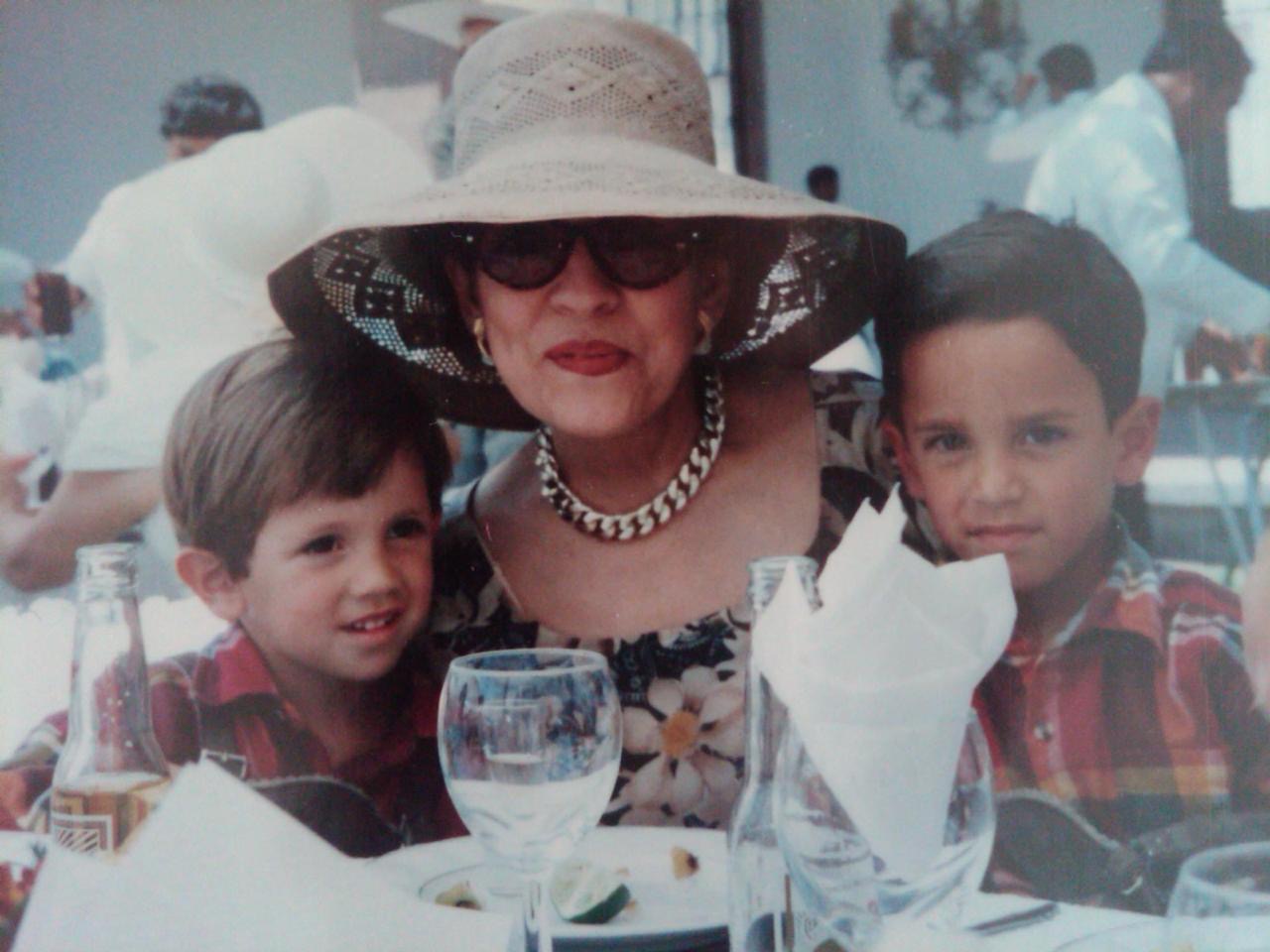 The state of Veracruz is located on the eastern coast of Mexico with a significant portion of the Gulf of Mexico coastline. The state is known for its abundant seafood and a rich culinary history heavily influenced by Spain, as evident by the main ingredients in this dish: tomatoes, olives and capers. Pescado a la Veracruzana is perhaps the most famous dish of the region. It is traditionally made with huachinango or red snapper, which is what we used, but you can also use tilapia, white cod or sea bass. Chiquis recommends salting and peppering the fish 30-minutes before cooking as this helps the fish stay together during cooking. This dish is relatively easy to make and comes together in about 30 minutes. It's light, colorful and packs a lot of flavor. Pairs well with a crisp, mineral-driven white wine.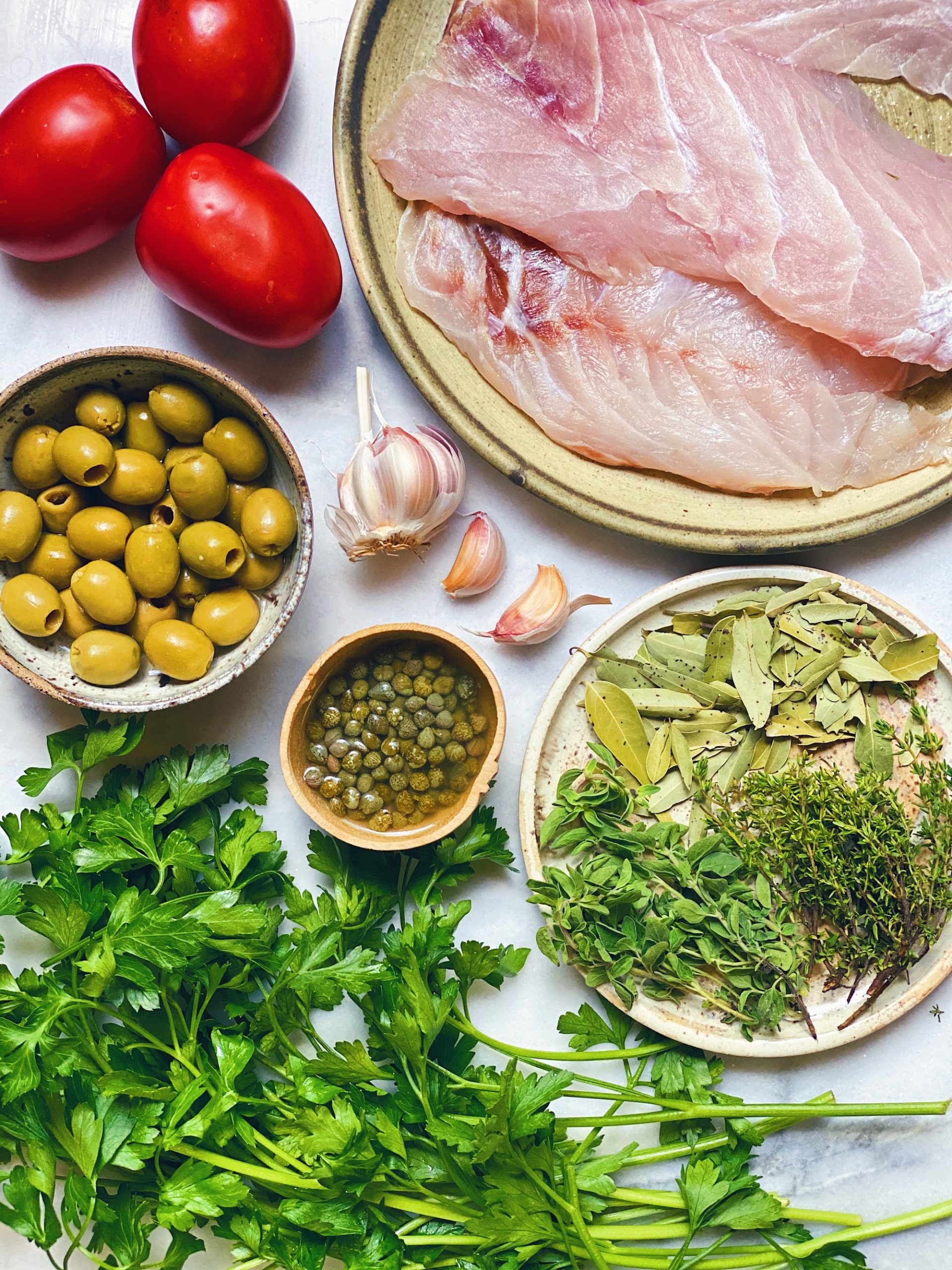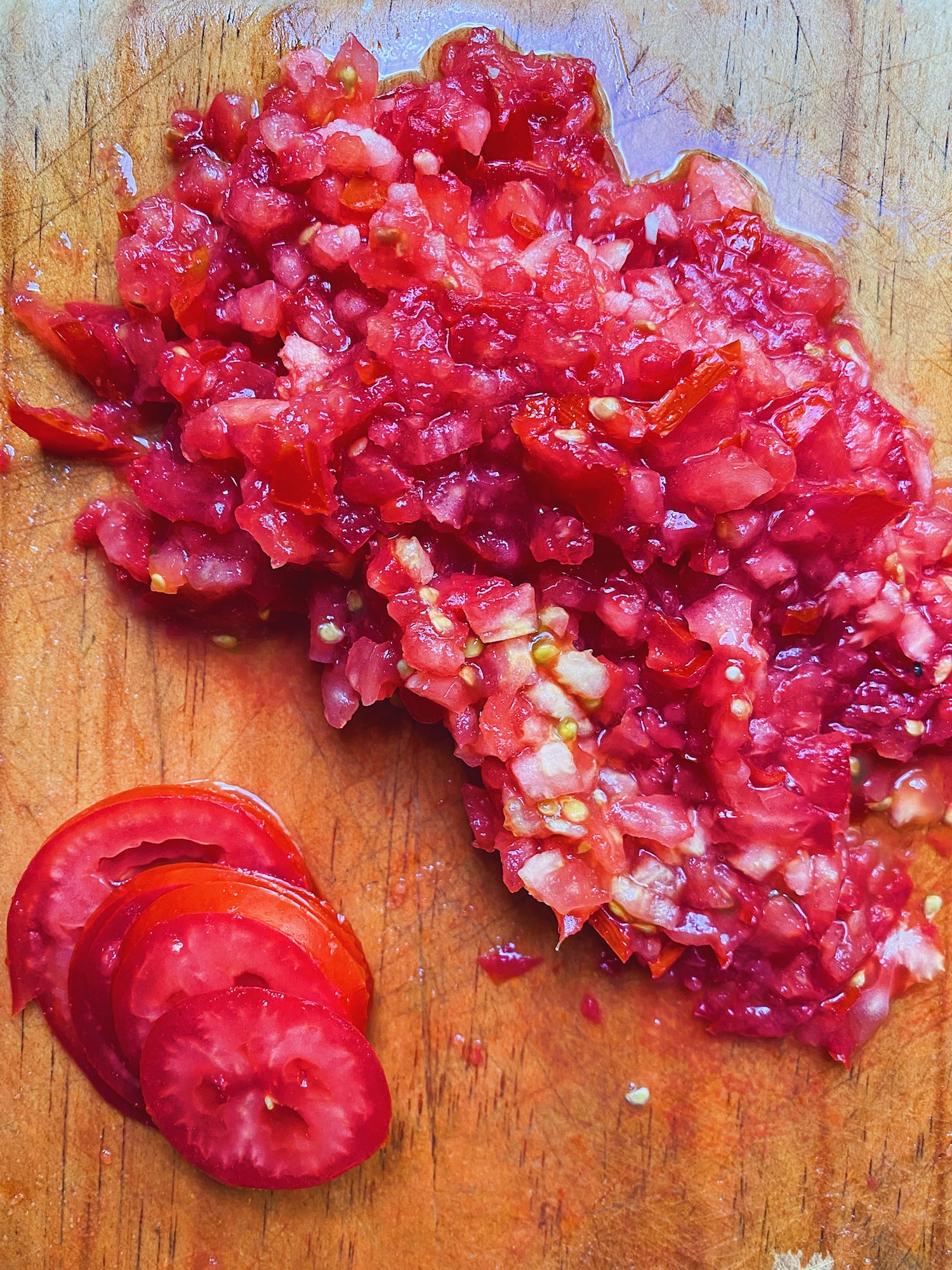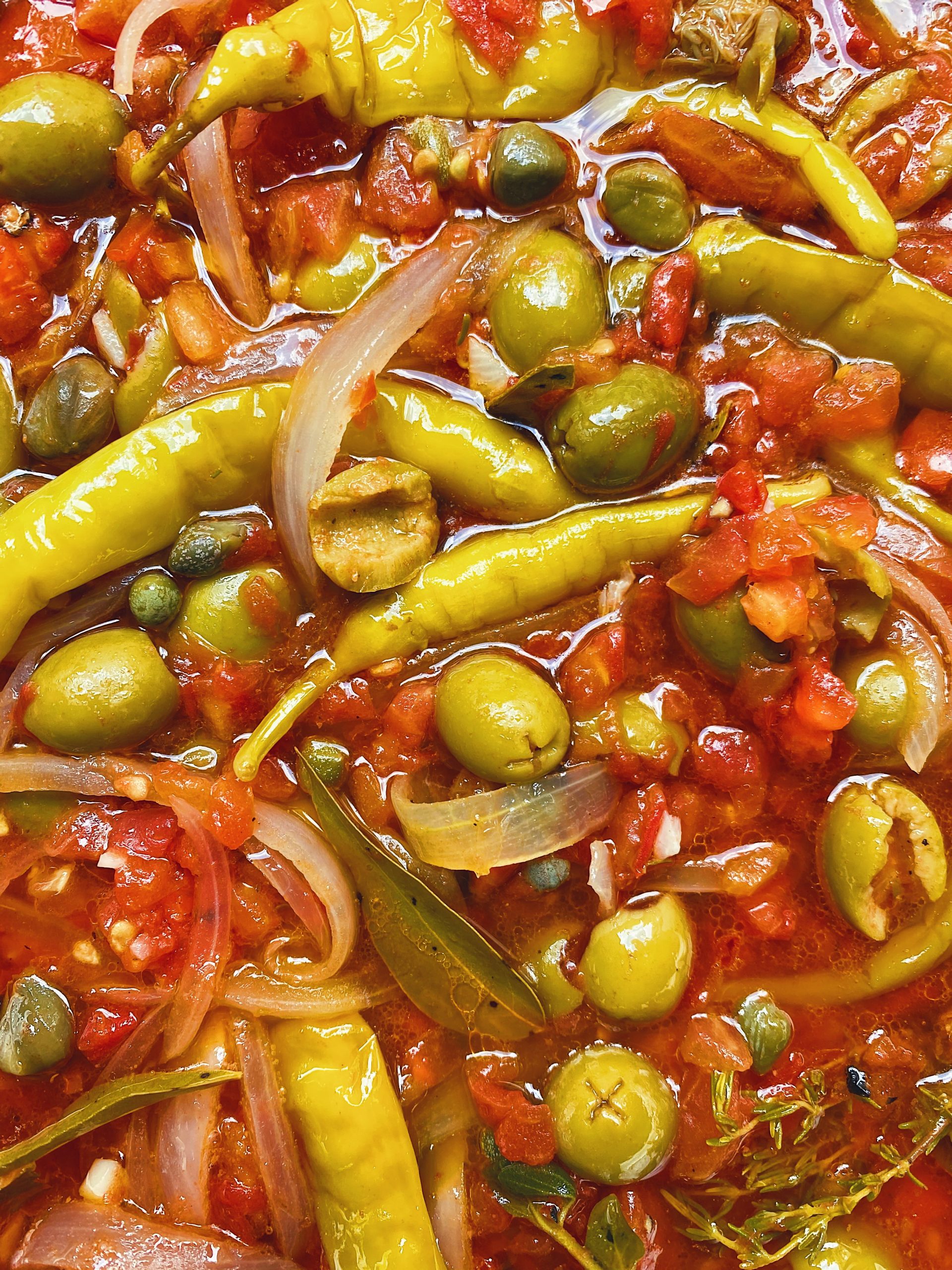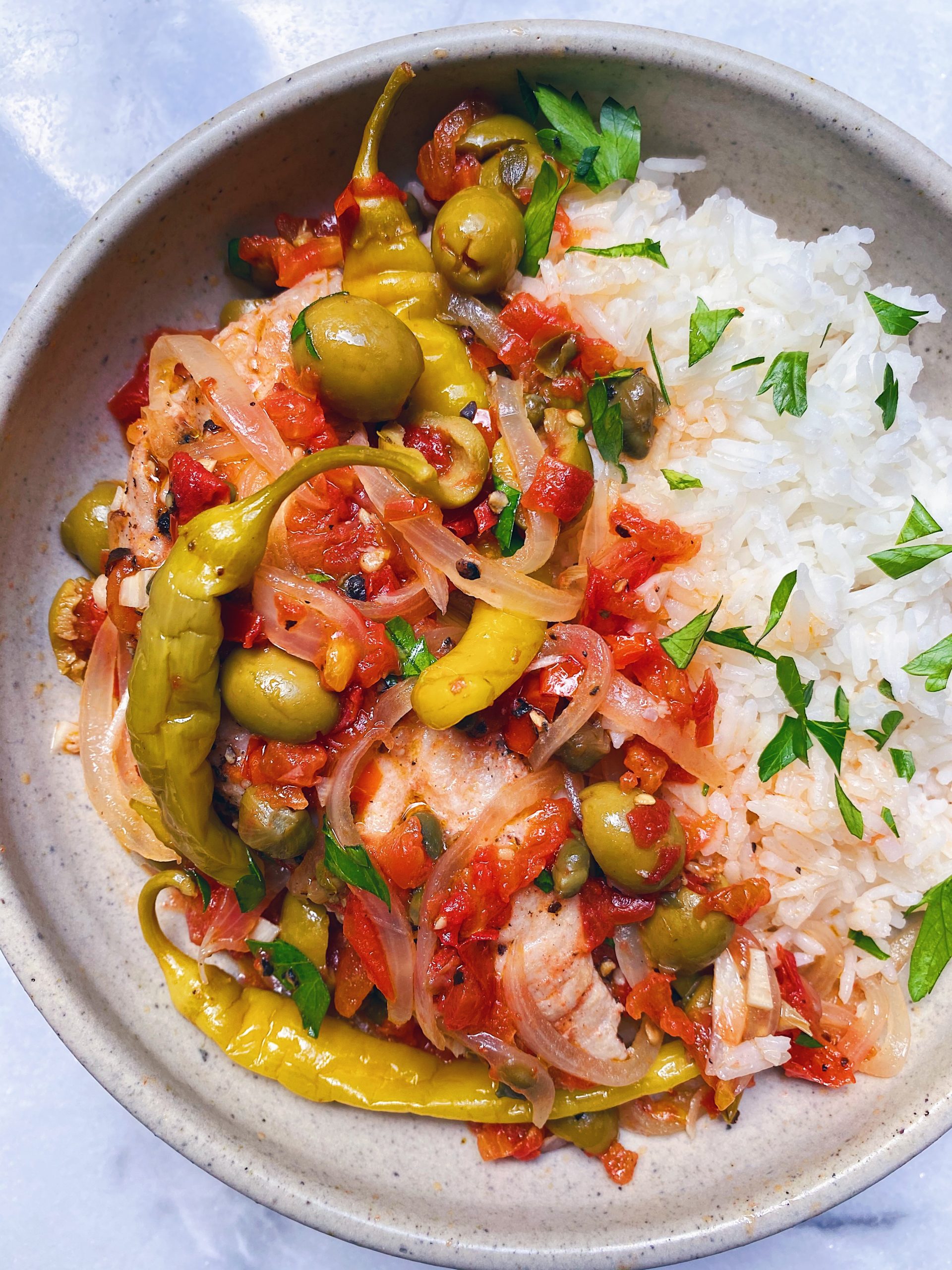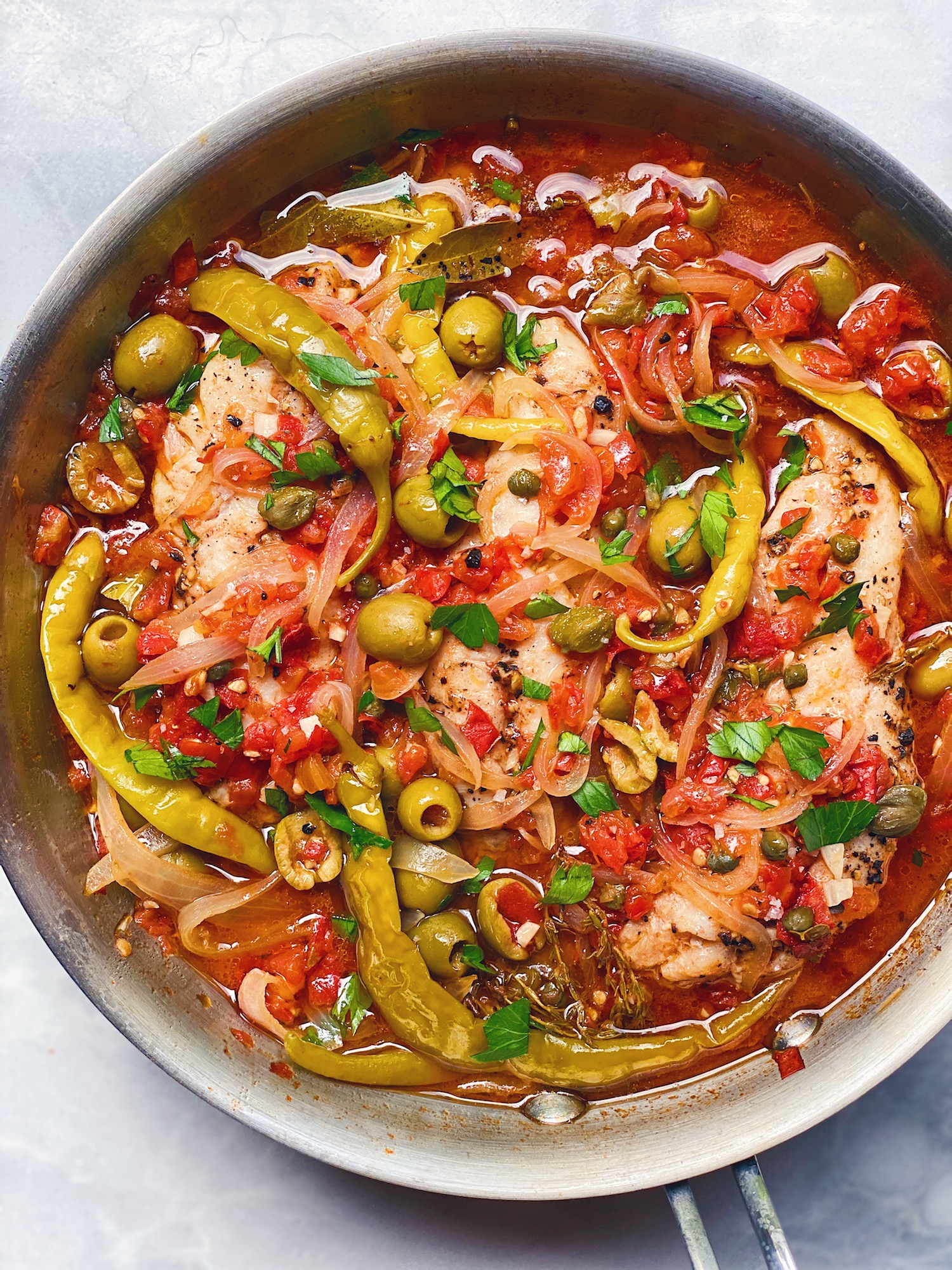 Pescado a la Veracruzana
[Serves 4]
1 1/2 pounds (750g) red snapper, or another white fish
1/2 large white onion, cut in very thin slices
2 large cloves garlic, minced
4 Tablespoons olive oil (or any other cooking oil)
2 pounds very ripe tomatoes, diced very small
4 sprigs thyme
4 sprigs marjoram
2 bay leaves
1 cup of water
2/3 cups (105g) green olives, halved or whole (we did a mix of both)
1 1/2 Tablespoons capers + 1 Tablespoon of brine from jar
10-12 chiles largos/güeros in escabeche + 1 Tablespoon of brine from can or jar
[NOTE: If you can't find chiles largos, the closest thing to this would be pepperoncinis that are packed in a vinegar-based brine]
Salt and pepper, to taste
To serve: cooked white rice
Wash fish with cold water and pat dry with paper towel. Lay fish filets) flat, skin side down, on a large plate or baking sheet. Generously coat with salt and pepper. Allow to sit for 30 minutes. 

Meanwhile, in a high-sided sauté pan, heat oil over medium-low heat. Once warm, add onion and garlic and sauté for 10-12 minutes or until onion is translucent and just starting to brown.
Add tomato, herbs, water, capers + brine, olives and chiles/pepperoncinis + brine. Depending on your preferred level of salt, you can lightly salt and pepper everything at this point. Just keep in mind that the capers, olives and brine can be quite salty.
Increase heat slightly to bring sauce to a low simmer. Let simmer for about 10-15 minutes, stirring every so often, until some of the water has reduced.
Arrange the fish in the pan using a spoon to cover it with the sauce. Cover the pan with a tight-fitting lid and let simmer for about 5-7 minutes, or until fish is cooked all the way through.
Garnish with fresh parsley and serve immediately with white rice.