For the past several years, I've gotten into the habit of packing light on all of my travel. After years of overpacking, I realized I really don't need much when I'm away, and packing light makes all my trips way more enjoyable. There's nothing worse than lugging a 50 lbs. suitcase up four or five flights of stairs or trying to squeeze onto an overpacked subway with large suitcases.
We traveled to Japan for 3 weeks 2.5 years ago, and I got my Away Carry On for our trip. It was my first time packing light for an almost month-long trip. I absolutely love the Away Carry On. It makes packing light a breeze, and I'm always surprised how much I can fit in such a small suitcase.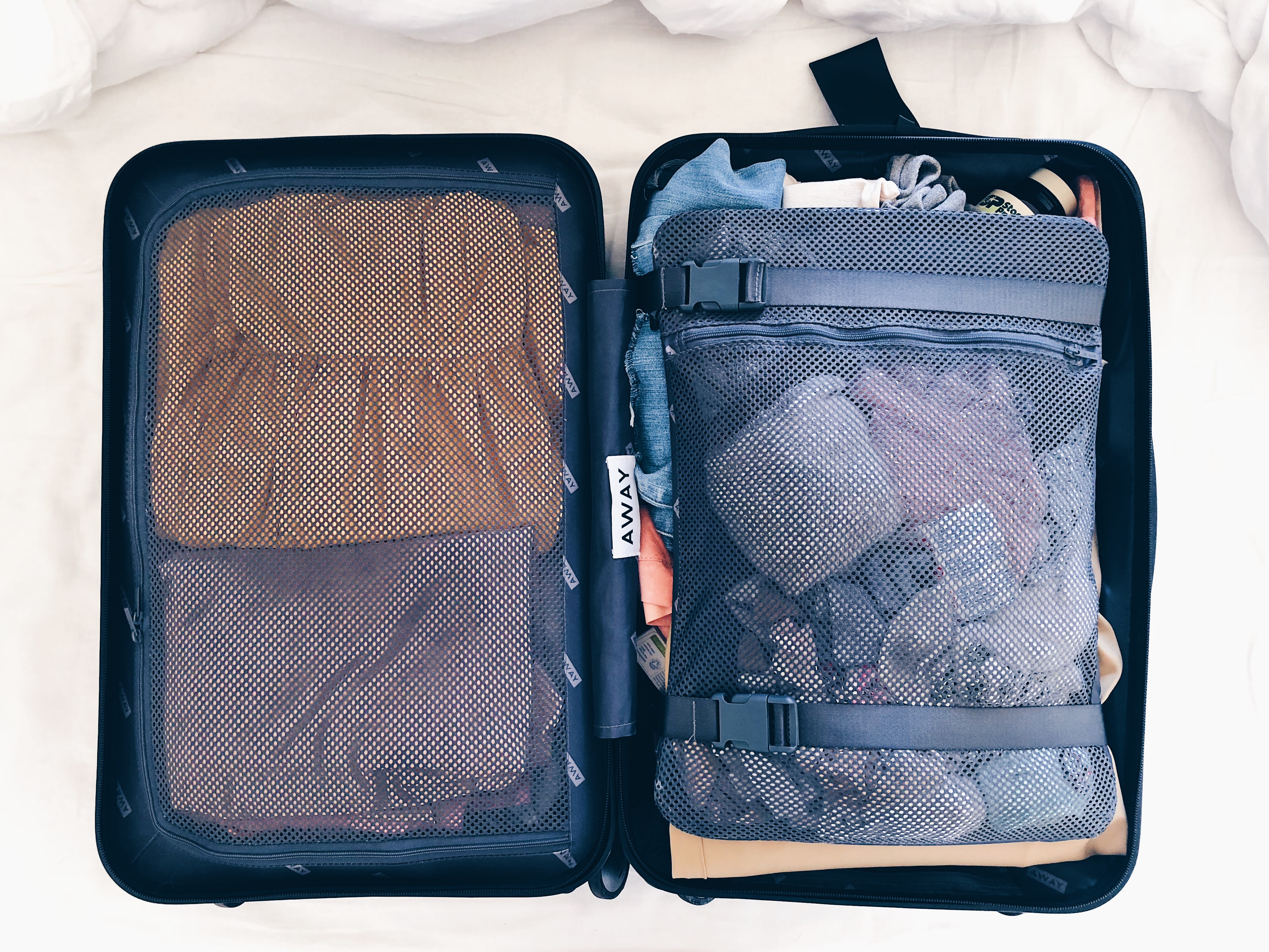 In this post, I'm sharing what I packed for our current 3-week trip to Italy. Obviously this list would/could be altered depending on the season, climate and place you are traveling to. For instance, if you're headed to a beach vacation in Mexico, you might not bring boots or as many pairs of pants. This is a general guide to give you an idea of what to pack. I'm also sharing my top packing tips to help you save room in your suitcase, so you're a happier traveler overall.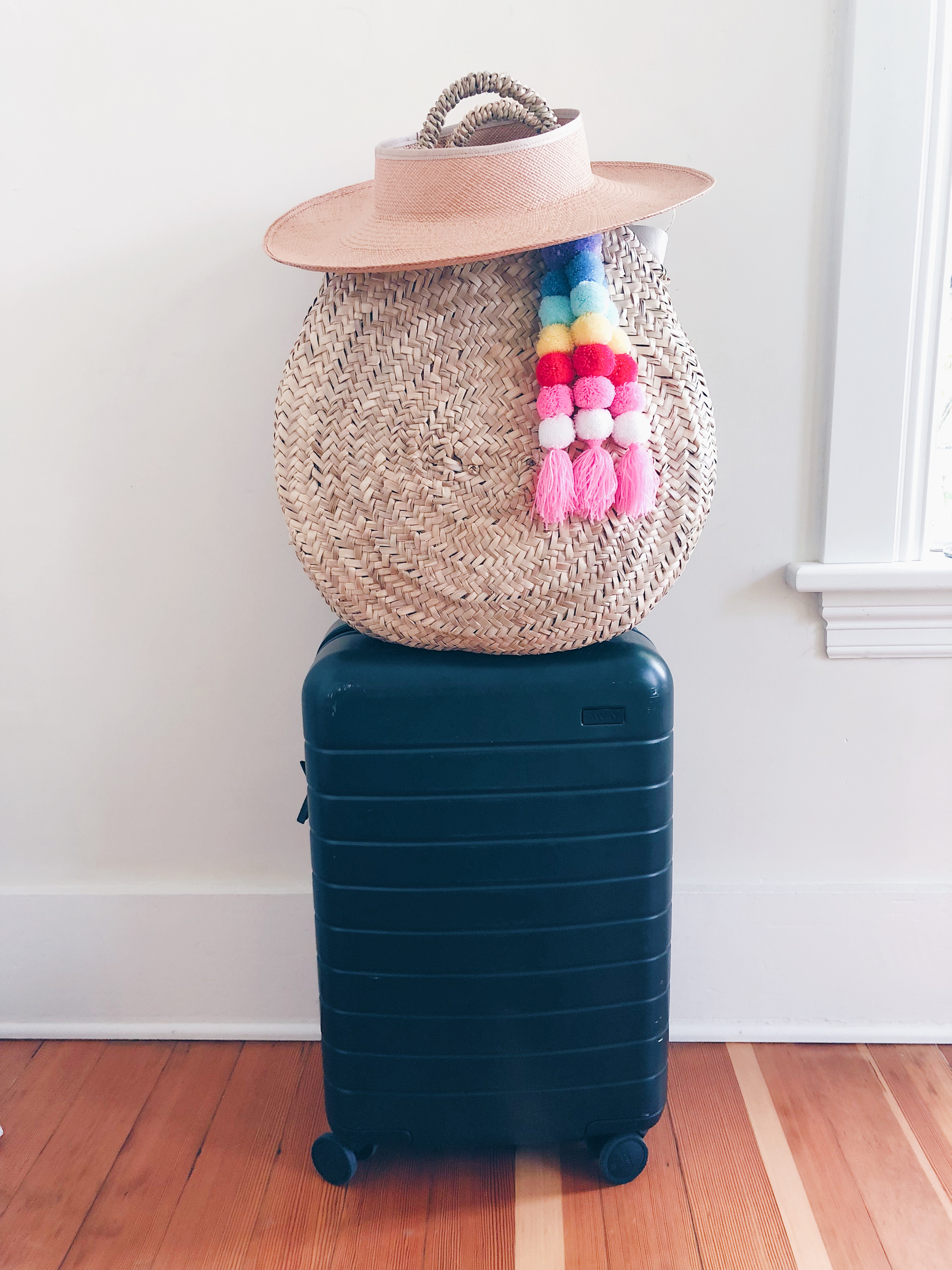 Here's what I brought:
Pants: one jean, one other (I brought my fave Jesse Kamm Sailor Pants), one lightweight (linen or breathable cotton), one yoga, one sweatpant/lounge pants
One lightweight jacket, one weatherproof jacket (if applicable, meaning you'll wear more than 2 times)
One sweater, one sweatshirt or lightweight long-sleeve
3 dresses/jumpsuits (1 casual/loose-fitting mumu dress, 1 day dress that also works for night, 1 jumpsuit)
3 shoes – sandals, boots, mules (1 sandals, 1 walking, 1 going out/dress). Call me crazy, but I never travel with sneakers. I used to pack them because that's what you're "supposed to do," but I would never end up wearing them, so I just stopped.
Enough socks + underwear for 1 week
2 t-shirts
1-2 yoga bras/crops
3-5 cute blouses that work for day and night
Bathing suit
Pajamas – I usually bring my silk pj set and then just some Hans boy shorts and a tank.
Sun hat or other head cover
Dry shampoo, sunscreen face and body, one 3.4 oz bottle shampoo, one conditioner, two 3.4 oz bottles of body wash, 3 travel size toothpaste, facial cleansing bar, moisturizer, deodorant, travel size toner mist
Digestive enzymes, probiotics (I use Silver Fern, which are shelf stable), digestive bitters, ginger and/or peppermint tea
Matcha (100g bag), adaptogen mix (Moodbeli Holy Ashwagandha), collagen packets, Hydro Flask travel mug with metal whisk ball to make morning matcha while I'm on the road (Just add a small amount of hot water and the ball to your mug then add matcha and any other powders, top with more hot water. Seal lid tightly and shake vigorously. Slowly unscrew the lid, and enjoy!)
Tarot cards, crystals
External battery for charging phone on the go, power converter if applicable (Save money and buy BEFORE you go. We forgot, and ended up having to buy one at the airport for almost double the cost.), headphones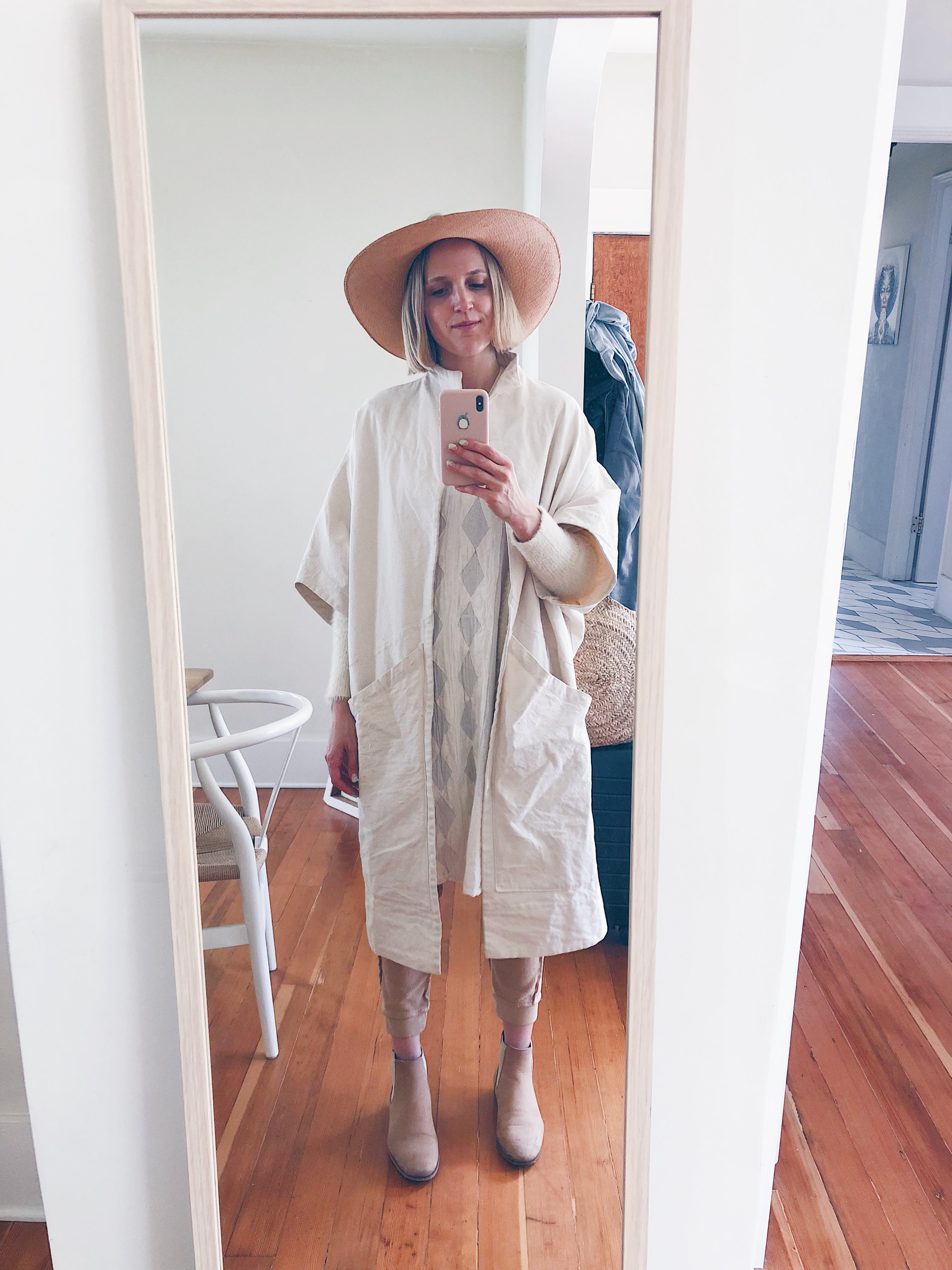 + You'll likely pack stuff you won't end up wearing and wear you favorite outfits multiple times. So always cut what you want to bring in half.
+ Handwash underwear and socks every week and line dry.
+ Pack a compact duffle bag in your suitcase to use for things you buy on your travels. You can check your suitcase on the way home, and use the duffle as your carry on. (I use a Lancel duffle that my Aunt Alison gave to me over 10-years ago. One of my favorite bags to this day. Unfortunately, they no longer make the one I have.)
+ Pack a reusable tote bag to carry in your purse for groceries or shopping.
+ Pack lightweight layers and garments made from natural fibers whenever possible. I love cotton and linen. They're breathable and easy to wash by hand and then air dry.
+ Instead of carrying a book or two around with you, opt for downloading books onto your phone from your Audible account or invest in a Kindle.
+ Go for a neutral color palette, so you can mix and match tops and pants with ease. As a general rule of thumb: only bring a top/shirt/blouse if it pairs with at least 75% of your bottoms/pants/skirts and vice versa.
+ Roll your clothes! This is essential for making the most of the room in your suitcase. I don't roll everything though. Heavy weight pants or jeans I put in first and flay flat on the bottom of my bag. Anything silk or that wrinkles easily, I lay flat on top of everything before closing my suitcase.
+ If you are packing shoes in your suitcase, stuff them with socks or any other small items to save space.
+ Always wear your bulkiest/heaviest items on the plane. Planes are usually cold anyways, so I layer up on my flights. I always wear my boots or biggest pair of shoes in flight. Then I typically wear a pair of sweatpants, a layerable lightweight cotton dress, a sweater or sweatshirt and a jacket. And whatever hat I'm bringing. This trip I definitely looked like I was going on a safari, but whatever.
+ Never bring that something "just in case." I promise you, there's like a 3% chance you will use it or wear it. If some freak weather occurrence happens, you can always buy something (umbrella, rain coat, sandals, snow boots) while you're away.
+ When you're packing your suitcase, think of it like a puzzle. To make the most of the room you have, don't leave any "dead" spaces in your suitcase. A pair of socks, underwear, a rolled T-shirt or belt can always find its way into an empty hole between items. Be strategic!
+ Pack a small muslin bag or two filled with dried lavender flowers (also known as a drawer sachet) to keep your clothes smelling fresh while you're away.