I visited the Portland Farmers Market this Saturday with my good friend and creative collaborator, Shannon Sims. And oh boy! The spring produce is poppin' off! All the greens inspired us to make this ombré snack board and Spring Pea and Fava Bean Dip with Seared Lemon. Most everything on this platter (except the grapes, green apple and avocado) was grown right here in Oregon! Yes, even the nopal cactus! It's really inspiring to live in a city with farmers in the surrounding area that are so committed to growing beautiful organic produce. I'm always so impressed with the interesting varieties of produce the farmers bring each week. Those purple and green snow peas were the winner from this week!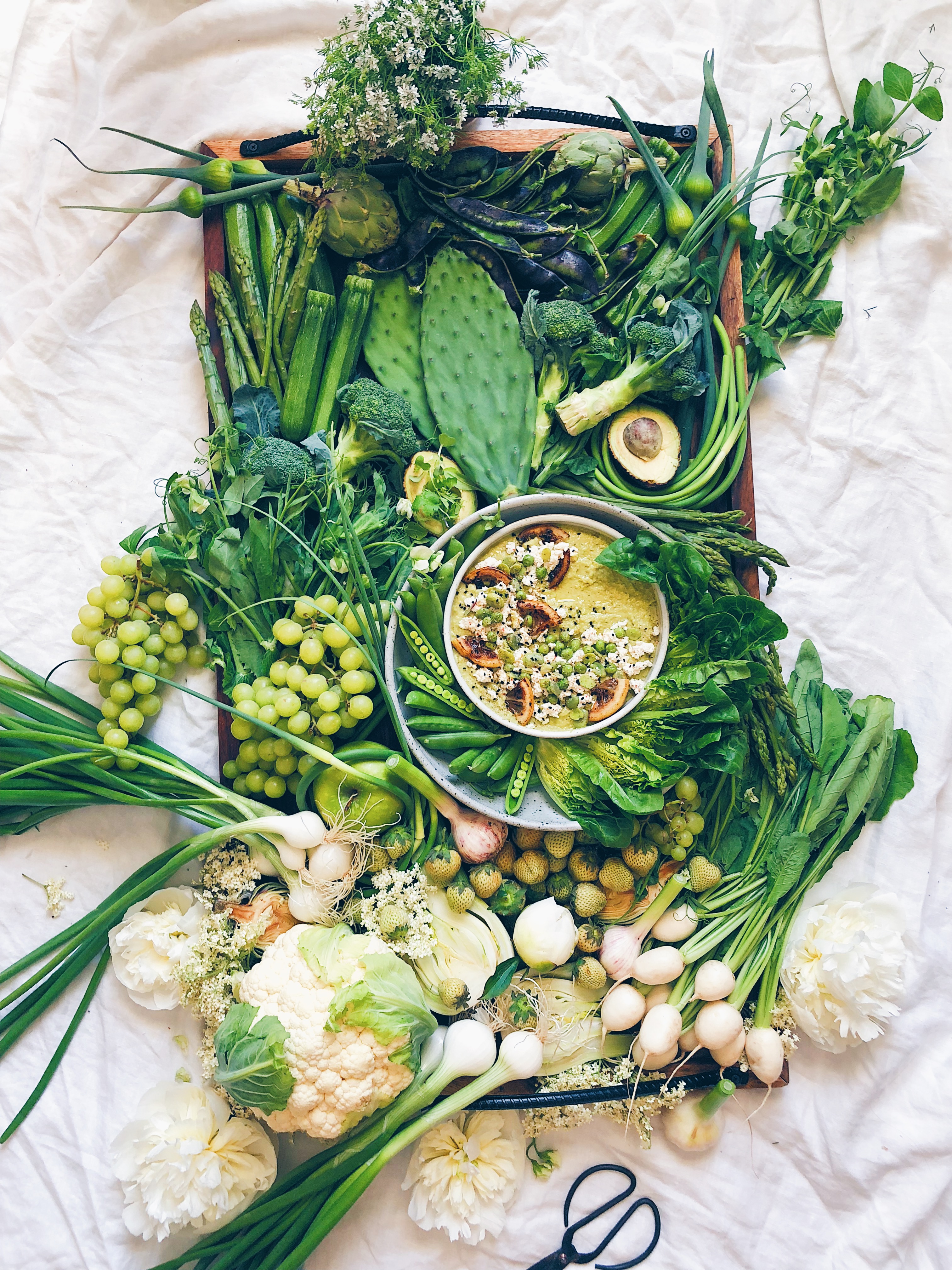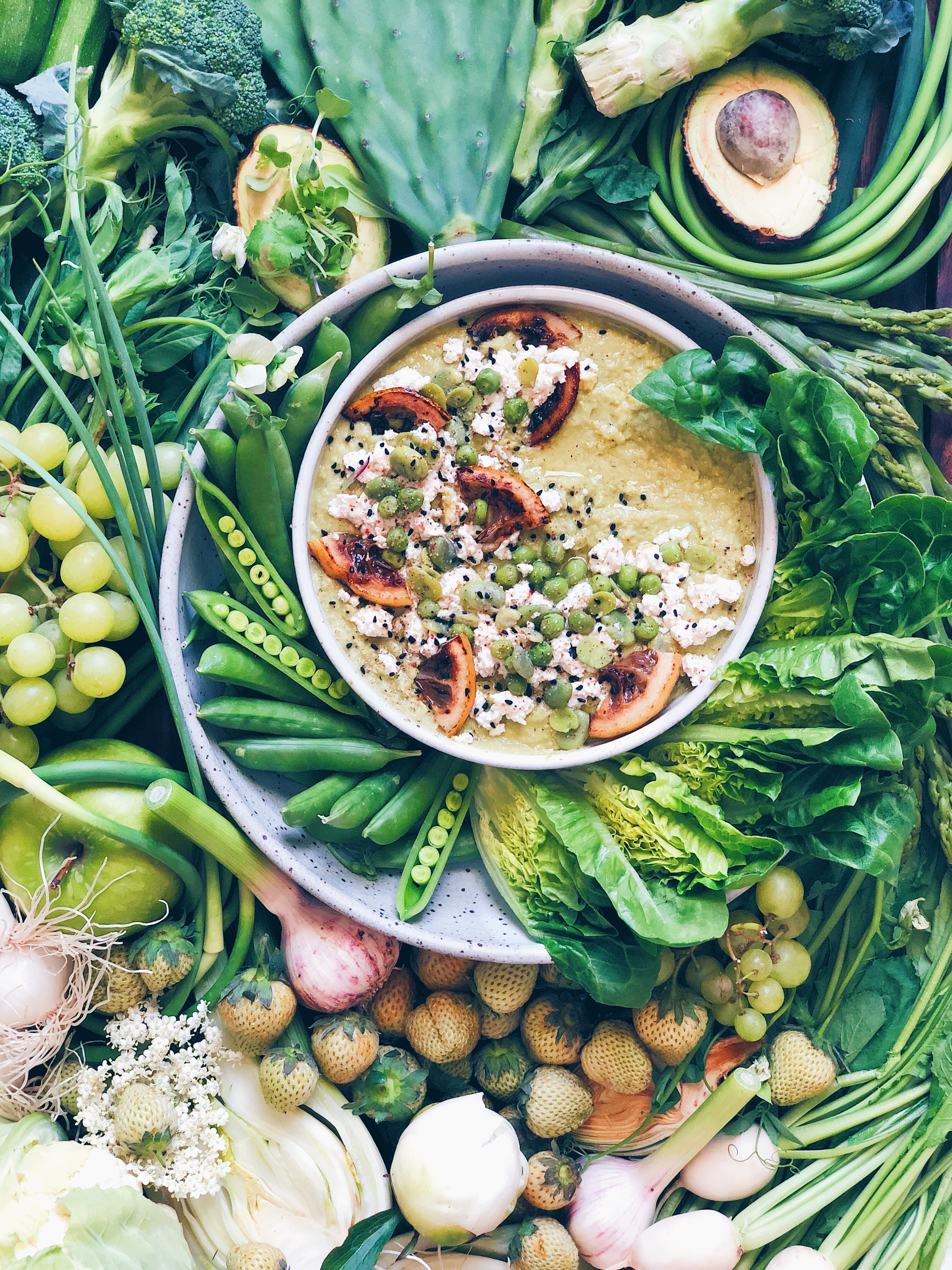 This fresh spring bean dip is the perfect snacking item to meal prep for your week ahead or to make for a spring picnic with friends. After we finished shooting, we ate it up with snap peas and little gems. I love the punch of flavor that the seared lemon adds. Grilling the lemons would be a great option too! If you aren't able to find fava beans, you could just use all shelling peas and vice versa.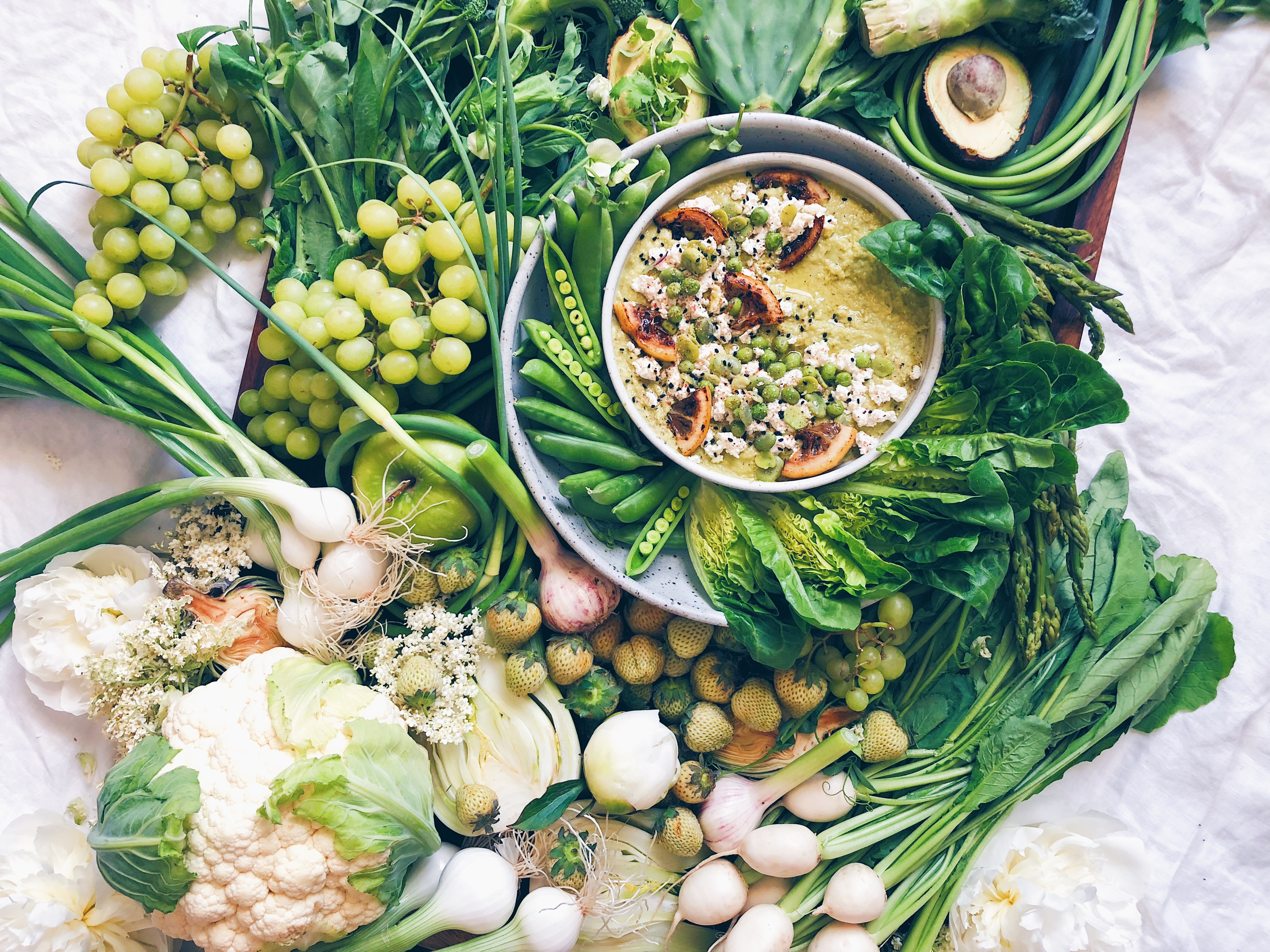 Spring Pea and Fava Bean Dip with Seared Lemon
[Makes about 3 cups]
For the dip:
2 cups fresh English shelling peas (or you could use frozen peas if you don't have access to fresh peas)
1 cup fresh fava beans
1/4 cup extra virgin olive oil
Juice of one lemon
1 garlic clove
1 teaspoon salt
1 teaspoon black pepper
For the seared lemon:
1 lemon, sliced into 1/4″ rounds then cut into wedges
1 teaspoon oil (I used avocado oil)
To garnish:
Almond ricotta (or if you eat dairy, feta would be amazing!)
Remove the outer shell of the fava beans and set aside. Bring 2 quarts of water to a boil. Add 1 tablespoon salt. Add the shelled beans, simmer for 5 minutes. Use a slotted spoon to remove beans from the hot water and place in a bowl of ice water to stop the cooking and to shock the beans into maintaining their bright green color. When the beans have sunk to the bottom of the bowl of ice water, strain them from the water and then remove and discard the outer peel. Set aside.
Repeat the same boiling and shocking in ice water process for the English shelling peas.
Set a small amount of fava beans and peas aside for a garnish. Add the remaining favas, shelling peas and all other dip ingredients to a food processor, and blend to desired consistency. Be careful not to over process, as the dip will start to get watery.
For the seared lemon, heat the oil over medium-high heat. Add the lemon once the pan and oil are hot. Sear the lemon until golden and charred in some places. Alternatively, you could grill the lemon.
Pour the dip into a medium-sized serving bowl. Top with the almond ricotta, extra favas and shelling peas, seared lemon, salt and pepper. Enjoy!