Surprisingly enough, I talk about my (arm)pits quite a lot. I've always been a heavy sweater, so managing my underarm area feels like a part-time job. I feel like my friends and I are always talking about how to maintain healthy armpits and which deodorant we're using to help the fight. I made the switch from antiperspirant to natural deodorant about 3 years ago. Sweating is the natural process of cooling and detoxifying your body. In short, it's really good for you! By using antiperspirant regularly, you distrupt you body's natural attempts to remove toxins, which can ultimately lead to adverse long-term health effects. It can also change the bacterial microbiome in your pits, causing an overproduction of bad bacteria. Translation: your sweat is smellier. By eliminating antiperspirants from daily use, you allow your armpits to recalibrate to their neutral state.
I've tried pretty much every single natural deodorant under the sun. After a year-long search, I landed on a brand that I liked only to find out late last year they were bought out by a large multi-national corporation with a history of testing on animals and with ties to rainforest degradation. For me, this was enough to say farewell. I have to admit, I was bummed that I had to start the search for a new natural deodorant. But luckily this time it didn't take long! I stumbled upon milk + honey randomly, and after my first day of using their Baking Soda-Free Deodorant, I was hooked. No sweat, no smell, and I didn't have to reapply throughout the day. I'm sensitive to baking soda (more on that below), but if you're able to tolerate it, milk + honey also makes a Regular Strength and even an Extra Strength Deodorant. The Austin-based company is offering you guys 25% off any purchase on their site with code WU25.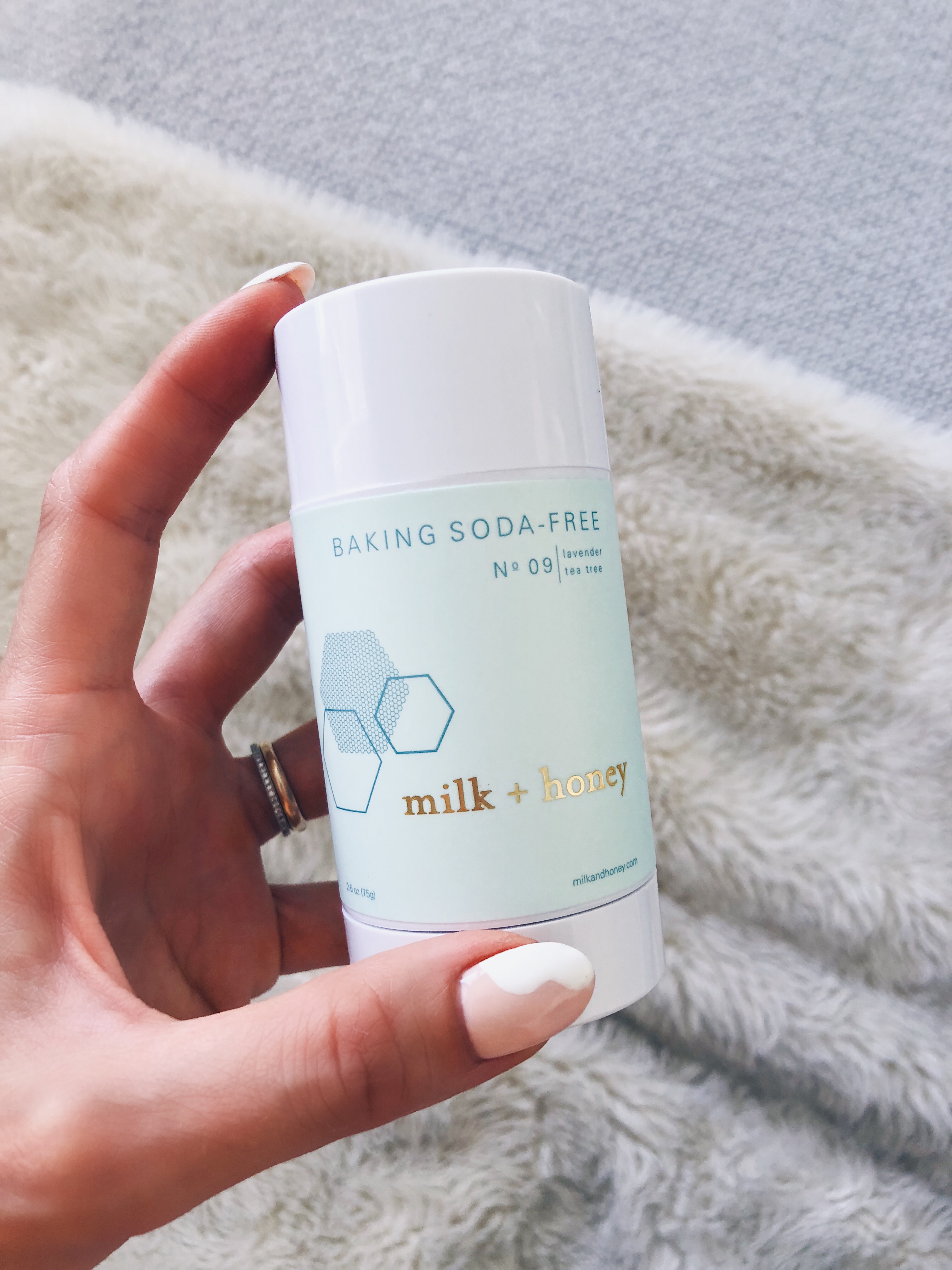 So let's talk healthy pits! Here are my tips and insights for maintaining a favorable underarm situation:
1.) Wear natural fibers. There's nothing that will make you sweat (and smell) more than unbreathable, synthetic fibers. Linen, cotton, wool and silk are all top choices. I'm also very conscious of how small the armholes are on the tops I buy. I hate feeling constricted in that area, so I almost always shop for tops that have a low-cut armhole.
2.) Drink plenty of water, and limit caffeine (especially coffee). When I was a coffee drinker, I noticed my underarm stench was wayyyyyy stronger than when I got off coffee. Something to think about. Maintaining healthy hydration has positive effects on all aspects of your skin, even your pits.
3.) Exfoliate. I do it every other day. My bath bar has built in exfoliation, but you could use a dry brush, a loofa or this luxurious body polish. Exfoliating your pits will leave them feeling soft, smooth and clean.
4.) Apply a small amount of apple cider vinegar, lemon juice or witch hazel to your armpits in order to neutralize bad bacteria. Let air dry. These are all natural antiseptics and sterilizers, so can be very helpful in combating underarm bacteria.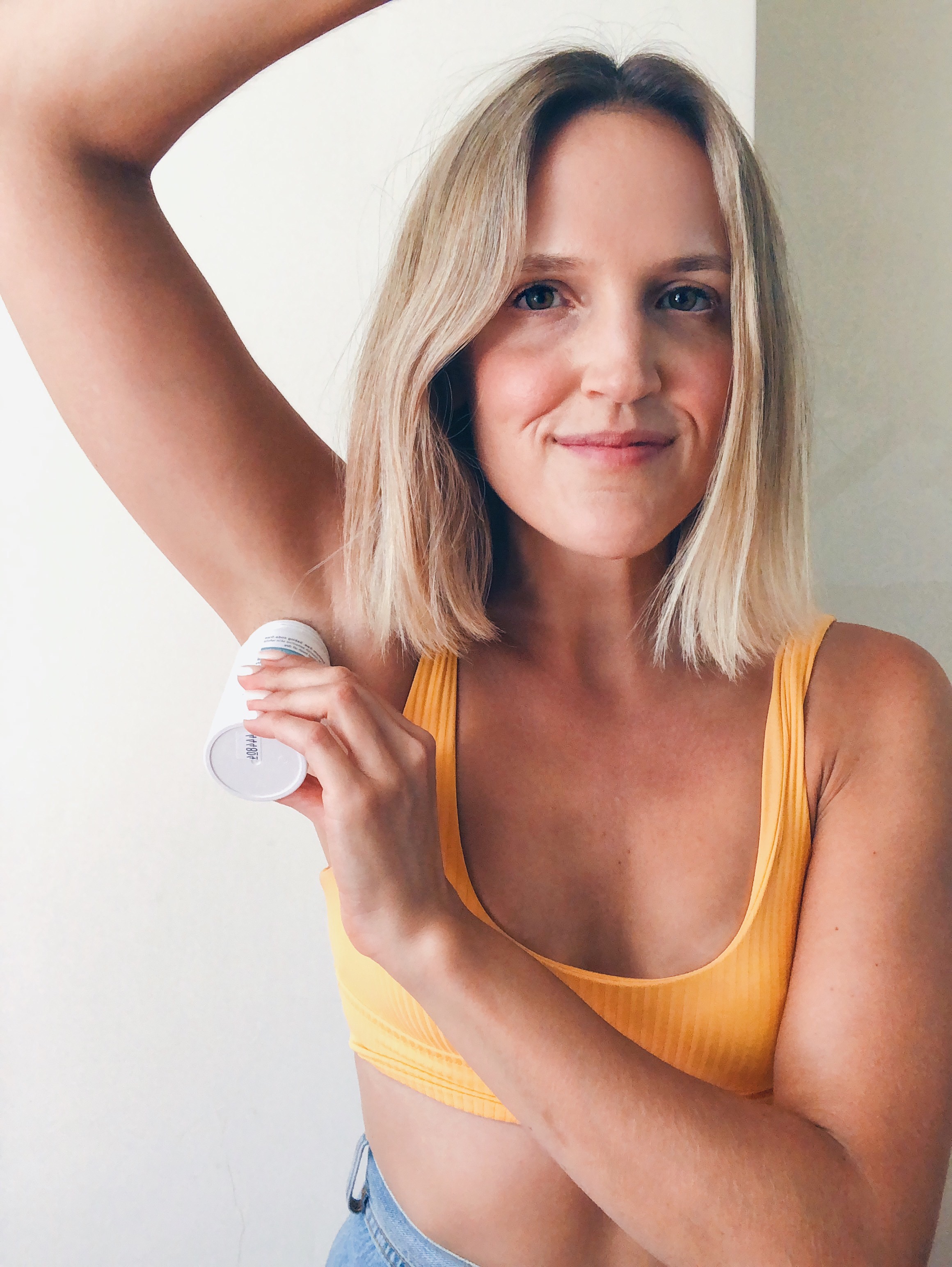 5.) Let them breath and dry out post shower. Before running to apply your deodorant, make sure your pits are completely dry. Bacteria loooooves moisture, so ensuring your underarms are dry before applying deod will keep them fresher for longer.
6.) Less is more. I know the tendency is to slather on the deodorant (or at least that's my tendency…), but one good swipe of the deodorant bar up or down will do the trick.
7.) Try a clay mask for your pits. Doing this once a week or once every couple of weeks can help draw out impurities and detox your underarm skin. You can use the same clay mask you'd use on your face. Leave on for 10ish minutes and rinse off in the shower.
8.) Food affects all. A diet rich in alkalizing foods will help keep underarm stench away. Incorporate leafy greens and try supplementing with wheatgrass, or my personal fave, chlorella. Some foods that can contribute to a stronger underarm smell: animal proteins, garlic, onions, fermented foods and curries. Not that you should change up your diet at all, but on days you notice your underarm stench a bit stronger than normal, it could have to do with what you ate for dinner the night before.
9.) If you're skin gets irritated from natural deodorant, give a baking soda-free deod a try. My underarms cannot tolerate baking soda. After about a month or two of use, I would get a red, itchy and painful rash under my pits. Since switching to baking soda-free deodorant, I've never had a rash.
10.) Remember: it's good to sweat! The idea isn't to stop sweating all together. We just want to cut down on the smell associated with sweating by detoxing our pits. Give your pits a break from deodorant once and while. Let them breathe and do their thing.