Happy Spring Equinox! I love this season so much. And with temperatures near 70° for the last several days and the daffodils in full bloom here in Portland, it sure feels like spring. This season is all about awakening. After a long winter, the energy starts to shift and slowly, day by day, everything seems to come alive again. The changing of seasons is a great time to check in with yourself. To notice your own energy and the energy around you. To check in on the goals and intentions you set at the beginning of the year and see what's changed and blossomed.
I love using self-care rituals as a time to check in, to go inward. Taking time for ourselves gives us the space to be reflective and introspective. This spring equinox, I've partnered with Mountain Rose Herbs to share a DIY Hydrating Hair Mask with you all. As a ritual for the changing of seasons, I encourage you to set aside 30-60 minutes for yourself. Start by applying the hair mask recipe below. Notice the quality of your thoughts and your energy when you enter into this ritual. Focus your attention on slowly and lovingly applying the mask to your scalp and hair. Maybe you repeat a mantra like, "I am strong. I am beautiful. I am enough." as you work. Once the hair mask is applied, wrap your hair up in a towel. Spend the next 30-60 minutes in quiet. Maybe you draw a bath and deeply relax. Maybe you take pen to paper and write down your intentions and goals for the next few months. Maybe you read some passages from your favorite book. Whatever feels nourishing, loving and right for you in the moment. Honor yourself and the changing of the seasons by giving yourself time and space to be as you are.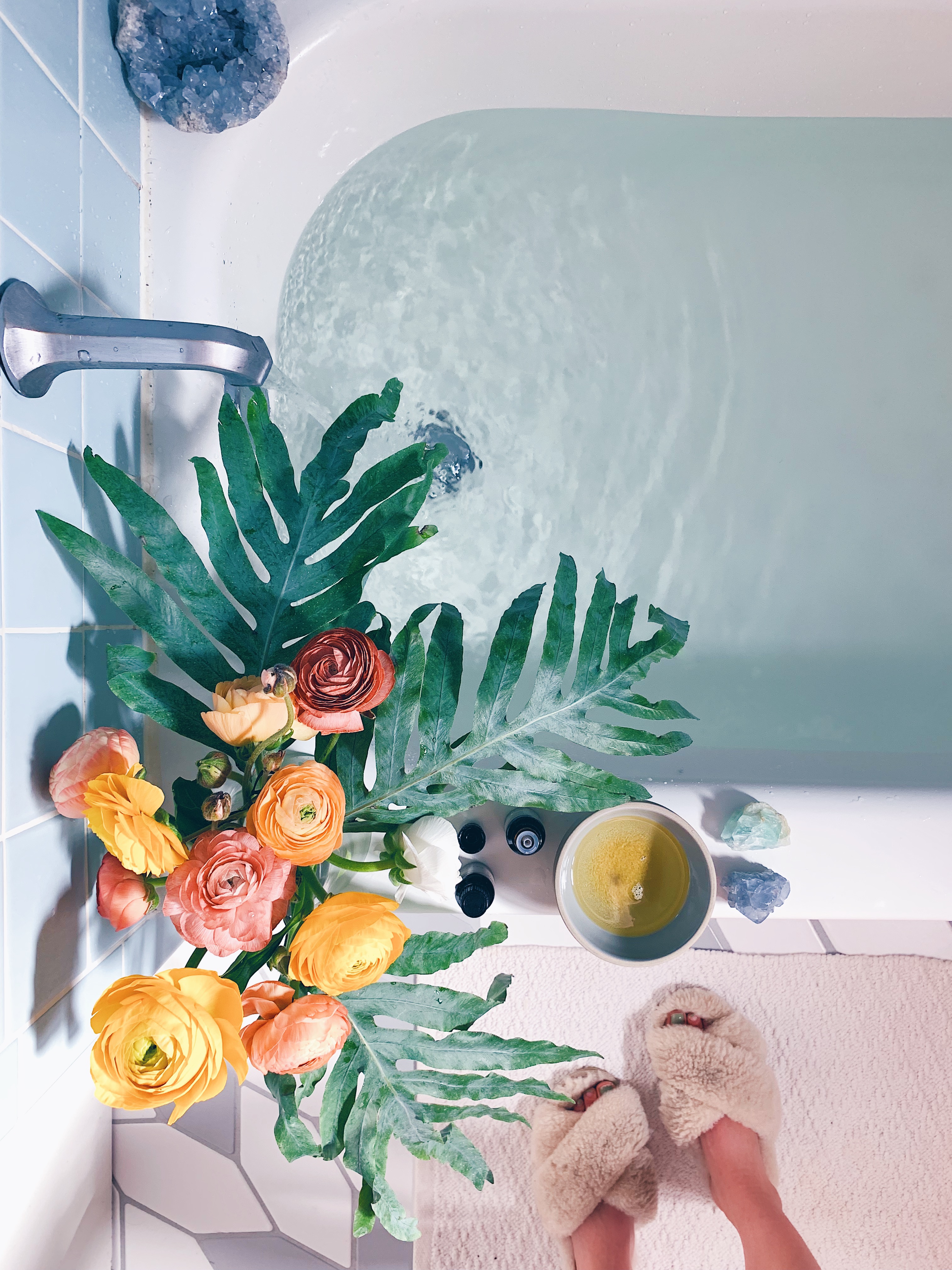 A few notes on ingredients in the hair mask…
Fractionated coconut oil absorbs more quickly into the skin than solid coconut oil. It also doesn't solidify below 72°, so I find it easier to work with. Regular coconut oil would be fine to substitute in this recipe.
Jojoba oil protects against dryness, breakage and split ends. It also moisturizes the scalp and can help with dandruff. It also strengthens hair and promotes thickness.
Vitamin E oil is supremely hydrating, adding moisture to dry, split ends, as well as being an antioxidant.
Rosemary essential oil is good for all hair types. It's said to unclog pores on the scalp and balance our natural oils. It also promotes moisture and shine.
Lavender essential oil is said to promote hair growth, as well as improve scalp circulation and dryness. It also is known to help balance the oils and relieve itching.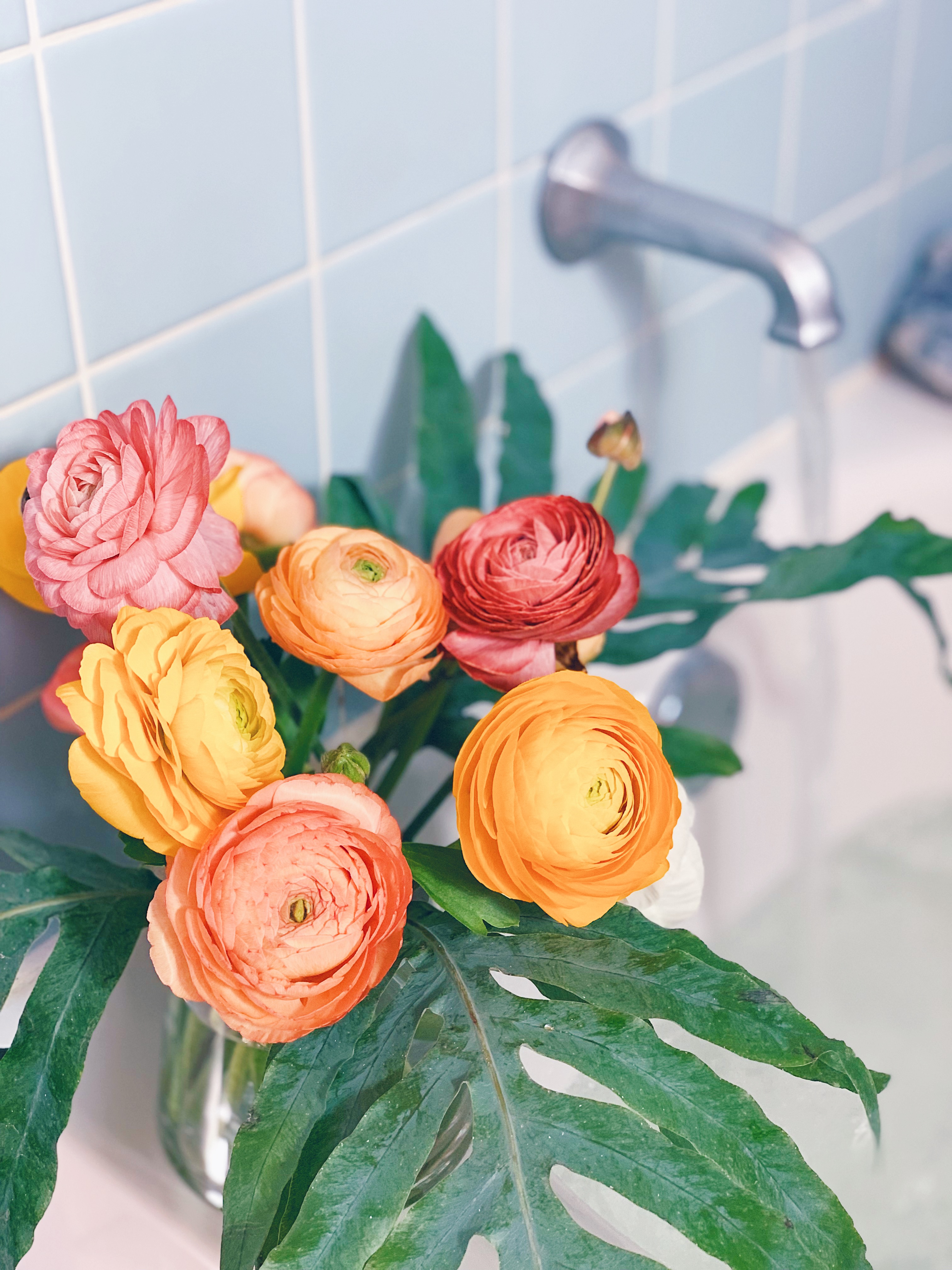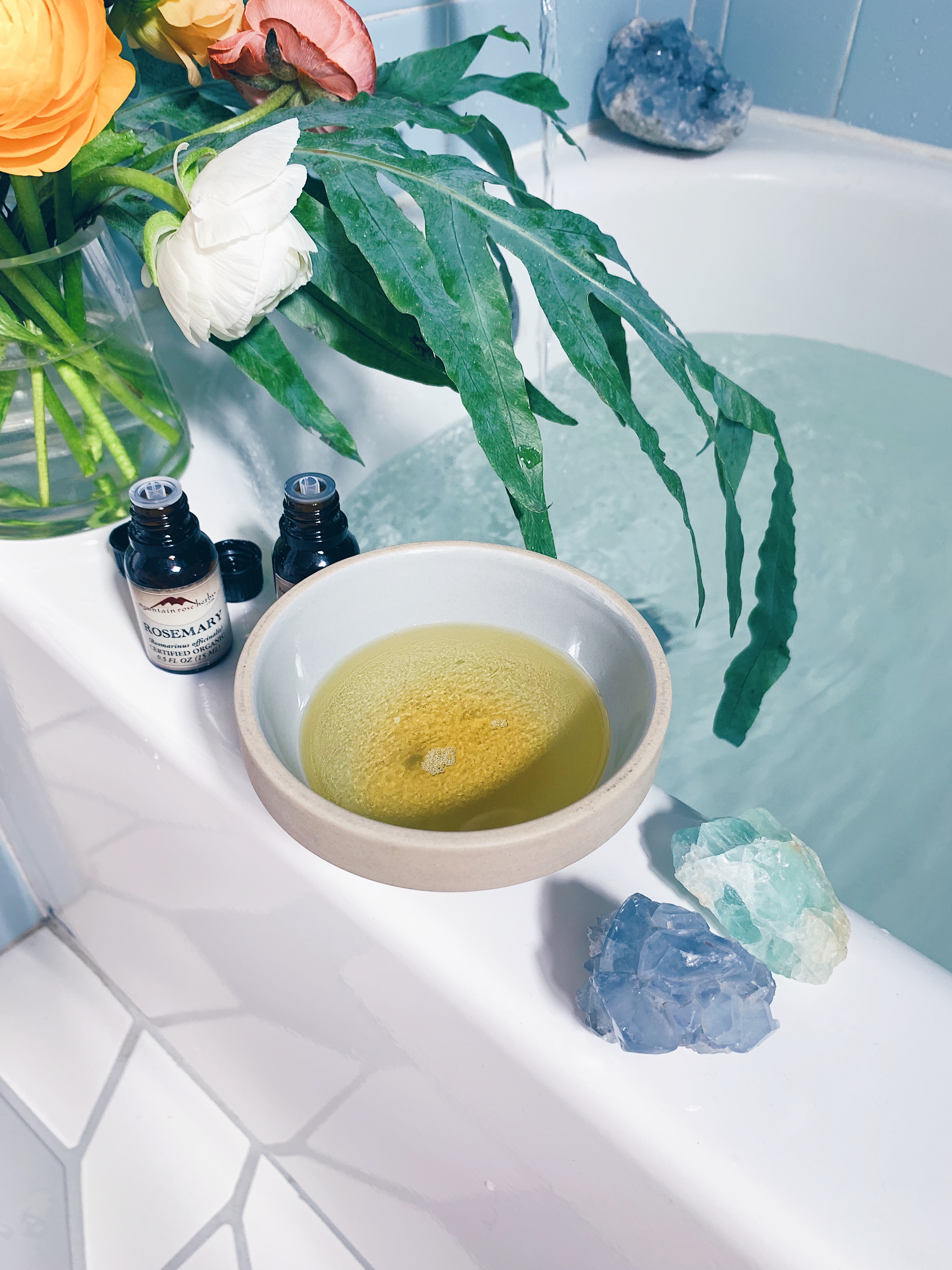 DIY Hydrating Hair Mask
[One use]
2 Tablespoons fractionated coconut oil
2 Tablespoon jojoba oil
2 teaspoons vitamin E oil
2 teaspoons raw honey
5 drops rosemary essential oil
2 drops lavender essential oil
1.) Wrap shoulders with a towel you don't mind getting a bit oily. Start with dry hair. Rub some of the oil blend between your palms then massage oil blend deeply into the scalp, working from scalp to ends. Add extra to dry ends. Wrap hair in towel, and leave on for at least 1 hour and up to 12 hours. Wash out in the shower with your regular shampoo. You may need to shampoo twice to remove all oil. Condition as usual. You can use this hair mask 1-2 times a week or when you feel like you need extra hydration.