****GIVEAWAY IS NOW CLOSED! THANK YOU TO EVERYONE WHO ENTERED!****
Finally a holistic skincare update! I've been promising you guys this one for a while. Before I dive into all the skincare details, I want to announce the AMAZING GIVEAWAY I'm hosting on this post. I've teamed up with some of my favorite brands to give away the ultimate self-care skincare package (a $635 value!) to ONE LUCKY WINNER. Included are literally all my favorite products. Best of luck to everyone who enters! Here are the dets…
GRAND PRIZE INCLUDES:
January Labs Daily Brightening Tonic, Restorative Tonic Mist, Revitalizing Day Cream and Retexturizing Night Cream – What I love about January's line is that it's pared down perfection. The line focuses on less products that do more, so you don't need 5 serums AND 2 creams. (And in case you can't wait to see if you win, use promo code WUHAUS for 15% off anything on site from now until 3/20)
ACTIVIST Raw Mānuka Honey +100, +300, +850 – I use this amazing Manuka honey both internally and externally. I use the +100 and +300 in teas and tonics, and I use the +850 on it's own as a face mask. It's so healing for my skin. I absolutely love it. (And in case you can't wait to see if you win, use promo code ACTIVATE10 for 10% off one order)
Sun Potion Yin Power and Solar Rose Water Mist – The Yin Power includes a variety of herbs and adaptogens that support the skin from the inside. I mist the Solar Rose Water over my face a few times a day.
MIRTH Caftans Laos Robe – This lightweight robe is my favorite. Not only is it super cute, it's comfy, lightweight and breathable.
CONTEST RULES AND HOW TO ENTER:
Leave a comment ON THIS BLOG POST telling me why you want/need/deserve this bag of goodies in your life.
For an extra entry, follow @alison__wu @januarylabs @activistmanuka @sunpotion @mirthcaftans on Instagram then leave ANOTHER comment ON THIS BLOG POST telling me you're following everyone.
For one more entry, tag a friend (or several) in the comments section of THIS INSTAGRAM POST to let them know about the giveaway.
Contest open to residents of the US and Canada only. Must be 18-years-of-age or older.
Contest closes at midnight PST on Wednesday, March 20, 2019.
Winner will be notified on Wednesday, March 20, 2019 by email.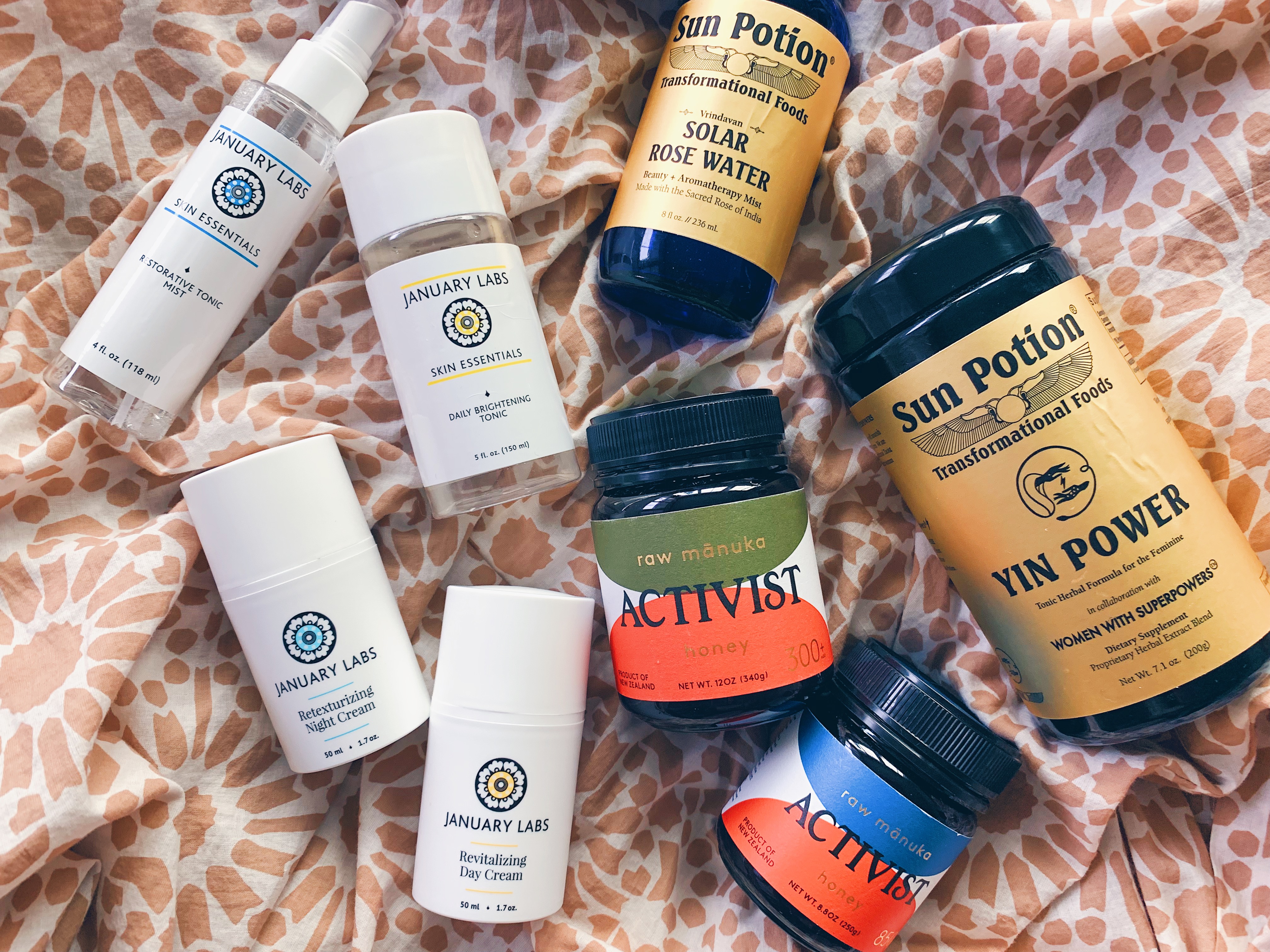 Before I dive into how I take care of my skin, I want to talk about modern beauty culture for a sec. I am absolutely all for taking care of yourself (duh, self-care). But I also absolutely acknowledge how privileged I am, and one must be, to have the time and energy to care, let alone afford all these nice products and facial treatments. These things are a nice-to-have, but absolutely not a necessity. I'm sharing my routine and the products I use with you, but please remember, you absolutely do NOT need these things. You are perfect and beautiful just as you are in your natural state.
I think it's also important to note, we live in times where the predominant beauty standard has reached unachievable heights. We have young girls who are looking up to the Kim Kardashians of the world and think that they should look like that too. And don't get me wrong, I support every person's right to choose, and this includes their choice to change their appearance. I just also think it's important to acknowledge how dangerous it can be. Our desire to constantly change or "fix" our appearance is a very slippery slope. No amount of surgery, procedures or expensive products will help us find the self-love and acceptance we really seek. That takes hard work and looking at ourselves very honestly, not through a FaceTune filter. It's learning to love our strengths, what we perceive as beautiful, AND our weaknesses, what we perceive as flaws. There is SO MUCH beauty in the diversity of our appearances. Let's embrace them all. Let's expand what society has deemed as the standard by accepting and loving people of all shapes, sizes, ages, colors and skin types and demanding that there is equal representation of ALL people in the mainstream culture.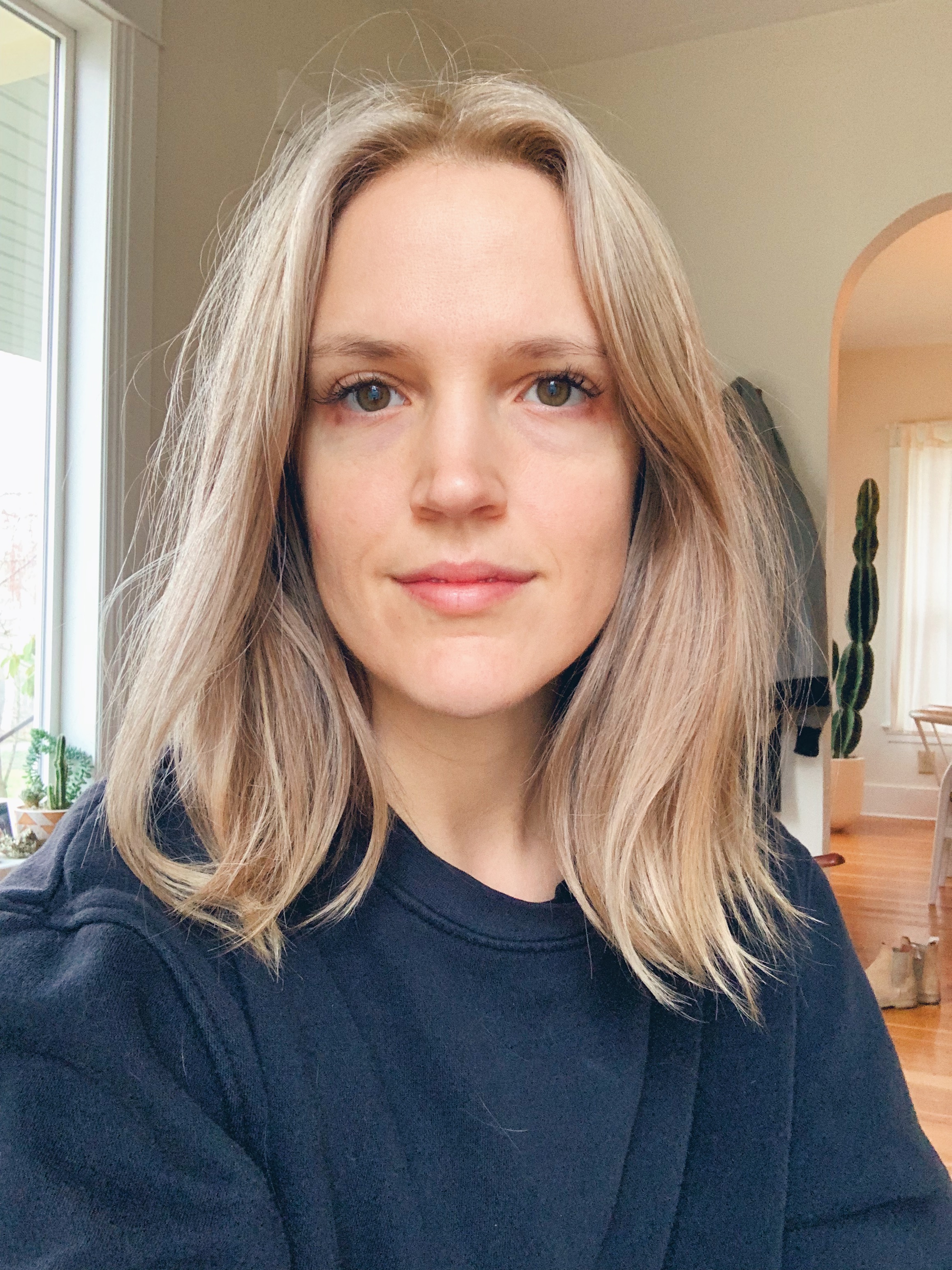 Everyday Essentials
Honestly, I'd say some of the most important things I do for my skin are relatively easy and FREE. Drink plenty of water everyday (I aim for 3-4 liters). Get enough sleep (I aim for 8-hours a night). And be conscious and cautious about what you put on and in your body. This last one is a bit more tricky,  but it just takes mindfulness. Start to notice which foods effect your skin in good ways and which foods effect your skin in bad ways. If you have super sensitive or reactive skin like me, limit the amount of products you use and never start using more than one new product at a time. You don't need 100 products. Simplify. Find what works for you.
(Mostly) Everyday Routine
Over the years, I've come to understand my sensitive skin on a deeper level. It changes from day to day, so I've really had to tune into it and try to figure out what it's asking for. I adapt my skincare routine to the state of my skin and its needs. It's another lesson in listening to your intuition. If you get a feeling about something that's going on with your skin, chances are you're more than likely right. This is the routine I generally follow and the products I use most days unless my skin is being overly reactive (which actually happens more than you might think):
Upon rising: wash my face with alternating warm and cold water for about a minute. Dab January Labs Daily Brightening Tonic over my face using a soaked cotton pad in an upward motion from the center of my face outward. Smooth January Labs Revitalizing Day Cream over my face avoiding my eye area. Somedays, I dab January Labs Eye Cream around my eyes, but I'm not religious about using it. Use my jade roller (tutorial on my IG Stories highlights) for 3-5 minutes. I currently use this Suntegrity board-spectrum sunscreen, but I would love to find something that's a bit more lightweight (any suggestions?!). Finish with a spritz of January Labs Restorative Tonic Mist or Sun Potion Solar Rose Water.
I focus on hydrating from the inside. Constantly sipping water throughout the day. 3-4 liters if possible!
I focus on eating lots of vegetables and healthy fats throughout my day. I often add in some adaptogens (like the Yin Power) to my morning matcha to support balance within my body.
In the evenings, I wash my face with the Osmia Black Clay Facial Bar. Dab my face with the Daily Brightening Tonic again. Several nights a week, I use the ACTIVIST 850+ Manuka Honey as a face mask (spread evenly over entire face and leave on for 20-60 minutes). I finish with the January Labs Retexturizing Night Cream.
I try to get 8-hours of sleep every night. I recently switched to using Upstate Silk Pillow Cases, and I've noticed a major difference in the amount of sleep lines on my face when I wake up. Silk pillow cases are also great for hair health.
Perioral Dermatitis (PD) Routine
As some of you may know, I was diagnosed with perioral dermatitis (PD) about 5 years ago. I'm not going to go into major detail here, as I have an entire blog post talking about my experience with it. The main takeaways are that PD hates relatively all products and makeup, so as best you can avoid putting anything on your face. I will say though that if there was one product that may help, it would be the Avene Cicalfate Cream. I got an Instagram DM from a reader who recommended using this cream and absolutely nothing else on my skin for 2 weeks, and my 6-month-long outbreak of PD pretty much disappeared by the end of the 2 weeks. I've heard from many of you that it's been helpful in getting rid, or at least calming, your PD as well. Might be worth a try if you haven't already. Once you have PD, it's likely to come back, so it's great if you can identify your triggers. I haven't had a major outbreak in over a year, but little bumps come up now and again. PD is also aggravated by stress. It feels counterintuitive, but I've found that when my skin is overreacting, it's usually best if I just leave it alone all together and avoid looking in the mirror as much as possible.
Skin Fasting
I learned about skin fasting last month through an article I read on Man Repeller (explains the theory behind why it works). It really resonated with me. While I'd never done a full 7-day skin fast, there were many days (sometimes 2-3 in a row) that I would refrain from using any products because of the overly reactive nature of my skin. So I decided to embark on a 7-day skin fast. For the entirety of the fast, I didn't use a single product on my face including my lips. I washed with alternating warm and cold water in the mornings and used a warm washcloth laid over my face in the evenings. I was really surprised by how my skin responded. Besides my lips feeling extremely dry and burning for the first 4 days, my skin reacted great to the fast. My face never really got dry and any blemish or inflammation I had seemed pretty calm the whole week. I didn't get any new breakouts or irritations during the fast either. Overall, it was a great opportunity to step back from my regularly routine and really look at all the products I'm using. While, yes, I enjoy using my day and night creams, maybe I don't absolutely need them all the time. It felt good to take a break and give my skin a chance to breathe. Since the fast, I've been doing 1-2 days a week product free. I especially recommend this practice to people with very sensitive or overly reactive skin like me.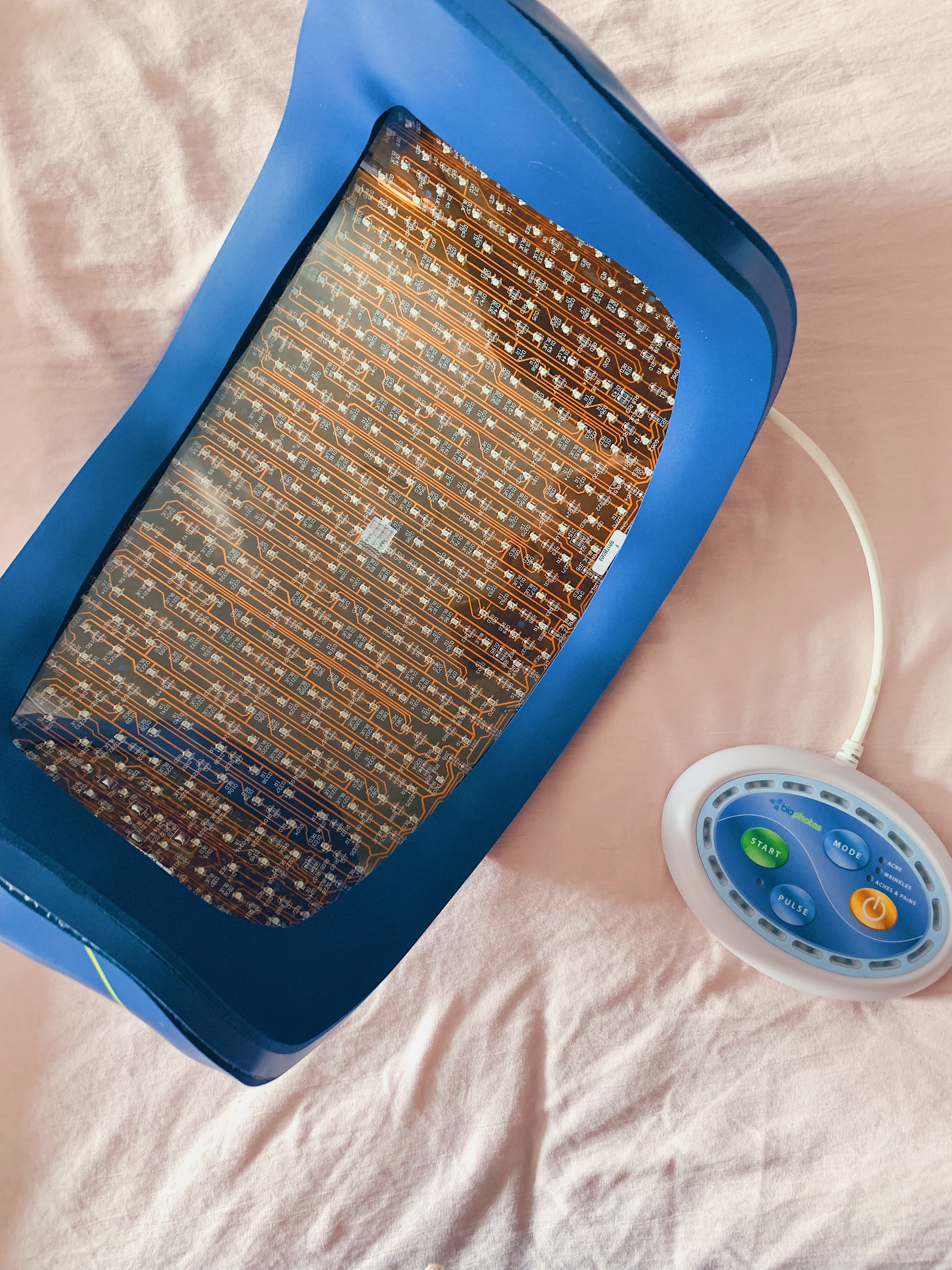 Holistic Facials
I started getting monthly facials about a year ago. I'm almost 33, and I noticed my skin start to change a few years ago after I turned 30. My regularly facialist here in Portland, Oriana (she's amazing!!!), uses a combination of LED, microcurrent and Reiki during our treatments. Besides the positive effect they have on my skin, I've actually found that I really love the relaxation and stress relief aspect of facials. Facials have fast become my favorite form of body care. I don't really get massages anymore (maybe 1 or 2 a year) since I've started getting regular facials. Not that they need to be mutually exclusive, but I personally don't have the budget to afford both. I will say that I think it's worth finding a facialist that uses LED, microcurrent, microdermabrasion, oxygenation or other techniques that you wouldn't be able to do at home. In NYC, my favorite facial that I've had is at Joanna Vargas. If you have any other NYC facial recommendations, I would love to know!
Microneedling
Skin needling, also called microneedling therapy, collagen induction therapy (CIT), and percutaneous collagen induction (PCI), is a minimally invasive skin-rejuvenation procedure that involves the use of a pen that contains fine needles. The needles are used to puncture the skin to create a controlled skin injury. Each puncture creates a channel that triggers the body to fill these microscopic wounds by producing new collagen and elastin. Through the process of neovascularization and neocollagenesis, there is improvement in skin texture and firmness, as well as reduction in scars, pore size, and stretch marks. I did 4 initial treatments with Kimmer (highly recommend!) at Echo Natural Beauty one-month after another last winter, which is recommended to begin. It is considered a minimally invasive treatment, but it's still pretty intense. You need a couple days of recovery afterward. No touching your face, no sun exposure whatsoever, no physical activity, no alcohol. Essentially your whole face is an open wound, so you have to be very careful about aftercare. That being said, I did notice a big difference in the overall texture of my skin after the 4 treatments. My pores were visibly smaller from the microneedling. It's recommended to go back 1-2 times a year after the initial 4 treatments.
LED Light Therapy
LED Light Therapy is a non-invasive and soothing way to expedite the skin's healing process. LED works by sending light waves into deep layers of the skin, stimulating natural intercellular response. LED can reduce wrinkles, improves skin tone and texture, stimulate collagen production and kill acne bacteria. LED is beneficial for all skin types and overall a soothing treatment (read: I usually fall asleep under the lights). I've found it to be especially helpful for any sort of breakout, even PD. I always notice a difference in my skin a day or so after a treatment.
Microcurrent
Microcurrent uses a mild electrical current to stimulate the skin and facial muscles, promoting collagen and elastin production. This treatment lifts and contours the face, softens wrinkles and improves overall complexion. It's pretty incredible how you can visibly see your face more lifted after a treatment. I purchased an at-home microcurrent device through Oriana, and I usually use it once a week. The currents are not as strong as the professional machines that estheticians use, but it's great for maintenance and relatively easy to use at home. See Oriana giving me a microcurrent treatment in the video below.