Very excited to finally share the Wu Haus office + den makeover with you! We started this project waaaayyyy back in October, but then I left town for 6 weeks, then it was the holidays and then it just took me a while to pull everything together to finish the project. What started as switching to pocket doors turned into a full-on makeover with all new furniture and lighting. The main challenge with this project was turning a very small, very particularly laid out room that we use for multiple purposes. If you scroll to the bottom of this post, you can see all the 'before' photos.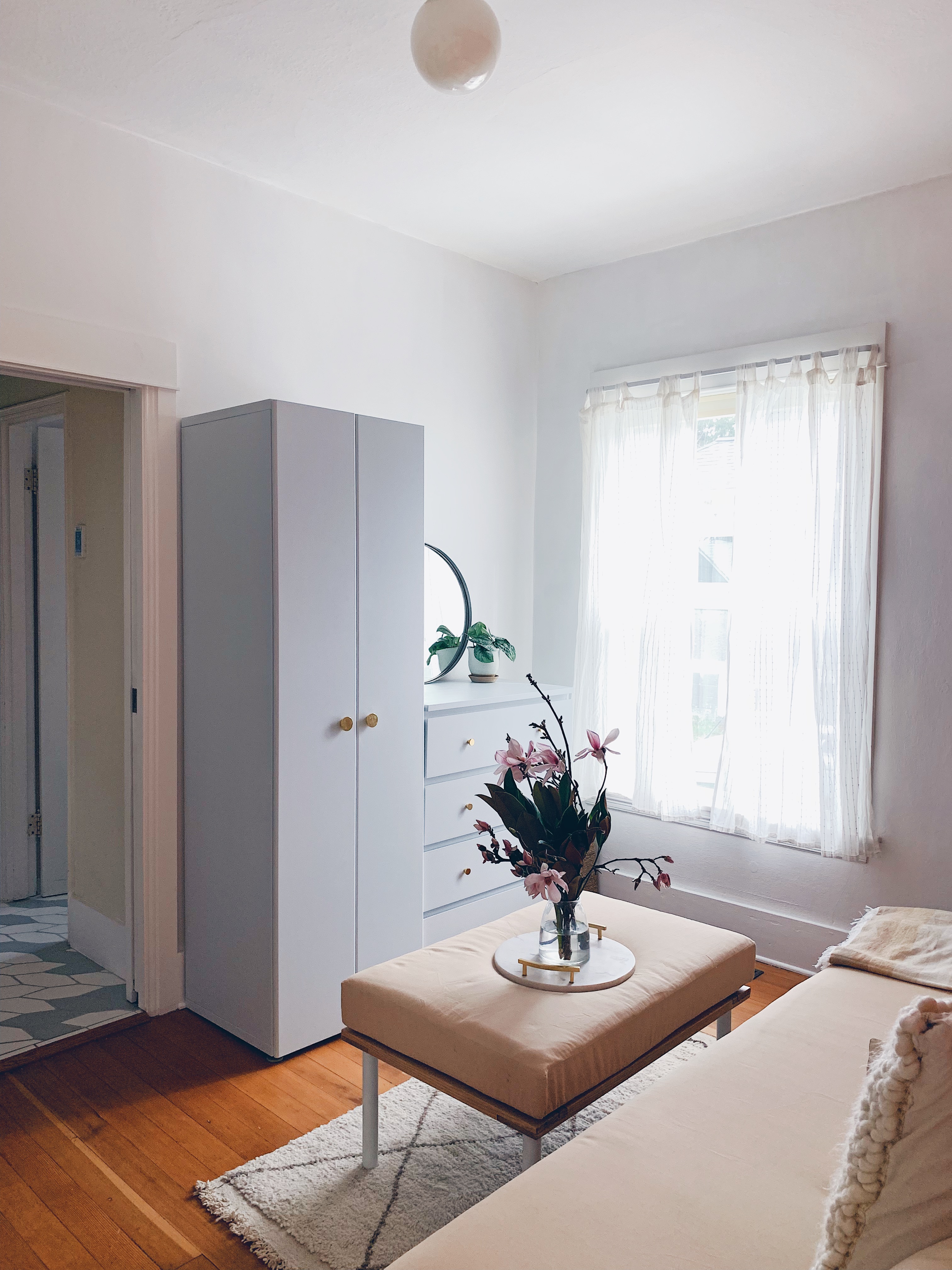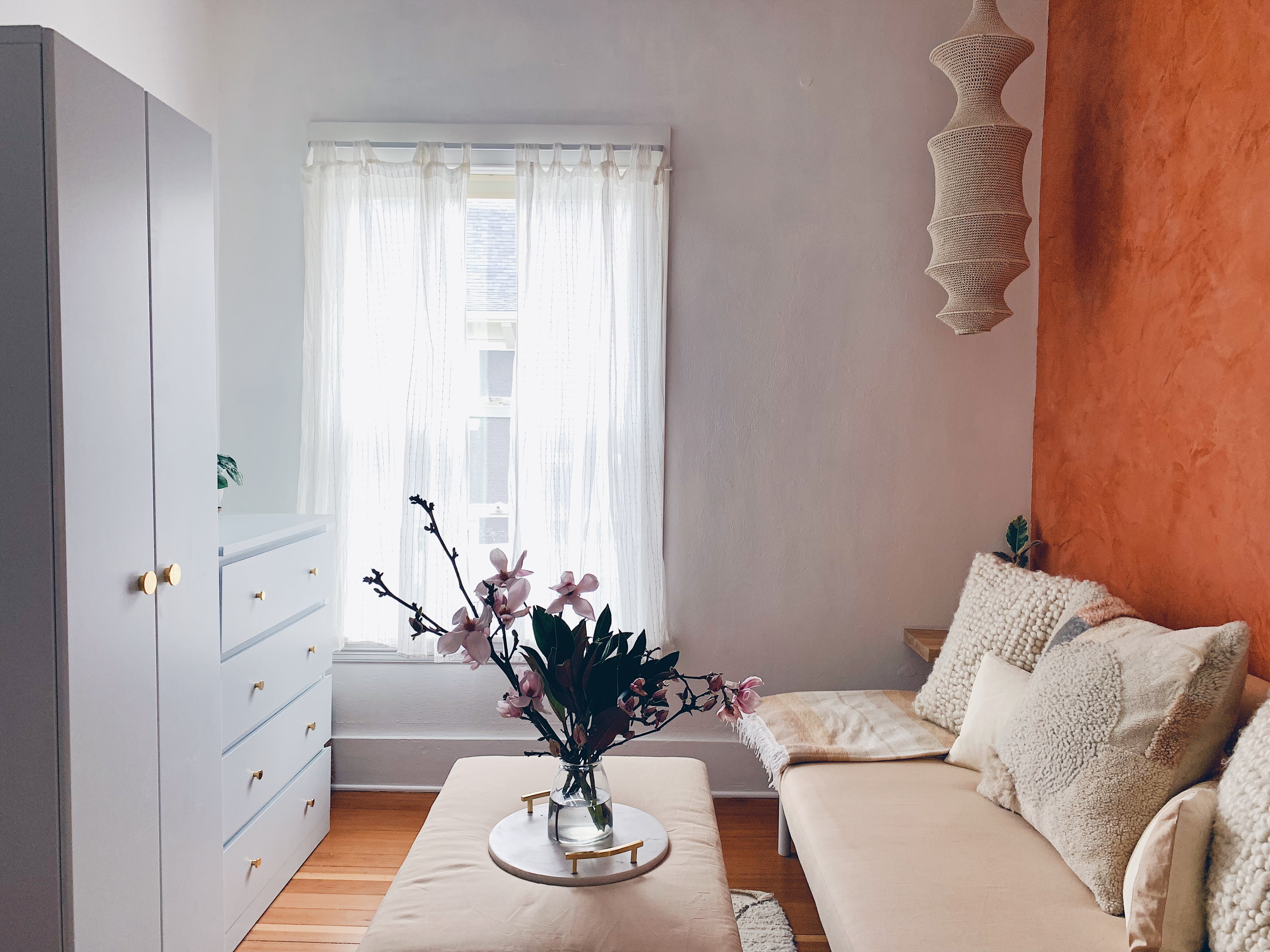 As you may remember, my husband ended up losing his closet in this room when we remodeled the kitchen. (In case you don't remember: what everyone working on the project thought was the walls hiding our old oil heat chimney that jut out into the kitchen was actually Chris' closet. Oops.) So needless to say, one of our main objectives for the new office + den was to find a way for my husband to have some sort of closet (without actually having a closet). We also use this room as an office and a den where we like to hang out in the evenings and watch a show or movie.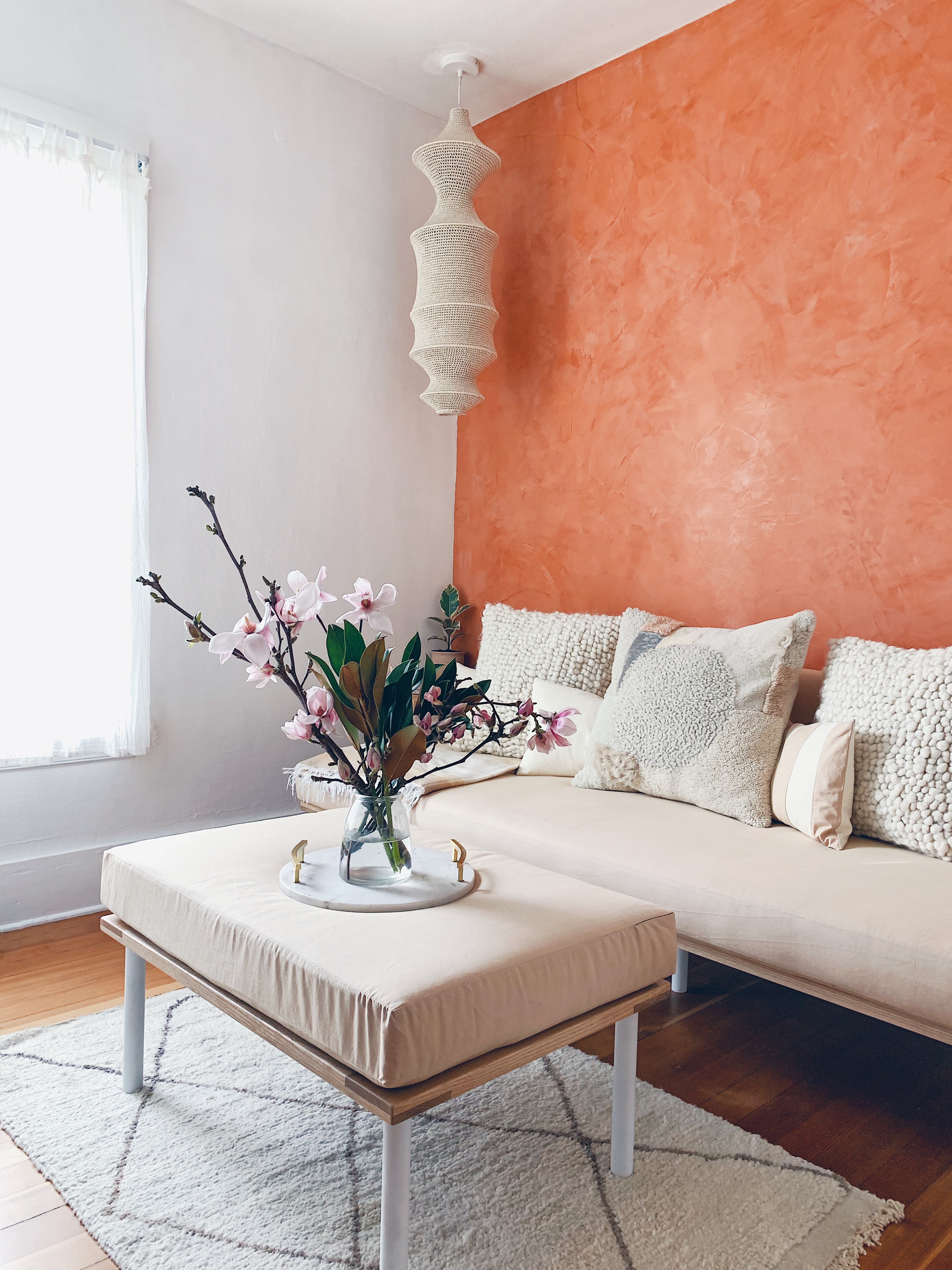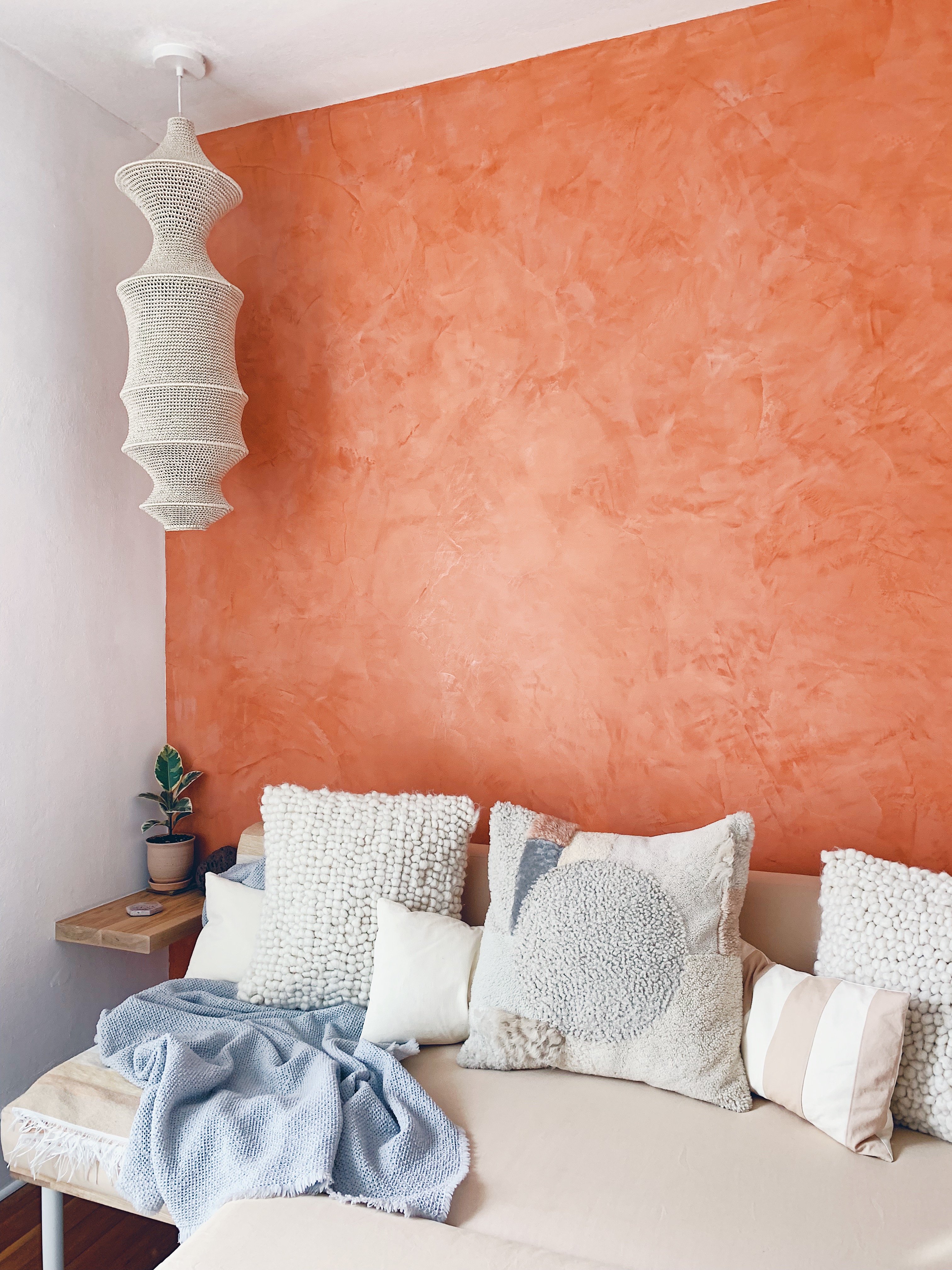 In terms of design, I was really inspired by warm desert tones, but I also wanted to bring in an unexpected shade of cool, icy grey/blue. Though I chose the colors before we went on our trip to Morocco, I think I must have known how much I was going to love it there because this room definitely feels inspired by our trip. I decided on the color for the Venetian plaster accent wall before I left on our trip. I grabbed some paint chips for color inspiration, but my contractor ended up tweaking the color based on how it was showing up on the wall once in the room. I'm so obsessed with Venetian plaster, it's hard for me to imagine doing a project and not including it in my plans.
One of my favorite details is the crocheted Hamimi lantern that I found in Marrakech. I love the light it gives off and the beautiful shadows it creates. I also love the Milena Silvano pillow that acts as a focal piece on our gorgeous custom Young American day bed. The nubby wool pillows are from Pampa and my sweet mama made all the smaller pillow covers. I worked with my dear friend Jake, who designed and built the day bed, to create something that was functional, beautiful and very comfortable. The base is made of ash wood with powder-coated metal legs. It serves as a bed for anyone staying the night and is also perfect for cozying up to read a book or watch a movie. The ottoman functions as both a place to rest your feet and a coffee table. We had our contractor install a floating shelf in place of a side table next to the day bed.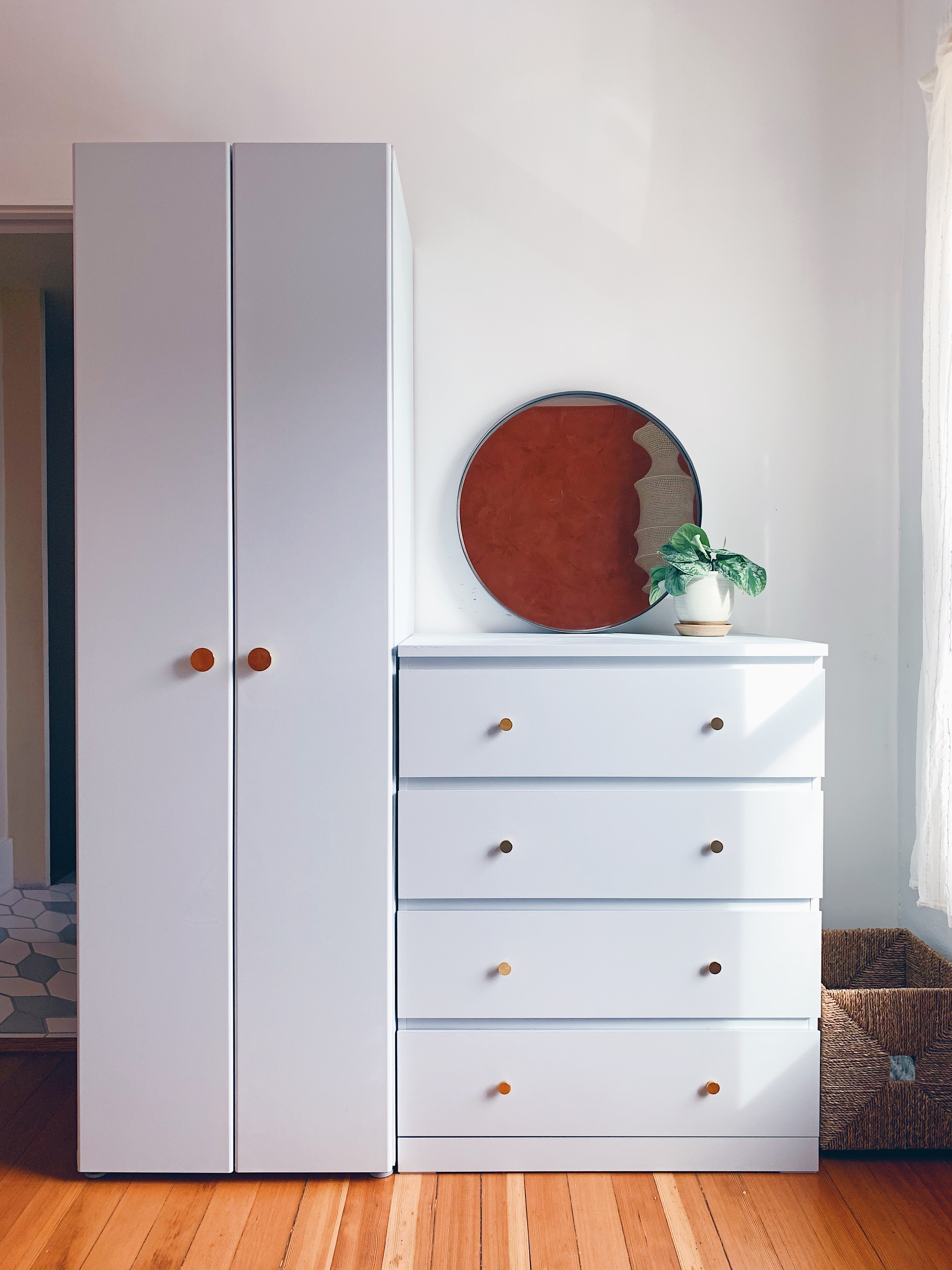 Instead of spending a ton of money on custom cabinetry, we decided to go with a couple pieces from IKEA for the wardrobe and dresser. We were able to suspend two rods (one high and one low) in the wardrobe, so my husband has double the hanging room. We sanded, primed and painted both pieces that were originally white laminate. The wardrobe is STUVA / FÖLJA and the dresser is the 4-drawer MALM. We painted them Olympus White from Sherwin Williams and used gold hardware from Superfront to give it a fresh, modern look.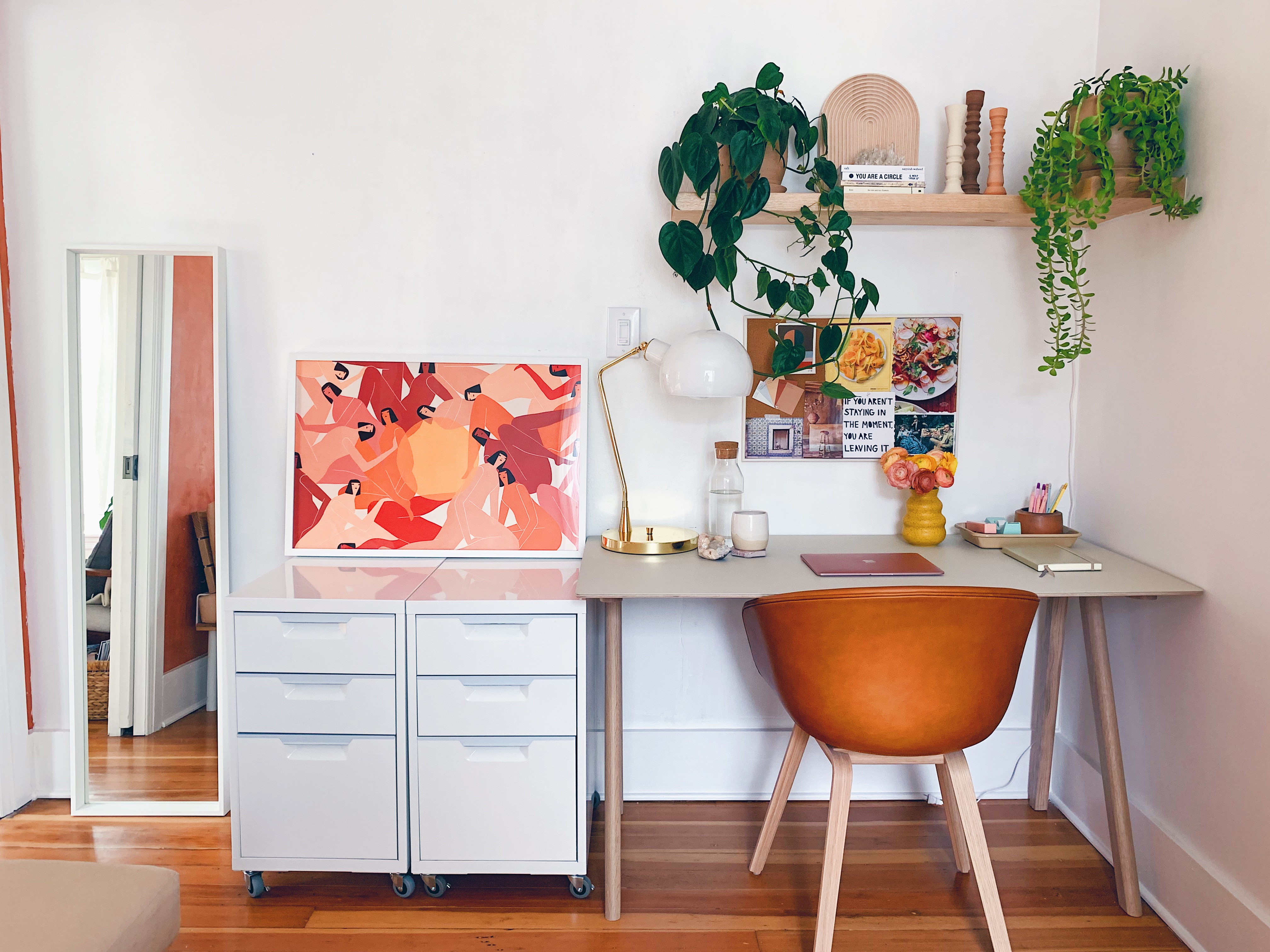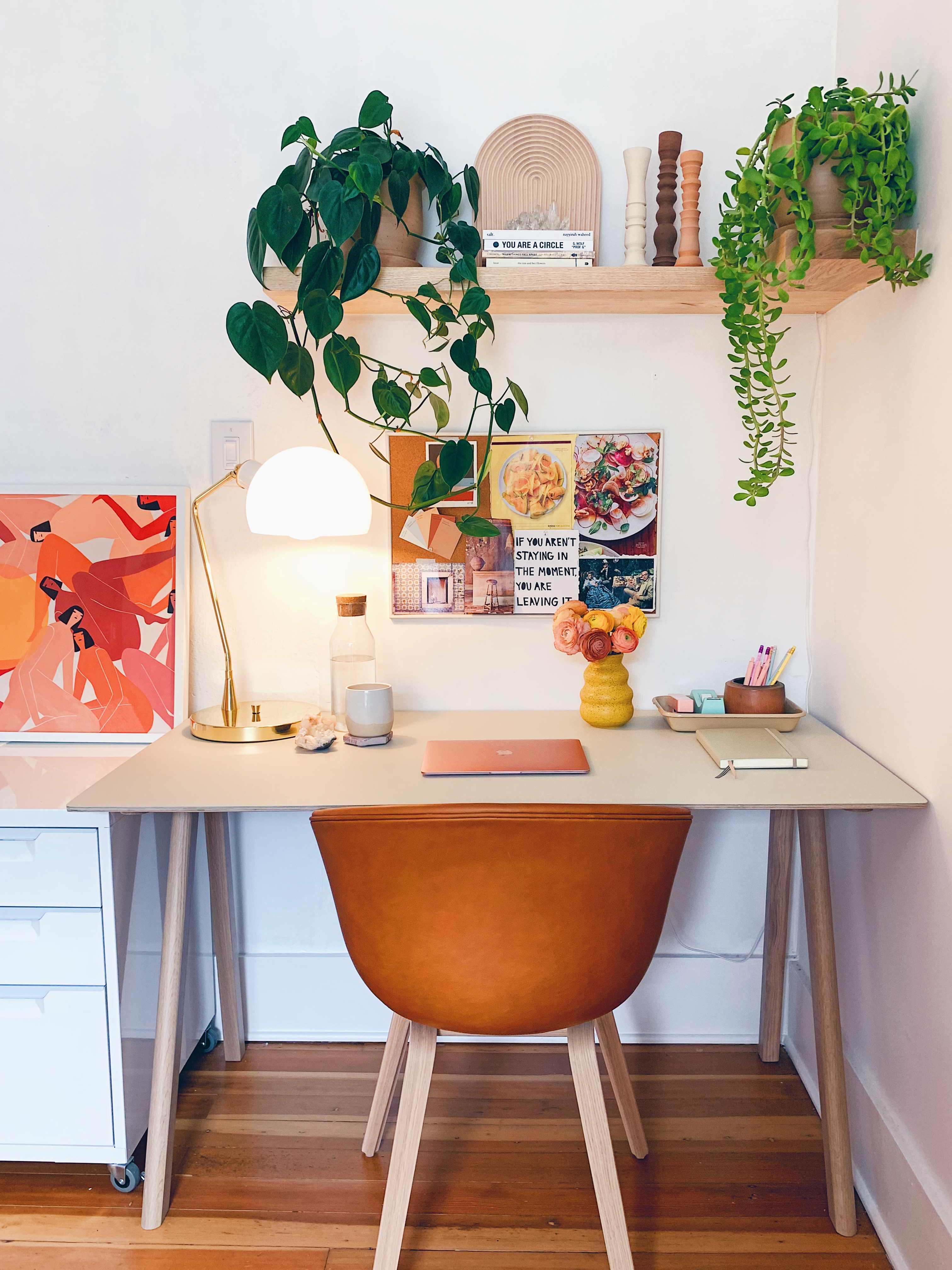 The new desk area feels separate without feeling out of place. Our beautiful new About A Chair 23 from HAY pretty much matches the Venetian plaster accent wall identically, which is a great tie into the rest of the room. The Copenhagen 90 Desk from HAY is minimalist perfection with plenty of space to work and to house the oversize Edendale Task Lamp from Rejuvenation. I've always dreamed of having a Laura Berger print and I love how the colors of this one work so well with the colors in the room. Our contractor made the shelving to match the floating shelf in the corner of the room next to the day bed. Our CB2 filing cabinets help keep all our papers and random office stuff organized.