THE SOL NECKLACE is a limited-edition collaboration with Anna Monet Jewelry. Only 100 are available; get yours here.
I met Anna at the Spirit Weavers Gathering in 2017 in a conscious commerce workshop. We sat in a circle of about 30 women all telling stories of our creative businesses sharing the joys and the challenges of being female entrepreneurs. Both Anna and I were in the earlier stages of our businesses. Both recently launching our creative endeavors into the world. We connected immediately.
We stayed in touch over the years, seeing each other every year at SWG. Anna came to the Finding Fluidity retreat I led with Shannon Sims in 2019, and she's joining the Oaxaca trip this March. She's been a constant supporter, a beautiful friend and a huge inspiration to me both personally and professionally. It really feels like a full circle moment releasing THE SOL into the world together. I am so proud of the necklace we created together. And how far both of us have come since we first sat together in that circle.
Anna is so talented and her work is imbued with intention and love. I wanted you all to get the chance to know Anna a little bit better, so you may be inspired by her as much as I have. Here is a little more about Anna and her work in her own words.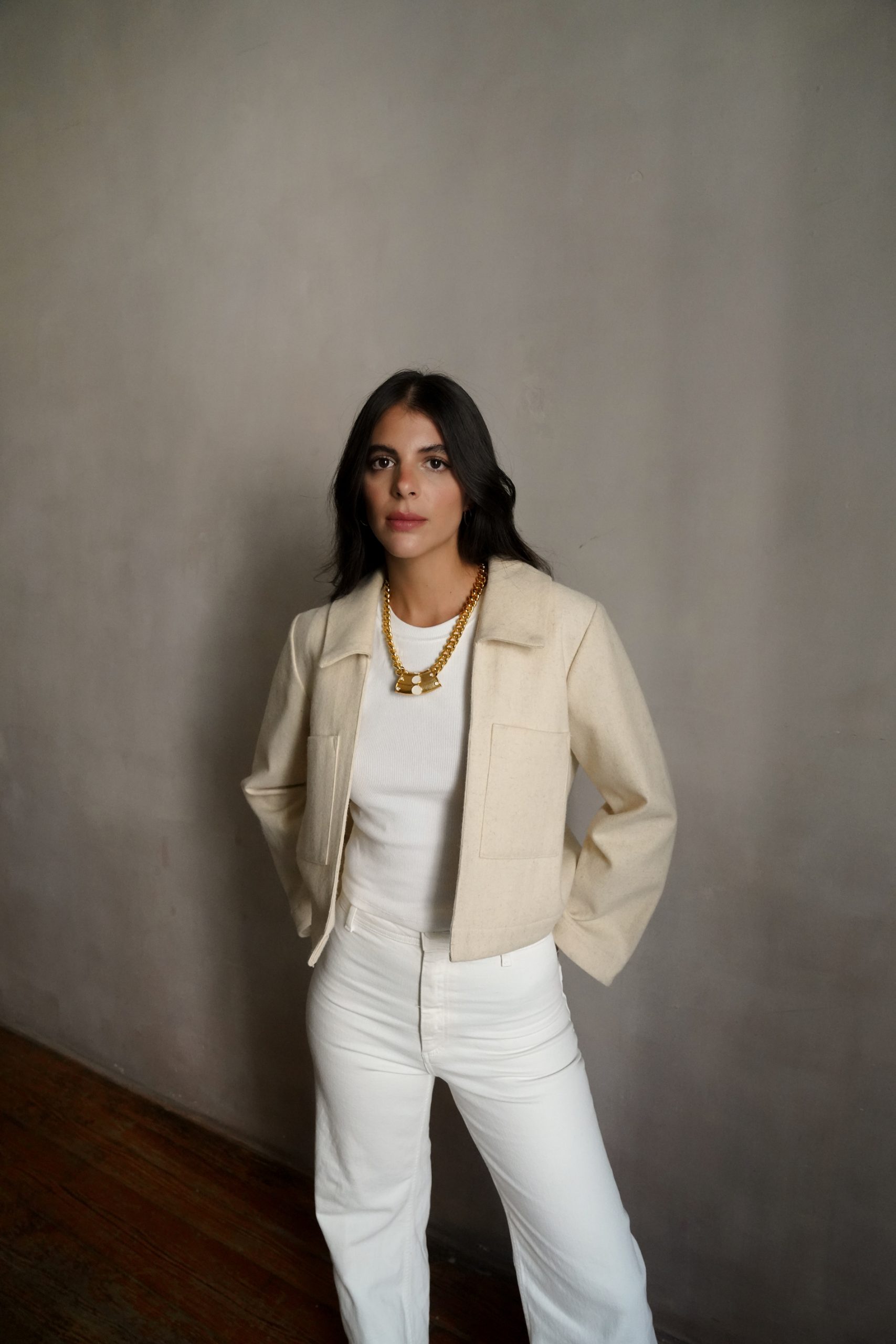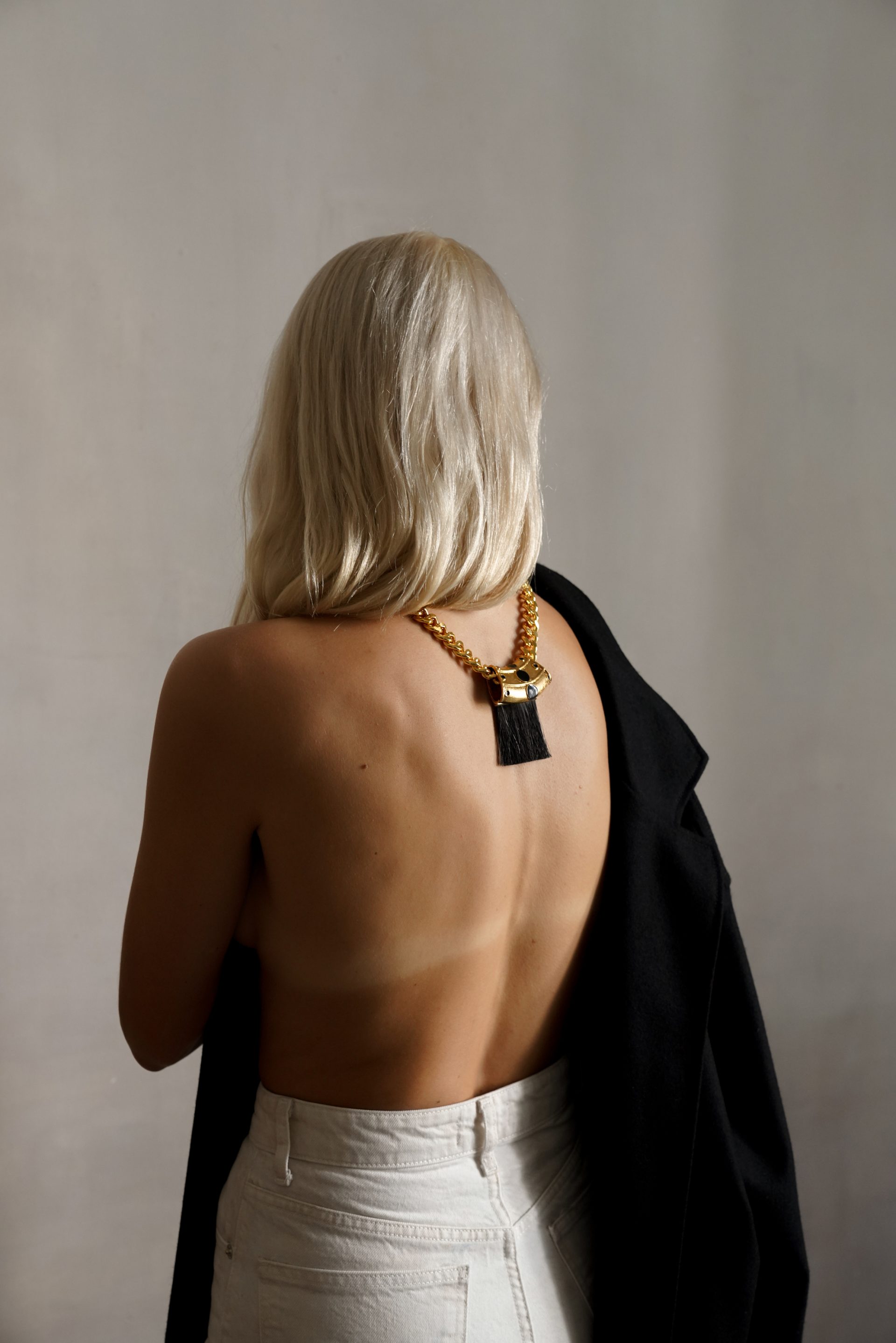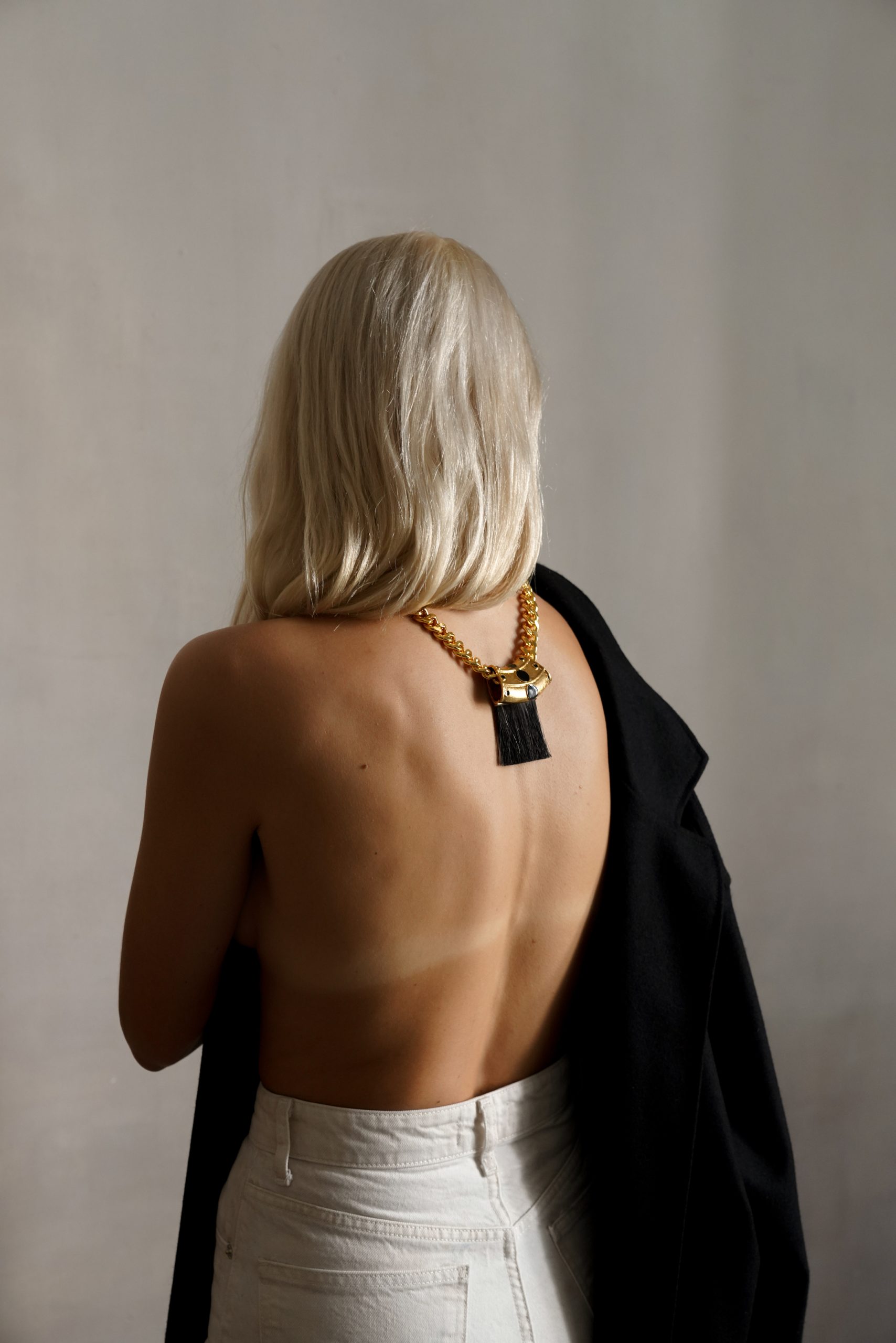 Wu Haus: When did you start making jewelry? What drew you to this art form?
Anna Monet: I started making jewelry when I was 7 or 8 years old. It was the first creative practice that struck a particular chord for me. I felt entirely in the flow state when I'd create designs from found objects, beads, and minerals, soon it became my weekly practice. Coincidentally, my step-grandfather was a jeweler and a lapidary (stone carving) artist. I spent a part of my childhood surrounded by his work and a vast collection of minerals from all over the world that my grandmother had on display in her apartment. By the age of 13, I have already been selling my work at art fairs. It was incredibly exhilarating to see another human enjoying a piece that I created with my own hands, and I was immediately hooked on the feeling.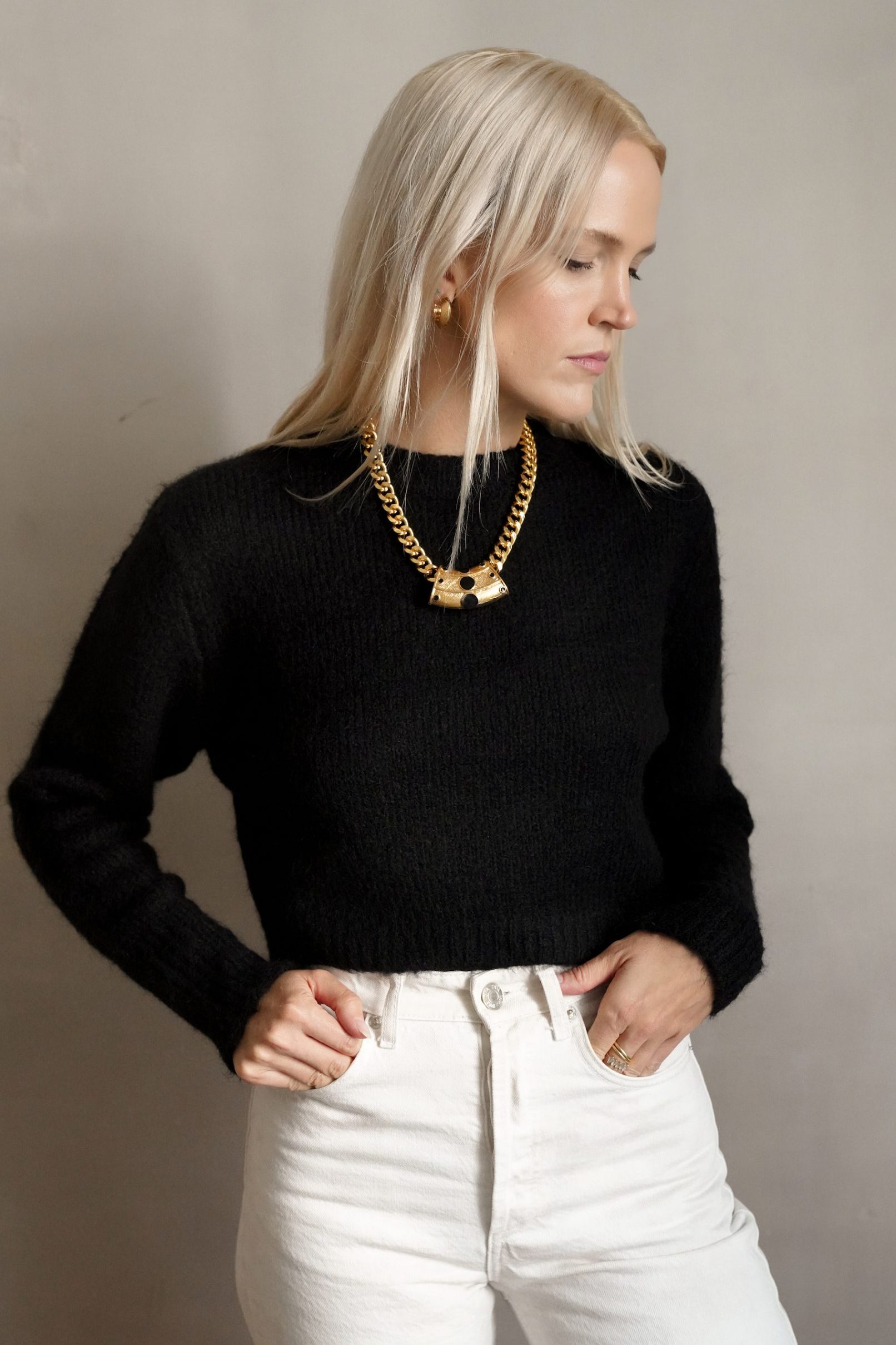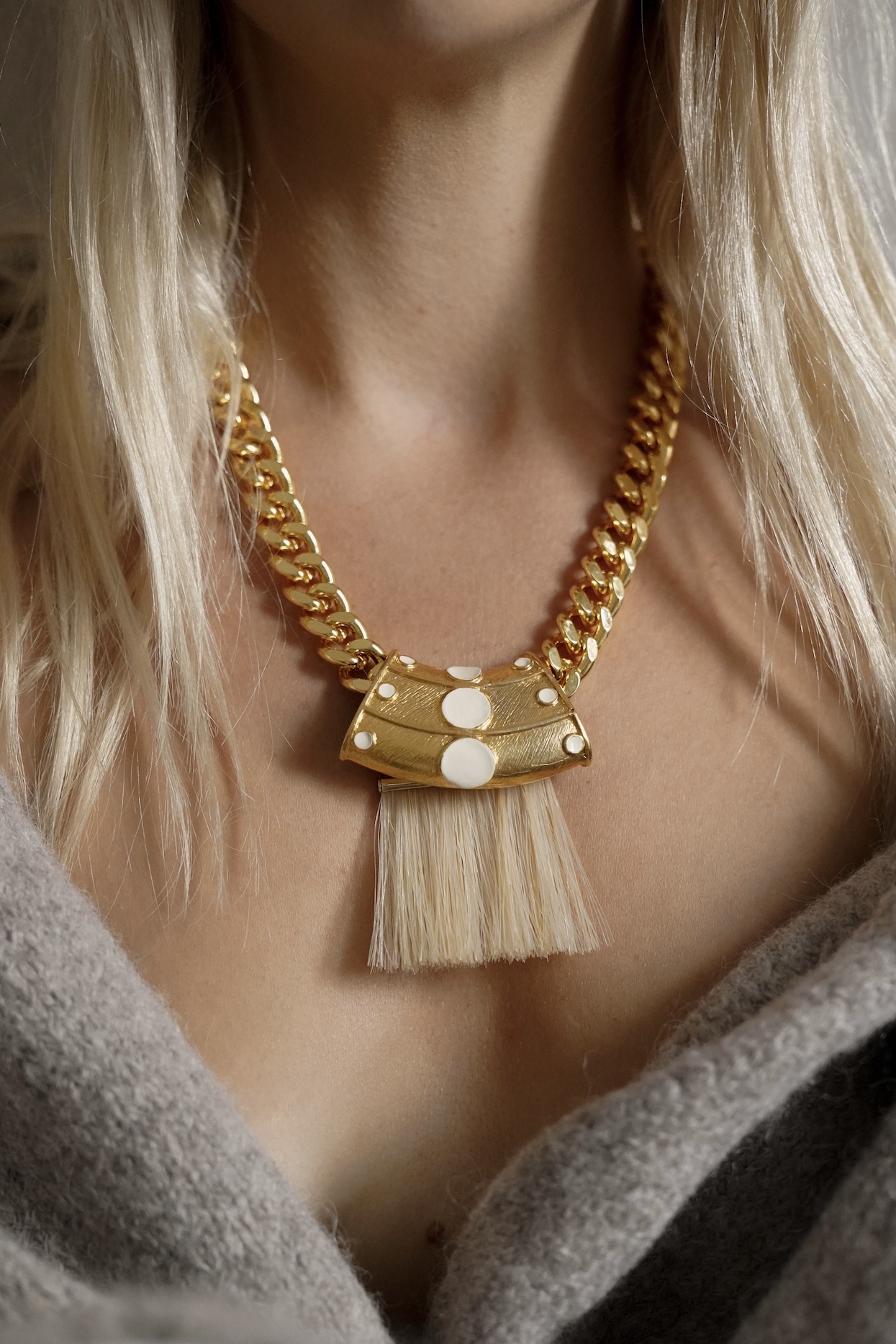 WH: What inspires your work?
AM: Nature and its shapes inspire me, and lately, color combinations I find on The West Coast. Careful observation of the world around me has been incredibly inspiring for my current body of work. When I look at the sunset and note color interactions, this observation could eventually lead to new exploration in my work. I am massively inspired by traditional practices and their different approaches to time. How a process itself is slow and ritualistic, it's a journey that's vital regardless of whether it yields a specific result or not. Coming from a fashion background, I feel repelled by how the industry disregards the health of our planet. I find that the color industry in fashion is especially controversial. Our sacred waters of the Earth are suffering so much from toxic runoff from dye factories. I started studying natural dyes because I believe that there is beauty in the process and peace of mind. I know that I can safely dispose of natural dyes in my sink without worrying about poisoning our water. I find it extremely important to create my work slowly and mindfully, almost as an act of rebellion against fast fashion's capitalistic and shortsighted ways. Women are a massive inspiration for me as well. Seeing how their soft power and graceful ways move through the world creates waves of change. I want to create jewelry that's powerful enough to make them feel their best, empowered selves.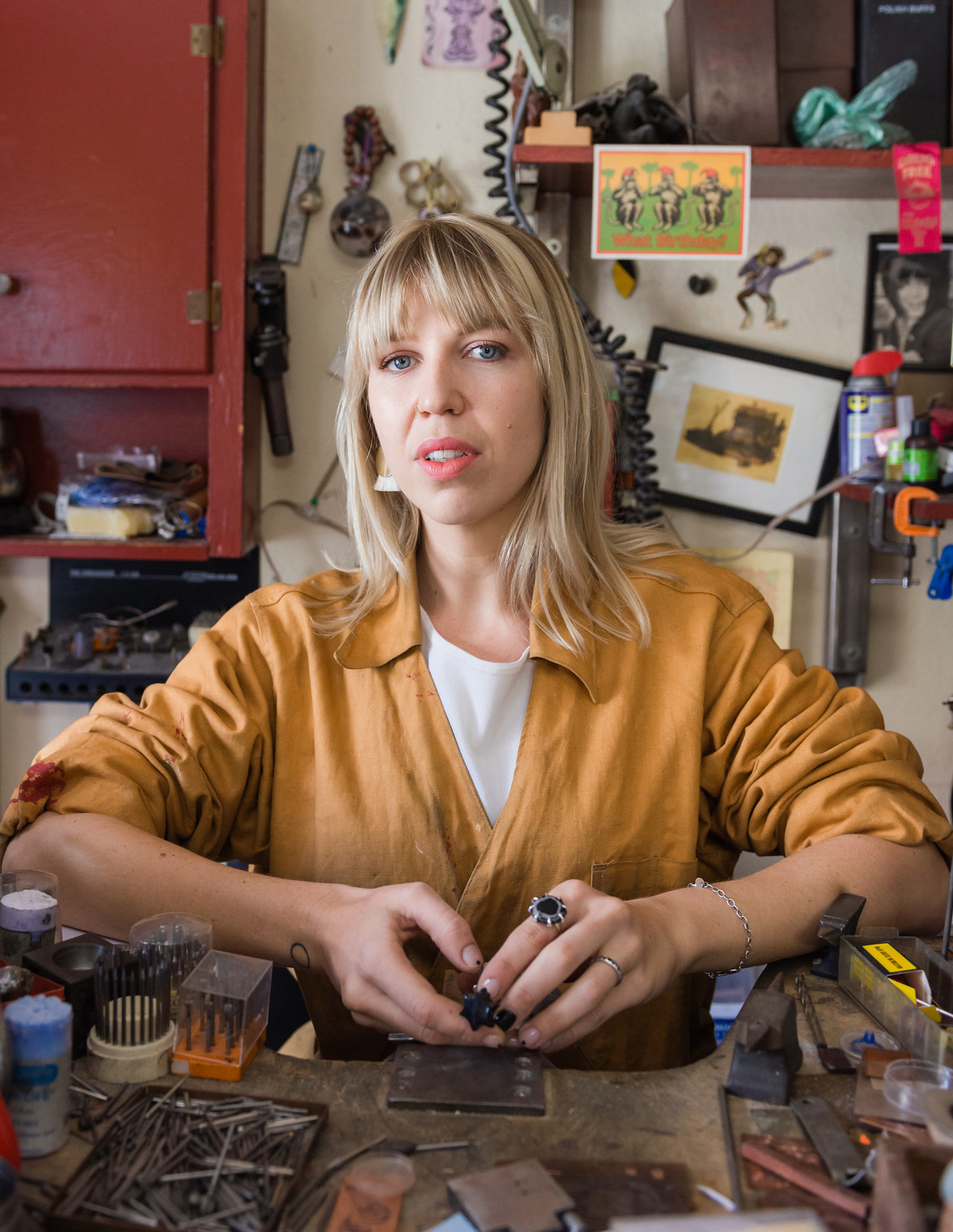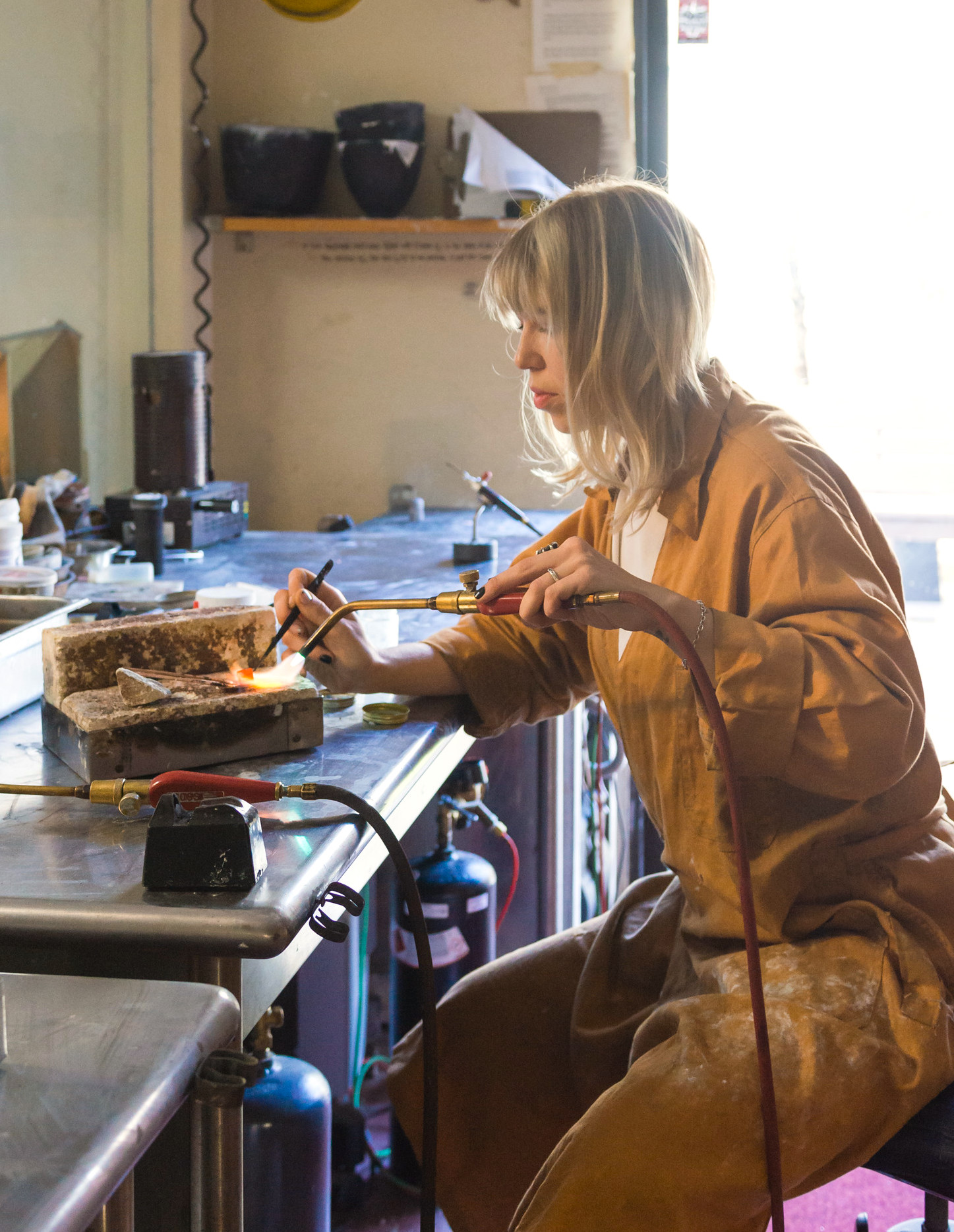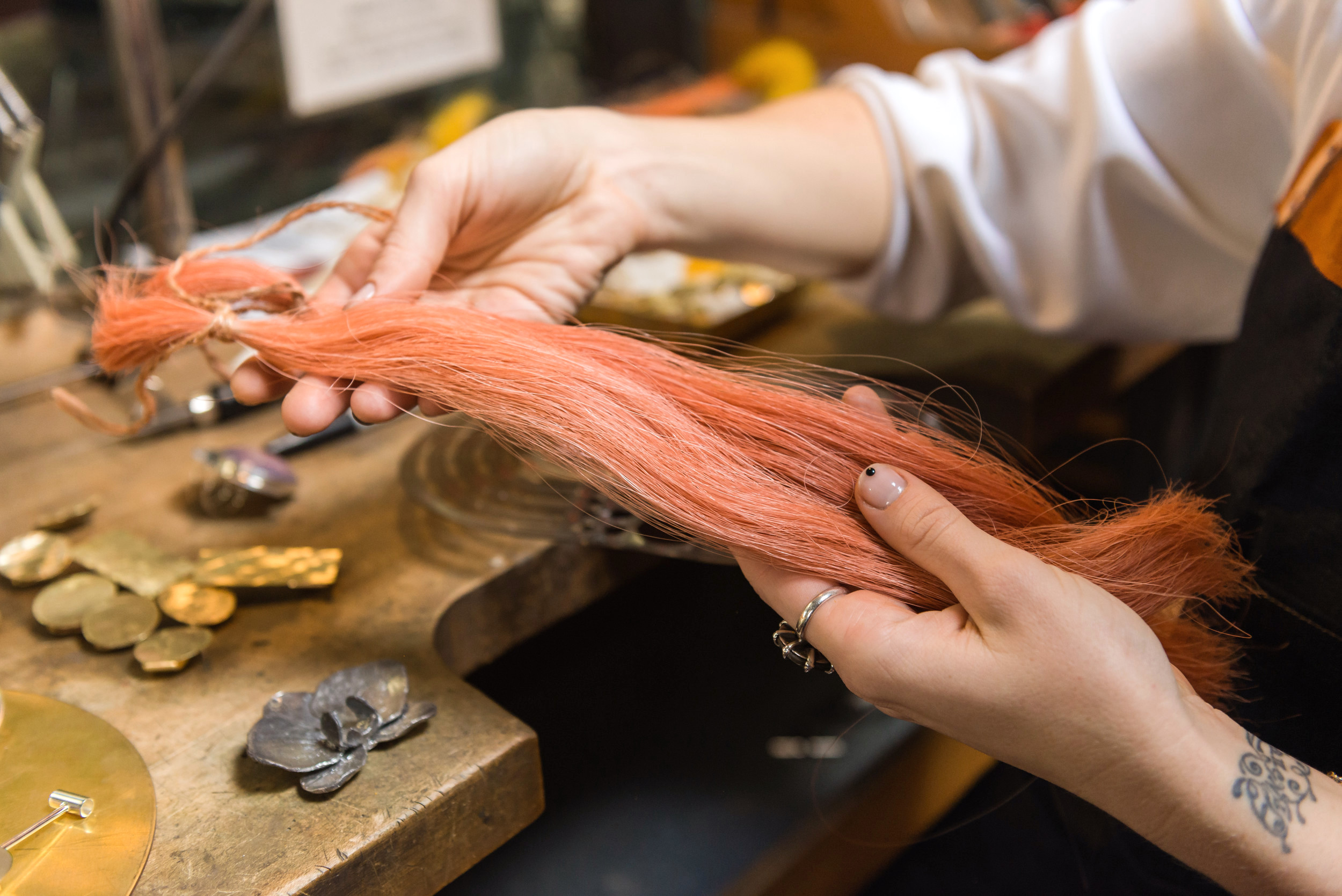 WH: You use horsehair throughout your work. Can you speak to why you use it and what significance it has for you? Where do you source the horsehair?
AM: I came across horsehair as I searched for a long-lasting organic fiber to use with my natural dyeing skills. I was specifically looking for organic material that's a by-product of an industry that otherwise would discard it. During my sourcing journey, I found a group of Native American artisans in the Caddo Nation that gather hair from horses already in need of a haircut. I've learned that the group is called to travel and cut hair from horses in need. This way, the horsehair itself becomes a glorious by-product of their work. I've been sourcing horsehair from them ever since. The nature of their work makes this a limited resource, a suitable restraint in my book, making my pieces exclusive and limited edition, which is how I'd like to keep it anyway. My inspiration for working with natural dye and horsehair is the ancient ways in which original people of the world lived and cared for our planet. Communities used local organic materials for arts and ceremonial wear that they believed to enhance their presence. In addition, I love how well horsehair takes on natural dye. It allows me to go deep into color exploration. Lately, I've been exploring natural dyes of New Mexico for the Georgia O'Keeffe home and museum, where I was able to memorialize native plant pigments on horsehair for a custom jewelry collection.
WH: Where are you based and how does that influence what you create?
AM: I am currently based in San Francisco, California, and to me, it is the most vibrant place to create my art. In terms of design, colors, people, and access to many natural landscapes and cultural opportunities here seem limitless. I love living close to The Pacific ocean and its diverse coastal nature is forever my inspiration. Living among redwoods, some of the oldest trees on Earth, is incredibly powerful and inspiring. Colors of the California forest and coastline never cease to amaze me. We get to have a bounty of fruits, mushrooms, berries to take in and get inspired by. Many contain various pigments that can be used for natural dyeing. There are a multitude of ways to engage with nature. I love harvesting my own natural dyes from the region. I hope that soon I can focus on unique one-of-a-kind pieces where the magic is in the details of the dye blend, its locale and the energetics and properties of each natural element used. This custom essence of the dye blend will mean that I won't be able to repeat even if I wanted to and that's the point – it's like wearing a unique natural spell of protection and connection to the Earth.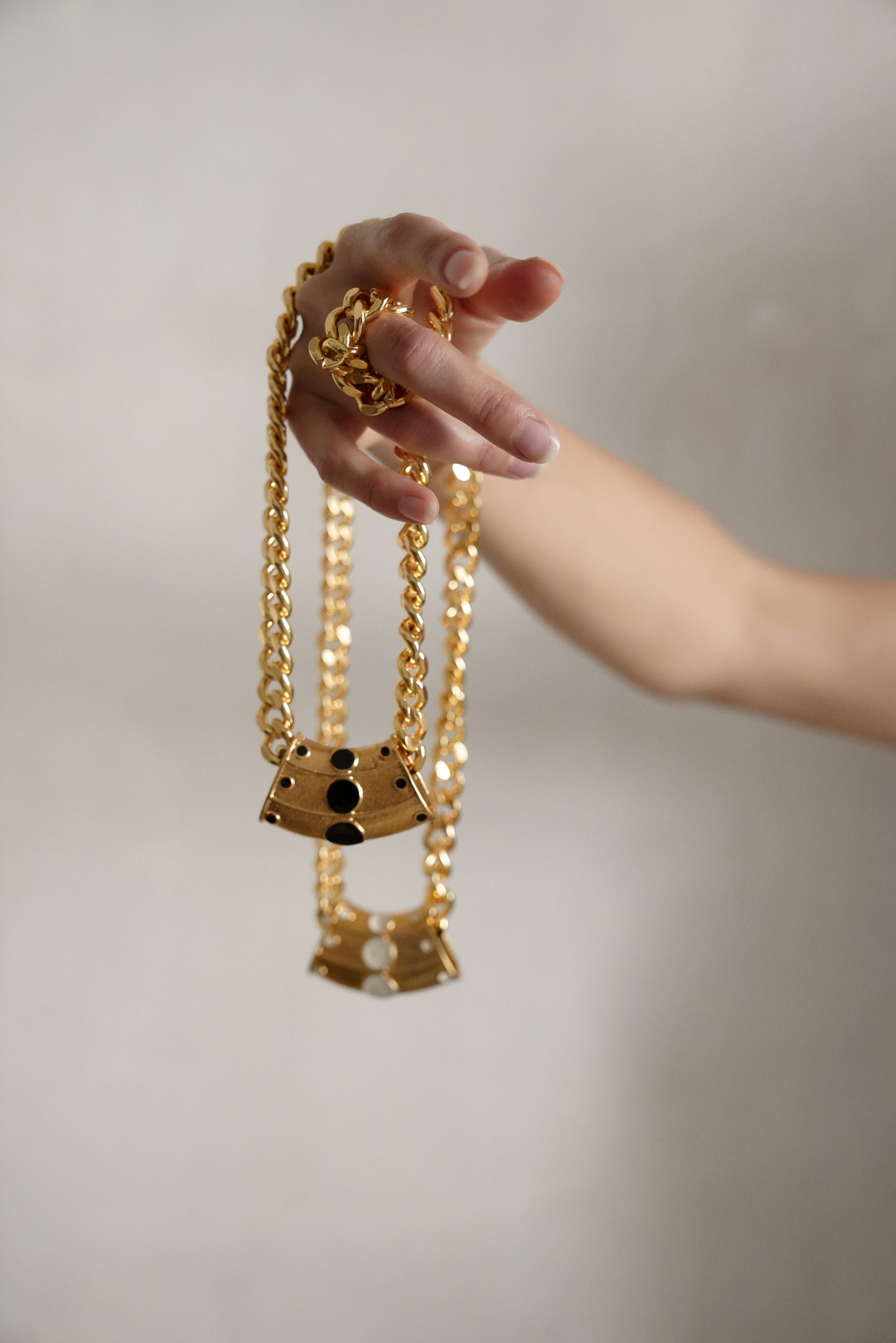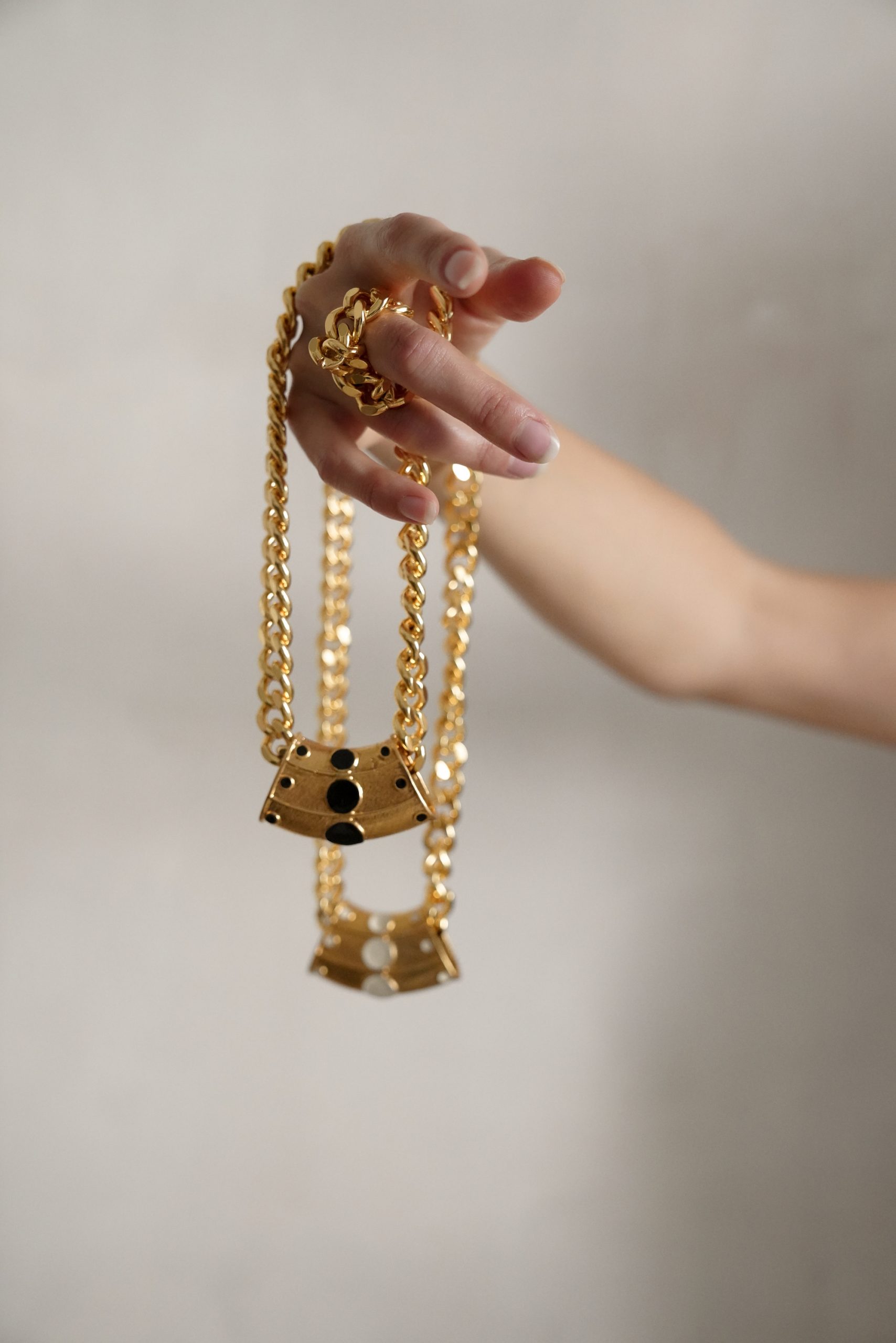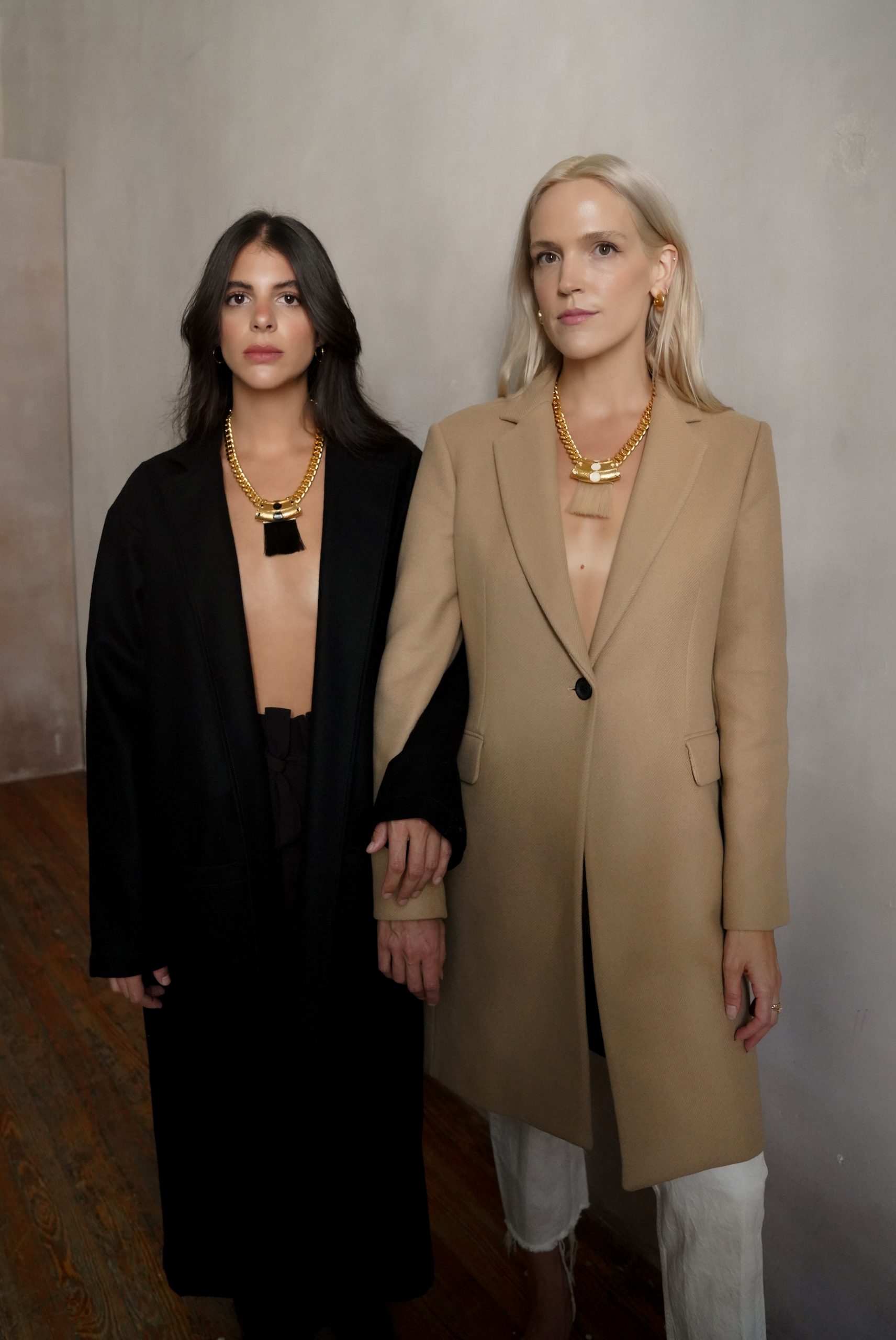 WH: How has your work evolved over time?
AM: I've always been drawn to natural materials, especially those discarded and found locally. As a child, I began working with Amber ( hard, translucent fossilized resin produced by extinct coniferous trees of the Tertiary period) in Eastern Europe, where I grew up. I'd find raw amber and make my own custom beads out of it. I always found joy in discovering new organic materials and incorporating them in new compelling ways. 
Moving countries, traveling and studying art definitely influenced me and my practice as it became more informed and my craftsmanship and skills evolved. My fashion background and work in tech and fashion startup environments brought a deep level of awareness about sustainability. I strive to create change in the industry through design that is conscious of its ecological and human impact. Lately this mission landed itself to creating work focused on raising awareness about the harm commercial color production is causing. My work evolved into an innovative design exploration that celebrates traditional craft and the symbolism of our human connection to the earth. 
WH: What is the biggest lesson you've learned from being an artist? A female entrepreneur?
AM: One of the most important lessons I've learned is that nothing ever happens in a vacuum. Ultimately everyone needs a community to succeed. So my advice to all entrepreneurs and artists is to focus on what you do best, outsource the rest, and do it locally when you can. Connect with others, broaden your reach, find your people, share your work with them, collaborate, brainstorm, and let the magic unfold.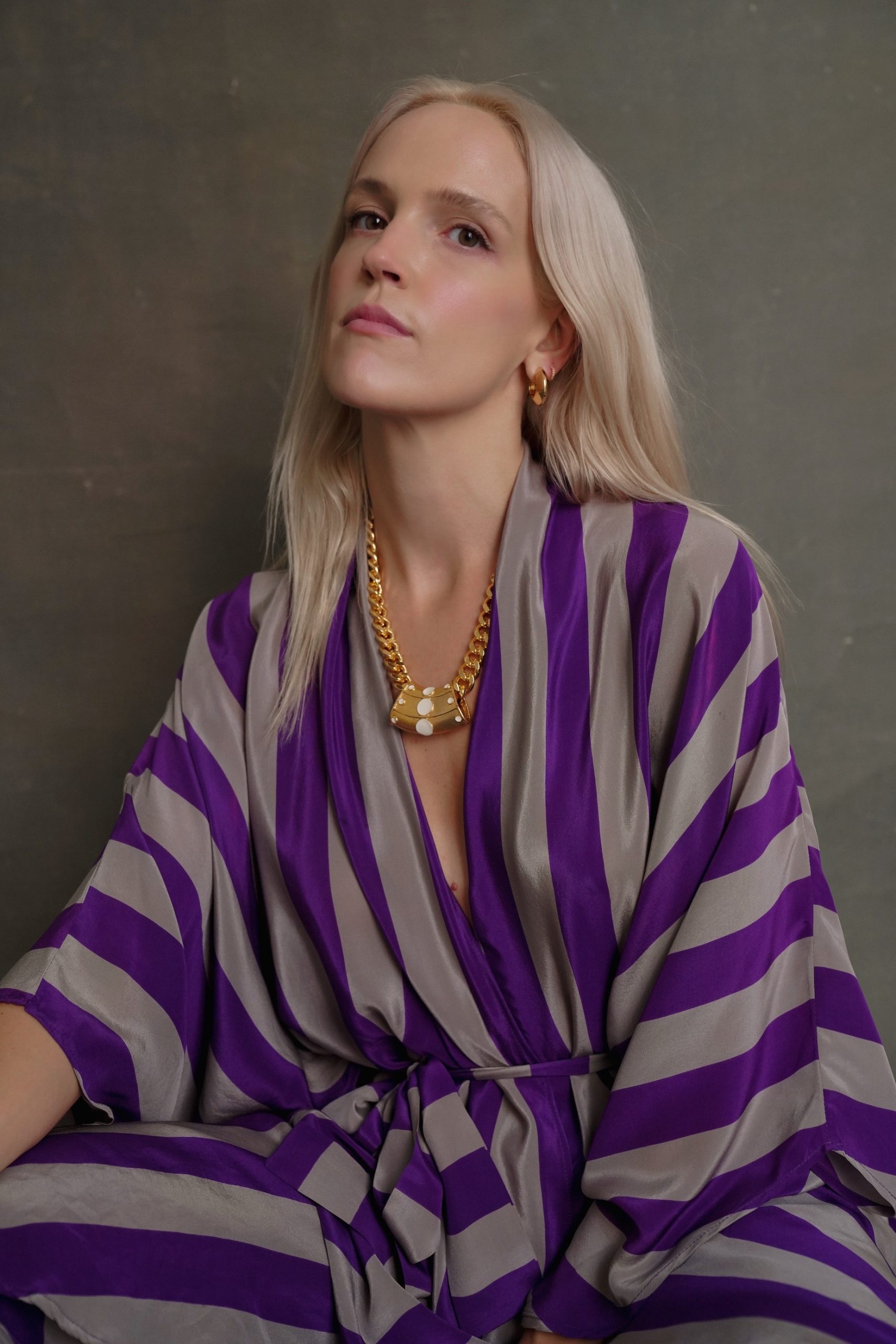 WH: Talk about the Wu Haus x Anna Monet Sol Necklace. What makes it special? Why do you love it?
AM: The Sol necklace is inspired by the symbolism of the Circle. The handpainted elements represent the notions of Totality, Wholeness, and Eternity. The name itself refers to the Sun – a perfect representation of the circular form. The warm, expansive energy of the Sun is reflected in the glow of the 18K yellow gold plating finish of the necklace itself. We designed ​​Sol to be three necklaces in one – going with the recent trend toward singular statement pieces rather than multiple layered necklaces. I love jewelry that can multitask, and Sol can go from a sleek chunky chain to a maximalist statement piece, making this necklace a modern closet staple. The unique combination of horsehair, enamel, and gold plating comes together in an elegant, timeless form. I adore it!
WH: What is your dream color palette?
AM: Lately, I've been exploring mineral pigments, and I am inspired by the rich potency in the colors of the Earth. Like raw clay-inspired Terracotta and Rooibos, in combination with modernized Indigo shades.
WH: Top 3 things on your bucket list for 2022.
AM: Design my first small line of home accessories, explore CDMX, start a family 🙂
[Header photo by Aliona Kuznetsova. Photos of Anna in her studio by Nicole Morrison.]