This year has been such a period of growth, both personally and in the world. The pandemic and Black Lives Matter movement has shed so much light on the human experience, the good and the bad. It has exposed our shortcomings as a society and shown the strength we have when we come together.
I don't think any of us would care to experience 2020 over again, but it's undeniable this revolutionary period is crucial for us to evolve and outgrow systems, habits, and thought processes that no longer serve us, and in many cases served only a few and alienated the rest.
As I look inward, I see space to expand in ways I never thought possible. It's scary and exciting, and overall a privilege to push my boundaries and explore new horizons. I've spent the past four years building my platform, and today I am so grateful to share it with others to bring new and diverse perspectives to the conversation.
This is the first post of a new series featuring the womxn who inspire me daily. These are the activists, the entrepreneurs, the creatives, the dedicated people who pursue their passions and ignite change not only through their personal actions, but also through fostering inclusive communities around a united cause.
I can't think of a better person to kick off the Haus Guest series than Amy Yeung, founder and owner of Orenda Tribe. As a fellow member of the Spirit Weavers community, I have followed Amy's story for years and am moved by the purpose behind her work and the beauty she brings through her craft. More than a gorgeous line of repurposed and upcycled clothing handmade by artisans from around the world, Orenda Tribe is the catalyst for Amy's work in supporting Indigenous communities and, in essence, her family.
Before founding Orenda Tribe, Amy, who is Diné, spent 30-plus years in fast fashion until she moved to New Mexico to reconnect with her Navajo roots. Since then, she has dedicated her career to supporting fellow designers and artists, celebrating her culture's traditions through eco-conscious design, and empowering Indigenous communities, particularly the youth, through focused programs. Here is more about Amy, her journey, and her work at Orenda Tribe: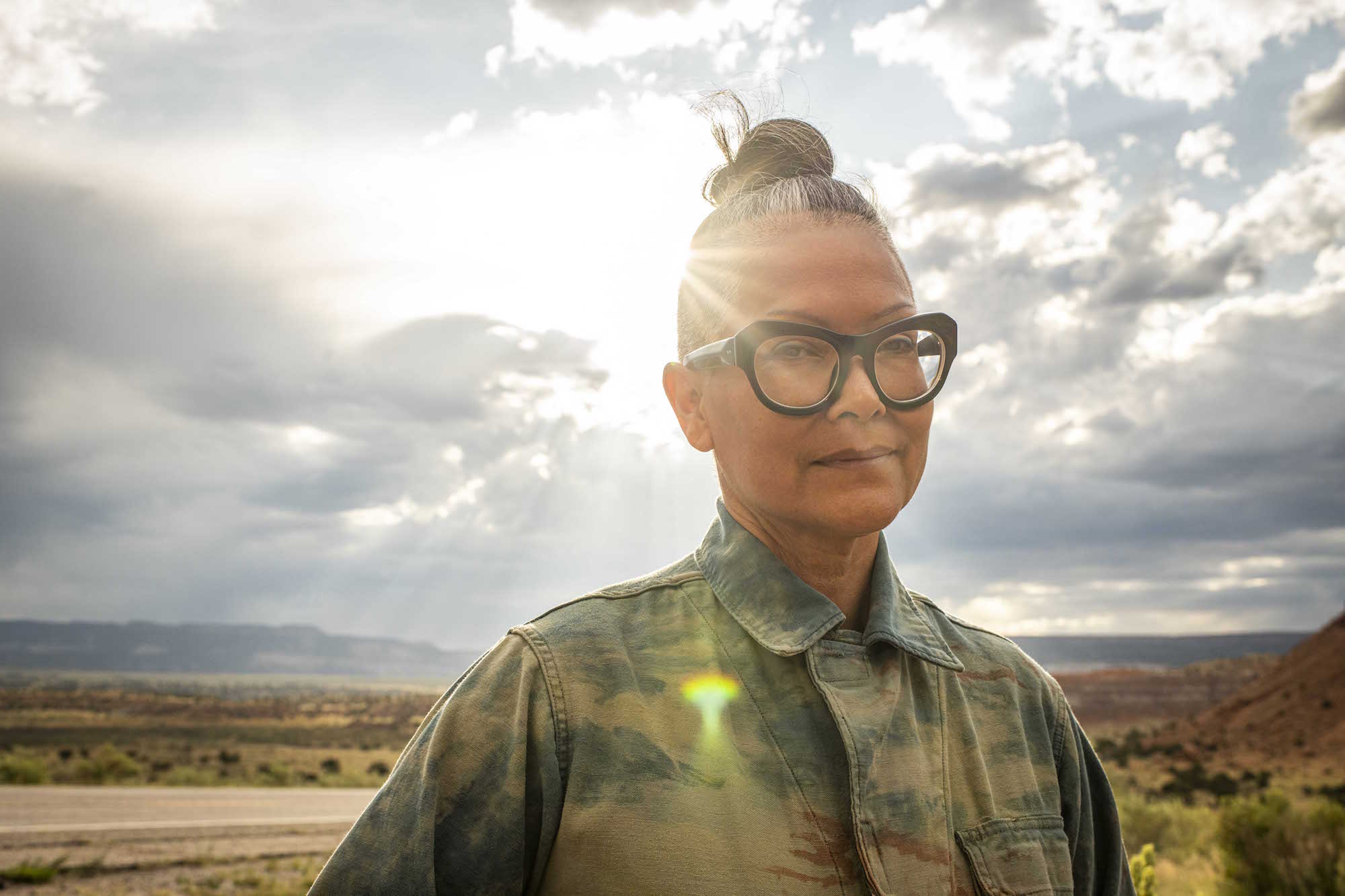 Wu Haus: What made you decide to leave LA and move to New Mexico?
Amy Yeung: I left LA to move my business to New Mexico. My decision to move was because I had never lived on my ancestral lands. I also wanted to move closer to other Indigeneous artists that I wanted to collaborate with. I chose to move to Albuquerque because it would have been extremely challenging to run Orenda Tribe on the reservation due to the lack of infrastructure and connectability through Wi-Fi and mailing services. My store front and studio are currently located in Albuquerque, and post pandemic I plan building a sustainable, traditional Diné home, at Tohaali (Two Grey Hills, NM) to be closer to my community.
WH: What inspired you to create Orenda Tribe?
AY: Orenda Tribe is my soul journey. I believe that there is power in our choices, and that all of us have the power to make change for good. After a career of designing fast fashion clothing destined for landfills, I arrived at a place of creating with consciousness. I have long believed in sustainable design processes—handmade, restored and repurposed vintage, one-of-a-kind upcycling of textiles. Orenda Tribe is built on these tenets and fueled by my desire to honor my Indigeneity, to protect our sacred lands, and to help others.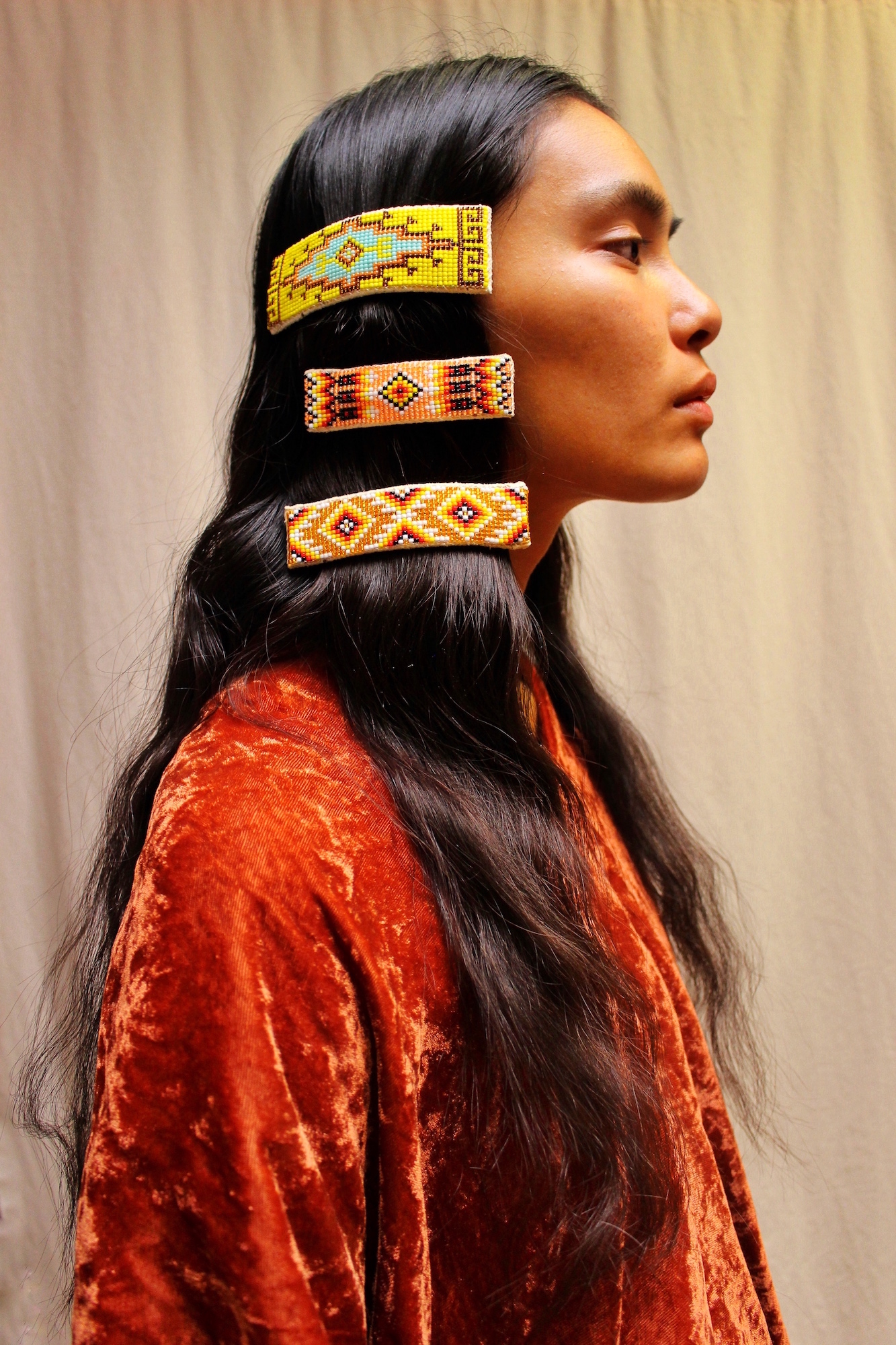 WH: Why is sustainable fashion important to you, and how does Orenda Tribe embody that tenet? 
AY: When I had my daughter, I started to think about what I wanted to teach her and one thing I wanted to share with her was sustainability. I have always valued my connection to the earth and it hurt my heart to realize that I was working in an industry that was contributing to fast fashion and clothing waste. I wanted my daughter to have the same values I do and that includes being able to walk away from opportunities that my heart didn't stand by. 
The Orenda Tribe team travels the world collecting beautiful treasures, we work in our studio year round to create one of a kind products. We source our materials from the strangest places, we like products that have stories to tell.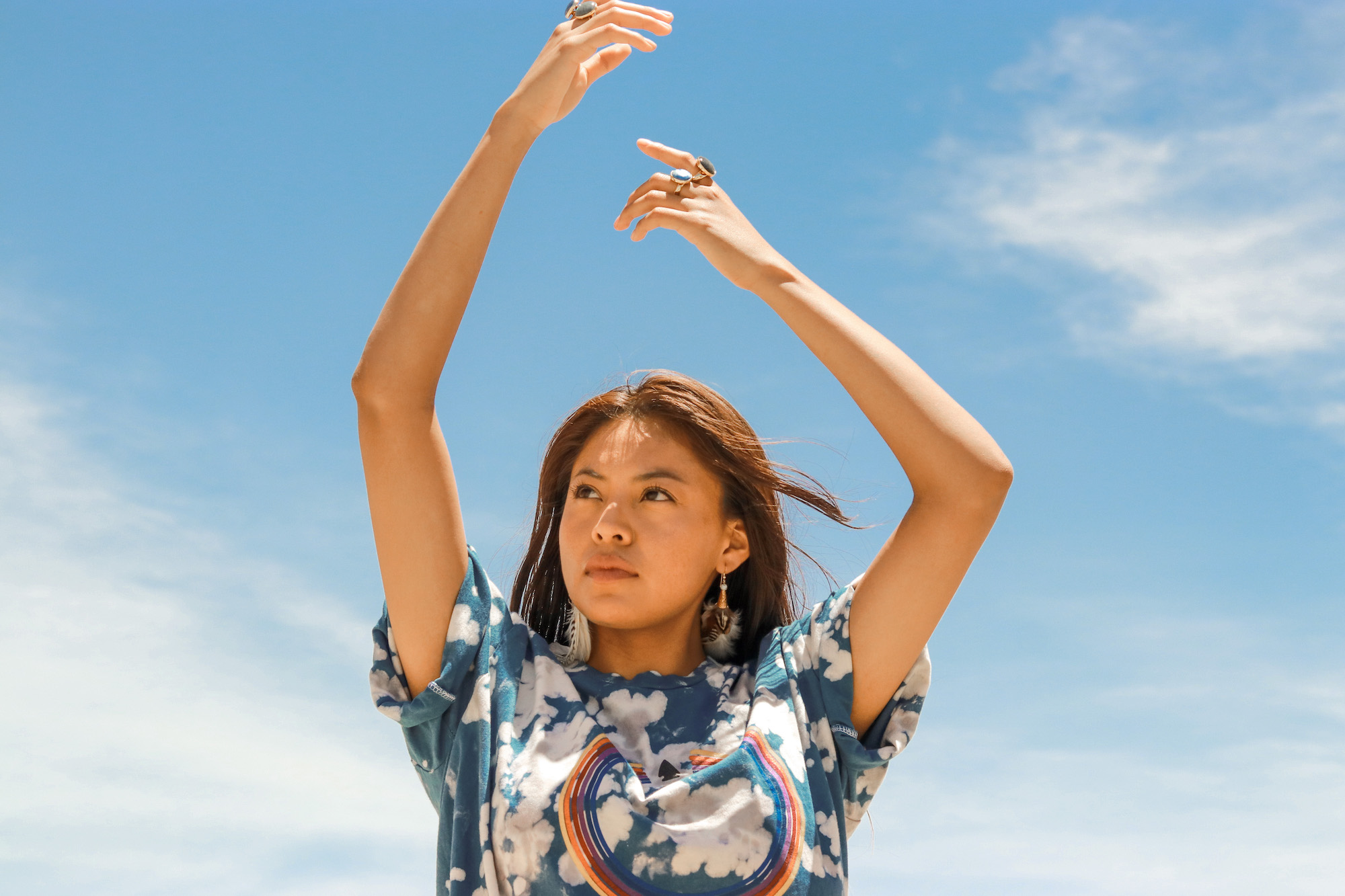 WH: As an adopted child, what has been most helpful or meaningful in connecting with your Navajo heritage?
AY: Reconnecting has been a long journey for me; working and connecting with other Indigenous womxn has been an important part of my experience. I can feel them supporting me and holding me through this process. They have become my sisters and my mothers. I learn new things every day about myself and my culture, including learning our language and traditions. I am thankful to all of my amazing relatives that have cared for me through this journey; they have held space for me, nurtured me and they have shown me immense amounts of love. The most meaningful part of this journey is the K'é, kinship that I have developed with my relatives. These connections are sacred and I am forever thankful for them.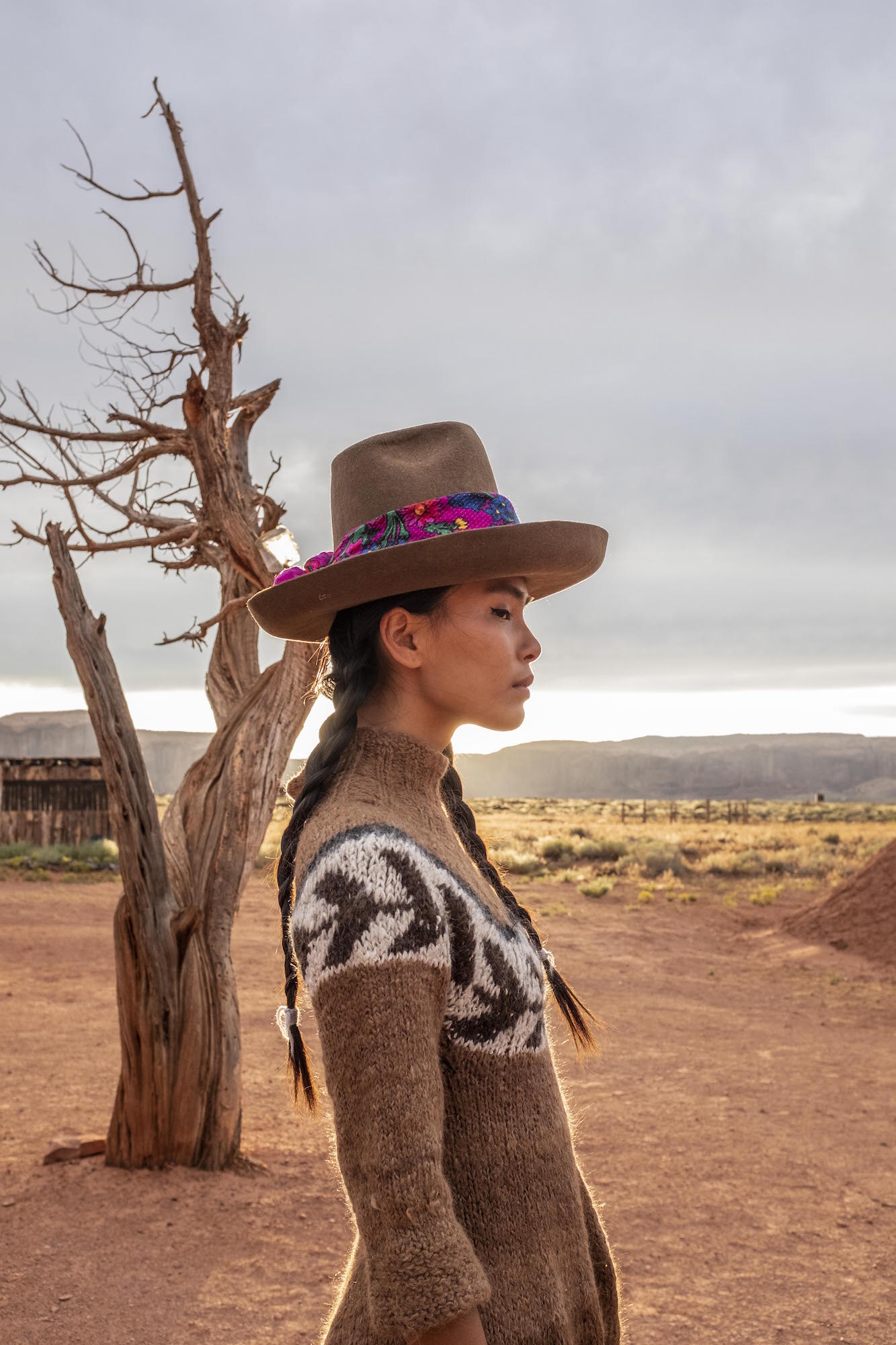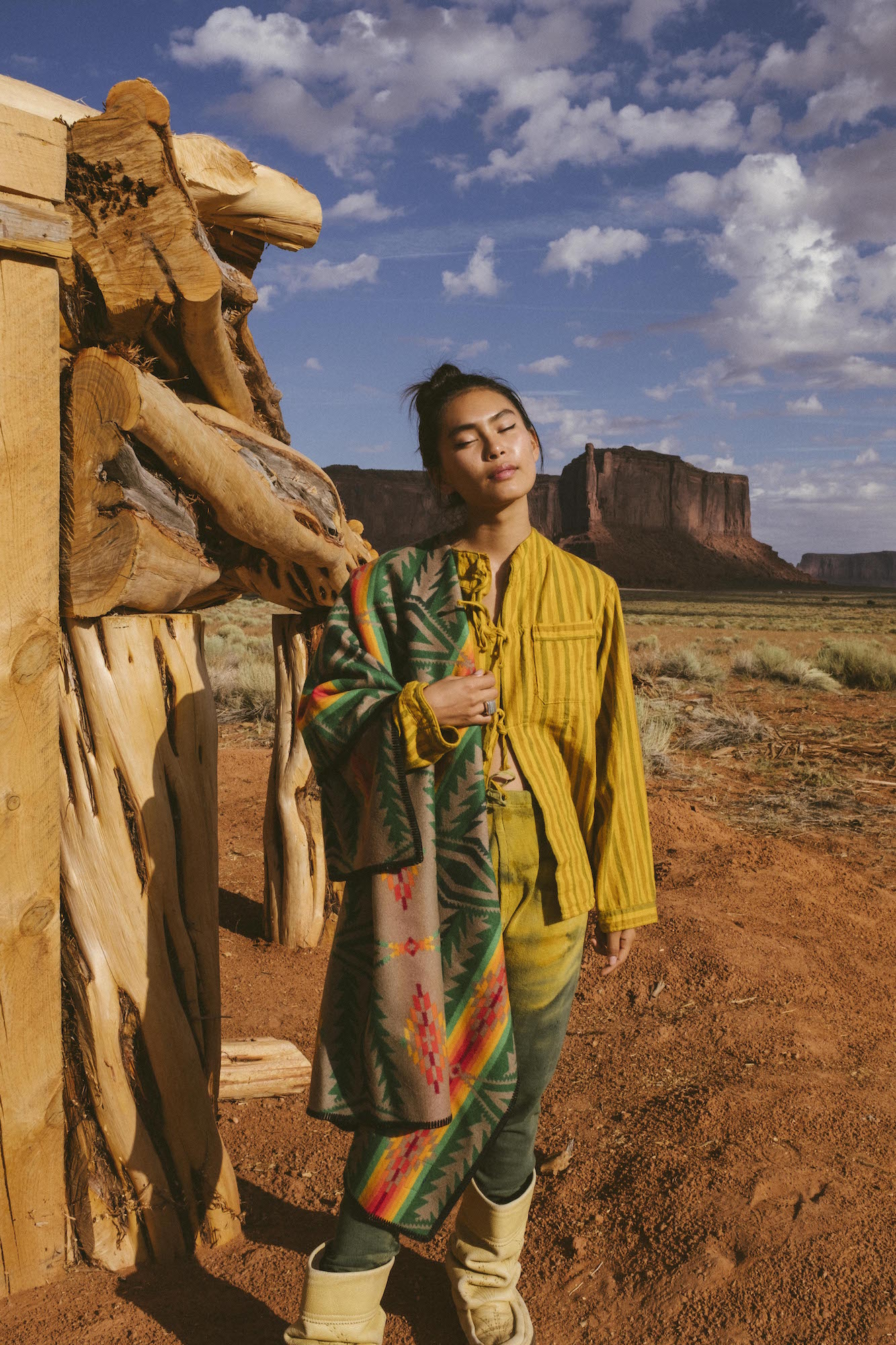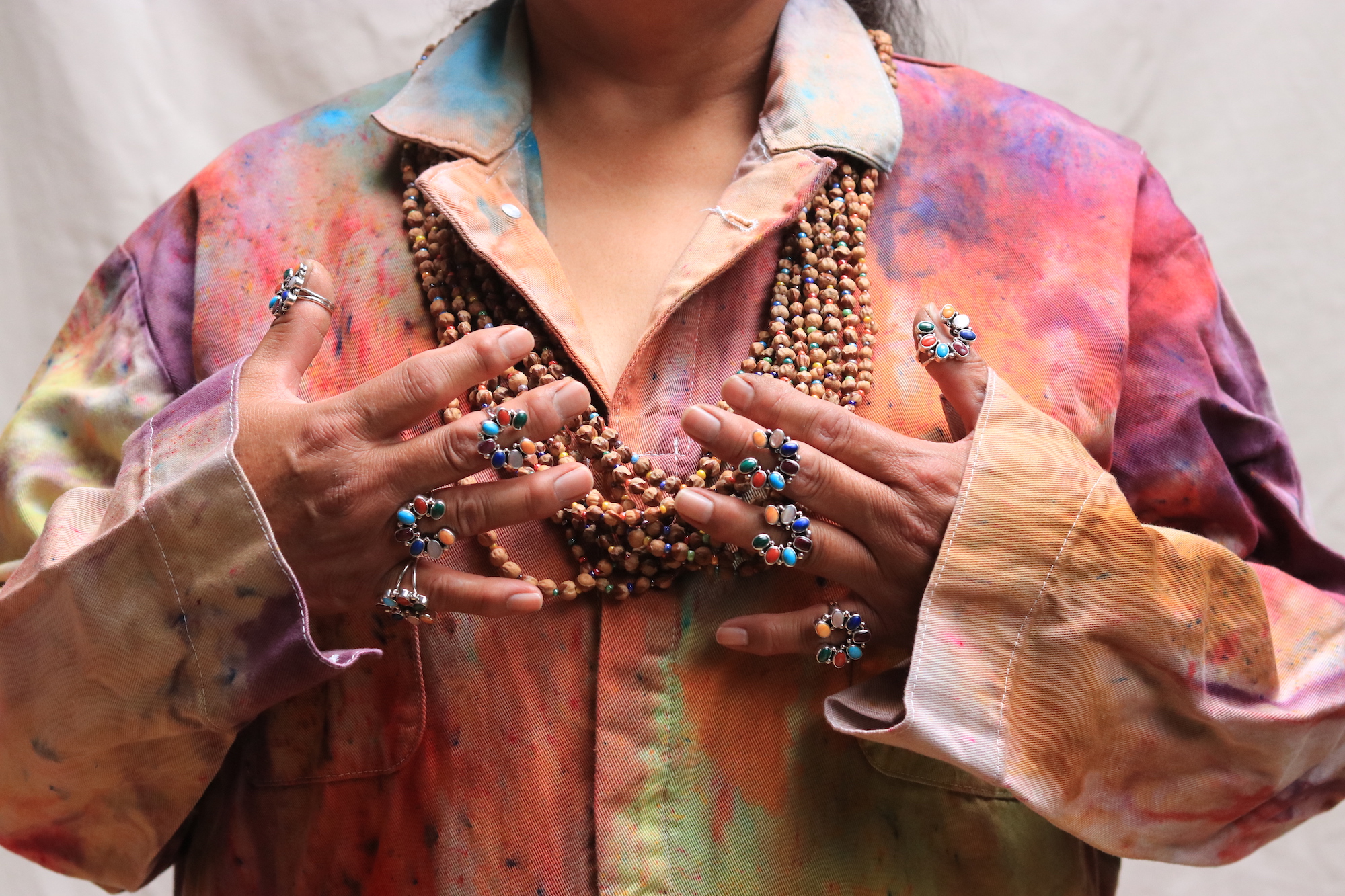 WH: What is the goal of Dził Asdzáán (Mountain Woman) Command Center?
AY: The goal of the command center is to provide aid for our relatives from Dinétah; this extends to many different projects revolving around establishing food sovereignty, supporting domestic violence shelters, uplifting small businesses + artisans and more. We want our relatives to feel safe and cared for, we want to hold space for them and provide support. As a group of Diné matriarchs, we feel this collective pull that Diné women and mothers feel to protect our communities. Although our command center was created to provide COVID-19 relief aid, our support is ongoing into the future to continue the beautiful work we are doing to support our communities. 
Our projects have stemmed from concerns around child wellness and mental health. We want to help our young relatives break cycles of historical trauma. There is a culture of normalizing trauma that limits our youth from seeing all the beauty that surrounds them and the beauty they create. We believe that if you empower a child to imagine all of the opportunities that they can have and give them the resources they need, they will thrive.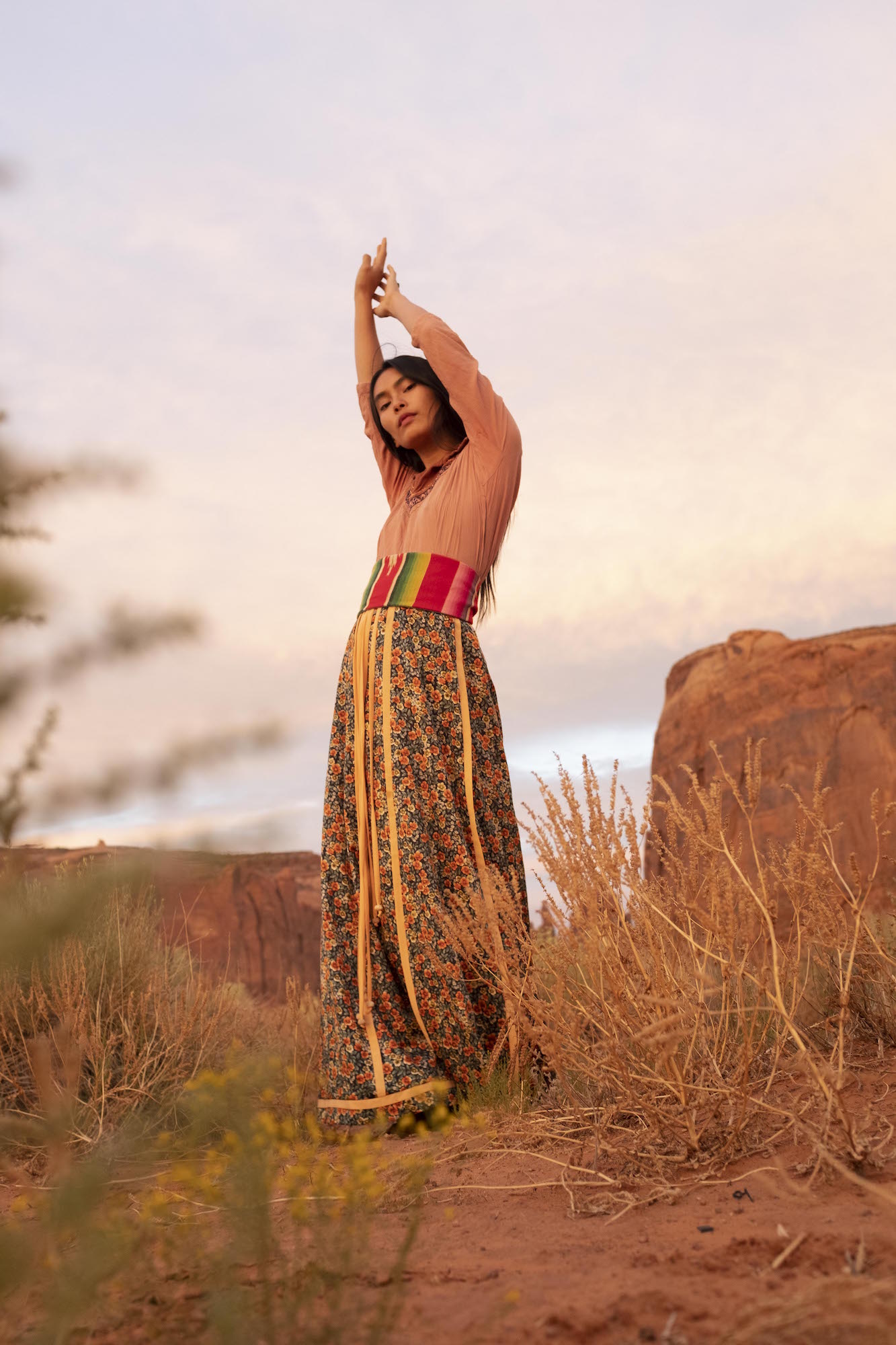 WH: What advice would you give to a small business that wants to incorporate philanthropy + advocacy into its ethos?
AY: Just do it, be a good relative and follow your heart. If you have the resources to help your community, use them! The work we have been doing at Orenda Tribe started with me thinking of ideas to bring resources to Diné youth, I used my connections to bring these projects to life with other amazing people. Invest in your heart work, care for others and give to your community.
WH: What motivates you in your work?
AY: My daughter Lily motivates me; she is my whole world. I live my life intentionally surrounding her.  Since moving to New Mexico, I have felt very grounded and guided. I feel my ancestors and relatives supporting me in a way I had never felt before. On my journey, I have learned how to live in harmony with the historical trauma and ancestral wisdom I hold. Keeping both in balance has allowed me to live beautifully. My work is not "work" for me, it's more like a daily meditation.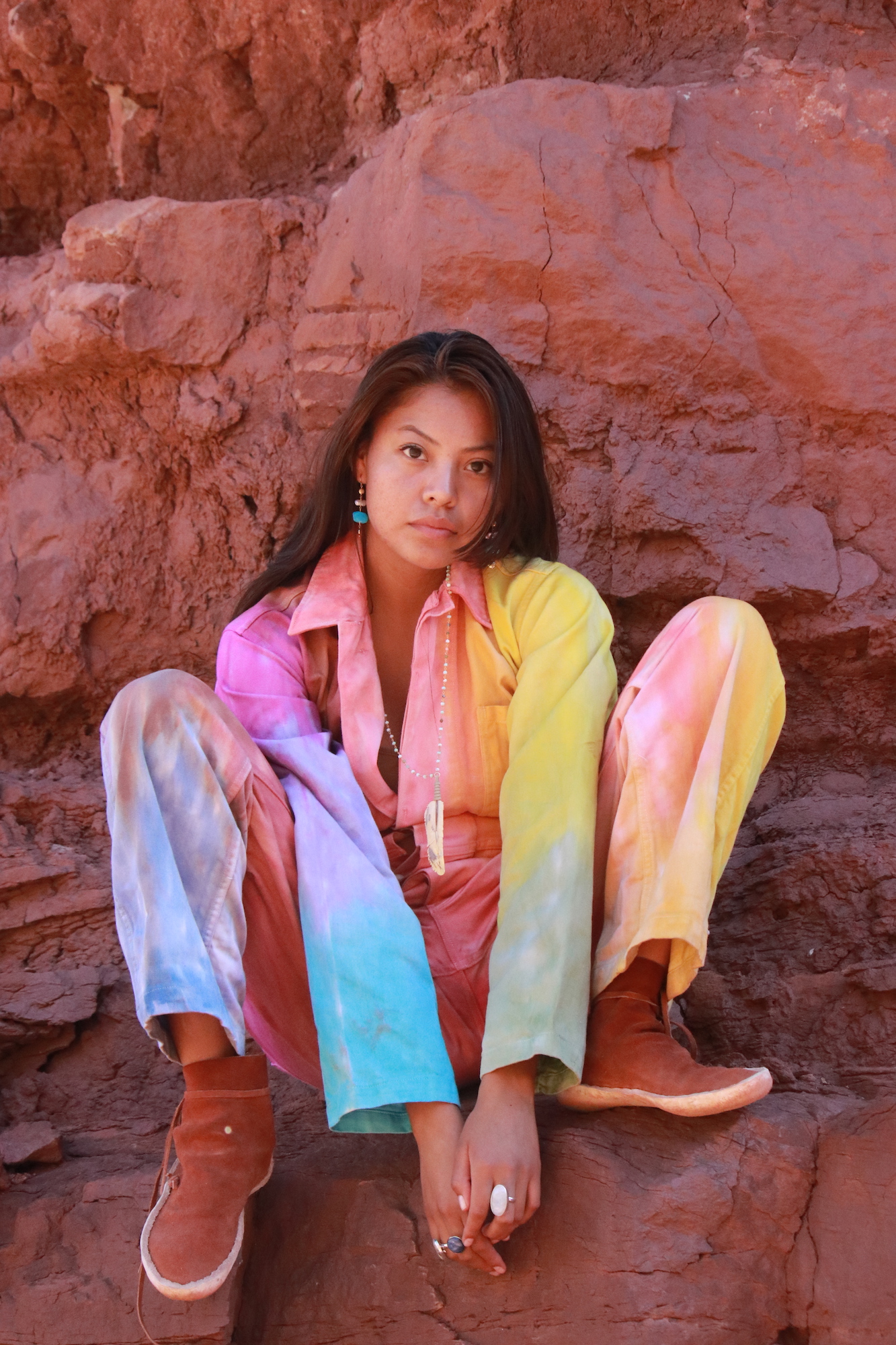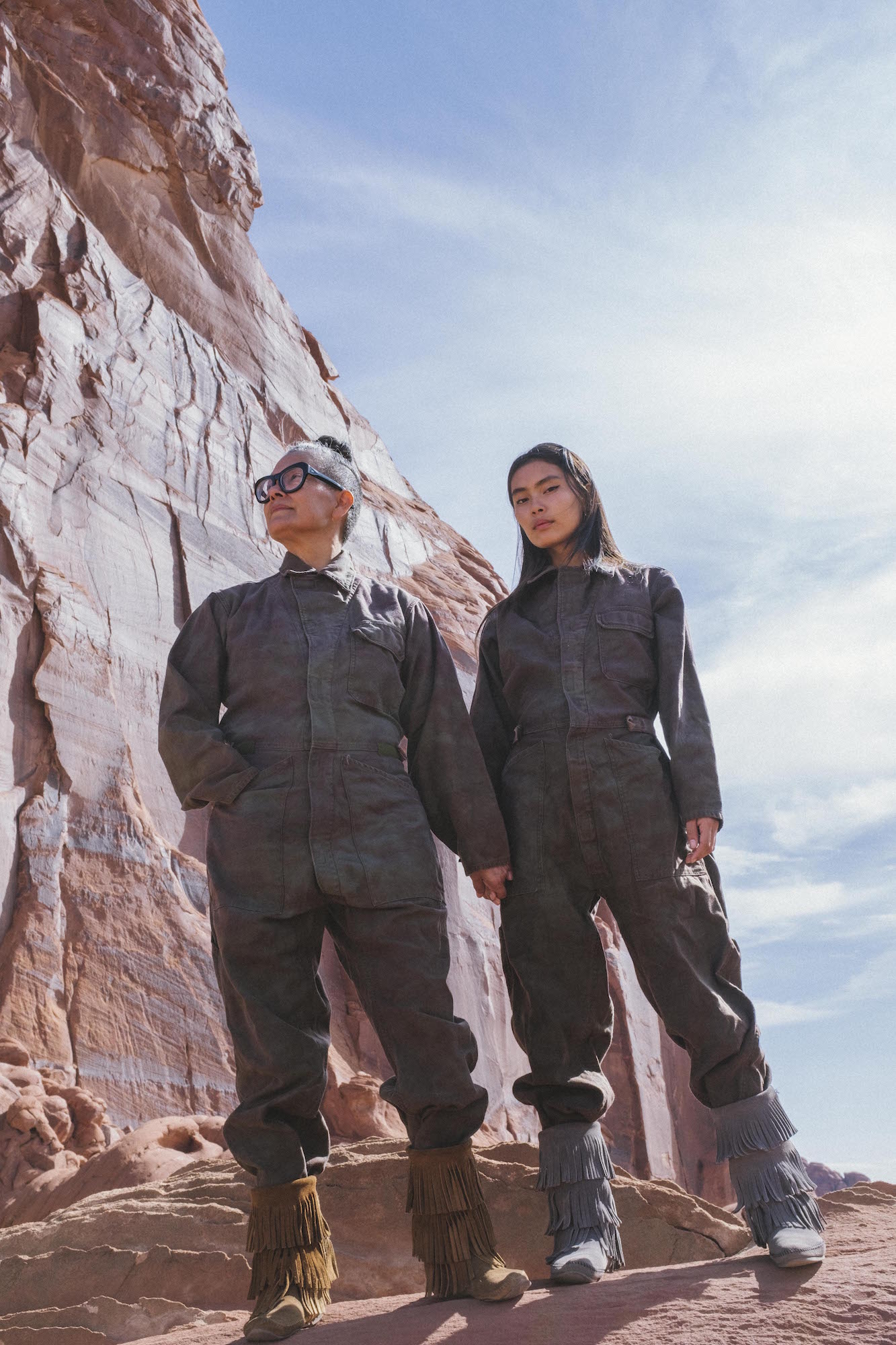 WH: What causes are you currently spearheading or supporting, and how can others get involved?
AY: Our current initiatives include the Children of Nááts'íilid heart project to deliver care kits to Diné children, our continued support for domestic abuse shelters on Dinétah, including the Amá Dóó Áłchíní Bíghan (ADABI) shelter, our mask drive in partnership with Bethany Yellowtail and many more projects we are developing currently. 
Others can help by sharing and amplifying the Dził Asdzáán Command Center's work on social media. Consider purchasing something from the SPREAD LOVE + SHINE LIGHT auction, and if you are an artist, consider donating something to the auction for others to purchase. Donate to our Children of Nááts'íilid heart project – it only takes $15 to fund one care kit including pantry staples and produce. You can donate to the ADABI shelter directly here or purchase a ADABI shirt from our auction. 
WH: What's your dream color palette?
AY: The colors of Dinétah – red rocks and beautiful blue skys
I'm inspired by our sacred colors – white, blue, black and yellow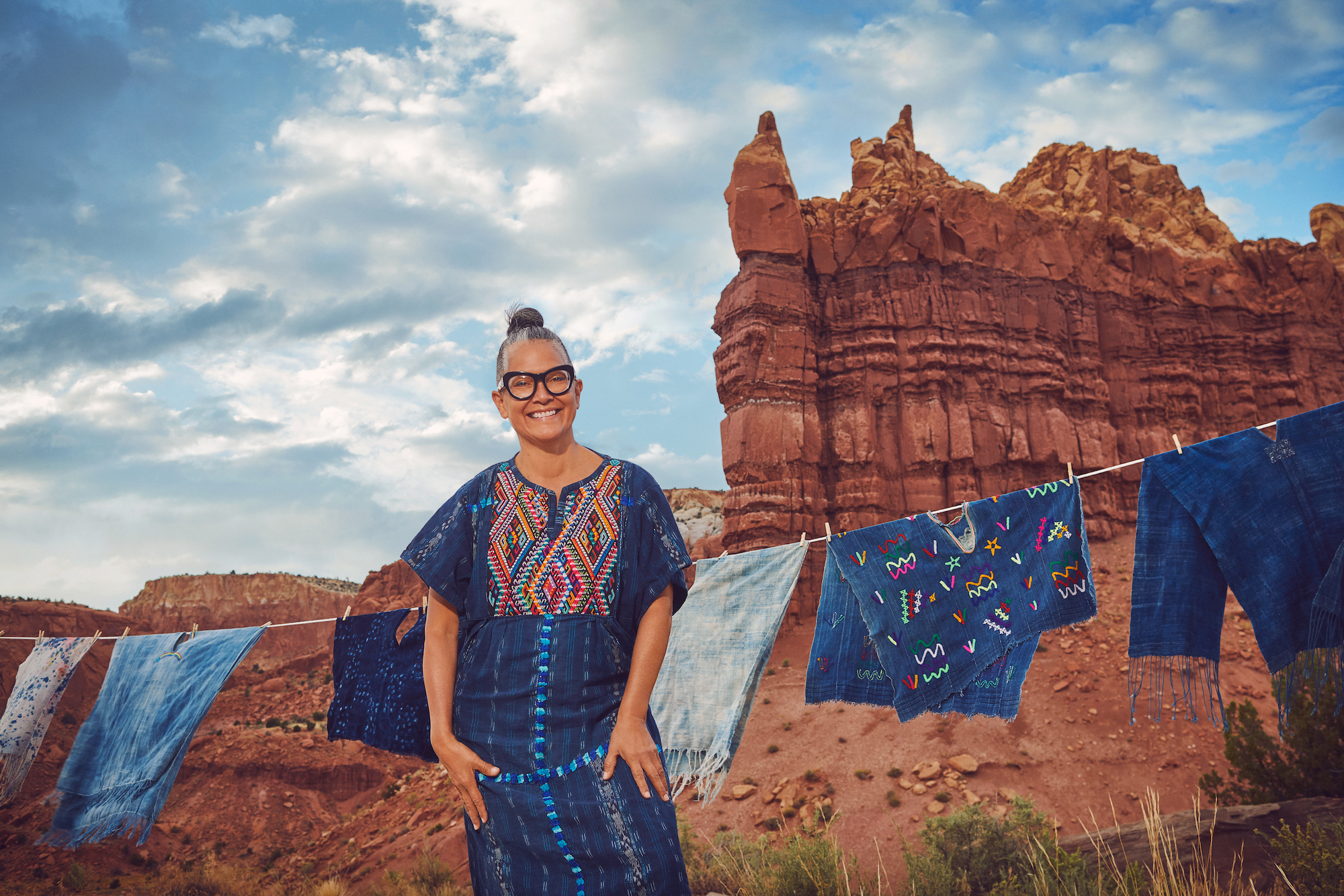 WH: What's your favorite material(s) to work with?
AH: Any fabric over 100 years old.
WH: Do you have any dreams or projects in the works?
AY: I have been dreaming of creating an e-commerce mentorship program for young Indigenous creatives. I want to teach Native youth how to harness their creativeness, to make a career with their art. I originally envisioned this as a class taught at schools on the Diné reservation, but I think it would be best to make it available online for everyone. I want to give our youth the power to be their own brand, business or entrepreneur. 
I have been working on a project to build a skate park with a surrounding ancestral garden in Tohaali (Two Grey Hills, NM). Unfortunately, due to COVID-19 we have had to postpone this project. I want to create more recreational spaces for Diné youth, places where they can be a kid and enjoy themselves while being  surrounded with our ancestral plants. I want to expand this project to other communities on the reservation, for all of our youth to enjoy.