My next Haus Guest will be a familiar face to many: Kait Hurley! Kait is not only a dear friend of mine, but an amazing mentor and colleague. I am constantly in awe of Kait's dedication to both her work and her community without ever missing a beat. She's one of my favorite people. She can kick my butt with an intense workout and then make me laugh uncontrollably afterward over a glass of wine.
A movement and meditation instructor, Kait has created an accessible space in wellness that balances mental and emotional wellbeing with physical practice. I've seen Kait build her business from the ground up and am so amazed to have witnessed her journey and even join her for the occasional ride. If you haven't already, I highly suggest checking out some of the classes we've done together!
On September 14th, Kait is launching her Meditation 101 guided program in collaboration with her longtime teacher and mentor, Kimberly Carson. This is a powerful program that I know carries a lot of meaning for Kait, and I couldn't be more proud of her. Meditation has been essential to my daily routine for years, and its impact has been invaluable in my life. Kait and Kimberly both have the softness and skills to be the perfect guides in helping you develop and hone your own meditation practice.
As part of my community, Kait is offering special pricing for the first 3 months.* In addition, she has set aside scholarships** for Black people and People of Color. If you are interested in receiving a scholarship, please email Kait at hello@kaithurley.com. The program is also available to those who already have a subscription to the KAIT app. Read on to learn more about the program and Kait's story in her own words.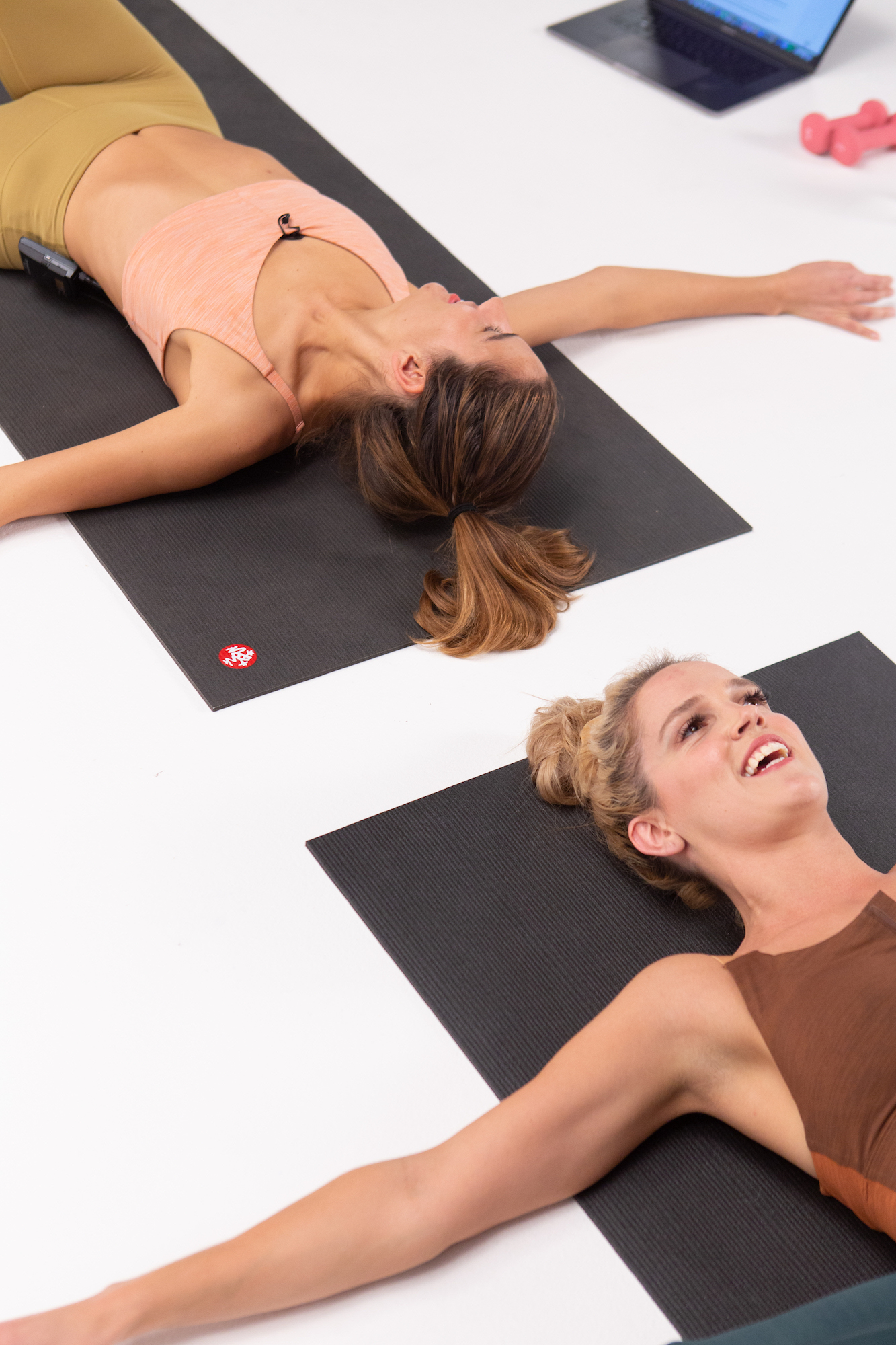 Hi there! It's been a joy to team up with Alison to create and share a collection of move + meditate classes with this community over the years. Now I'm thrilled to open up about our business' birth story, my teacher Kimberly Carson, how every practice on the app is rooted in ancient wisdom and research thanks to her experience, and our strategies for deepening our service as we all continue to face this wild 2020 shit storm with clarity and love. 
Labor Pains
I was teaching group fitness and working in marketing for a company I loved with people I loved. And yet I found myself dealing with relentless anxiety. The kind of panic attacks where you hide in the bathroom crying between meetings and cancel plans with friends and family on weekends because you're not sure you can get out of bed. My husband Peter saw it before I did. "This job…this life….it's not it. I'm concerned about you." 
My desire to make my anxiety go away was just as strong as the anxiety itself. I tried desperately to alleviate the constant spiral and feelings of not enough. I changed my diet. I changed my exercise routine. I took pricey supplements and anti-anxiety medication. I went to therapy. I got bloodwork done and prayed my doctor would find something wrong that could be fixed with a pill or with food. No matter what I did, the anxiety persisted. Thankfully, my mom's friend Kelley recognized what was going on because she had been through it too. "You need to meet Kimberly Carson and take her 8-week meditation course at Oregon Health & Science University." I didn't hesitate to sign up. My mom and husband joined too as my support team. 
The course was intense. We met on Tuesdays. Kimberly was kind and welcoming—she also gave off the vibe that she wasn't here to mess around. I trusted her, and the practices she shared challenged me in profound ways. One night after class, I found myself sobbing telling Kimberly I didn't think I could do it. This was too hard. My mom stood next to me while Kimberly asked me questions and led me through an interactive practice. After a few minutes, Kimberly looked at me like she had just solved a giant mystery. "You don't know who you are without work," she told me. BINGO. My body relaxed. For a moment it felt like someone had put a pin in the top of my head and let the steam out. As my mom and I walked back to the car that night my mom told me, "You just met another soulmate."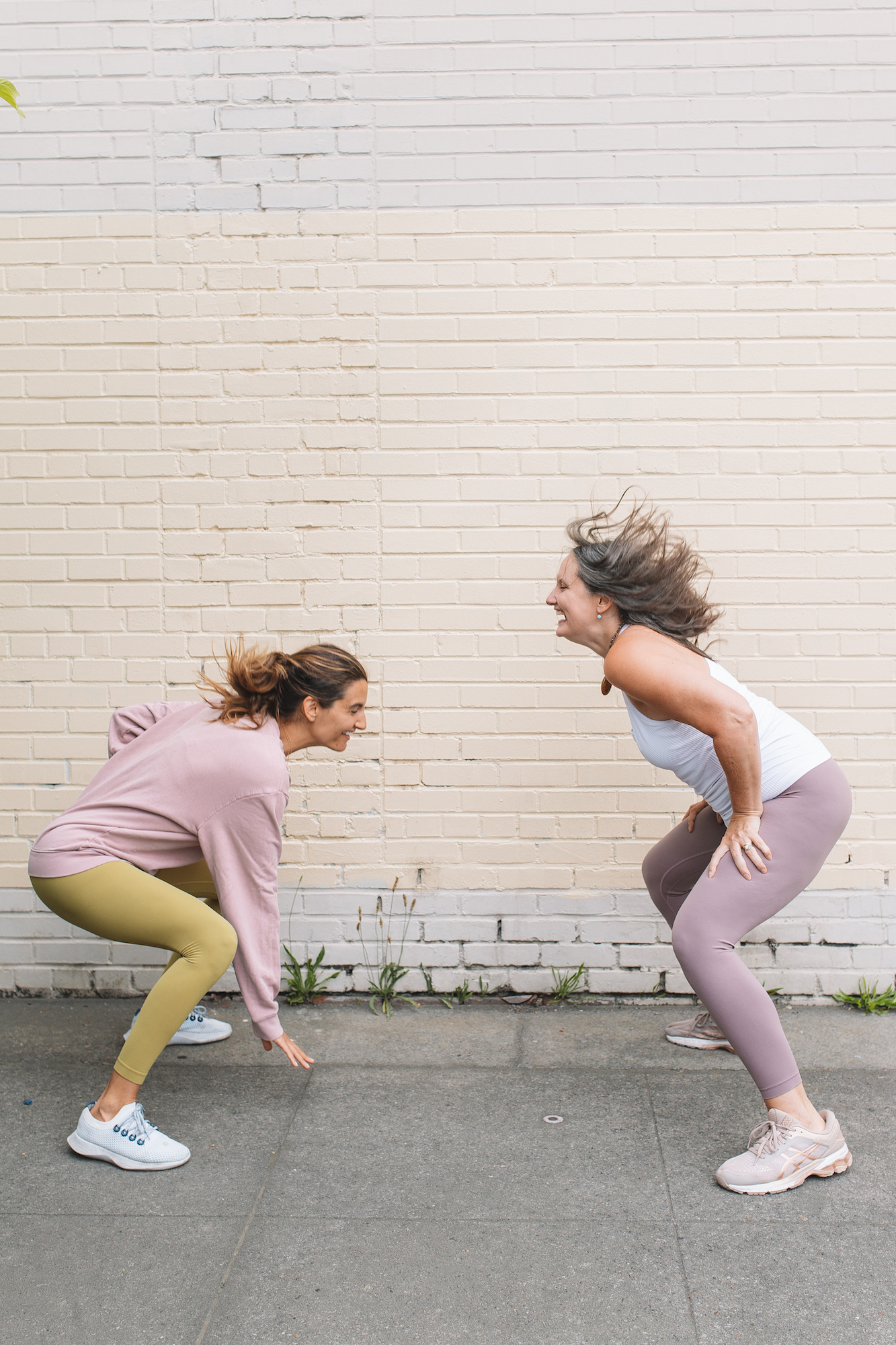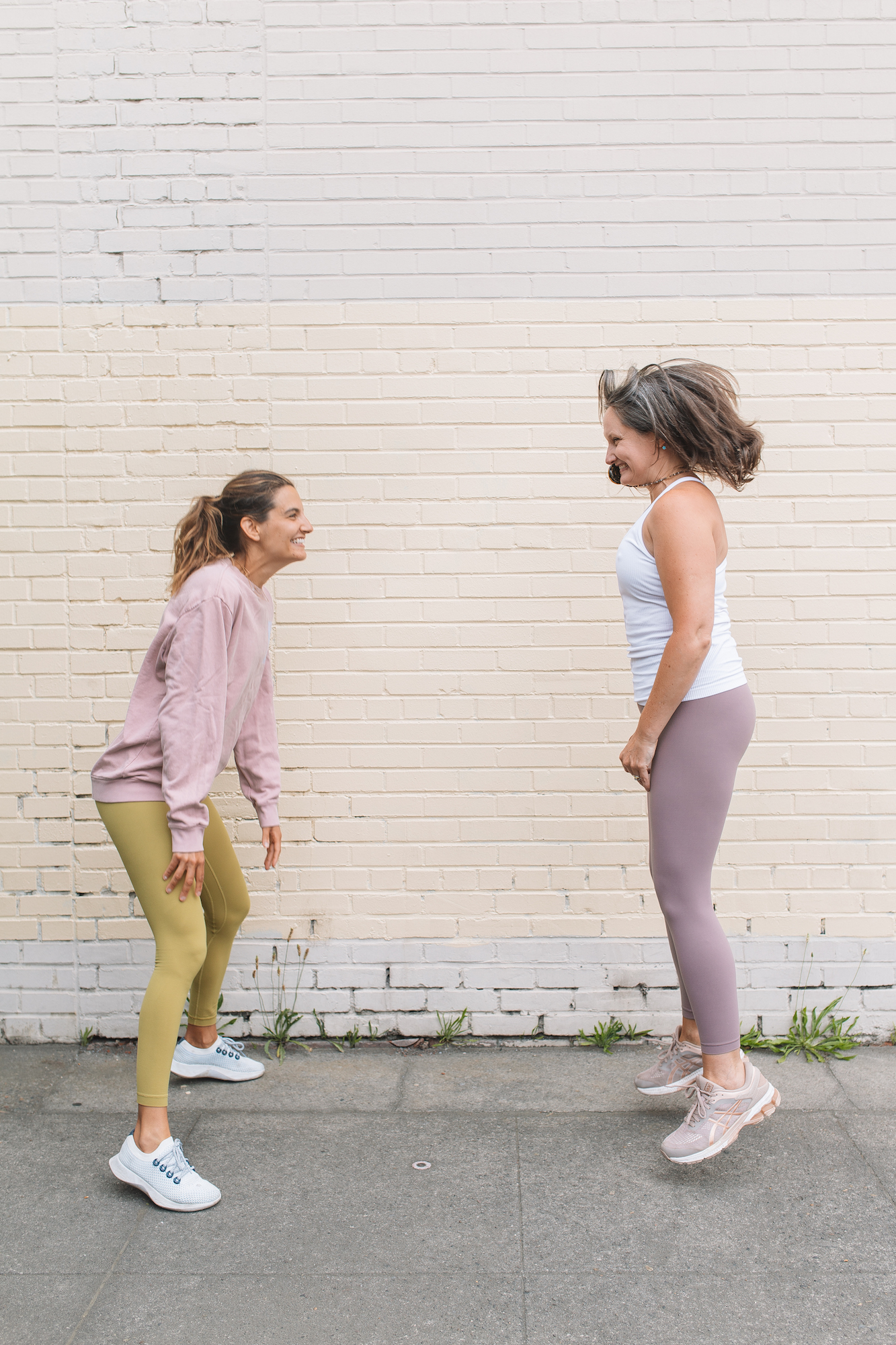 Giving Birth
Fast forward a year. I stuck with my meditation practice, but I made it my own by choosing to move first before I sat in the quiet. Adding in exercise made meditation more enjoyable and accessible for me. It helped me blow off steam and feel less antsy. I realized I might be onto something because my anxiety no longer terrified me. It was still there, but I was learning to work with it—learning to listen to it and let it guide me versus seeing it as a problem. 
When it became clear continuing on with my job was no longer an option, my husband Peter asked me, "What do you really want to do? Dream big." The answer was easy. "I want an online business that makes movement and meditation accessible for everyone. I want classes to be fun, affordable, challenging, and doable to fire up anywhere. Will you help me?" He said yes.
In a few short weeks, our team started to shape up. 
We had Peter as the brilliant developer and visionary who could build the structure so that our business could thrive and grow. 

We had Kimberly, who brought a deep understanding of ancient wisdom and decades of experience teaching and researching meditation and mindfulness at Duke and OHSU.  

And we had me, an athlete who ran competitively in college with a passion for teaching group fitness and yoga…plus a general love of learning and connecting with people. 
I couldn't wait to start filming and sharing classes with the community.
Since we launched our platform in 2017, we've grown the offerings on the KAIT app and website to over 100 classes. Classes range from high intensity sweat fests to guided runs to more restorative options like yoga and meditation. Every single movement session ends in a guided meditation practice. Honestly, for me, meditation is the most important part of class. It gives people the opportunity to get quiet, listen deeper, and discover the magic that's been within all along. 
Moving forward, we're expanding our focus to dive deeper into meditation. We believe it's what's necessary to show up and serve the community. Also, people have been asking for it, so we're keeping our ears to the ground and taking cues from everyone who's a part of this to help us decide how we evolve.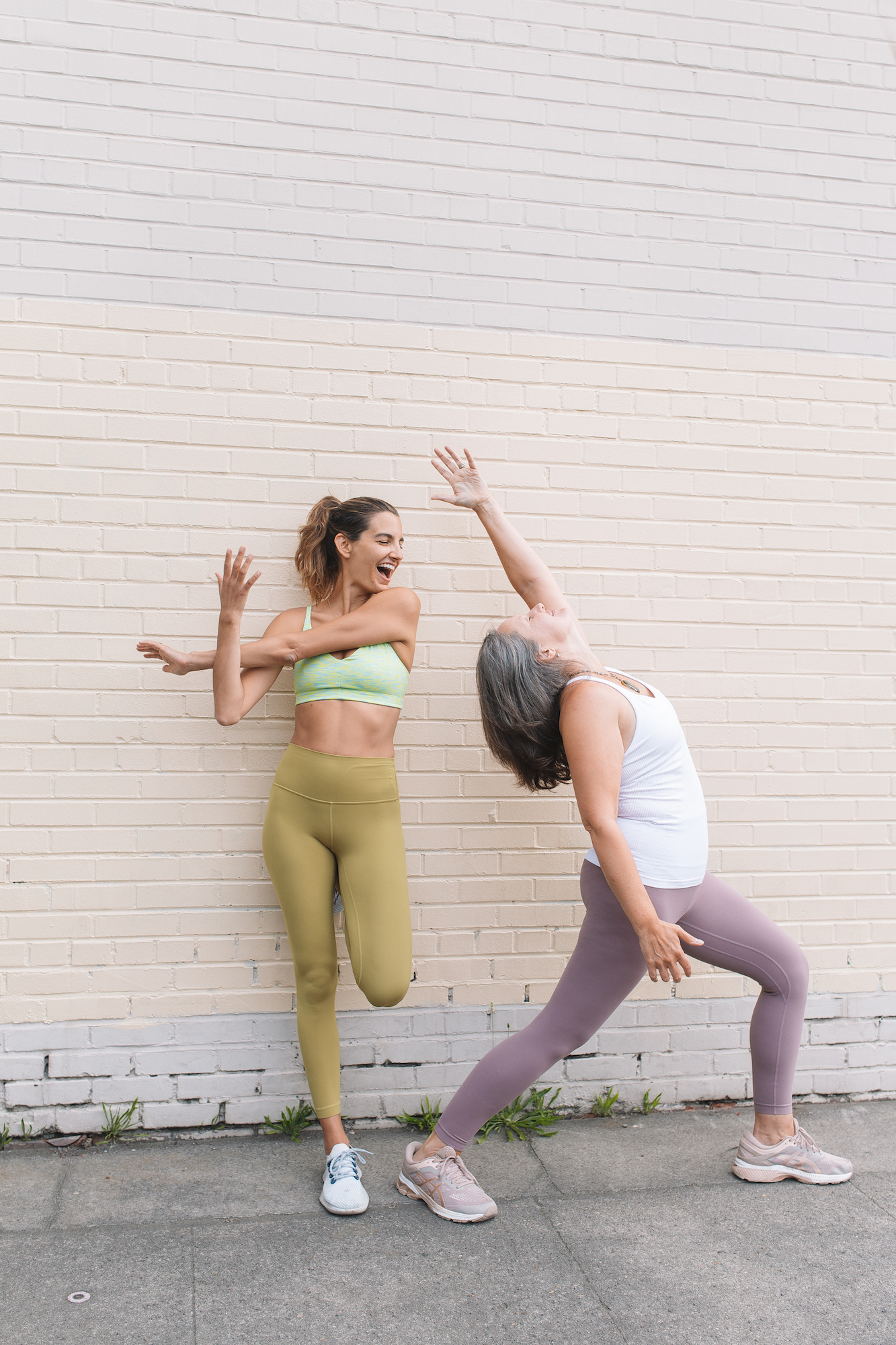 The Rebirth
Meditation 101 is our new 8-week guided program available on the app and website rooted in Kimberly's research and lifelong work teaching. This experience isn't just about learning how to meditate, it's about cultivating the skills to work with big emotional currents like fear, anxiety, anger, and grief. It's also about recognizing your inherent worth and realizing the goddess that you are. The whole thing kicks off in September and it includes daily practices, weekly audio lectures to context the practices, and weekly live Zoom meetings with Kimberly and me. 
The deeper my movement and meditation practice gets, the more benefits I receive, and the more driven I am to share all of this with you. Earlier this summer, Kimberly and I did a socially distanced outdoor mini-retreat at the Oregon Coast. While we were meditating together, I received the insight that I can experience all kinds of wins from my practice. I can learn all the skills to work with anxiety. I can shed limiting beliefs about myself and my need to prove my value. But here's the thing: If I can't share these practices with other people, what good does it even do? What good is it if my mind is the only mind that gets blown? What good is it if only my heart becomes more open? The real power is in the collective. The real gift is in being able to share this with you. 
One of Kimberly's teachers talked about becoming the army of lovers. Kimberly and I wonder what it might mean to be a part of that army. What does it look like? How do we do it? 
The army of lovers is us. It's all of us coming together like a giant golden wave. A wave that is fierce and powerful and willing to wipe out anything that's not in service of the best and highest good. 
I am the wave. And you are that wave too. There is so much work to be done. 
*Special pricing gives you the first 3 months of your subscription for $15.99 per month. This is available to new subscribers only. 
**The number of scholarships are limited, so don't wait to reach out.