Opening to the magic of Scorpio season! It's the sign of intensity, introspection, renewal and rebirth – not unlike how the entirety of 2020 has been for many, including myself. Although this year has given us a lot of space and reason to turn inward and connect with our emotions, I love this season especially for its vibrant traditions and the deep reflective energy it intrinsically offers. This is a transformational time of the cycle for everyone, which is why restorative and nourishing refreshments like this new Schisandra Rose Tonic Tea recipe are a perfect balance to the season.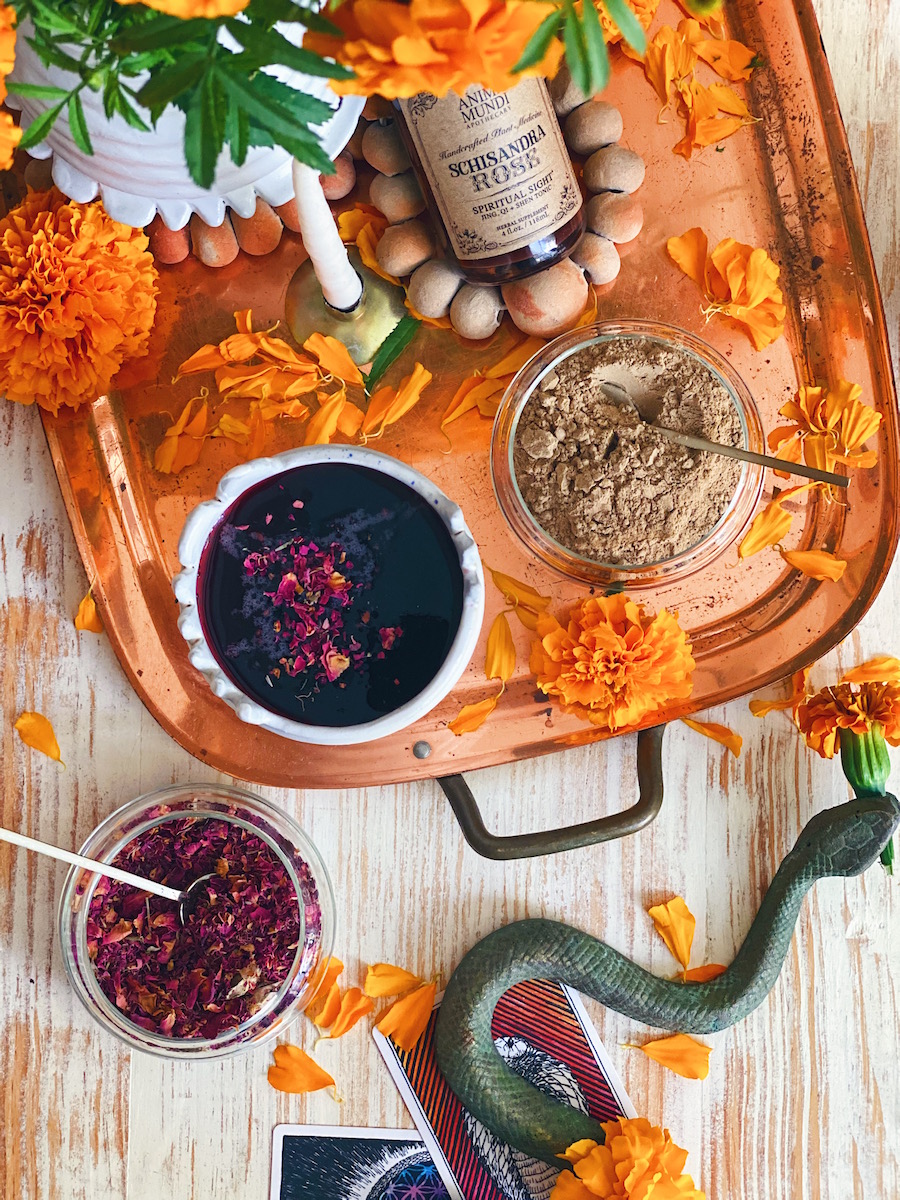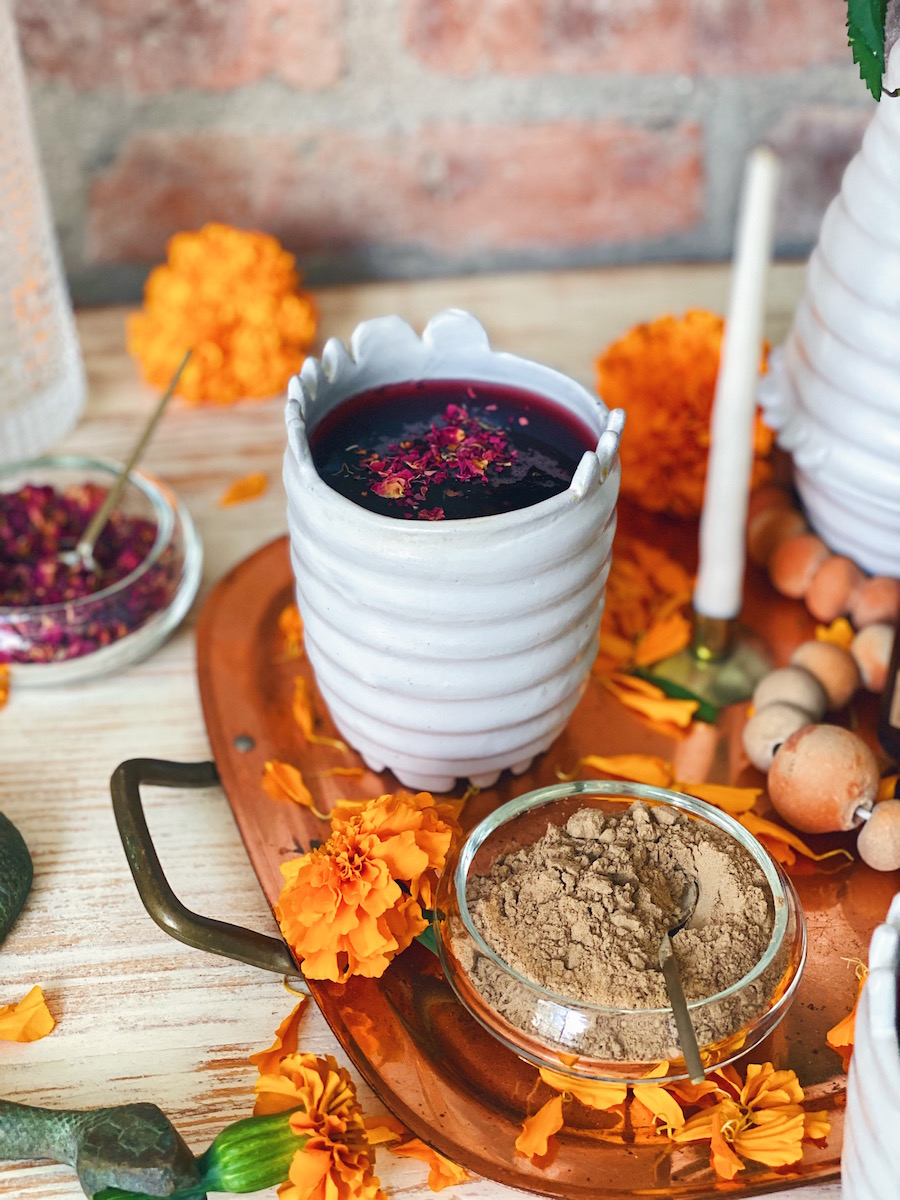 I can feel the energy around me shift as my neighborhood prepares for Día de los Muertos, a celebration to remember the dead that originated in Mexico and is celebrated throughout Latin America. During this time, people set up ofrendas, or home altars, to honor their departed loved ones and to welcome their spirits. Photos and belongings of the deceased, candles, and cempasúchil (Mexican marigold) – a flower that represents life's fragility – are common adornments.  
Traditions around celebrations like Halloween and Día de los Muertos may look a little different with social distancing, but one of the most amazing things to witness this year is people's resilience as they adapt and find new ways to safely celebrate and honor what is meaningful to them. I always look forward to my own rituals for this reflective season: hot baths, tarot readings, journaling and making potions in my kitchen. 
This Schisandra Rose Tonic Tea is a new favorite that's been perfect for the autumn days in San Miguel de Allende. This adaptogenic potion gets its deep color from dried hibiscus flowers and Anima Mundi's Schisandra Rose Elixir. Schisandra is an adaptogenic superberry that is known in Traditional Chinese Medicine to target the five yin organs: liver, lungs, heart, kidneys and spleen. It is known to support mental and physical energy, detoxifies the liver, and contains antioxidative and anti-inflammatory properties that help with skin health and provide protection from stress. It contains all five flavors – sweet, sour, spicy, salty and bitter – providing a complex profile that I paired with the floral and fruity flavor of the hibiscus flower. I love this tea tonic served chilled (sometimes spiked with mezcal), but it can also be served warm. I hope you find time this week to enjoy this tea while practicing your favorite fall rituals!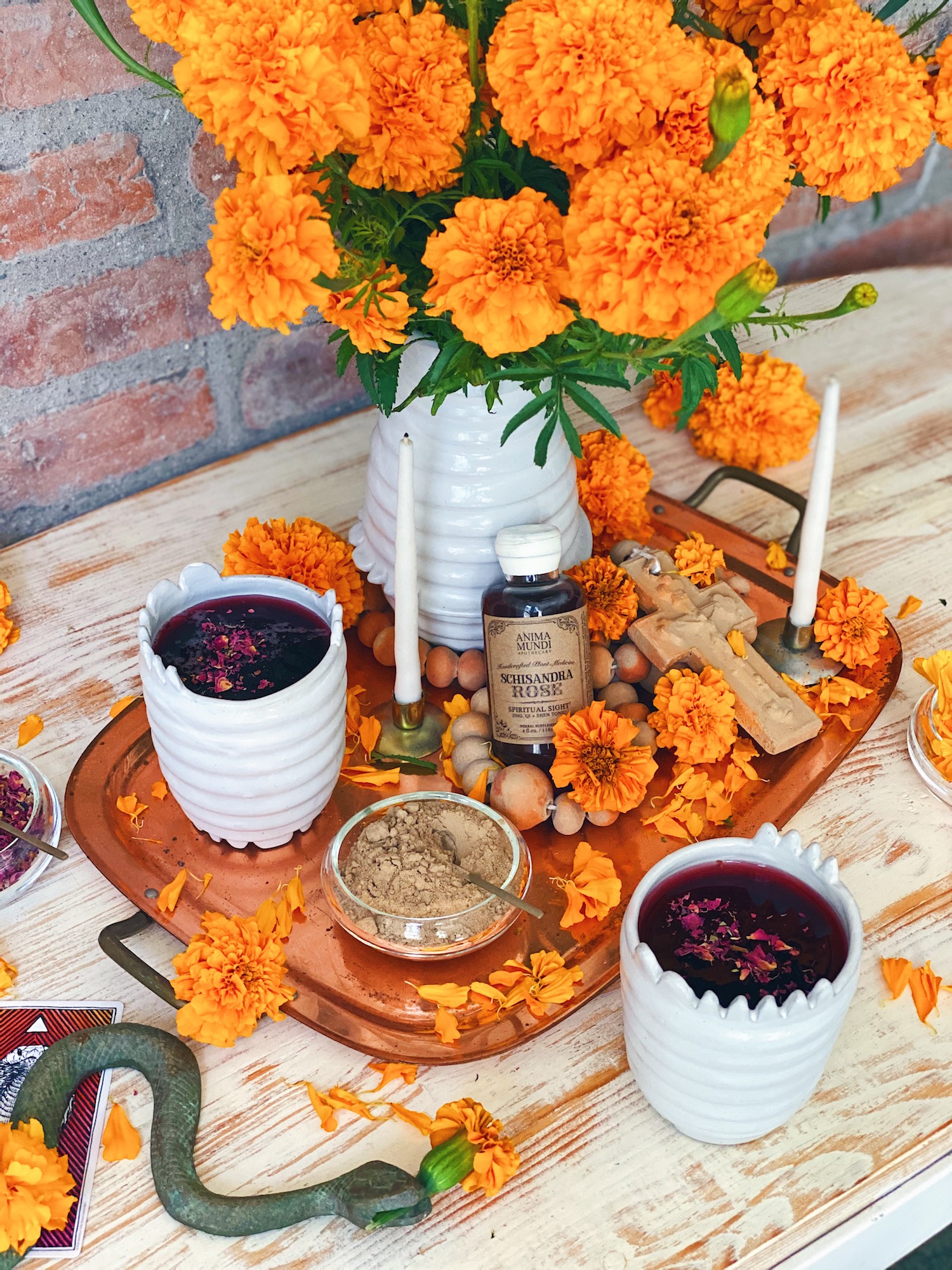 Schisandra Rose Tonic Tea
[Serves 5-6]
½ cup dried hibiscus flowers
1 Tablespoon grated fresh ginger
8 cups filtered water
¼ cup raw honey
1½ Tablespoons Lion's Mane powder
1½ Tablespoons Schisandra Rose Elixir
3 tablespoons lime juice
Bring the hibiscus flowers, grated ginger and water to a boil in a large pot. Once the water starts boiling, turn off heat.

Whisk in honey and Lion's Mane Powder until well combined. Cover the vessel, and let the tea steep for 15-20 minutes. Remove lid and let cool to room temperature.

Strain the tea through a fine mesh sieve or cheesecloth. Stir in the Schisandra Rose Elixir and lime juice until well combined.

Chill in the refrigerator for 1-2 hours before serving over ice.