SO excited about this post, you guys! Over the last year, I've fallen in love with natural wine. I've learned so much and still have lots to learn, but I'm excited to share some of that info with you today! As people continue to pay more attention to what they put into their bodies and make more mindful decisions that support sustainable practices, it's no surprise that the focus has spread beyond what we put on our plates and onto what we pour in our wine glasses.
Although some of us love and drink wine regularly, talking about wine can feel incredibly intimidating. There is such a dizzying amount that can be learned about wine – the regions and their soils, the grape varietals, the different production processes – that it can be tempting to ignore all the details and pick a wine based on its label design. But with an understanding of just a few key terms, you can head to the wine aisles and select a bottle with the confidence that your choice aligns with your ecological values and dietary standards. Knowledge is power, friends!
I encourage you to seek out the natural wine community where you live. It's definitely not everywhere yet, but you'd be surprised. If you can find a great shop or join a monthly wine club, do it. This way you can chat about the wines with knowledgable people and if you join a wine club you can try new wines every month. I'm a member of Ardor Natural Wines' club here in Portland. I also love Psychic Wines in LA, Wine Therapy in NYC and Henry's in Brooklyn. Even if you can't find a dedicated natural wine spot locally, talk to whoever works at any wine shop near you and inquire about what natural wines they might sell. Also, depending on what state you live in, you may be able to purchase wines online. Also, if you don't have a wine app on your phone yet, I'd recommend Delectable or Hello Vino.
I want to talk about the wine du jour – orange wine. You've probably noticed this category of wine starting to pop up by the glass at wine bars and restaurants, and a lot more people talking about it. Bon Appétit did a great article on orange wine, which is also known as skin-contact wine. To put it simply, it's white wine made like red wine. The white grapes are fermented along with its skins, which gives the wine a range of orange color. Because the wine extracts the tannins and phenols from the skins, orange wine is often bigger bodied like a red wine. Skin-contact wines are also normally made without as many additives as a white wine, which can lead to a more sour taste.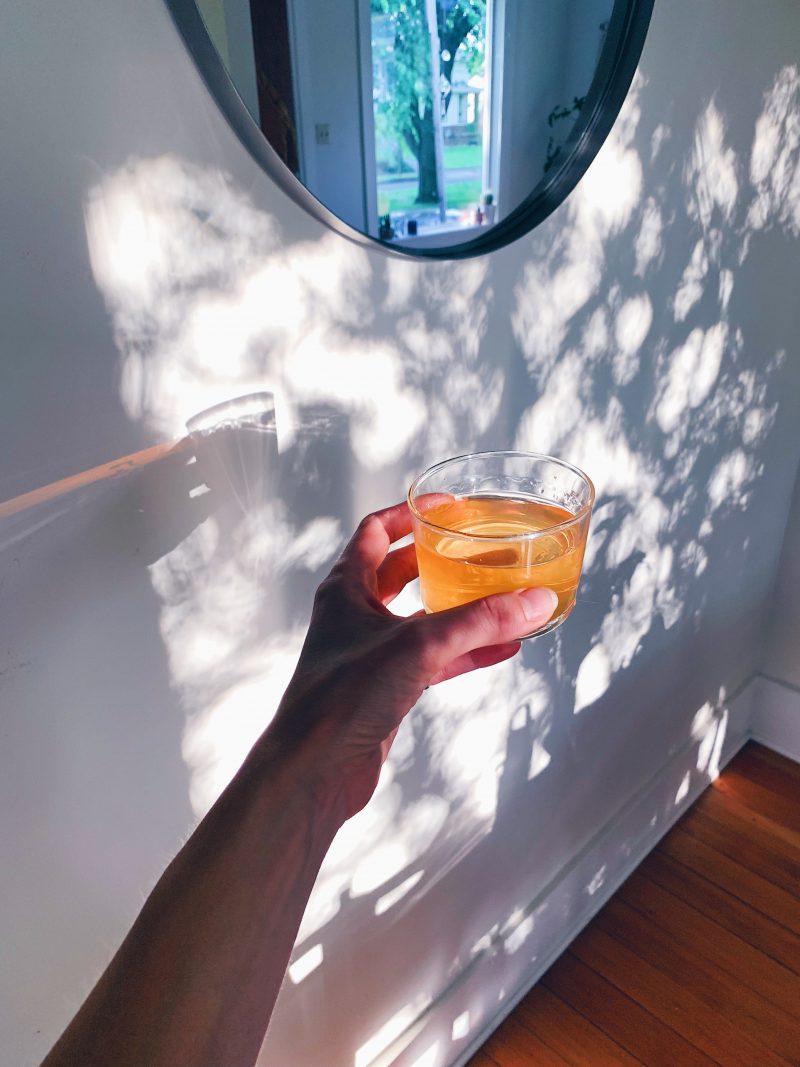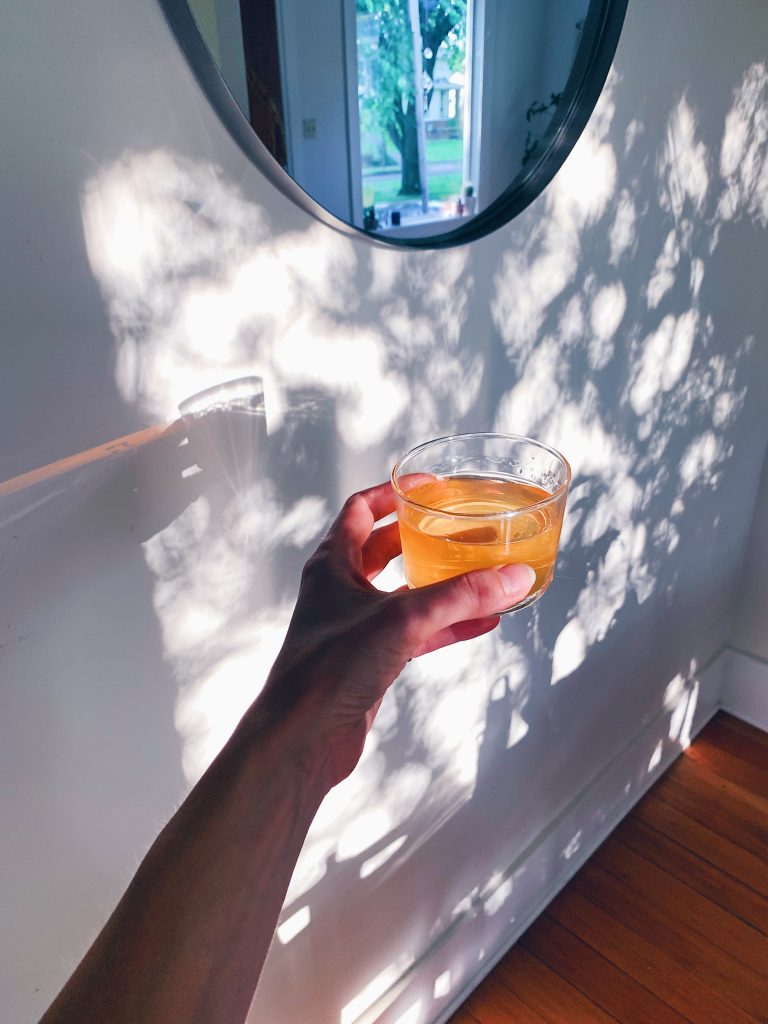 Here's a simple guide to the different categories of wine:
Red grapes, skin contact = red
Red grapes, no skin contact = rosé
White grapes, skin contact = orange
White grapes, no skin contact = white
Another fave (especially for summer!): pétillant naturel, better known as pét-nat. Translates to 'naturally sparkling," and that it is. Pét-nat can be made from white or red grapes and is essentially a natural version of champagne where the fermentation happens directly in the bottle. Again, Bon App breaks this fizzy drink down for us.
You may have heard wines be described as organic, biodynamic or natural. These all refer to different methods in which a wine can be made. They all sound pretty similar, but each have their own nuances:
Organic wine is wine made with organic grapes. To grow organic grapes, a winemaker must adhere to a set of standards at their vineyard, such as using no artificial fertilizers. Organic wine does not necessarily mean it doesn't have any additives; ingredients like yeast and animal enzymes are allowed in organic wines. Another thing to note is that being certified as "organic" has different definitions across countries. For example, organic wine in the U.S. cannot have any added sulfites, but the same isn't true for wine made in Canada or Europe.
Biodynamic wine takes organic wine one step further. Biodynamic wine is made using organic farming practices (such as using compost as fertilizer and avoiding most pesticides), as well as employing biodynamic methods in the growing, harvesting, and post-harvest processes. Biodynamic methods are based on agriculture methods created by a person named Rudolph Steiner in the 1920s. Biodynamic agriculture emphasizes that the timeline of farming processes should fall in line with the lunar cycles and astrological signs, connecting the farmer with the earth in harmony. This can result in super hearty vineyards that are naturally resilient to plant diseases and extreme weather. Wines labeled as "biodynamic" are certified by the Demeter organization. Since certification can be costly, some winemakers forego the certification process but still use biodynamic methods for their own personal standards. Just like organic wines, biodynamic wines may still contain additives.
Natural wine has gained popularity recently, but actually refers to the oldest method of winemaking. I asked my friends Ryan Jones and Victor Martinez at Ardor Natural Wines to give a brief overview of natural wines, as well as their top 5 natural wines that are perfect for this spring + summer:
Natural wine is wine with nothing added and nothing removed. That means it is grown organically or biodynamically, and it is vinified into wine through a natural, spontaneous fermentation – without the addition of any chemicals, or manipulation by filtering, fining, or other industrial techniques. What you get is a wine that strives to express the variety of grape, where it is grown, and the season in which it is grown and made into wine.
These wines are alive with healthy populations of microorganisms and they tend to have more life, energy, and flavor than conventionally made wines. There's an entire world of flavors, textures, smells in wine that most people have never been exposed to.
Natural wine is where all the great energy and creativity is being harbored in the wine world. There is literally a whole new generation of farmers and winemakers that are making wine in the old traditional ways. These old school methods date back over 5,000 years and in addition to creating a wine that is alive and energetic, also happens to be free of chemicals and is grown in a way that respects the earth and maintains healthy nutrients in the soil.
The key aspects of what we consider to be a natural wine are:
Vineyards farmed organically and/or biodynamically
Use of indigenous yeast
Handpicked grapes
Low-to-no filtering
Low-to-no sulfites
Winemaking that respects the grapes
No chaptalization
All of the technical components are really cool, if you're in to learning about that, but natural wine is more than just a process. It has evolved into a culture unto itself. It is how people engage with drinks and food in a more thoughtful and fun way than beer or cocktails. It informs an entire lifestyle. We focus on encouraging people to try new things and to do things with wine. Every BBQ, trip to the river, camping trip, and bike ride to the park is an opportunity to enjoy natural wine and one if it's best friends, tinned fish.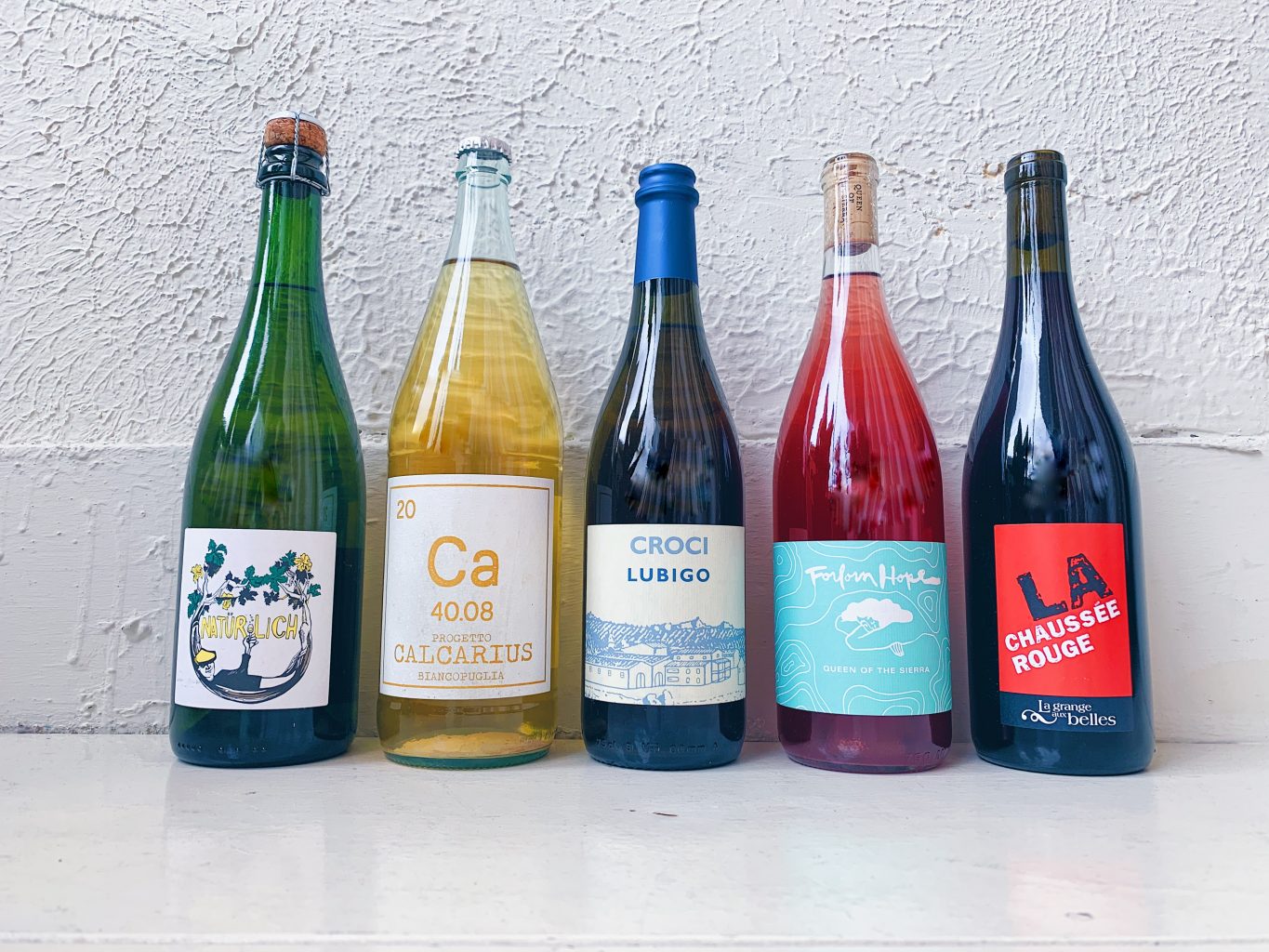 We've put together a list of 5 wines that we think are exactly what you should be drinking as we go into late spring/early summer. These wines also provide a good window into natural wine and represent a variety of styles, flavors, smells, countries, soils and cultures.
Natürlich
This is a white sparkling wine – a pét-nat from a father-son team, Bernard and Benoit Landrom, that work in Muscadet. It's a 50/50 mixture of grape Folle Blanche and Gamay. Folle Blanche has high acidity and full of citrus flavor, and Gamay is herbaceous. This is a great combination of the two – it's lively, joyous, and easy to drink. It's more of a playful fruit than a nutty champagne, and pretty much all you'd want in a sparkling wine.
Calcarius
This wine comes from the heel of Italy's boot, in Puglia. There's a lot of calcareous soil out there, so the winemaker (Valentina Passalacqua) is using intensely limestone plots to grow Bambino Bianco grapes. It's a liter bottle, so you get an extra 250 mL. The wine is very lemony – it's like an adult lemonade without the sweetness.
Croci Lubigo
This wine from Romania is 100% Ortrugo, which is a great native to that region. The grape skins are considered a white grape, but they give the wine long skin contact to get all the extraction of color and the tannins, making it an orange wine. It's also lightly sparkling, somewhere between a pét nat or champagne and a lambrusco. So it's lightly sparkling and deeply orange in color, really fruity, lively and easy to drink.
Forlorn Hope
Forlorn Hope is from a California guy (Matthew Rorick) who's doing really cool, lightly macerated, juicy, expressive wines. It's kind of the opposite of what you'd think of Napa style. This is his take on a White Zinfandel. It's a rosé from Zinfandel that tastes like a watermelon or raspberry Jolly Rancher, but without the sweetness. It's dry, like what a White Zinfandel should be!
La Chaussée Rouge
La Chaussée Rouge is from Loire. It's made in the style of carbonic maceration, which is a style of winemaking that produces really fruity, lightly macerated wine. It's a much lighter red than you'd expect from fermented grapes like that. It's still a light red, but you treat it more like a rosé; you chill it and drink it. It's perfect for the spring and summertime.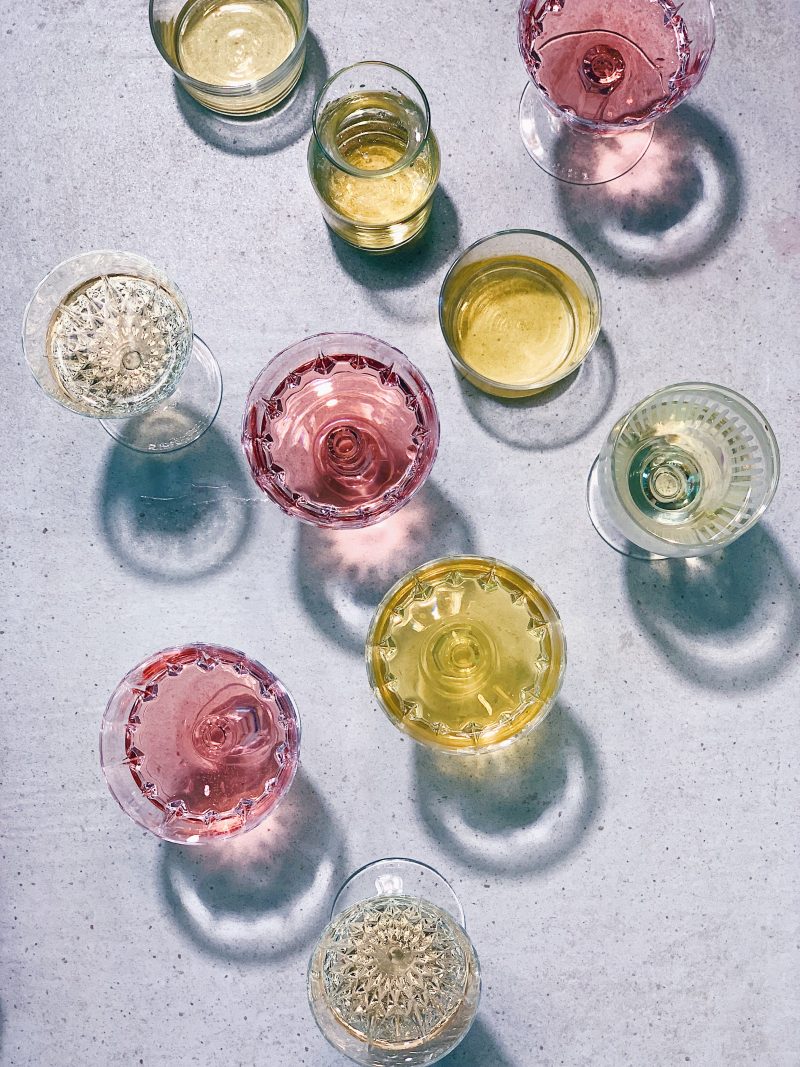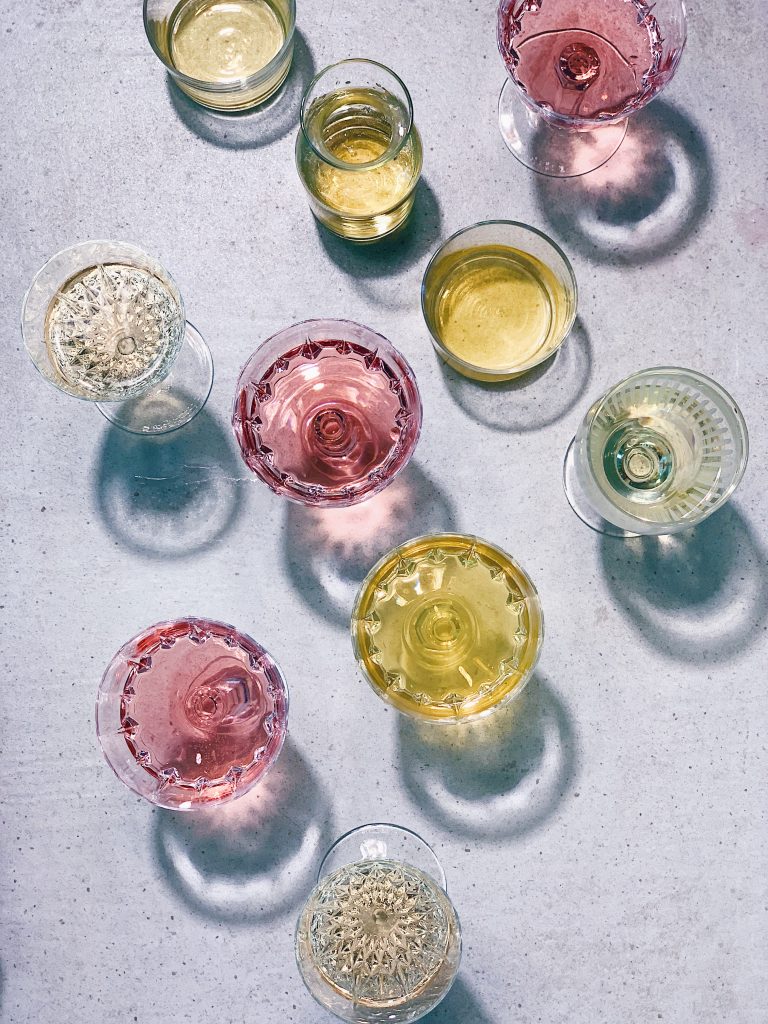 Natural Wine Producer List
I asked my friend + natural wine aficionado Autumn Gilbert to share some of her current favorite wine producers. Autumn is the first person who really taught me about natural wine. We've drank our fair share of wine together, and I will say, she always picks the best ones. I hope you find something you love!
Domaine Mouressipe – I like these wines because while they are high acid and fruity, like most young reds from this region, they possess a uniquely herbal quality, almost tea-like at times.
La Sorga – Antony Tortul has a cult following and is one of many natural producers known for having a sort of "punk rock" philosophy towards wine. Whole bunches, no temp control, and NO additives.
Anna Andre et Yann Durrman –  Their wines are made without any additives. The Gewürztraminer literally smells like heaven, if heaven was a summer night full of gardenia bushes and lemonade.
Christian Binner – The Binner estate was established in 1770, and their vines' average age is 35 years, where 40% of the vines are over 60 years old, and with many rows nearing a 100 years of age. They've been chemical-free for 35 years.
Laurent Saillard – Laurent worked in food and wine in New York City, notably as co-founder and chef of ICI in Fort Greene before moving to the Loire Valley to make biodynamic wine.
Domaine de L'Octavin – Alice Bouvot is a female winemaker based in Jura, though she trained classically in Bordeaux and Burgundy. She farms biodynamically, and all vineyard work is done by hand.
Domaine Mosse – Agnès and René Mosse are based in Anjou. They farm biodynamically, working primarily with Chenin, Cabernets, Grolleau, and Chardonnay.
Le Petit Gimios – Anne-Marie and her son Pierre took over an abandoned vineyard in 1993 and converted the vineyard to biodynamics (now Ecocert-certified). Their sparkling muscat is delightful.
Brendan Tracey – Brendan is an American expat making wine in Loire. Keep an eye out for the super drinkable Rue de la Soif and his slightly more surprising light reds that are usually some semblance of Gamay, Cot and Pinot Noir.
Kumph and Meyer – Natural producers from Alsace. I love their Pinot Noir and Y'A PLUS QU'A.
Jean-Pierre Robinot – Jean-Pierre opened L'Ange Vin, one of Paris' first natural wine bars, then went on to create the magazine Le Rouge et Blanc,  an internationally renowned bible of information on natural wine growers in France. After 12 years of running the wine bar and the magazine, he moved his family to start his own  winery in Chahaignes, his native village in the Loire.
DB Schmitt – Bianka and Daniel Schmitt make biodynamic wine in the Rheinhessen region of Germany. They are one of only 80 producers in Germany to be Demeter-certified. Their rosé and riesling are lovely.
Domaine Matassa – Domaine is a New Zealander who grew up in South Africa, making wine in the Roussillon. Really amazing stuff. All natural yeast and little-to-no additives.
Celler La Salada – These are wines from Penedes in Spain. The land is farmed sustainably and has not been touched by chemicals for generations. The Roig Boig (which means "crazy-red" in Catalan) is one of my favorite pét-nats.
Partida Creus – Italians making wine in Catalunya, Spain. They're reviving rare indigenous varieties, and growing sustainably with little to no additives. Beautiful pét-nats; the packaging alone makes them perfect party gifts.
New World:
Ruth Lewandowski – Wines made in Utah from grapes sourced all over. No additives or chemicals in the growing or production process.
La Garagista – Wines made in Vermont. Very cool project. Tried her rosé at a tasting and never ever forgot it.
St. Reginald Parish – Wines from Oregon! They are delightful. Natural production, playful, juicy and young.
La Clarine Farm – Wines made in California with no synthetic yeast, sulfur, oak chips, enzymes or concentrates in the cellar, and no chemicals, fertilizers or tillage in the vineyard.