Summer is just about here, and that means the start of picnic season! Picnics mean time with friends, juicy fruits, beautiful scenery, iced tea, and a million other memories to fill my scrapbook with (just kidding, I don't have a scrapbook). Yet, as chic and effortless as summer picnics might seem on Instagram, their execution requires a bit of foresight and a few hours of planning. So, to ensure you all are living your best summer lives, I've gathered a few of my favorite picnic-proof packing tips and recipes.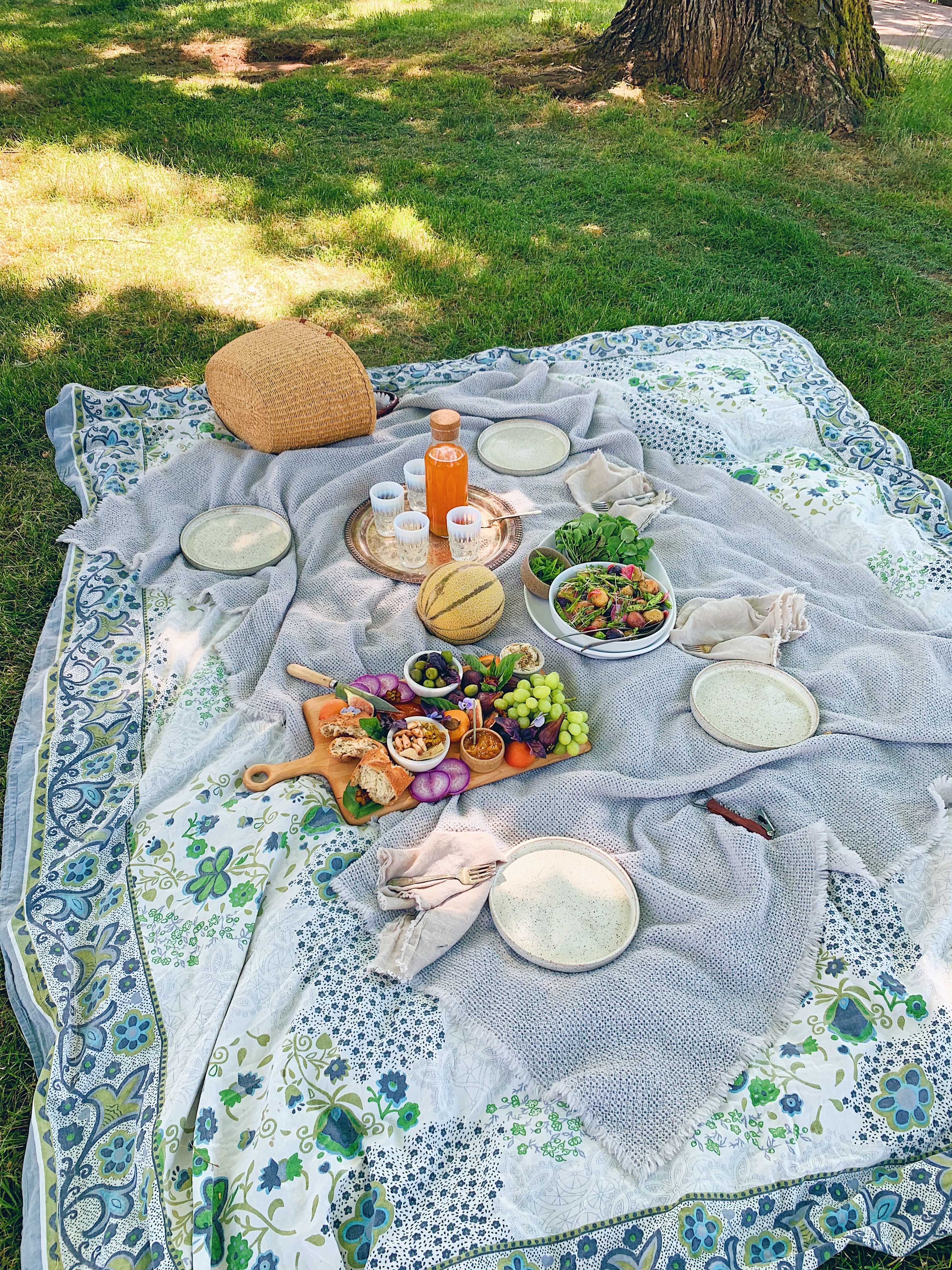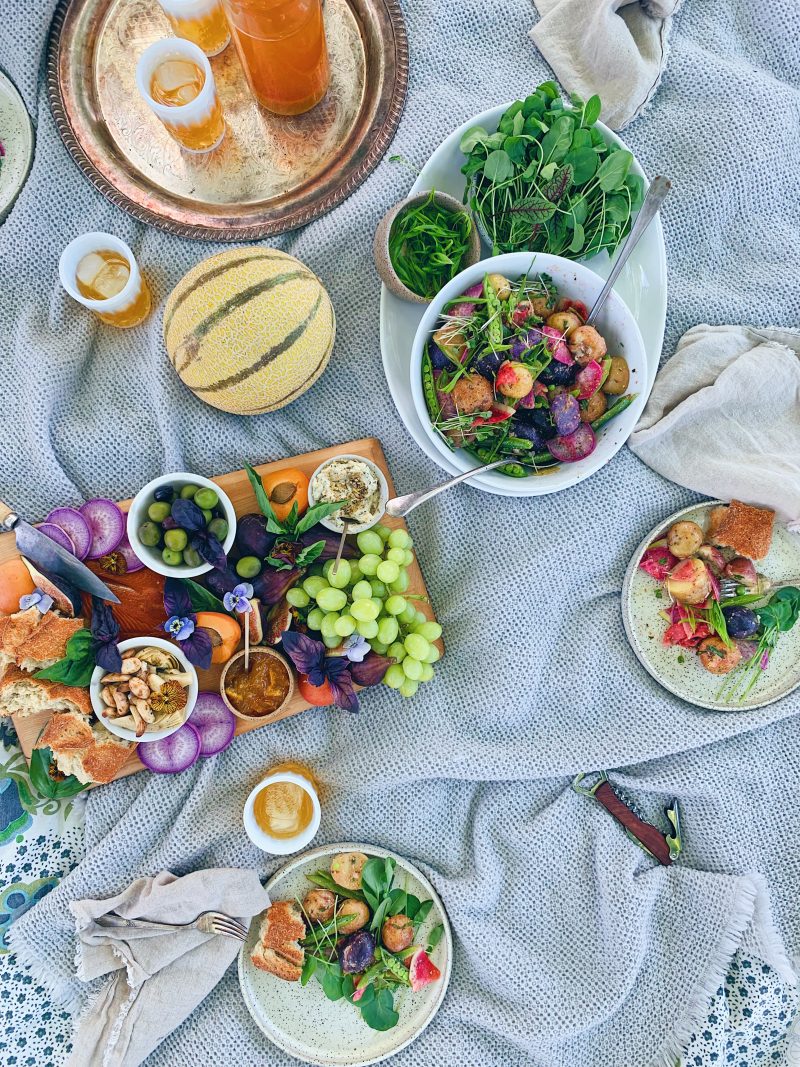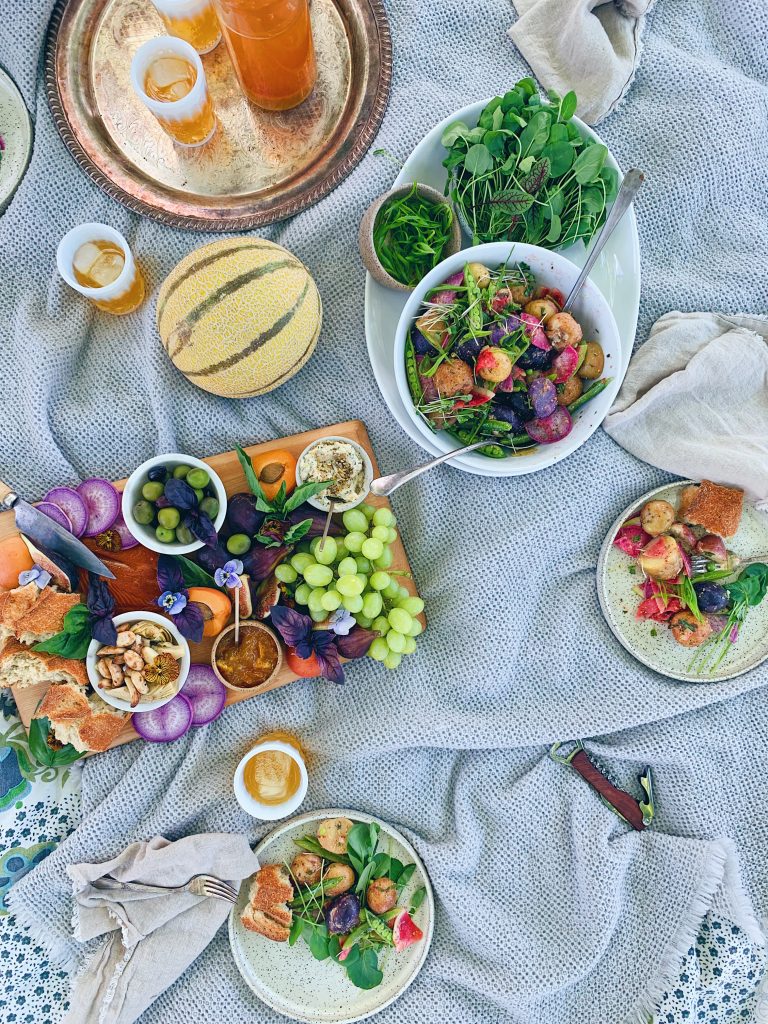 Eat!
Obviously, we want all our food to be delicious. For picnics, this means still crunchy, still flavorful and ready to eat immediately after the long haul to your favorite spot. To start, make sure the foods that need slicing and dicing are sliced and diced at home. This includes (non melt-able) cheeses, like Brie or Camembert, meats for your charcuterie, and all your veggies and fruit. Speaking of fruit, try fruits with rinds or peels that are portable and will hold up against the travel time, or if you want to bring berries, pack them in a reusable glass container. If bringing a salad, choose hardy greens and vegetables that won't wilt and store the dressing separately until ready to serve. For mains, I love to make dishes ahead that will only get better with time. This could be the classic potato salad or the Watercress + Snap Pea Potato Salad with Grainy Mustard Dressing recipe listed below.
Drink!
If you're not bringing bottles, beverages are best in big batches here. Think infused waters, iced teas and big batch mocktails where the flavors will improve while they sit.  When prepping, add a bit of the mixture to ice cube trays and toss those in the batch right before you leave to ensure you have a chilled and undiluted drink once the spread is laid. If you're planning on getting boozy, make sure to research the area you're going. Some beaches, parks, and federal lands have restrictions on alcohol consumption and glass use. I just got this amazing gadget for my birthday, and I am LOVING it. It's double-walled, vacuum-insulated stainless steel keeps your chilled beverage cool for hours.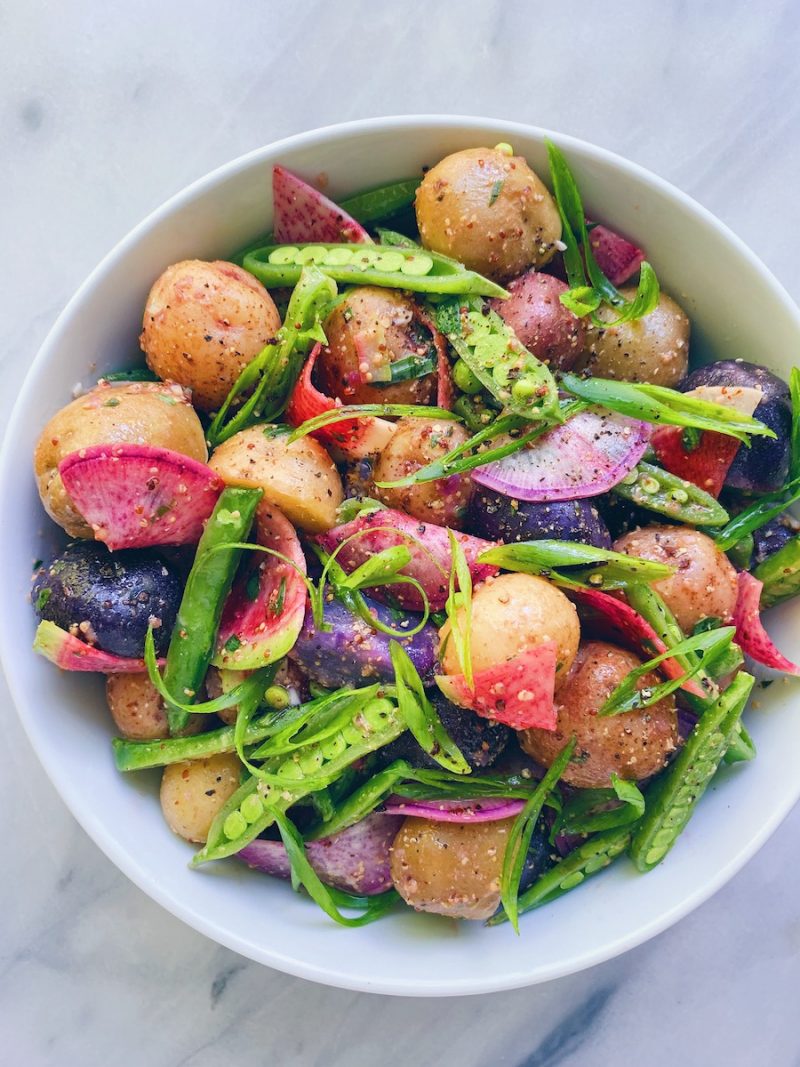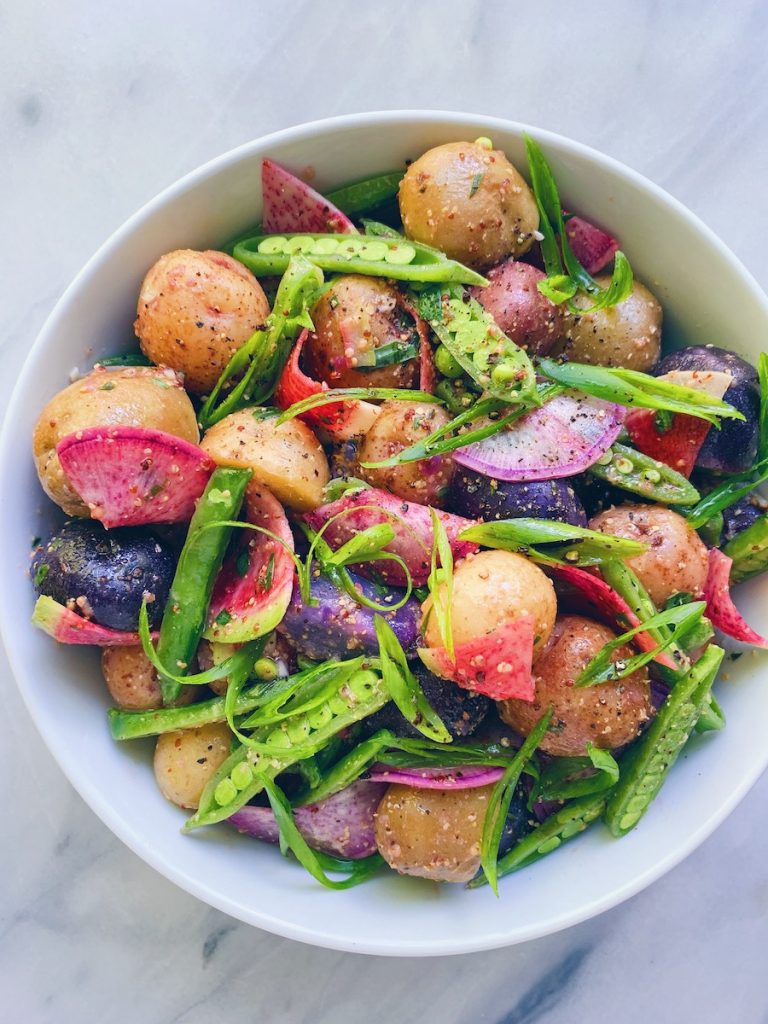 Pack!
Reusable flatware, utensils, cups, and cloth napkins. (Tip: bring a few extra sets of each in case of new friends or spillage.) I also usually pack a few dish towels to use for various things.
A cozy blanket or two with room enough for everyone to stretch out and sky gaze after.
Lemon or citronella oil to ward off unwanted critters.
A corkscrew or bottle opener.  Even if you're not bringing beer or wine, someone else might.
A small knife, just in case.
A cutting board to lay out charcuterie items.
Ice packs, the less messy more compact version of cubes for that not soggy meal I mentioned earlier.
Music and something fun to do. A charged phone and a Bluetooth speaker (I have this one) work magic here. For activities, bring what you like: volleyballs, board games, frisbee, bocce, dominos, etc..
Trash bags. One for garbage, one for recycling. Leave no trace, friends.
Something to put it all in. This depends on your destination, the number of people and time spent there. An actual picnic basket and small cooler are foolproof most of the time If you're trekking long, rough terrain, a backpack is perfect for hauling your goods. The Portland Picnic Society – yes, that's a thing- uses a red wagon and once it's been unloaded, they fill it with ice and bottles of rosé.
Picnic Menu Idea
Watercress + Snap Pea Potato Salad with Grainy Mustard Dressing
[Serves 4-6]
3 lbs baby potatoes, larger ones halved
1 cup radish, thinly sliced on a mandolin
4 scallions, green parts only thinly sliced on bias
1 lb sugar snap peas, thinly sliced on a vertical
¼ cup fresh tarragon, finely chopped, plus more for serving
2 garlic cloves, minced
¼ cup grainy (aka stone-ground) mustard
2 tablespoon dill pickle juice
¼ cup lemon juice
⅓ cup extra virgin olive oil
1 teaspoon salt
1 teaspoon cracked black pepper
2 cups watercress
[Note: if you want to include a protein in this salad, try adding a cup or two of smoked trout or salmon, shredded roasted chicken or slices of your favorite sausage.]
Boil potatoes in heavily salted water for about 20 minutes, or until soft when pricked with a fork. Drain and rinse with cold water.
Meanwhile, make the dressing. Whisk together tarragon, garlic, mustard, lemon and pickle juice and olive oil in a small bowl. Set aside.
Toss potatoes, radishes, 3 tablespoons sliced scallions and snap peas in the dressing.
Serve salad with fresh watercress, and garnish with extra S&P, tarragon and scallions, if desired. Enjoy!
Turmeric Pineapple Iced Tea
[Makes about 3 quarts]
8 turmeric tea bags (or you could use loose leaf tea)
8 cups water
2 cups fresh pineapple juice
½ cup lime juice
2 tablespoons honey (optional)
Add 8 cups of water to a large pot on high heat. Once boiling, remove from heat and add tea bags. Let steep 10 minutes. Strain. Stir in honey, if using.
Allow tea to cool to room temperature then chill in refrigerator for at least 30 minutes, or until cool.
Mix in juices and chill until ready to serve.