Well if you haven't noticed, Wu Haus has a whole new look! Over the past few months, I've been working with a couple of talented people on Wu Haus' new logo and site design. Not only does the site look different, but it is way easier to use. You can now search using the search tool in the navigation bar, and you can find a list of all my recipes in the Recipe Index. Yay! I hope you love it just as much as I do. Now for a new recipe!
These yummy bite-size treats are my go-to when I want something small and sweet-but-not-too-sweet. They're quite easy to make. I prefer to dehydrate mine for a short amount of time so they get slightly crunchy on the outside, but that step is completely unnecessary. If you don't have a dehydrator but you want the crunchy texture on the outside, just pop them in your oven on low heat (around 250°) for about 20ish minutes.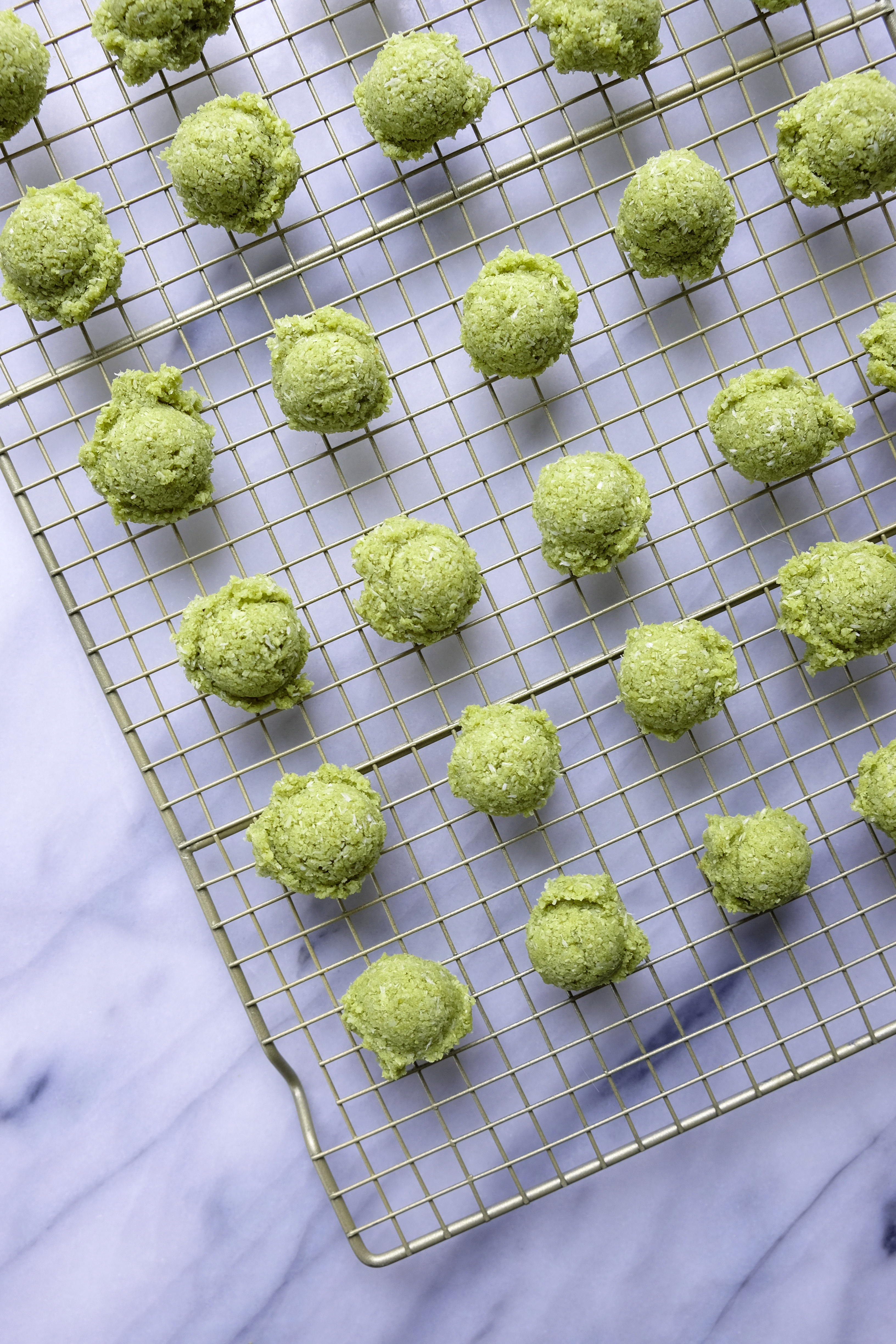 Raw Coconut Matcha Macaroons
[Makes 32 bite-size macaroons]
3 cups dried finely shredded coconut + 3 Tablespoons
1/2 cup coconut oil, melted
1/3 cup almond meal
2 Tablespoons coconut nectar (raw honey or maple syrup work, too!)
1 1/2 teaspoons high-quality matcha
1/4 teaspoon vanilla bean powder
1/4 teaspoon pink salt
In a food processor or high-speed blender, process the 3 cups of dried coconut and the melted coconut oil for 1-2 minutes. Add the almond meal, coconut nectar, matcha, vanilla and salt and process until well combined.
Scrape dough into a mixing bowl and fold in additional 3 Tablespoons of dried coconut. Using a teaspoon or a cookie scoop, form bite-size balls. If dehydrating, place them on dehydrator trays. If not, place on parchment lined baking sheet.
If dehydrating, dehydrate at 115° for about an hour. Be careful not to over dehydrate. If not, just chill macaroons in the refrigerator for an hour before eating. Store macaroons in an air-tight container in the refrigerator for 5-7 days.