This Cacao-Cashew-Coconut Bark is my new obsession. It tastes like fudgey chocolate and is my new go-to sweet fix. I've always been intimidated to make my own chocolate, but this recipe is seriously so easy. It's only slightly sweet, so if you want it more sweet, you can increase the amount of maple syrup (or whatever liquid sweetener you're using). On the other hand, if you don't want to use sweetener, you can just omit it. You could up the cinnamon and add some mesquite powder or cardamom if you leave out the sweetener. If you're allergic to cashews, I bet this recipe would work if you just added more coconut butter and omitted the cashew butter. Lots of options here! Enjoy!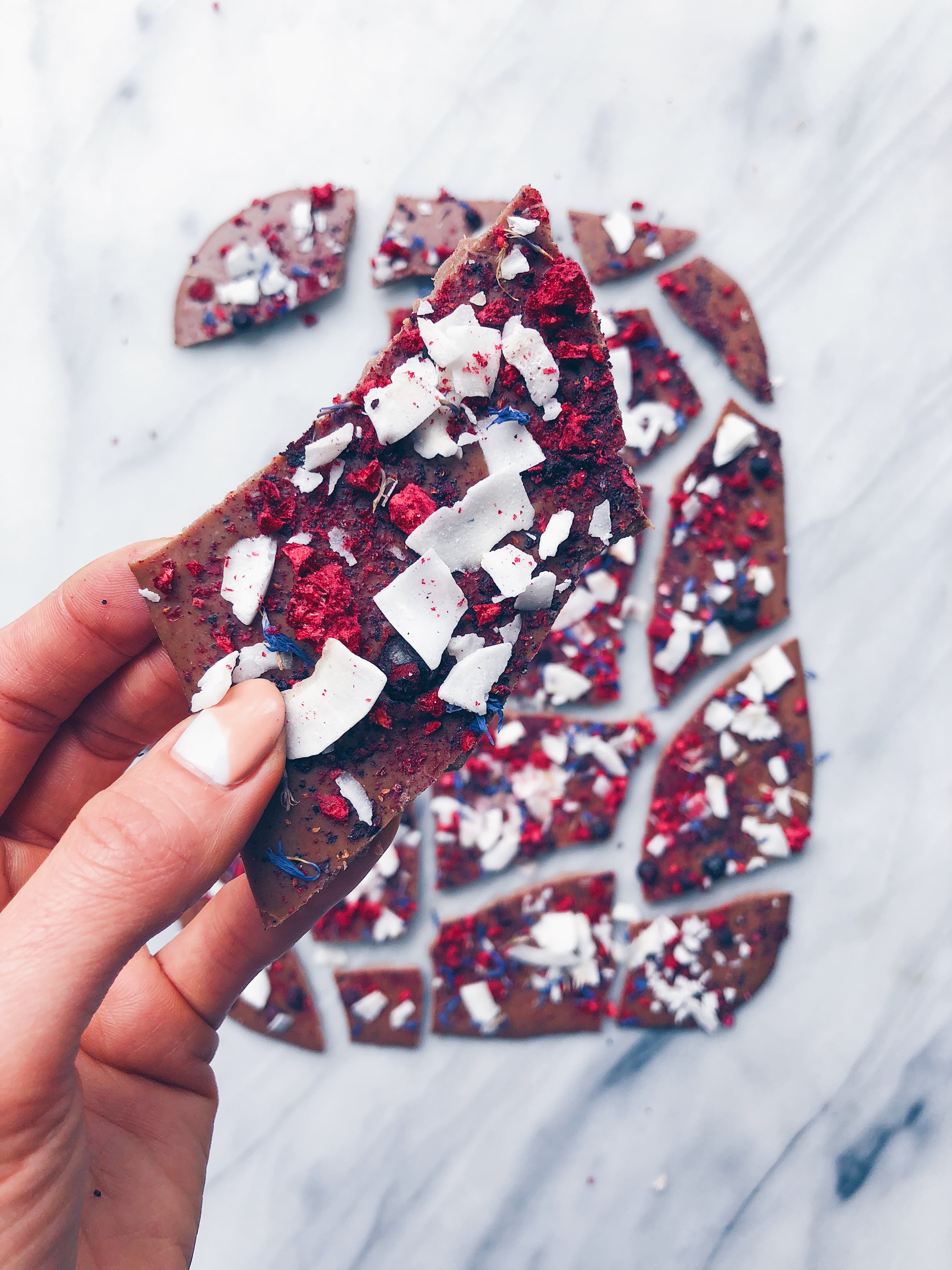 Cacao-Cashew-Coconut Bark
[Makes about 16 servings]
1 cup melted cacao butter (I use this brand)
1/2 cup raw cashew butter (I use this brand)
1/3 cup coconut butter
3 Tablespoons maple syrup (or any other liquid sweetener)
1 1/2 Tablespoon raw cacao powder
2 teaspoons reishi powder
1/4 teaspoon cinnamon
2 vanilla beans (or 1 1/2 teaspoons vanilla extract)
Pinch or two of pink salt
Optional toppings: Crushed freeze-dried blueberries and raspberries, unsweetened dried coconut, salt, dried flowers (I used dried cornflowers), cacao nibs, slivered almonds or crushed walnuts, toasted coconut, etc.
Place cacao butter in a heat-resistant bowl over a pot of water (or use a double broiler if you have one). Turn burner on high, and all cacao butter to melt to liquid form.
Add melted cacao butter and all other ingredients to a high-speed blender. Blend on high until well combined and completely liquid.
Cover a baking sheet with parchment paper. Pour the contents of the blender out onto the parchment paper. Using a rubber spatula, spread the mixture to an even thickness.
While still liquid, top with desired toppings. Place baking sheet in the refrigerator or freezing to set. Once bark is set, use your hands or a knife to break into pieces. Store in an airtight container. Bark will keep in the refrigerator for a week or in the freezer for several months.