My annual cookie recipe is here! I'm not much of a baker, but the holidays always spark some creativity in me. See last year's cookies, here. These grain-free, vegan Pistachio Thumbprint Cookies with Rose Cashew Cream are inspired by this recipe from the December issue of Bon Appetit. I wanted to create a healthier version of BA's recipe and add rose because pistachio-rose is one of my favorite classic flavor combinations.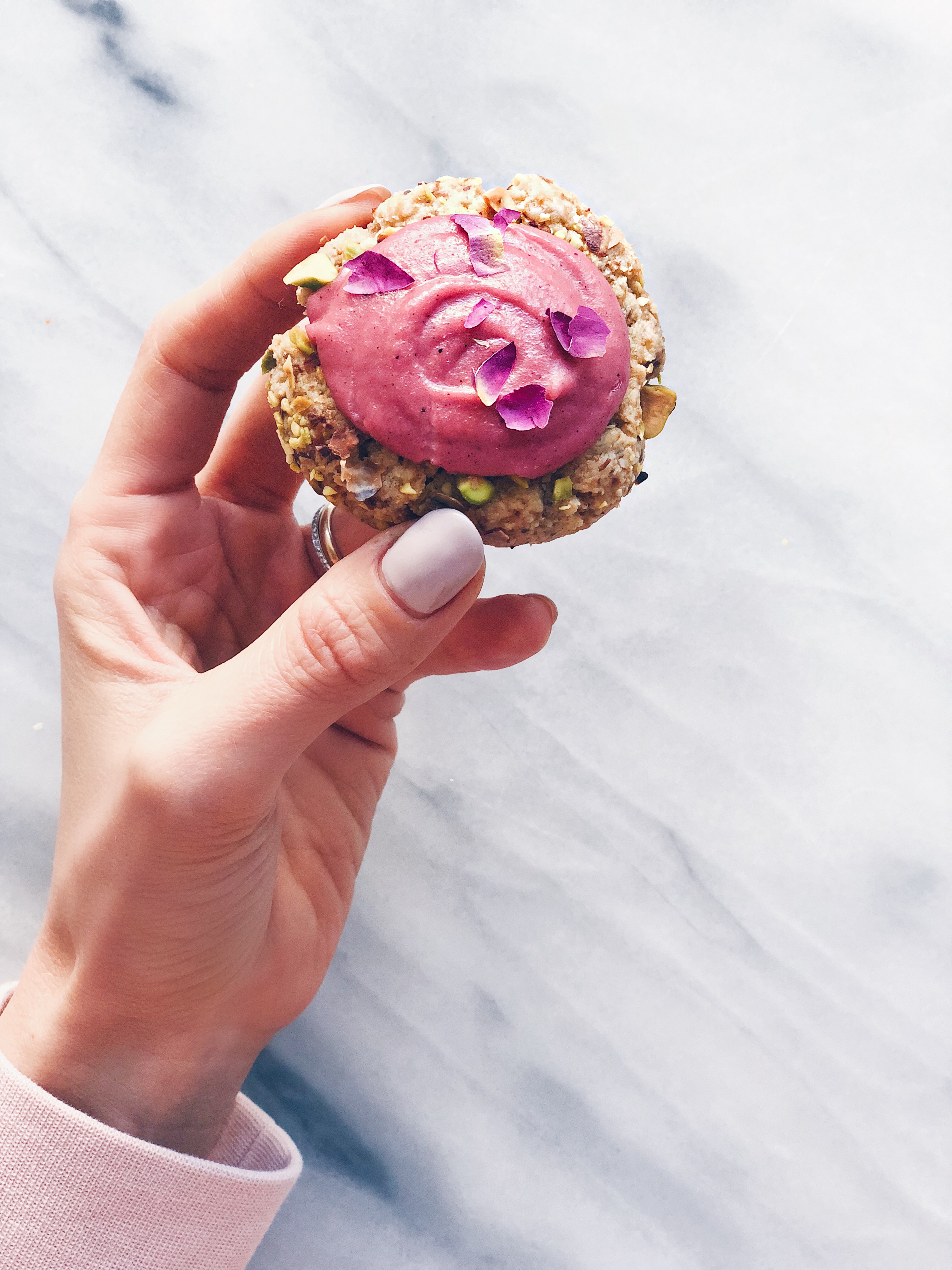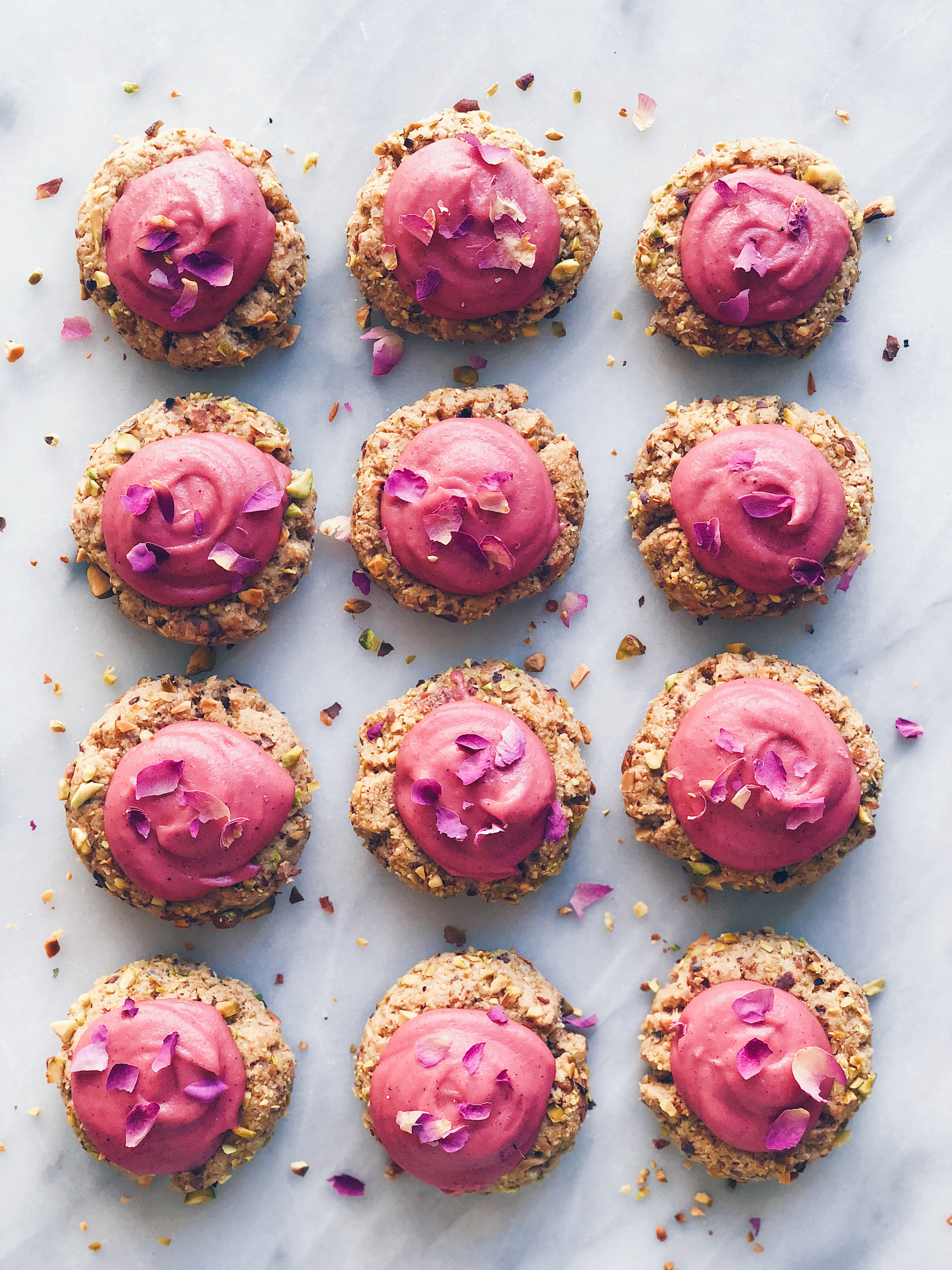 These cookies are SO easy to make, they're insanely beautiful and they're soft and pillowy like a cloud. The perfect addition to any holiday dessert spread. I could also see making these year round because they're that good. If you aren't crazy about the rose flavor, you could try using almond or peppermint extract in the cashew cream to switch it up.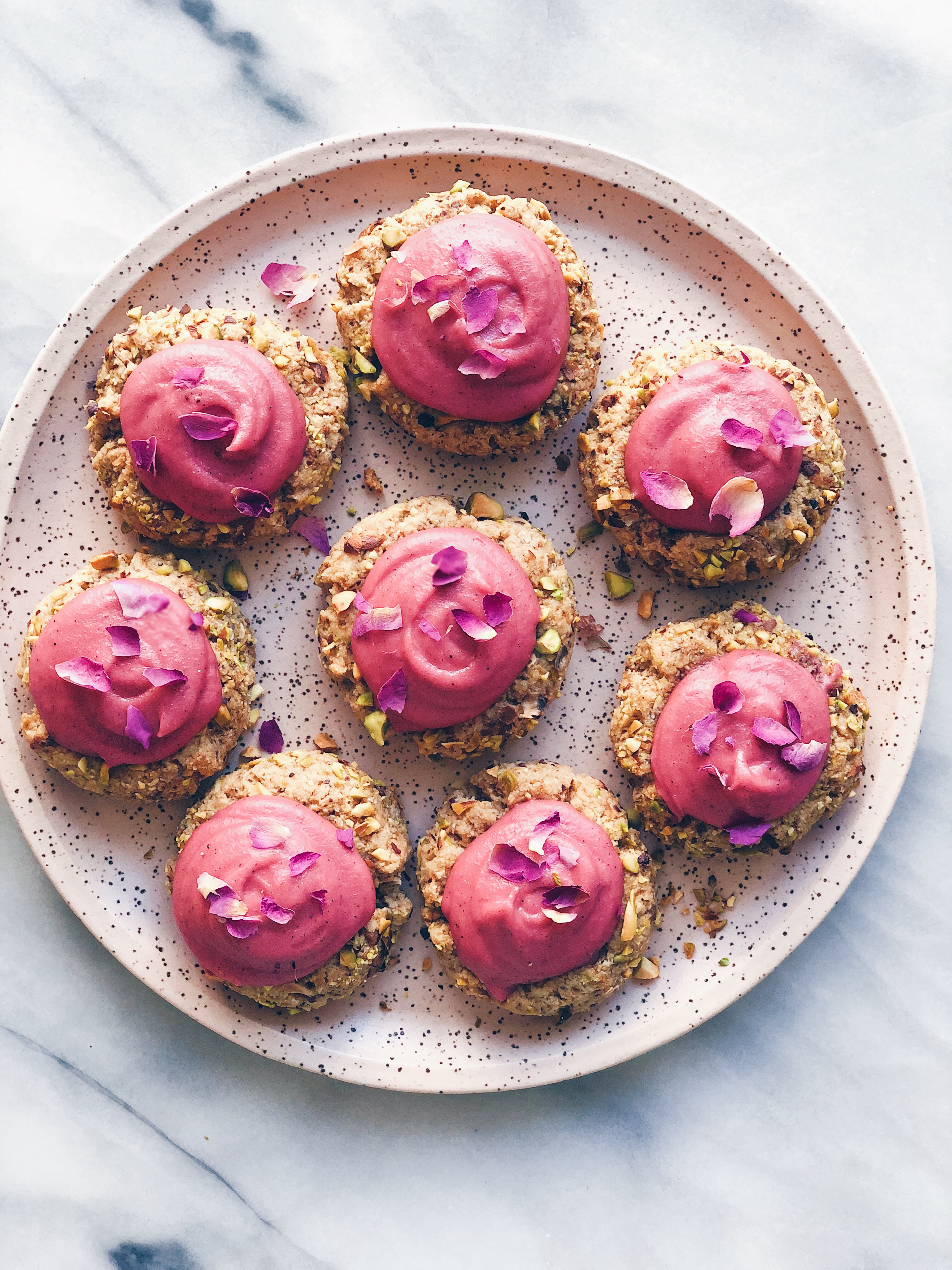 Pistachio Thumbprint Cookies with Rose Cashew Cream
[Makes about 12 cookies]
For the cookies:
4 cups almond meal
1/2 cup coconut sugar
1/2 cup coconut oil, melted
2 teaspoons vanilla extract
2 teaspoons baking powder
1/4 tsp salt
2 flax eggs (2 Tablespoons ground flax seed mixed with 5 Tablespoons water, let sit for 5-10 minutes)
1/2 cup pistachios, finely chopped
To garnish: Dried rose petals
For the cashew cream:
1 cup raw cashews, soaked in water in the refrigerator overnight or on the counter for 4-6 hours
1/4 cup nut mylk (I used homemade cashew mylk)
1/4 cup coconut oil, melted
2 Tablespoons coconut nectar (or maple syrup)
1 Tablespoon sunflower lecithin (the liquid kind, not powder form)
1 teaspoon vanilla extract
1/2 teaspoon rosewater
Optional: 1 teaspoon pitaya powder OR a couple teaspoons of beet juice for pink color
Preheat oven to 350°. Combine all ingredients except pistachios in a food processor and process until well-combined. Dough should be sticky and feel slightly greasy.
Roll dough into 12 2-inch balls. Roll in the chopped pistachios, and place on 2 cookie sheets lined with parchment paper. Using your thumb, make an indentation about 3/4 of the way down into the center of each cookie. You might want to reform the edges of the

cookies

if any cracks form.
Bake cookies in preheated oven for about 12-15 minutes. Be careful not to over bake, as the cookies will be too dry if left in the oven too long.
While

cookies

are baking, make cashew cream filling by combining all ingredients in a high-speed blender. Blend on high until very smooth (2-3 minutes)
When the

cookies

 are done baking, carefully transfer cookies to a wire cooling rack. Let sit for about 15-20 minutes or so until completely cool. Using a spoon, dollop some of the cashew cream into the thumbprint of each cookie. Top with dried rose petals, if using. Store in the refrigerator in an airtight container for up to a week.