A remix on an old favorite! These Pistachio Cookies with Golden Milk Cashew Cream are supremely satisfying and surprisingly easy to make. The cashew cream is made using Anima Mundi's Golden Moon Milk powder (You can also use the Sun Milk powder!). The Moon Milk powder contains relaxing plants, such as ashwagandha, along with restorative 'spirit' plants such as reishi and blue lotus. It also contains essential digestive herbs that assist relaxation such as lavender, cardamom and vanilla. The Sun Milk powder contains activating plants, such as adaptogenic powerhouses maca and cordyceps, which are both known to energize the body. This blend also contains mucuna, a revered nootropic also called "the dopamine bean" due to its ability to enhance our dopamine receptors, along with delicious, organic chai spices such as cinnamon, cardamom, black pepper and vanilla. Either powder blends perfectly into this cashew cream or into your favorite nut milk for a relaxing nighttime or energizing morning beverage.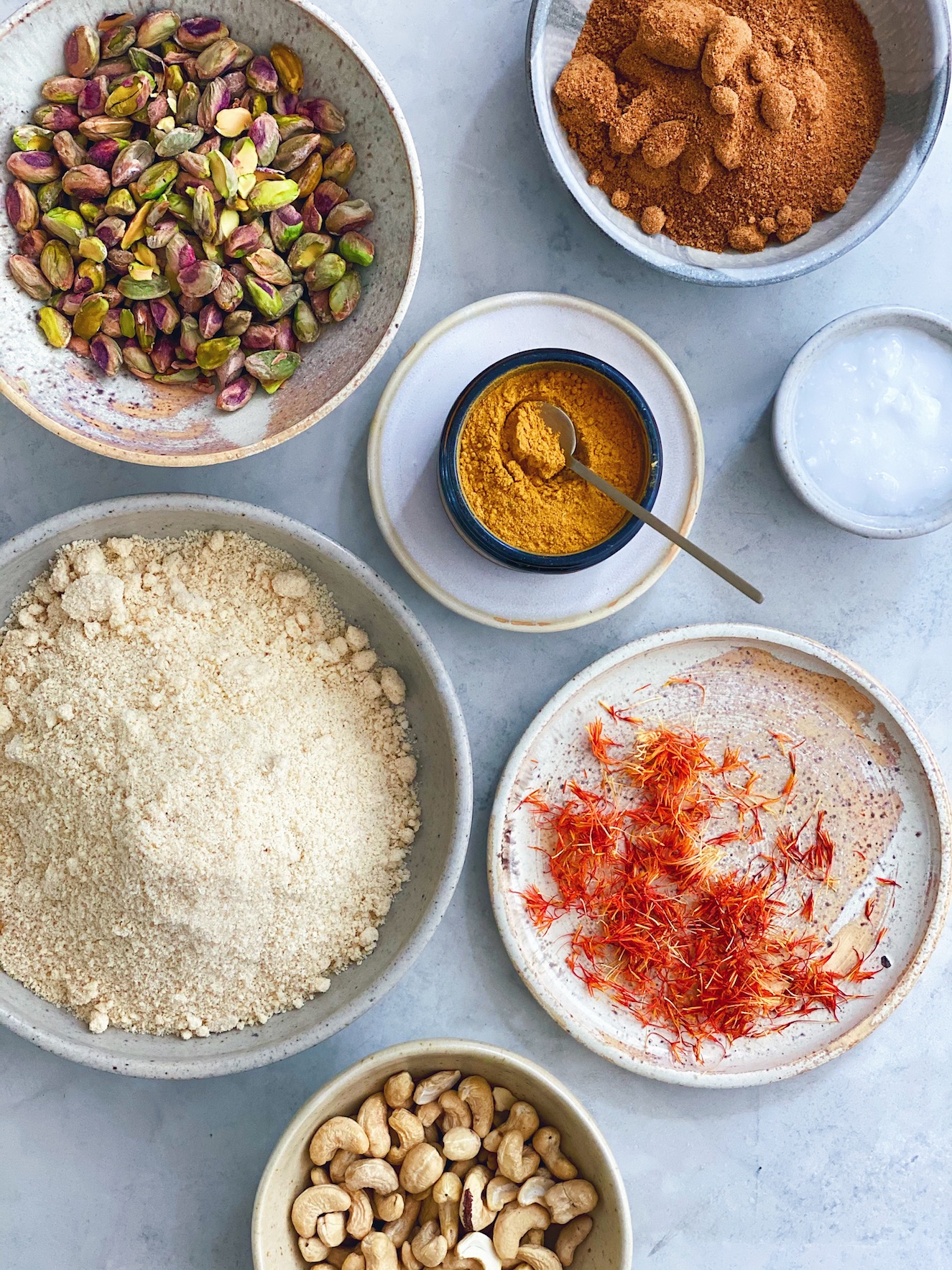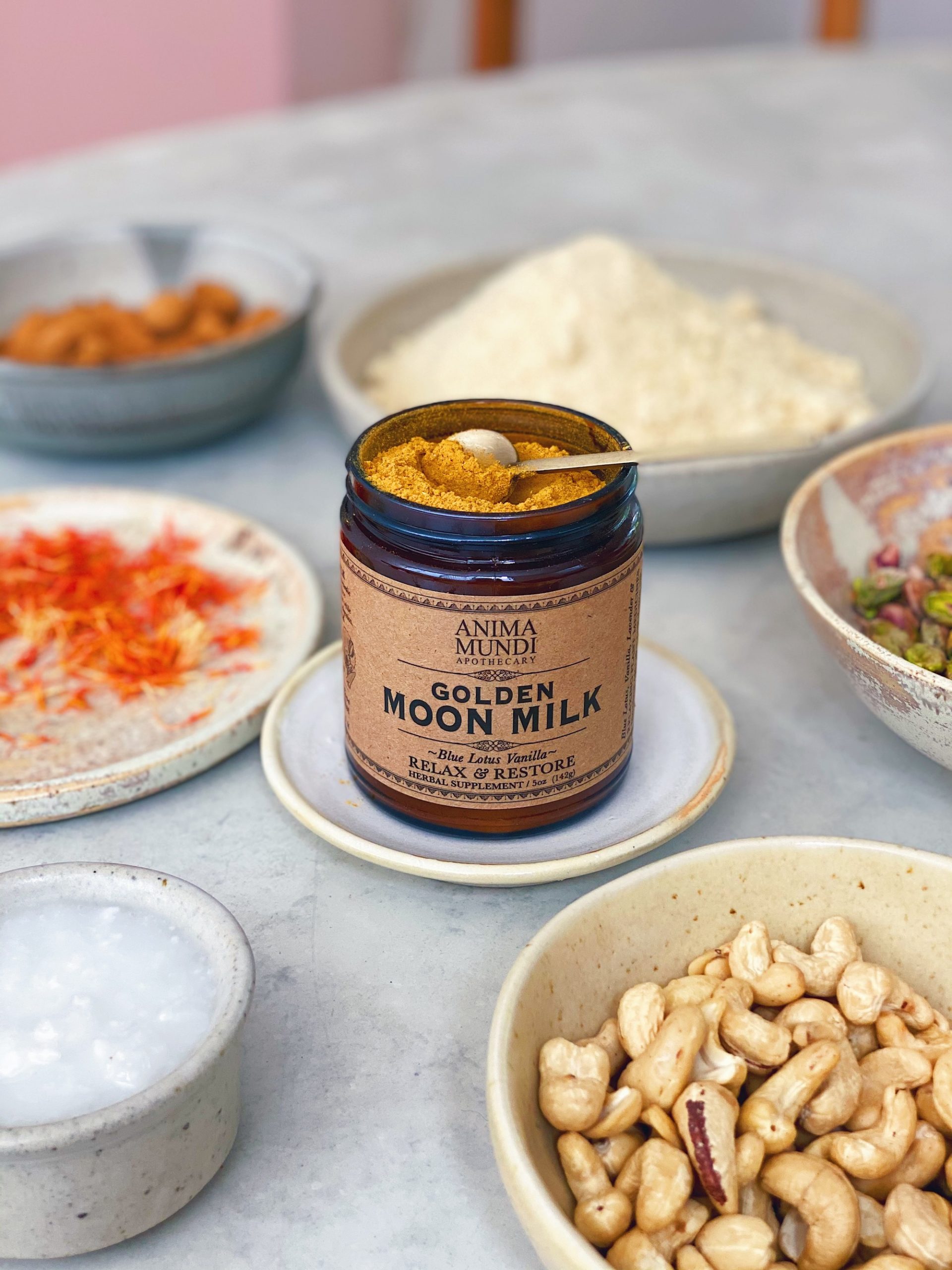 Inspired on a traditional Ayurvedic wellness ritual, golden milk, also known as 'haldi doodh' is an ancient medicinal drink. Turmeric milk, is touted for its healing, anti-inflammatory properties largely thanks to the compound, curcumin, found in turmeric. Golden milk, often combined with spices and fellow restorative and rejuvenating herbs, is designed to support the body and mind. Turmeric has been used in Ayurvedic medicine, and other rainforest cultures, for thousands of years for conditions such as joint pain, digestive issues, fatigue, stiffness and lots more.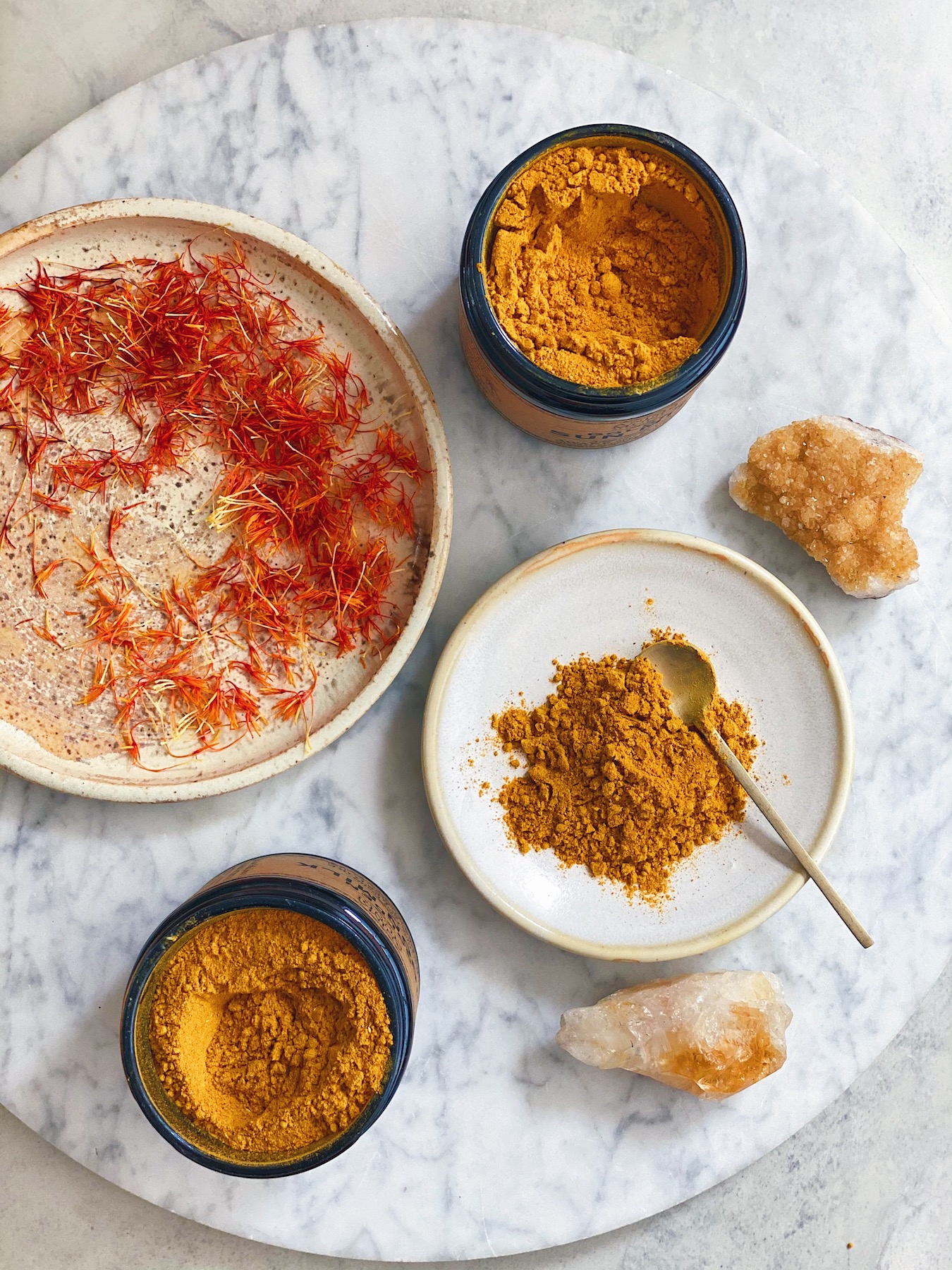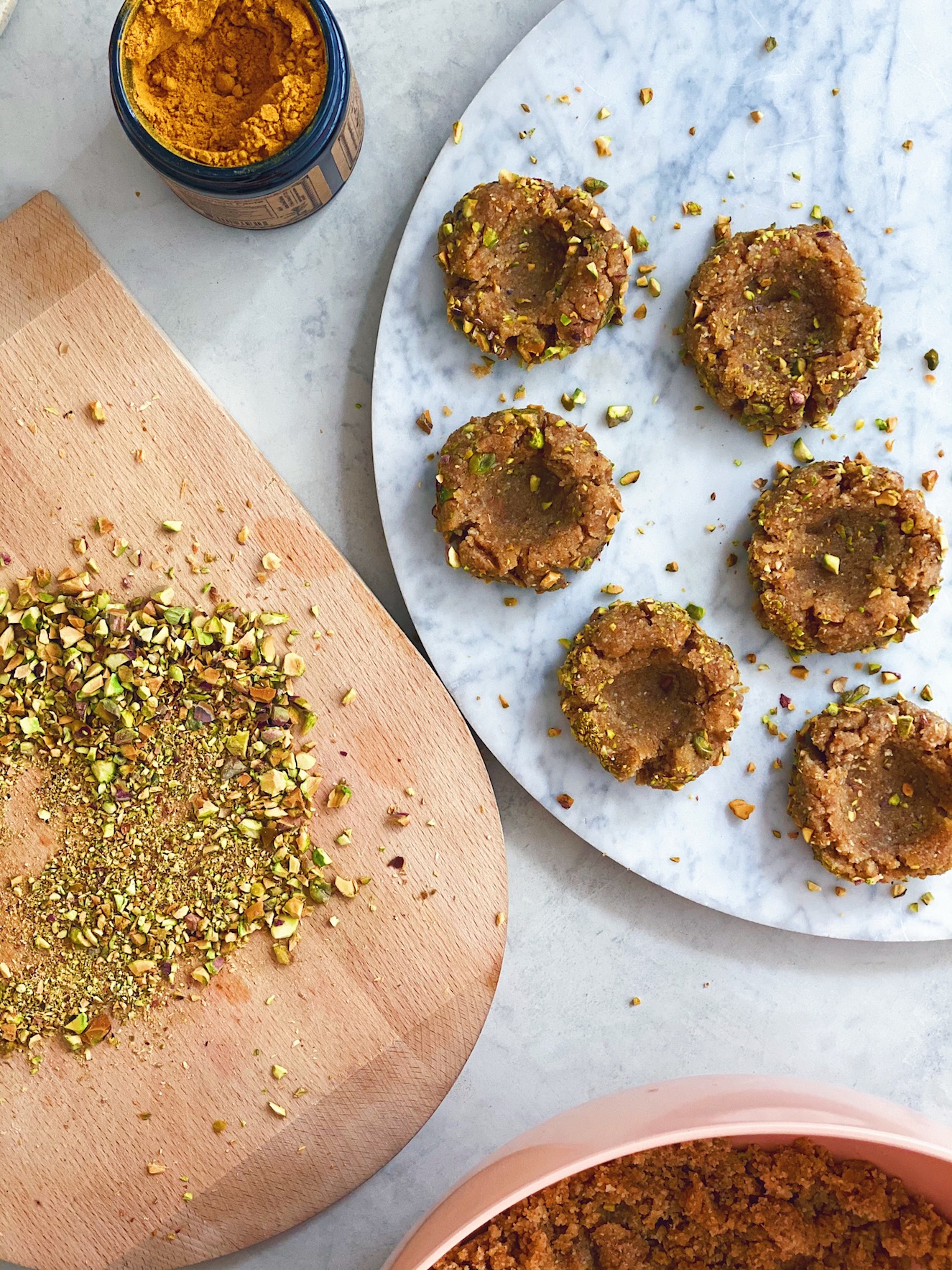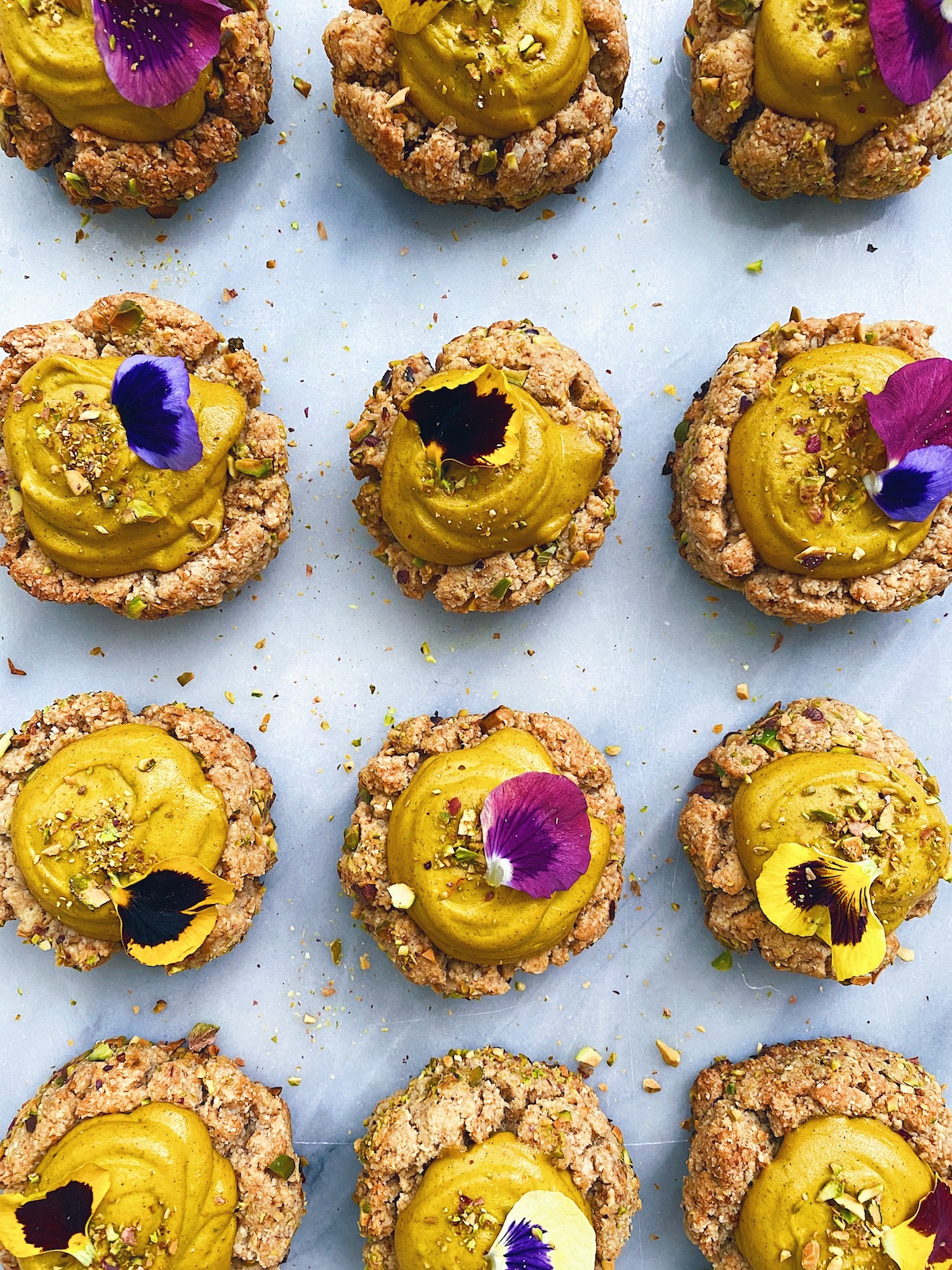 I've used Anima Mundi's collection of herbals and adaptogens for years now. These two Golden Milk powders are such a beautiful addition to their line. I typically use herbs and adaptogens in my morning or evening tonics, but I love switching it up and using them for culinary use. These powders make doing that super fun and easy.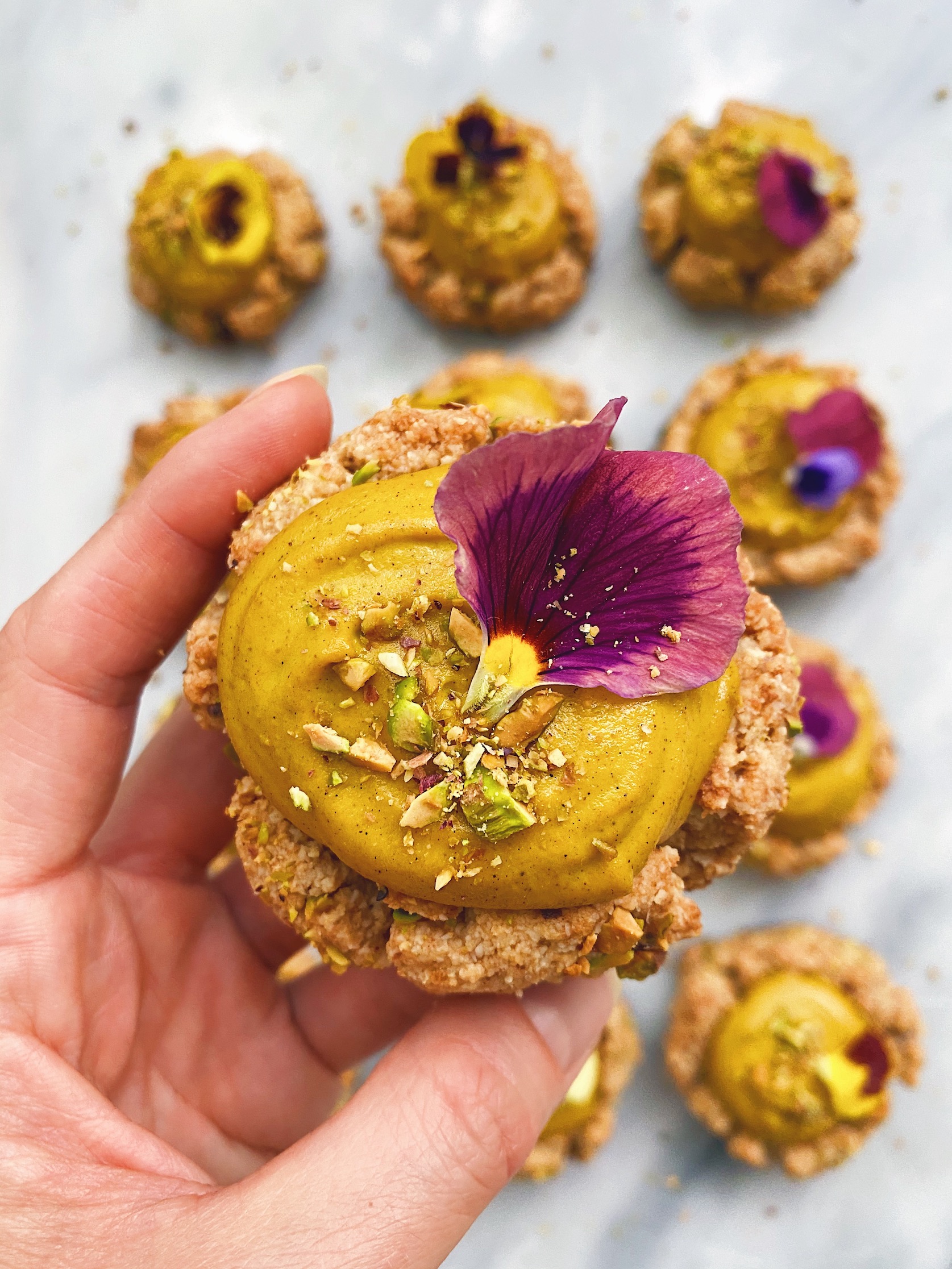 Almond-Pistachio Cookies with Golden Milk Cashew Cream
[Makes about 14 cookies]
For the cookies:
4 cups almond meal
1/2 cup coconut sugar
1/2 cup coconut oil, melted
2 teaspoons vanilla extract
2 teaspoons baking powder
1/4 tsp salt
2 flax eggs (2 Tablespoons ground flax seed mixed with 5 Tablespoons water, let sit for 5-10 minutes), or you can use real eggs
1/2 cup pistachios, finely chopped
For the cashew cream:
1 cup raw cashews, soaked in water in the refrigerator overnight or can be soaked in just boiled water with a lid until soft (about 30-60 minutes)
1/4 cup nut milk
1/3 cup coconut oil, melted
2 Tablespoons maple syrup
2 Tablespoons Anima Mundi Golden Moon Milk (or Sun) powder
Preheat oven to 350°. Combine all ingredients except pistachios in a food processor and process until well-combined or mix by hand. Dough should stick together and feel slightly greasy.
Roll dough into14 1.5-inch balls. Roll in the chopped pistachios, and place on 2 cookie sheets lined with parchment paper. Using your thumb, make an indentation about 3/4 of the way down into the center of each cookie. You might need to reform the edges of the

cookies

if any cracks form.
Bake cookies in preheated oven for about 12-15 minutes. Be careful not to over bake, as the cookies will be too dry if left in the oven too long.
While

cookies

are baking, make cashew cream filling by combining all ingredients in a high-speed blender. Blend on high until very smooth (2-3 minutes)
When the

cookies

are done baking, carefully transfer cookies to a wire cooling rack. Let sit for about 15-20 minutes or until completely cool. Using a spoon, dollop some of the cashew cream into the thumbprint of each cookie. Top with chopped pistachios and flower petals, if using. Store in the refrigerator in an airtight container for up to a week.