Lately, it seems like every time I write, I'm living in a different reality. The world is changing. I am changed. These past few weeks, I have been so deeply moved to see people rise up to empower the Black Lives Matter movement, to ask themselves and others hard questions, to acknowledge their own privilege and responsibility to take action in dismantling the systemic racism that has plagued the US for too long. All while the intensity of a global pandemic continues on.
Now is the time we must stand up for our BIPOC brothers and sisters, but we must also take care of ourselves in order to continue being effective allies and advocates. This week, I encourage you to check in and make sure you are taking care of yourself. Continue taking the time to do what helps ground and recharge you, whether it's a walk, a bath or even a long nap. I've personally been spending more time back in the kitchen, creating nourishing meals and adaptogenic treats.
Today, I'm sharing my new recipe for Dirty Rose Chai Bliss Balls made with Dirty Rose Chai Collagen Booster and Rose Powder from Anima Mundi. Rose has long been used in Traditional Chinese Medicine as an anti-inflammatory and mood elevator that also helps regulate menstruation and stimulate digestion. The Dirty Rose Chai is Anima Mundi's plant-based adaptogenic collagen booster that helps repair, restore and strengthen bones, hair, tissue and skin.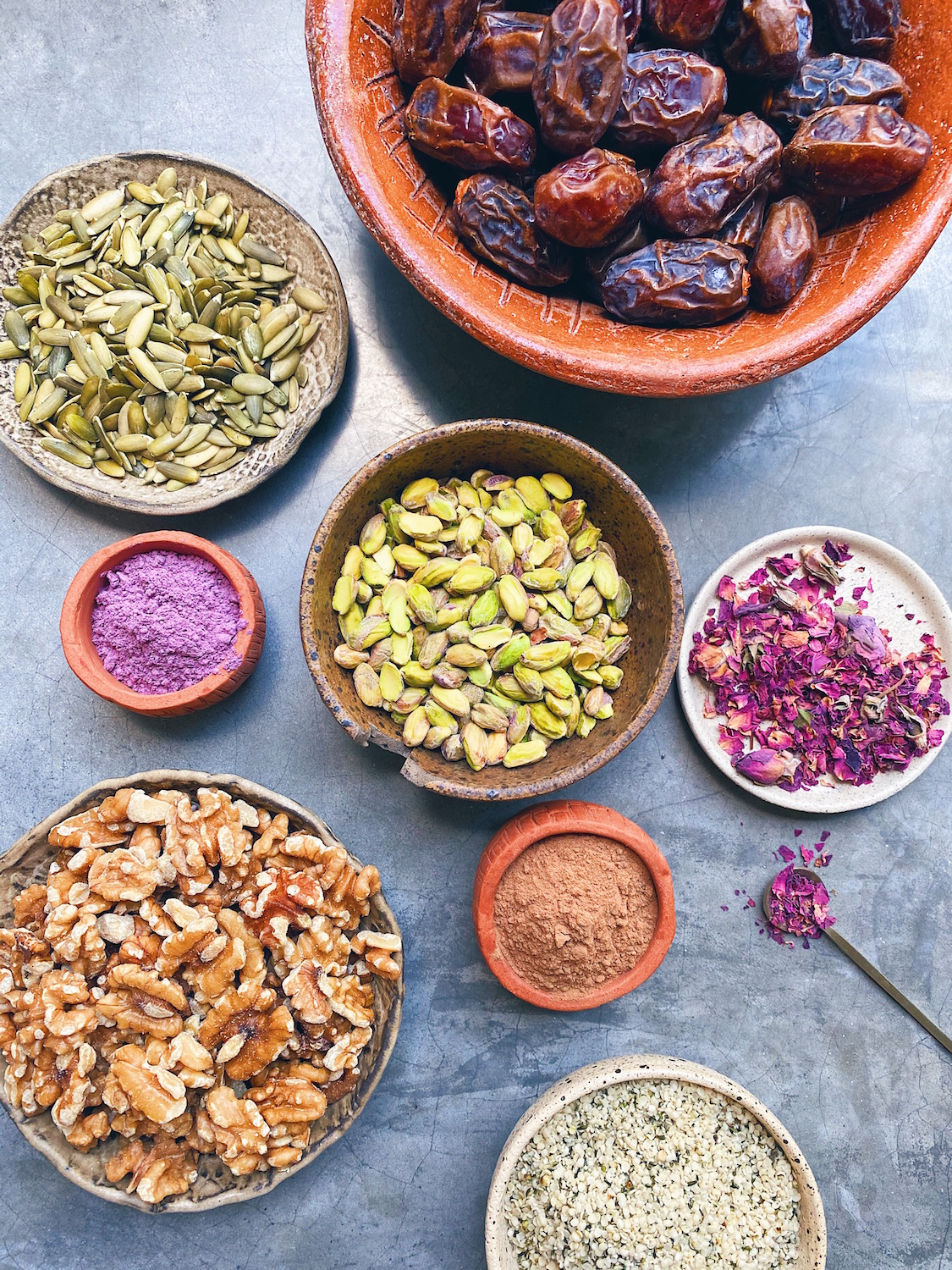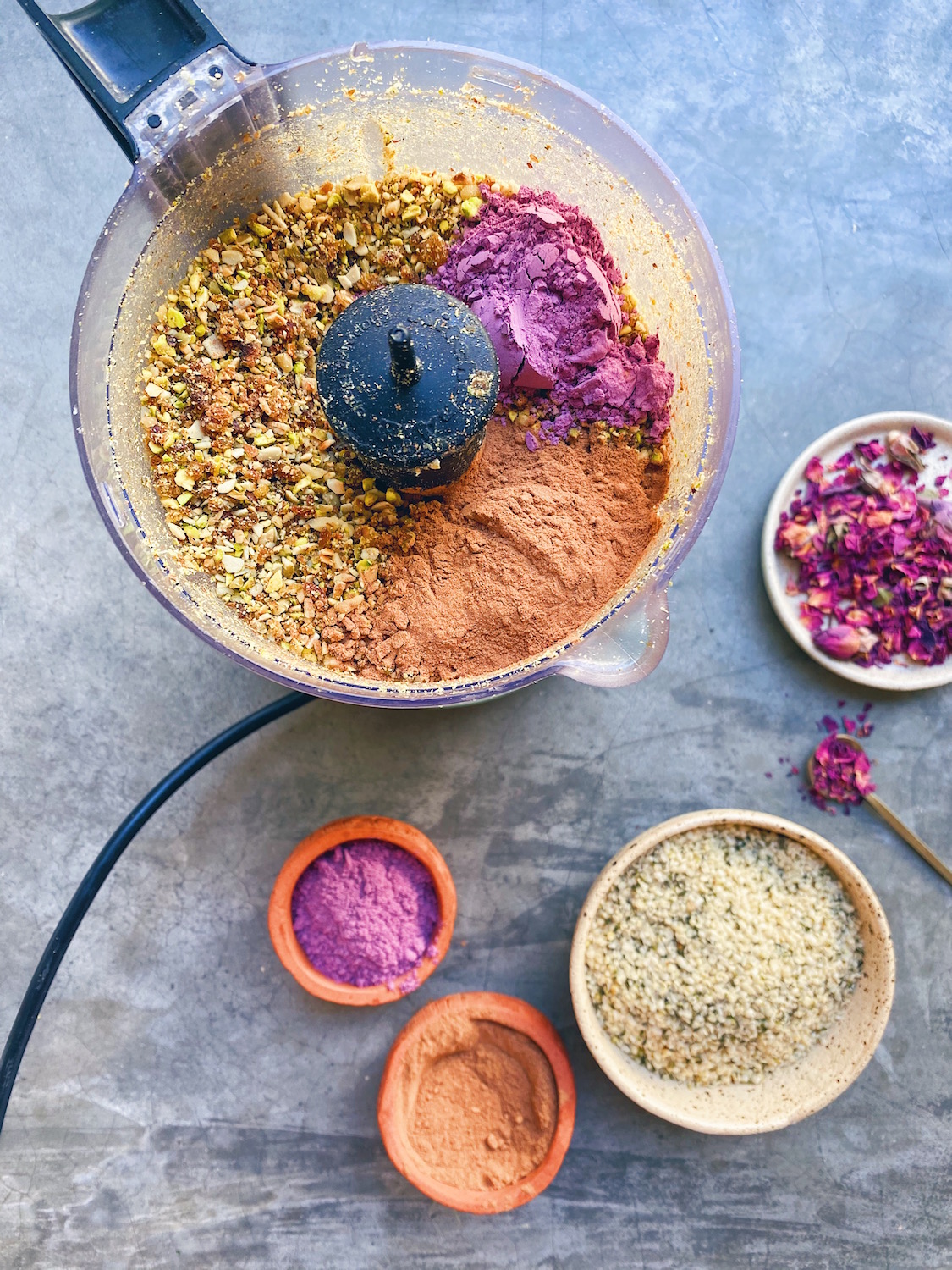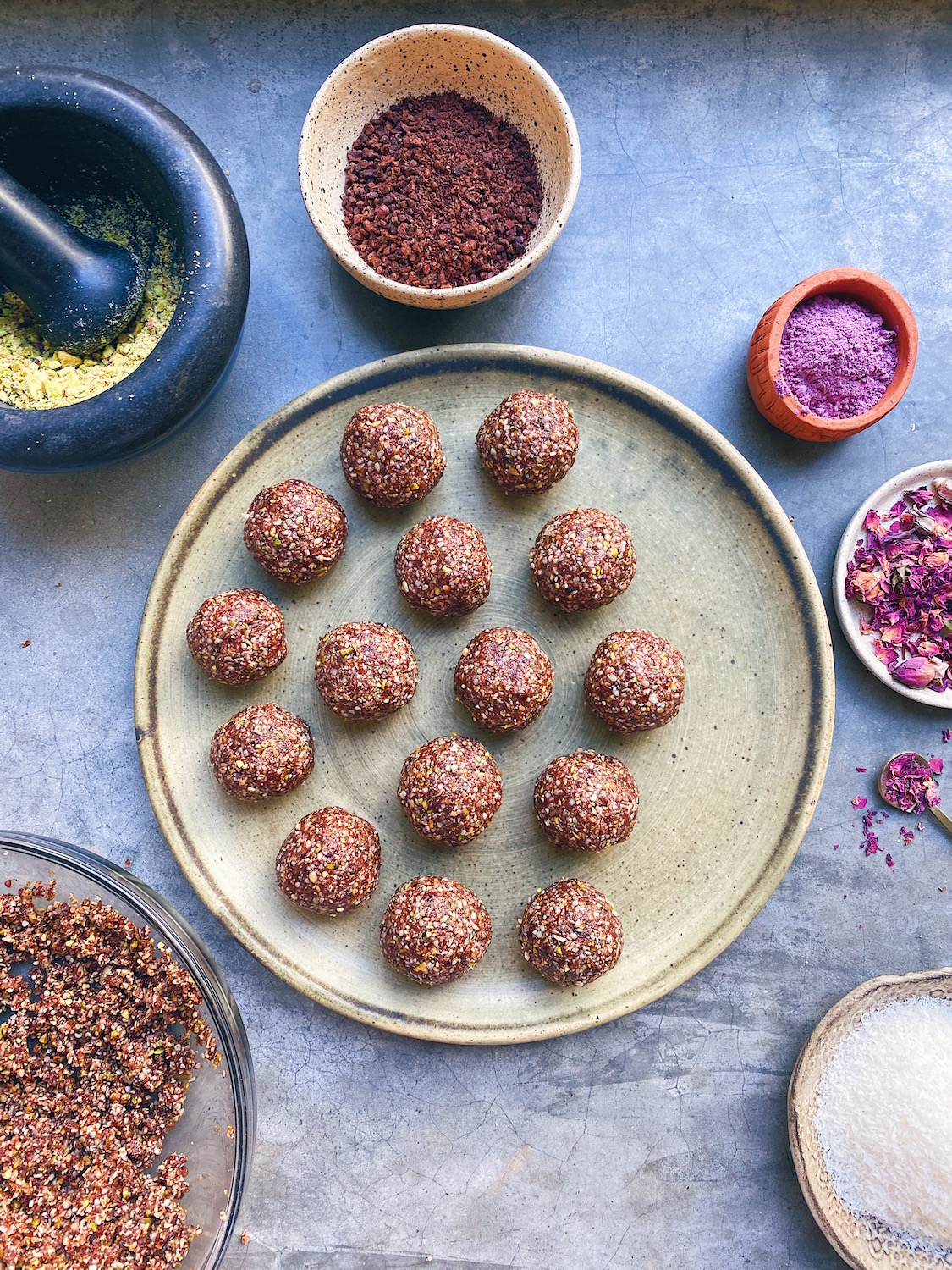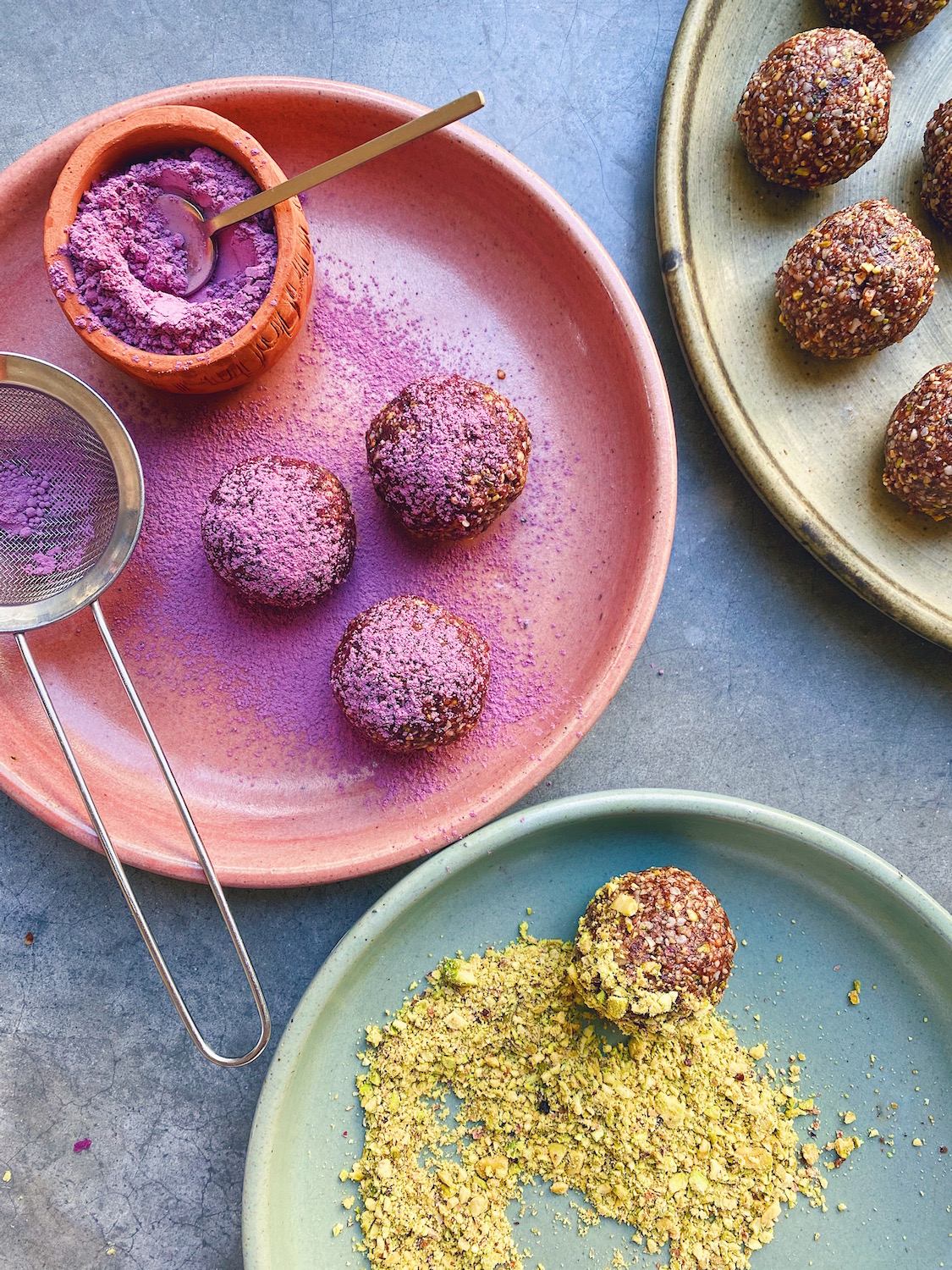 These bliss balls have definitely been a bright spot on some darker days. They're filled with healthy fats and mild sweetness, and their natural pink color from the rose powder is gorgeous. I like to make a big batch so that I can refrigerate or freeze some for later. These portable snacks are also perfect for bringing or gifting to friends and family who are joining protests. I hope they bring you energy and a little joy to your day!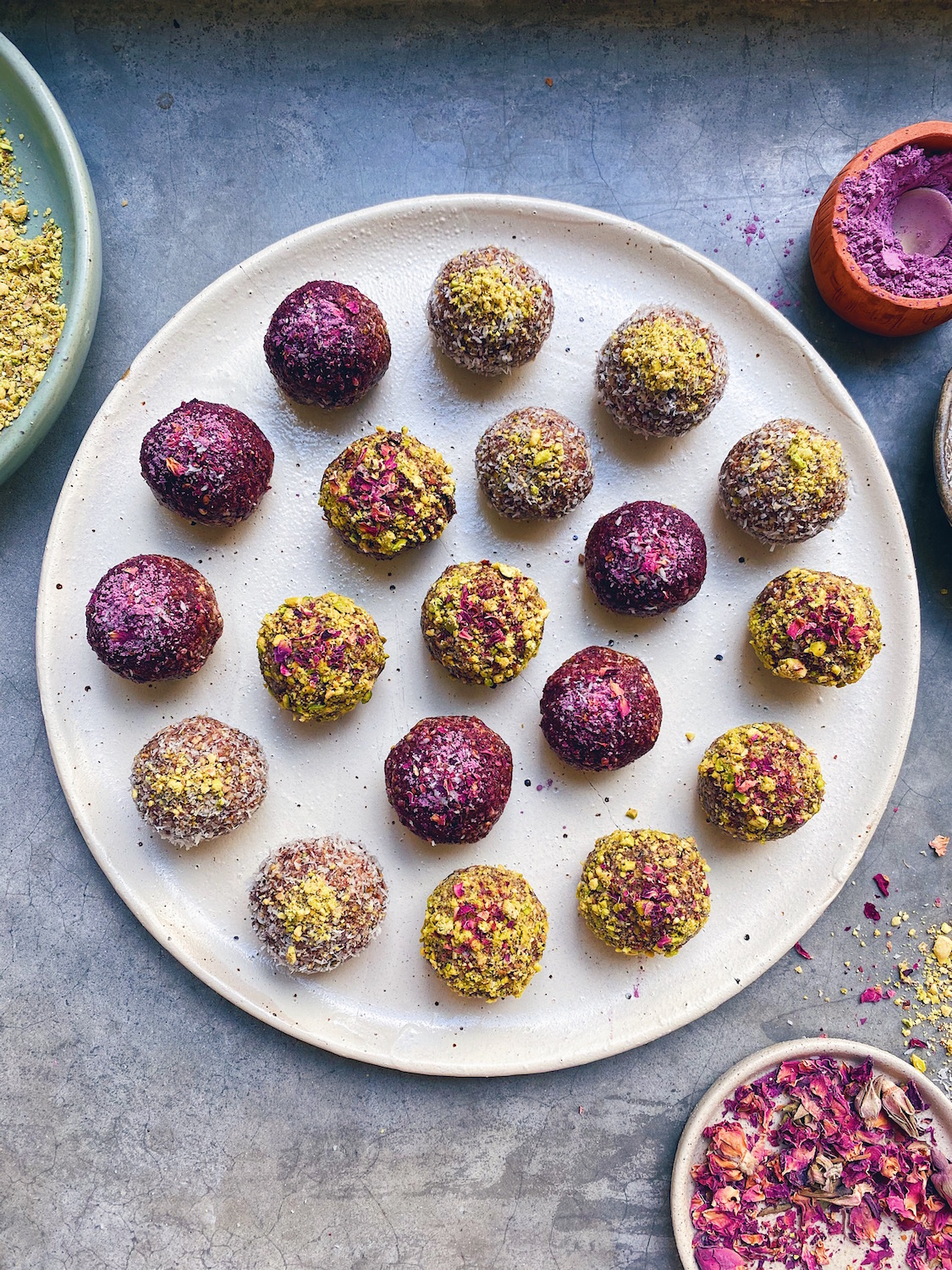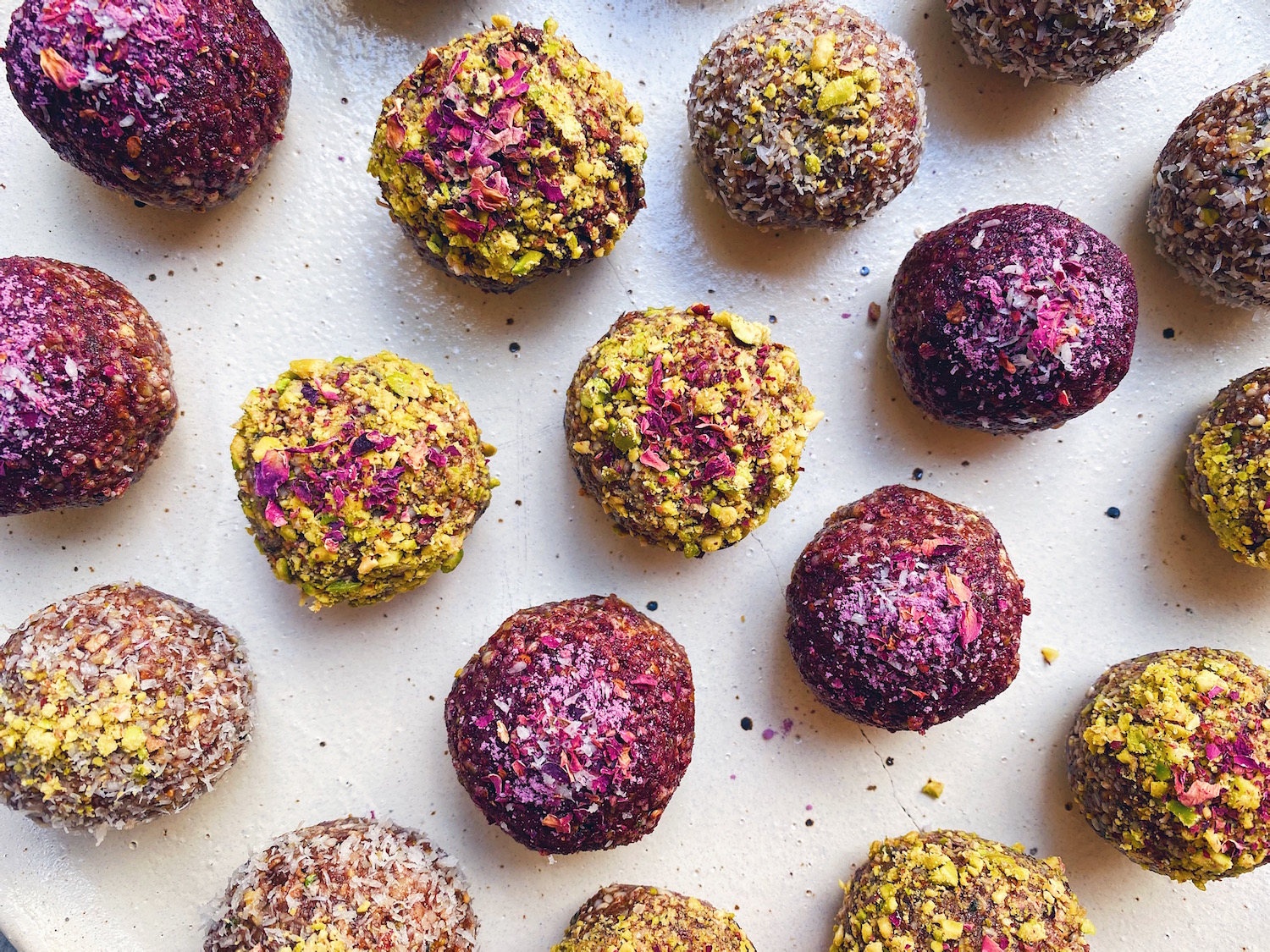 Dirty Rose Chai Bliss Balls
[Makes 24 1″ round balls]
1 ½ cups raw walnuts (165g)
1 cup pepitas (140g)
¾ cup dry roasted pistachios, shelled (95g)
15 medjool dates
¾ cup hemp seeds (100g)
½ cup coconut oil, melted (135g)
3 Tablespoons maple syrup
3 Tablespoons Dirty Rose Chai Powder
1 ½ Tablespoons Rose Powder
1 Tablespoon vanilla extract
½ teaspoon fine sea salt
Add walnuts, pepitas, pistachios and dates to food processor. Process to a small-medium size crumb. Add hemp seeds, coconut oil, maple, powders, vanilla and salt. Process to a sticky dough.
Gently roll into small 1" balls. Roll balls in chopped pistachio, cacao or fine dried coconut. Dust with extra Rose Powder and/or sprinkle with rose petals, if desired.
[NOTE: Balls will keep in freezer for 1-2 months or in the refrigerator for 1-2 weeks.]