One of my favorite dishes to eat for breakfast or brunch here in Mexico is definitely chilaquiles. My quarantine companion, Pablo, was sweet enough to work with me on making and sharing his recipe for chilaquiles. These salsas are so simple and delicious. These are the recipes that Pablo's family has been using for generations. We've been making them every week and keeping them in air-tight containers in the refrigerator to add to just about every meal. You can play around with how many chiles you use. If you like a more spicy salsa, go with 6. If you want something a bit more mild, use 4.
I've made chilaquiles in Portland before, but I love Pablo's process. Making the "chips" from fresh corn tortillas makes a huge difference. Also pouring the hot salsa over the tortillas before serving, as opposed to cooking the tortillas/chips with the salsa in the pan, prevents the tortillas from becoming too soggy. I've always been able to find quesillo/queso Oaxaca/Oaxacan cheese in the US, but if you are having trouble finding it, I would recommend substituting whole milk mozzarella.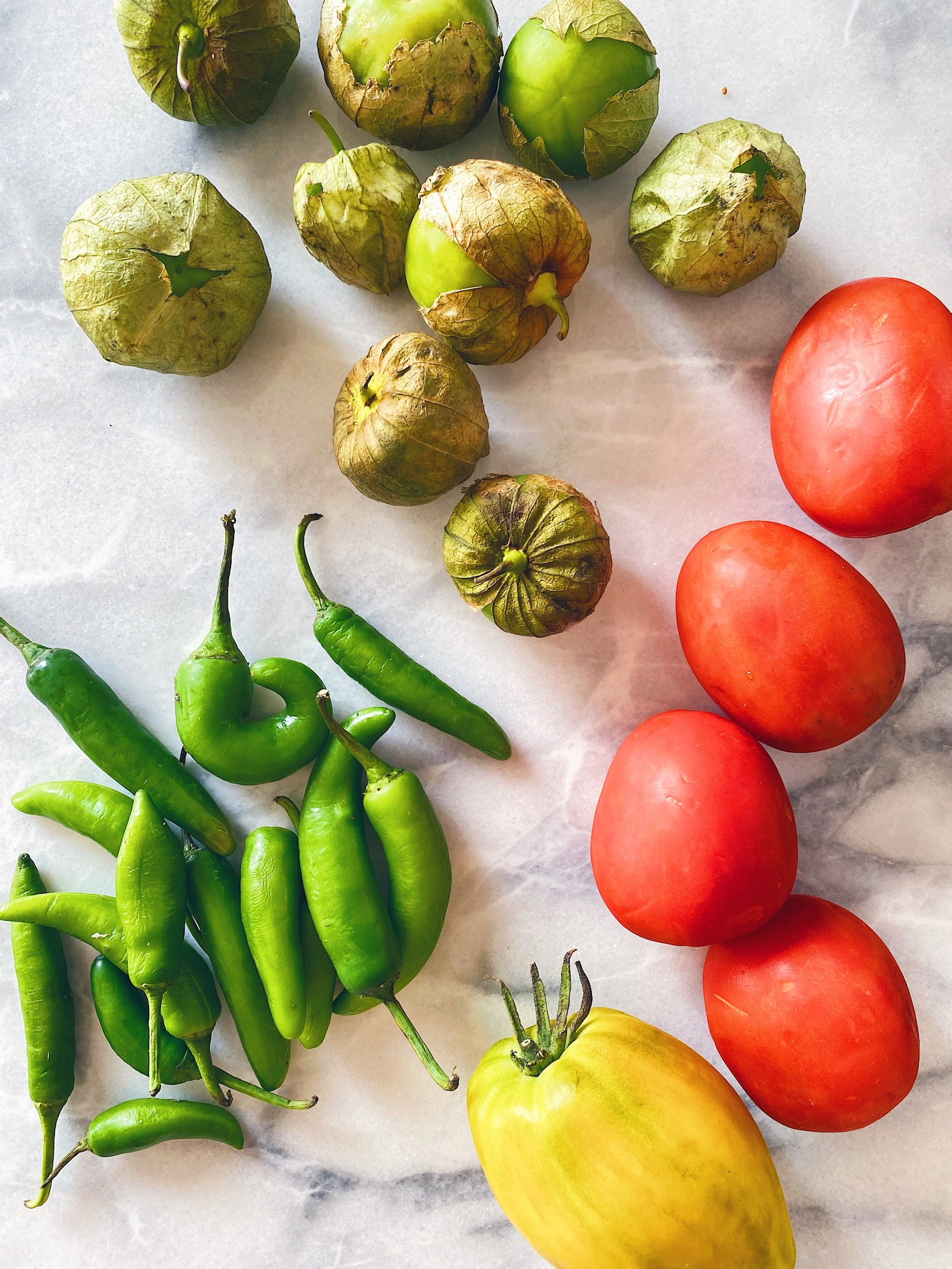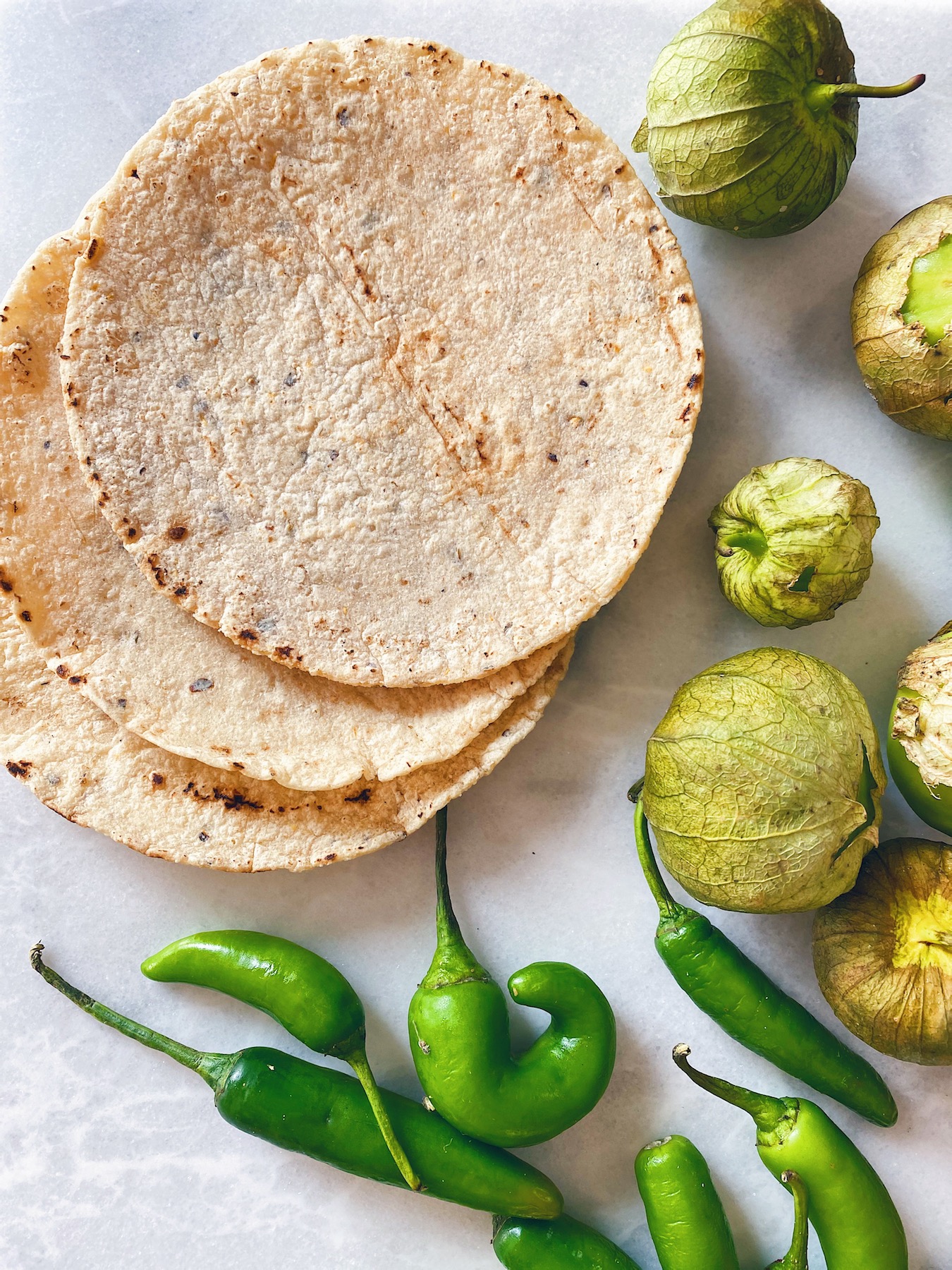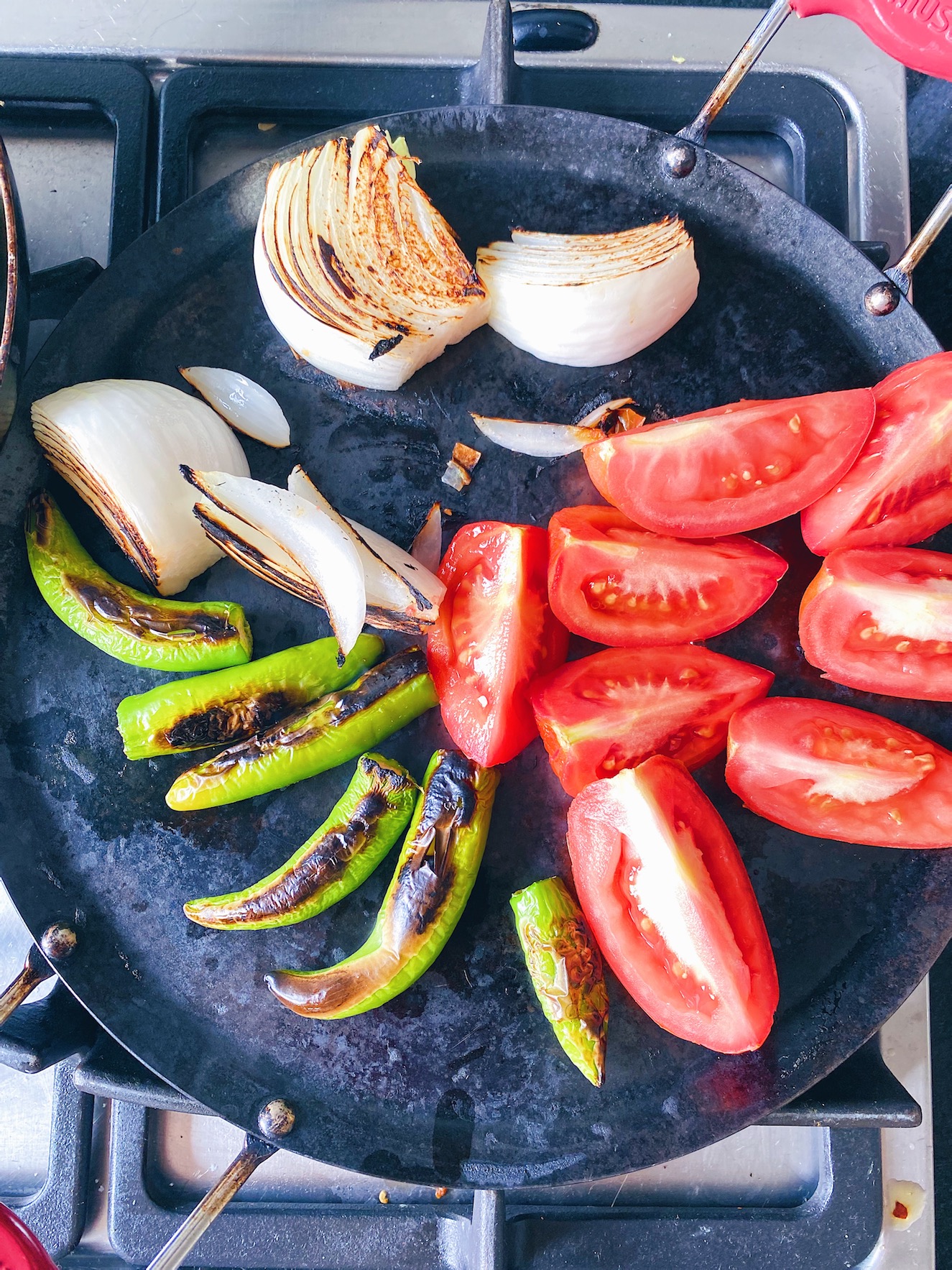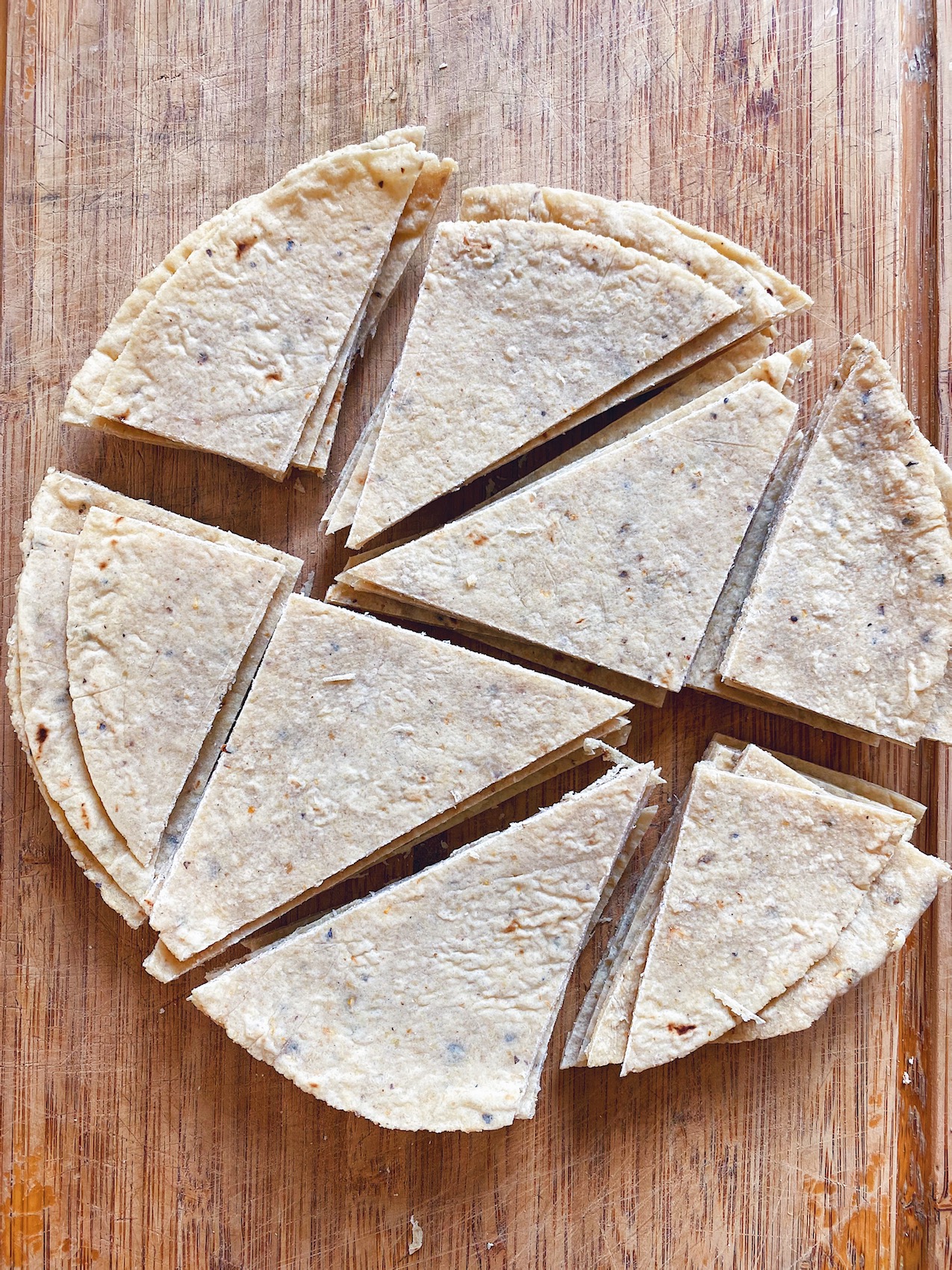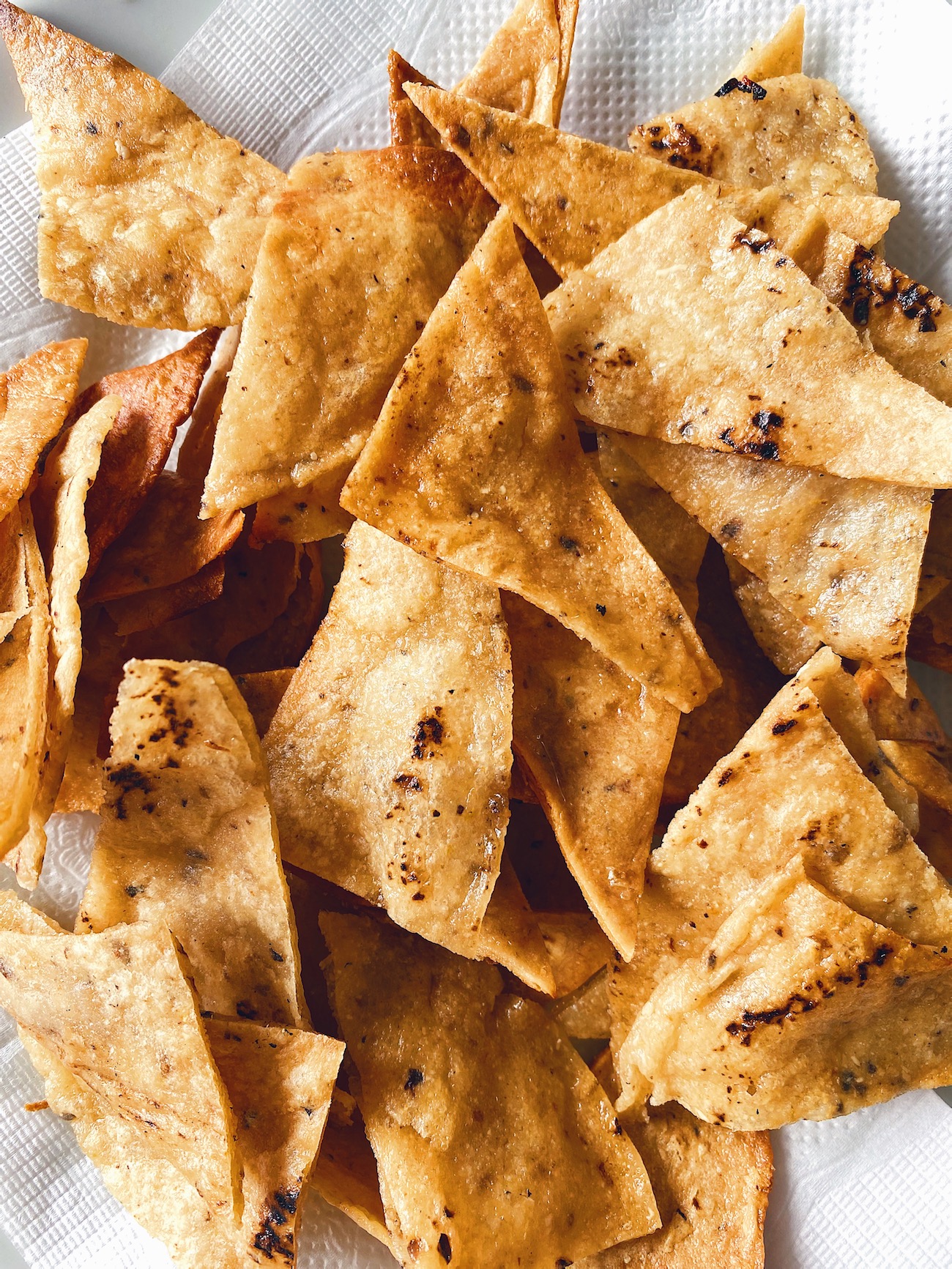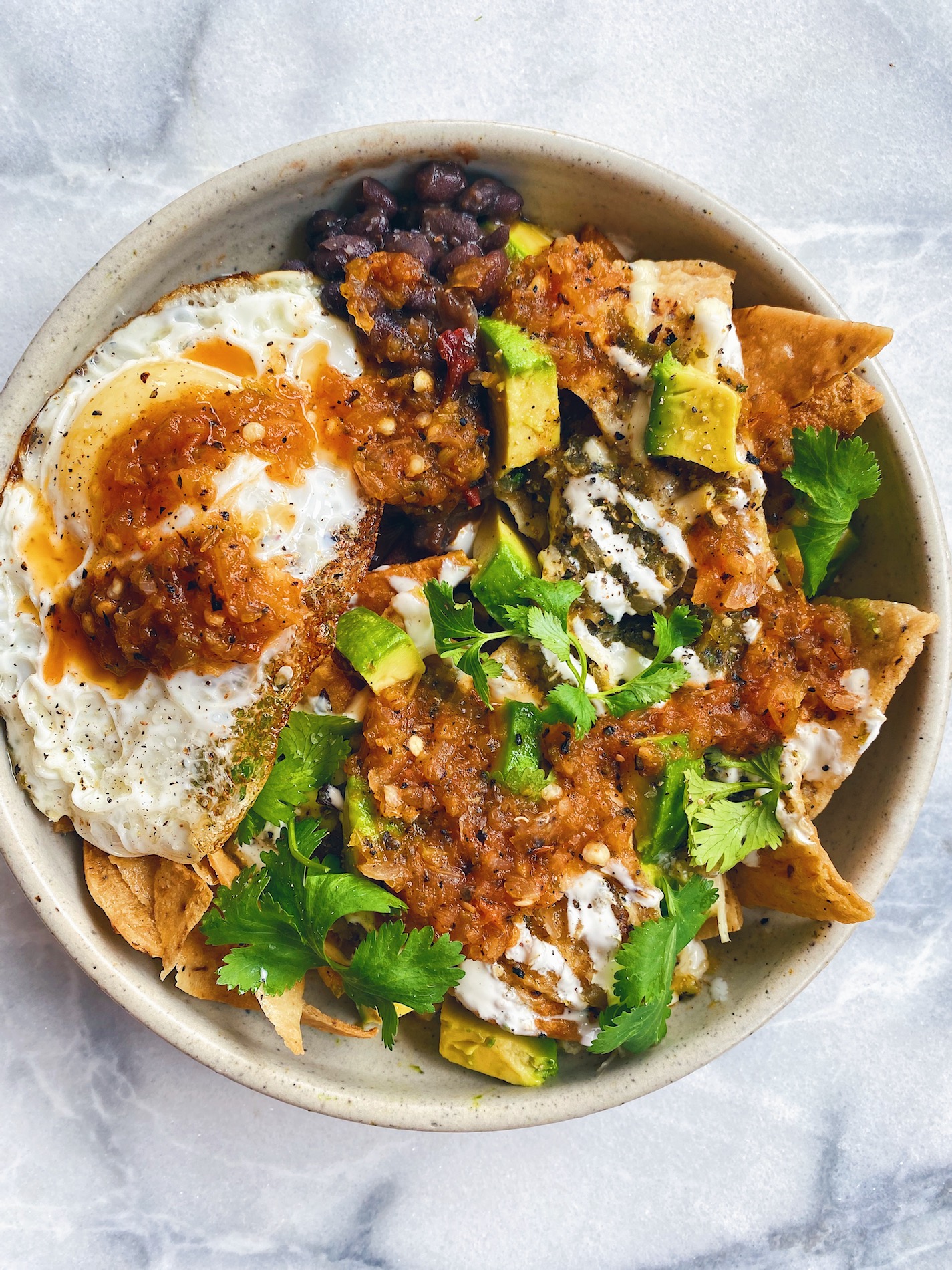 Chilaquiles with Salsa Verde and Salsa Roja
[Serves 4]
For the chilaquiles:
12 tortillas, cut into triangles (see photo above)
1 cup high-heat vegetable oil (I used avocado oil)
200 grams quesillo/queso Oaxaca/Oaxacan cheese
1 avocado
To garnish: cilantro, crema or sour cream
Optional add-ons: shredded chicken, fried or scrambled egg, black beans
For the salsa verde:
3 tomatillos
4-6 serrano chiles, tops removed
1/2 large white onion, cut into 4 wedges
1/4 cup cilantro, roughly chopped
2 cups filtered water
1 2-3″ onion wedge
1 Tablespoon avocado oil
1 Tablespoon sea salt
For the salsa roja:
2 large roma tomatoes, cut into quarters
4-6 serrano chiles, tops removed
1/2 large onion, cut into 4 wedges
2 cups filtered water
1 2-3″ onion wedge
1 Tablespoon avocado oil
1 Tablespoon sea salt
To make the salsas, dry roast all ingredients in a large skillet or comal over medium-high heat for about 12-15 minutes. For the tomatoes and tomatillos, place skin side down and do not flip during cooking or the seeds will stick to the pan. For the onions and serranos, rotate while cooking to char all sides.
Transfer salsa verde ingredients (charred tomatillos, onion, serranos and fresh cilantro) to a blender with 2 cups of water and pulse for 20-30 seconds. Add a 2-3″ onion wedge and 1 Tablespoon avocado oil to a medium-sized saucepan. Sauté over medium heat for 3-5 minutes or until onion starts to turn golden. Transfer the salsa from the blender to the saucepan. Add 1 Tablespoon sea salt and stir to combine. Bring to a boil, reduce heat and allow salsa to simmer uncovered for about 20 minutes, stirring every so often.
Do the exact same process for the salsa roja except with the salsa rojo ingredients.
While the salsas are simmering, heat the avocado oil over medium-high heat. Once the oil is very hot, add the tortilla triangles, working in batches as necessary. After 3-5 minutes on one side, using tongs flip the tortillas and fry for another 3-5 minutes on the other side. Tortillas should be crispy and resemble chips. Transfer to a paper towel (or cloth) lined plate.
To construct the chilaquiles, layer a serving of tortillas with a serving of the quesillo/queso Oaxaca/Oaxacan cheese. If you are serving with shredded chicken, layer the chicken in with the cheese and tortillas as well. Pour the hot salsa (roja, verde or both (divorciados)) over the cheese and tortillas. Top with crema (if using), avocado and cilantro. Serve with beans on the side and/or an egg on top.