Maintaining balanced hormones often gets labeled as a daunting, sometimes impossible challenge. While our hormones are certainly impressionable, we do have a great amount of control over them through the way we approach our diet and lifestyle. Favoring a diet rich in healthy fats, clean proteins, and organic vegetables is an easy way to start working toward a balanced endocrine system. With some simple lifestyle changes like eliminating toxic household, beauty, and skin care products, taking charge of your sleep schedule and reducing caffeine and alcohol intake, you can move even closer to naturally balancing your hormone levels.
Omega-3s are essential for the production of hormones that regulate blood, heart, and genetic function. Seed-based vegetable oils (sunflower, canola, etc.) are high in omega-6 fats and low in omega-3 fats. Overall we are consuming way more omega-6s than omega-3s, but for optimum health we should be eating a ratio of 1:1. Wild-caught salmon is one of the best sources of omega-3s. The top vegetarian sources of omega-3s include walnuts, chia seeds, and flaxseeds. Healthy fats are also essential for regulating hormone levels in the body. Avocados/avocado oil as well as coconut oil, unheated olive oil, grass-fed butter, and ghee are all ideal sources of healthy fat. Clean protein and healthy fats also help stabilize blood sugar, another key factor for hormone regulation in the body.
This Salmon and Millet Supergreen Salad is rich in omega-3s and healthy fats. Not to mention it's bursting with flavor and any leftovers are the perfect workweek lunch. Enjoy!
[Originally published on mindbodygreen.com]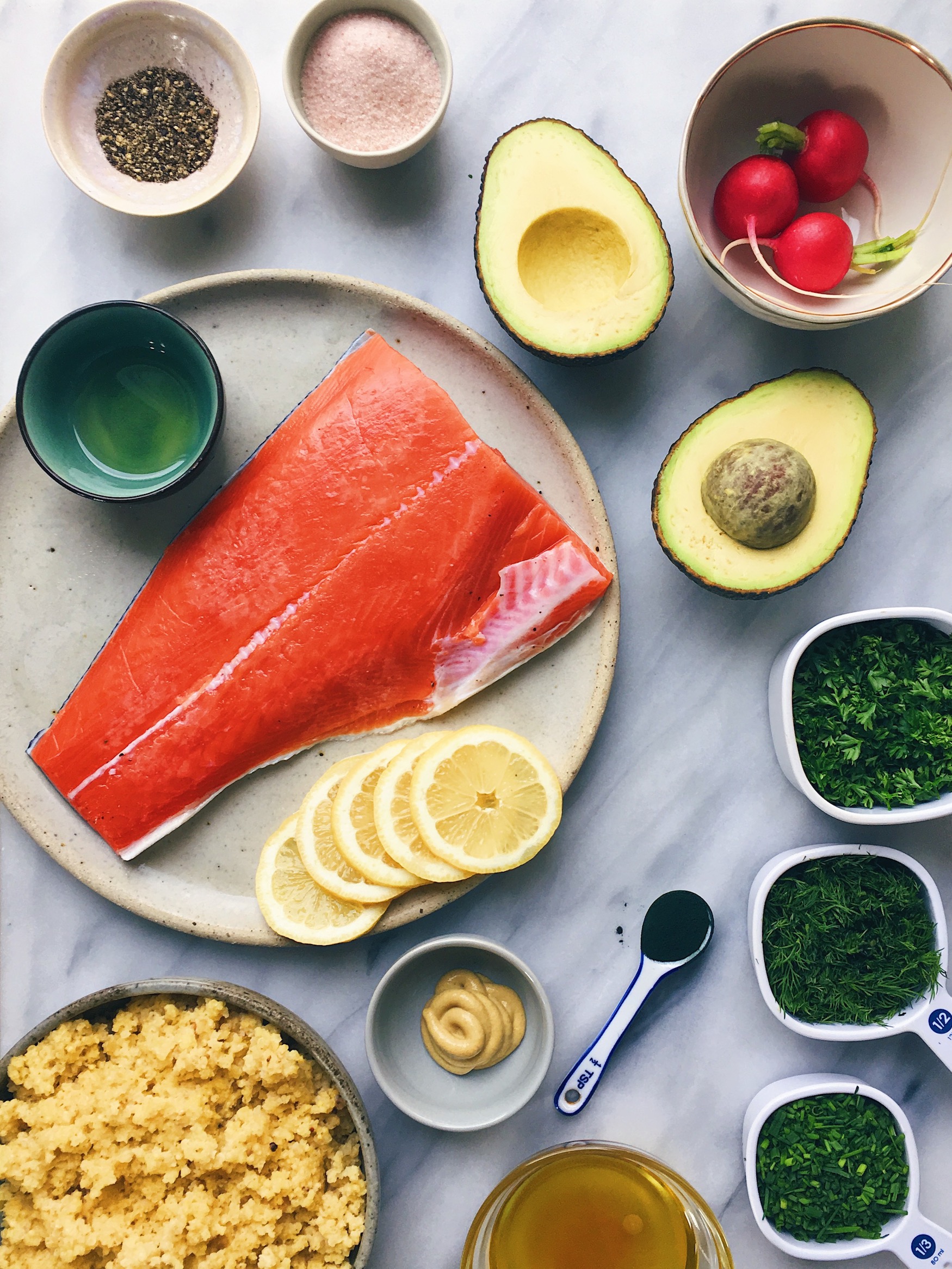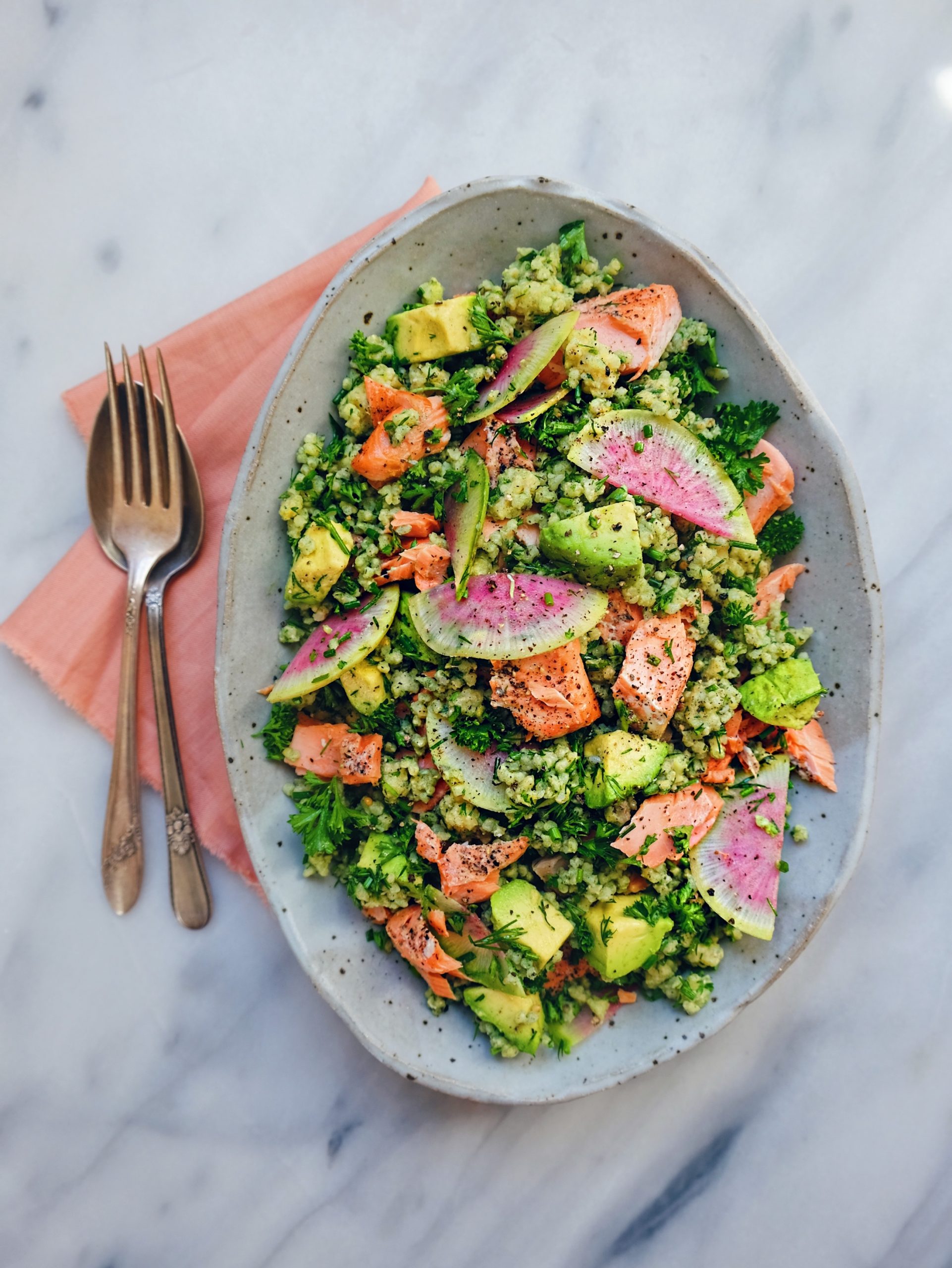 Salmon + Millet Supergreen Salad
[Serves 2 to 4]
For the millet:
1 cup millet, rinsed well
2 cups water
Pinch of salt
For the salmon:
1 pound wild-caught salmon
1 to 2 teaspoons avocado oil
4 lemon slices, cut in circles
Salt and pepper, to taste
For the salad:
¾ cup parsley, finely chopped
½ cup dill, finely chopped
⅓ cup chives, finely chopped
1 watermelon radish (or 3 regular red radishes), thinly sliced
1 avocado, cubed
Optional: extra lemon slices to serve
For the dressing:
2 tablespoons extra-virgin olive oil
1 tablespoon apple cider vinegar
2 teaspoons Dijon mustard
½ teaspoon spirulina powder
Salt and pepper, to taste
Preheat the oven to 400°F. Rinse the millet then put into a small pot with 2 cups water and a pinch of salt. Bring to a boil over medium-high heat. Once boiling, turn heat to low and cover. Simmer covered for 20 minutes. Once millet is cooked, remove from heat. Spread cooked millet over a large plate and allow to cool completely while preparing the rest of the salad.

On a rimmed baking sheet, drizzle 1 teaspoon of the avocado oil then place salmon filet down. Drizzle the remaining 1 teaspoon of avocado oil over the salmon. Season with salt and pepper. Top with lemon slices. Bake salmon for 12 to 15 minutes. 

Meanwhile, in a large serving bowl, using a rubber spatula, break up the millet if stuck together from cooking/cooling. Toss the millet with the herbs and the dressing until well-combined. Season with salt and pepper to taste. Add the radish and avocado and lightly toss again.

Once the salmon has cooled, break into small chunks. Lightly mix salmon into salad. Serve with lemon slices on the side.