As you may know, I love using fruit in savory dishes, and this Cold Soba Noodle Salad with Mango + Herbs is no exception. As part of my year-long partnership with the National Mango Board, this recipe features juicy, ripe Tommy Atkins mangos. This variety of mango has a mildly sweet flavor and is the most widely grown mango variety coming into the United States. While mangos are refreshing on their own, combining them with fresh herbs takes their flavor up a notch! In this soba noodle salad recipe, I combined mango with fresh Thai basil and mint.
Through this partnership, I've learned so much about mangos, including important nutritional information! A one-cup serving of mango provides:
100% of daily vitamin C needs
35% of daily vitamin A needs
3 grams of fiber (12% of daily need)
1 gram of protein
25 grams of carbohydrates (8% of the daily value)
0 grams of fat
100 calories
No sodium or cholesterol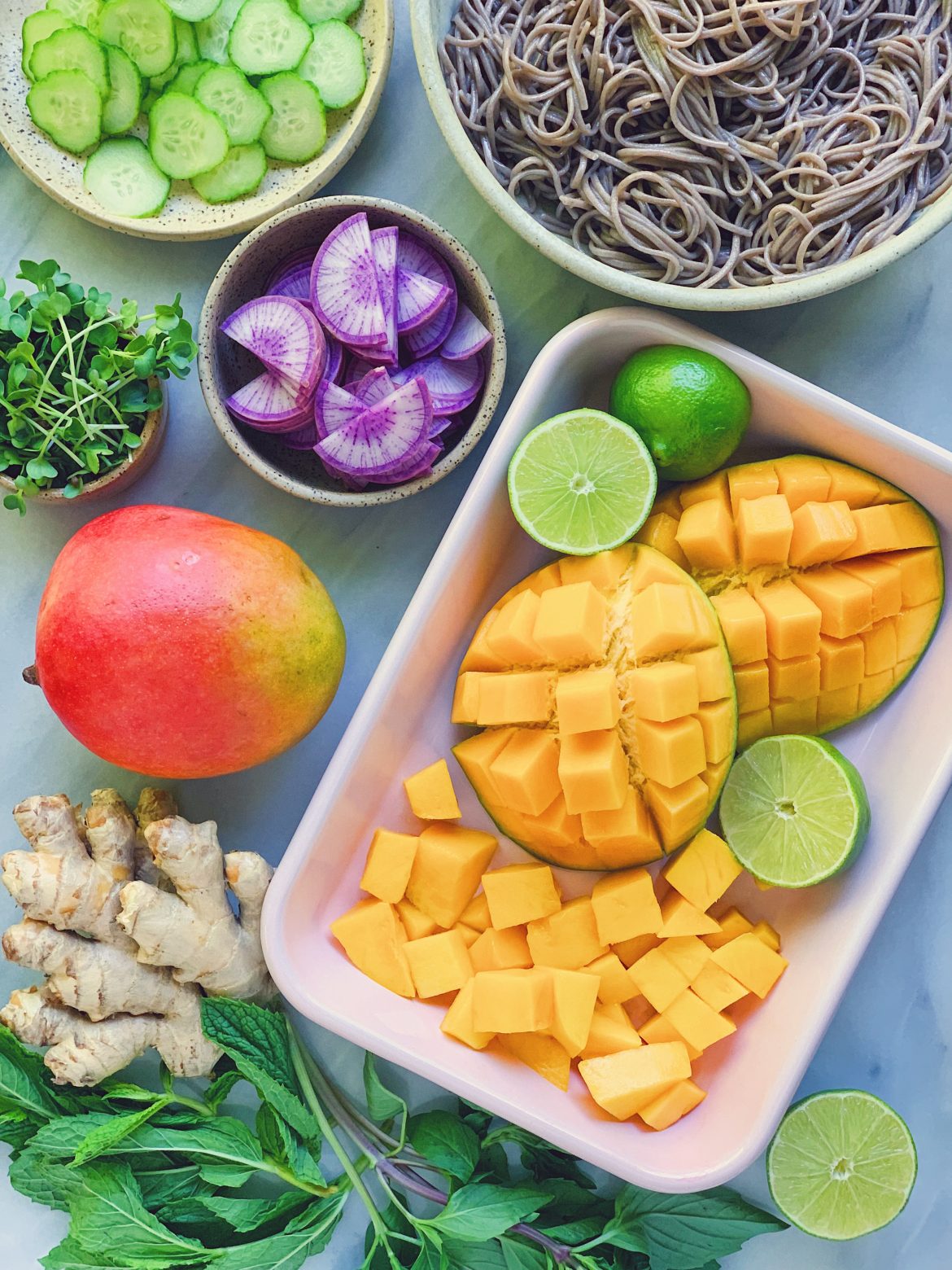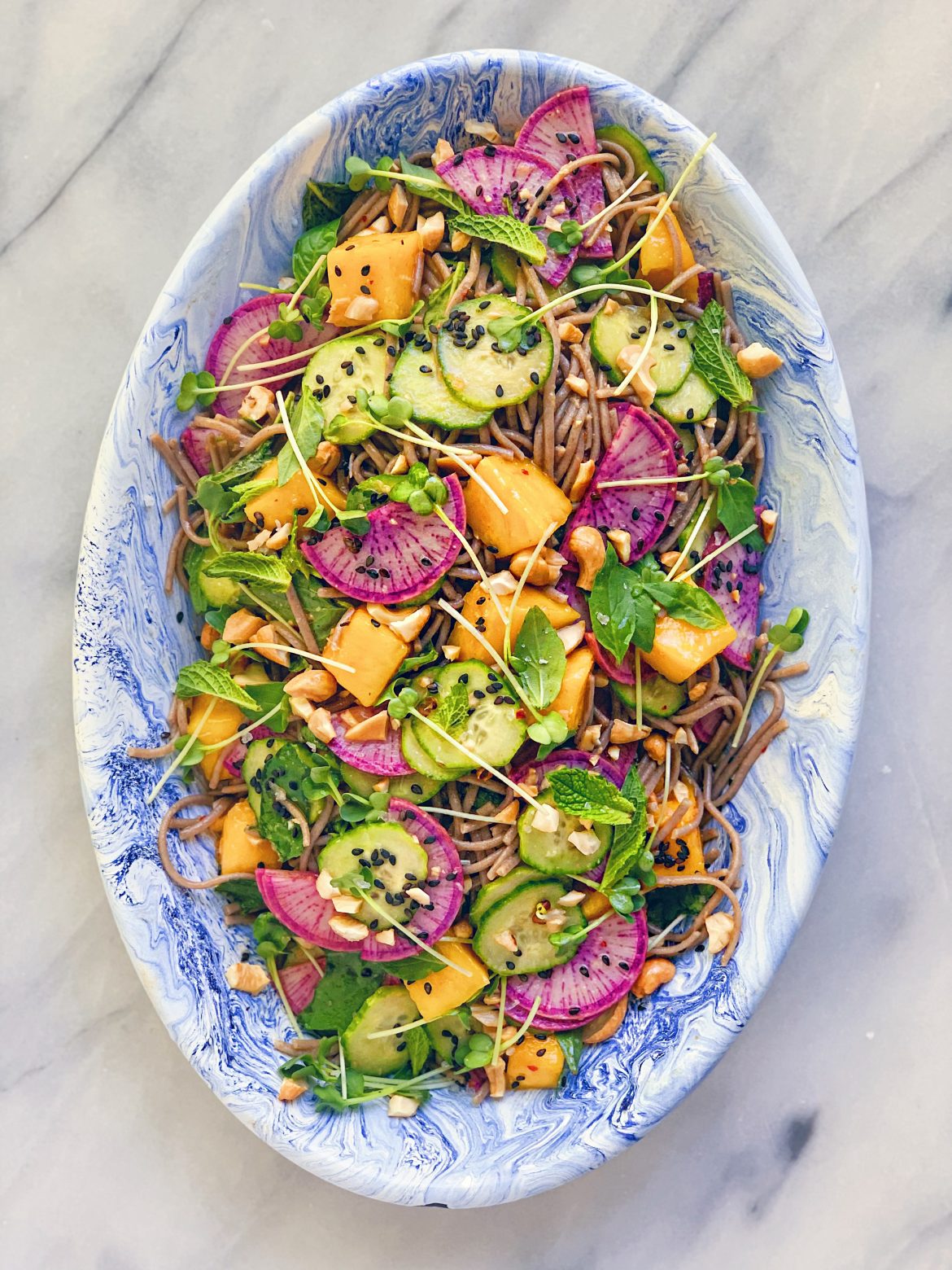 This salad is a great make-ahead recipe, as the flavors intensify after a couple hours in the fridge. If you want to use this as a weekly meal prep item, I would recommend doubling the recipe. For meal prep purposes, you could also leave the fresh herbs on the side and add in just before eating so they don't get soggy. I used gluten-free 100% buckwheat soba noodles here, but you can use any soba noodle (or rice noodle) of your choice.
[This post is sponsored by the National Mango Board. However, all thoughts and opinions are my own.]
Cold Soba Noodle Salad with Mango + Herbs
[Serves 2]
For the salad:
8 oz soba noodles, cooked according to instructions then rinsed with cold water
1 teaspoon toasted sesame oil
1 cup fresh ripe mango, cubed
¾ cup cucumber, sliced in thin rounds (I used Persian cucumber)
½ cup daikon radish, cut in thin half-moons (I used purple daikon)
Fresh mint
Fresh Thai basil
2 Tablespoons toasted cashews, roughly chopped, to garnish
2 teaspoons toasted black sesame seeds, to garnish
For the dressing:
2 Tablespoons avocado oil (or any other light tasting oil you like to use)
2 Tablespoons toasted sesame oil
1 Tablespoon rice vinegar
1 Tablespoon coconut aminos (or tamari)
2 teaspoons chili garlic sauce (or any other spicy sauce you like to use)
1 ½ teaspoons mirin
1 ½ teaspoons fresh grated ginger
1 teaspoon fish sauce (optional)
½ teaspoon finishing salt
Juice from half a small lime
Cook the soba noodles according to the instructions on the package then drain and rinse with cold water. In a medium mixing bowl, toss with 1 teaspoon toasted sesame oil and set aside.
To make the dressing, whisk all ingredients together in a small bowl and set aside.
Prep all other salad ingredients then add to bowl with noodles.
Toss salad with dressing. Garnish with toasted cashews and black sesame seeds.