SOUP SEASON!!! A few weeks ago I asked ya'll what kinds of recipes you'd like to see this fall and winter, and by far the number one answer was soup. I'm so excited to be partnering with Brandless on this Celeriac Soup with Savory Granola recipe to celebrate the launch of their new Pro Blender. One of the reasons I love Brandless is that they aim to make wellness more attainable through a curated assortment of high-quality things designed to help you take care of yourself, your home, and your family.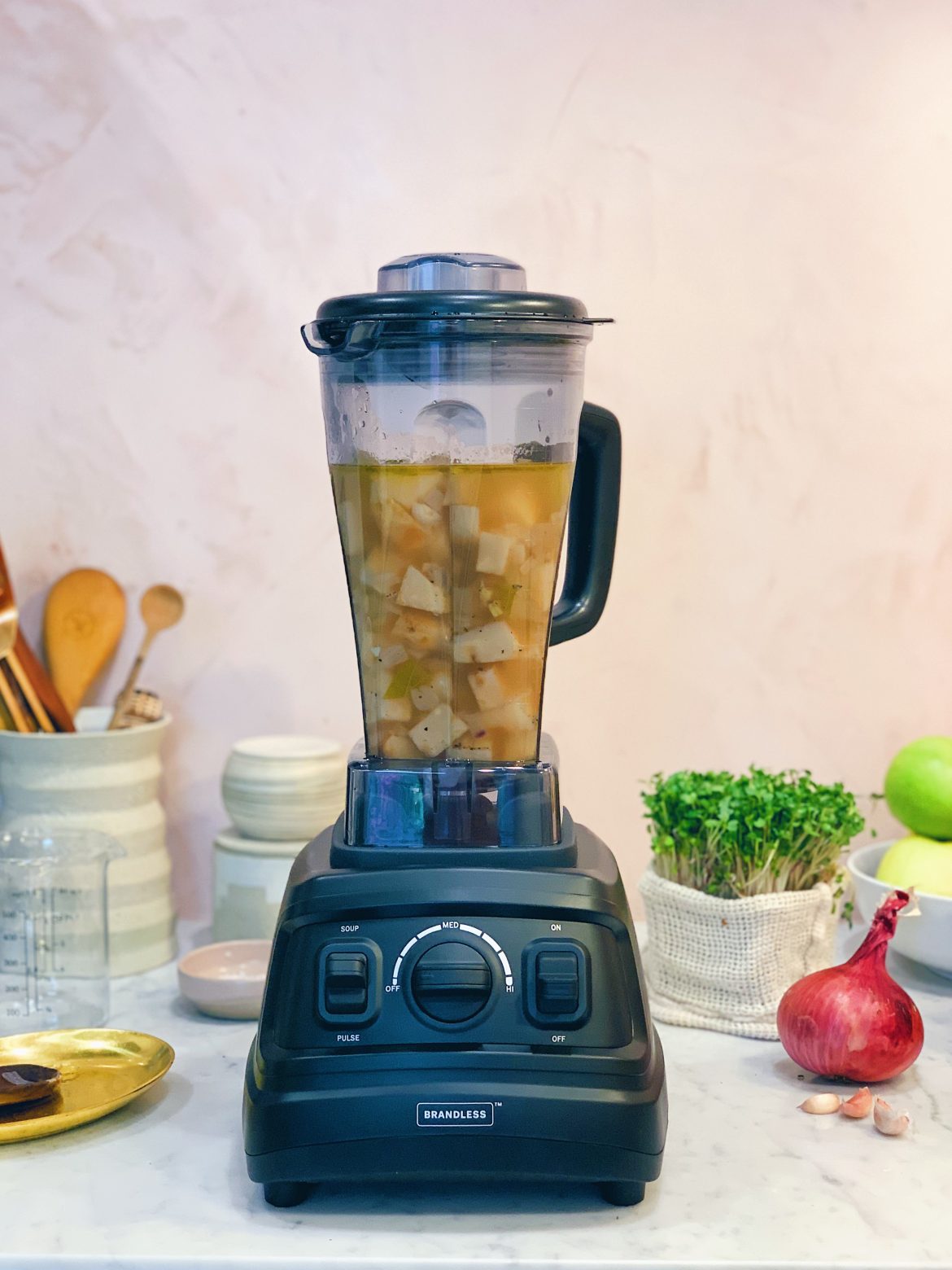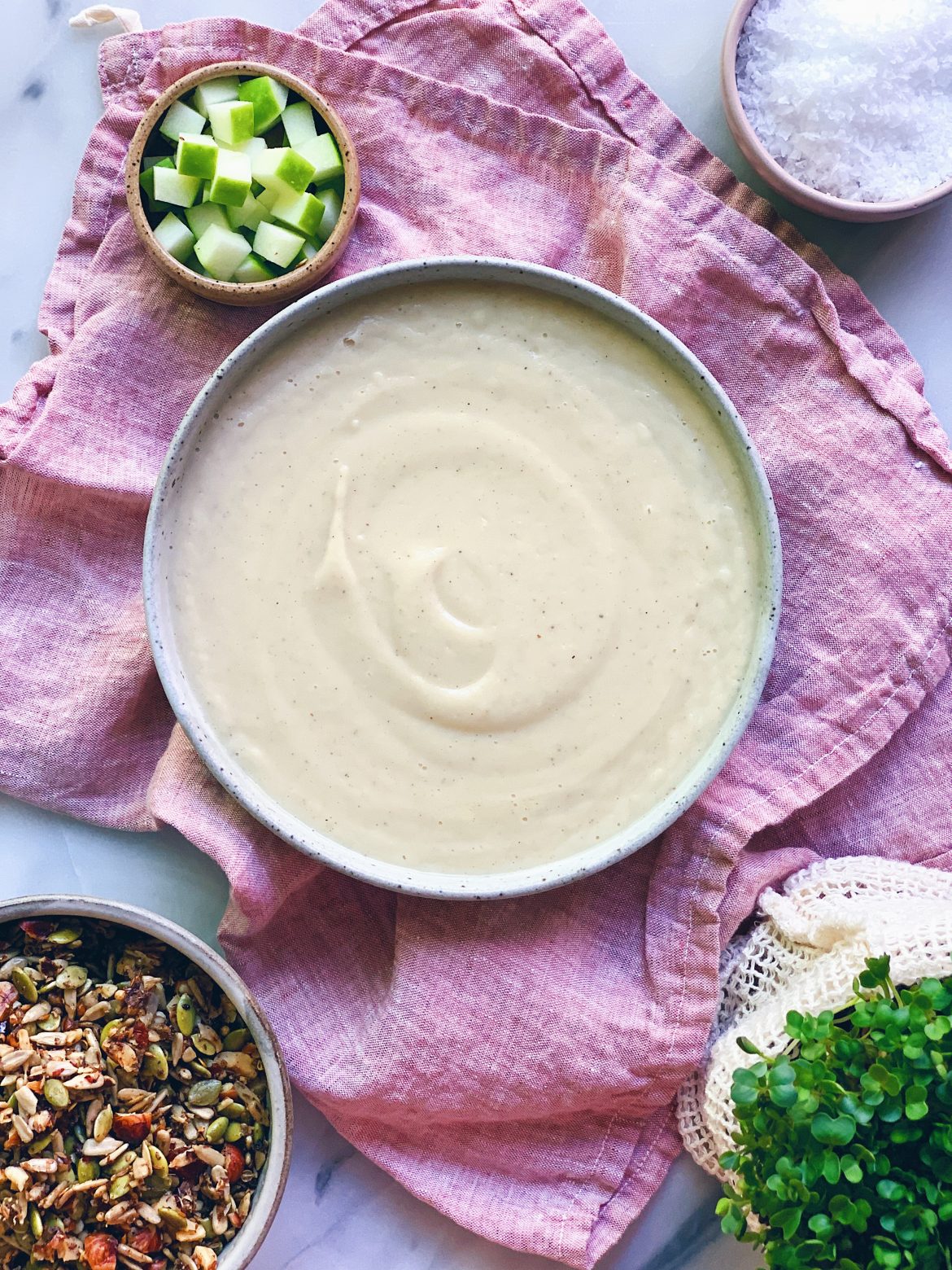 The Brandless Pro Blender is made to last and built with durable features, like 6 stainless steel blades and a 2-HP motor. The 64-ounce, BPA-free Tritan carafe makes it easy to mix a variety of dishes – from smoothies in the morning, almond butter for an afternoon snack, or hot soup for dinner. To celebrate the launch, Brandless is offering you $20 off the Pro Blender with code WUHAUS20.
If you've never cooked with celeriac (aka celery root), or have always wanted to but didn't know what to do with it, this recipe is for you. And even if you have cooked with it, this recipe is still for you 
 . The soup base has a nice warmth and spice from the ginger and tart, acidity from the green apple. I love the addition of the savory granola on top. It adds that perfect crunch and so much flavor. This soup is great for freezing and reheating. The granola will last at least a week in an airtight container in a cool, dark place.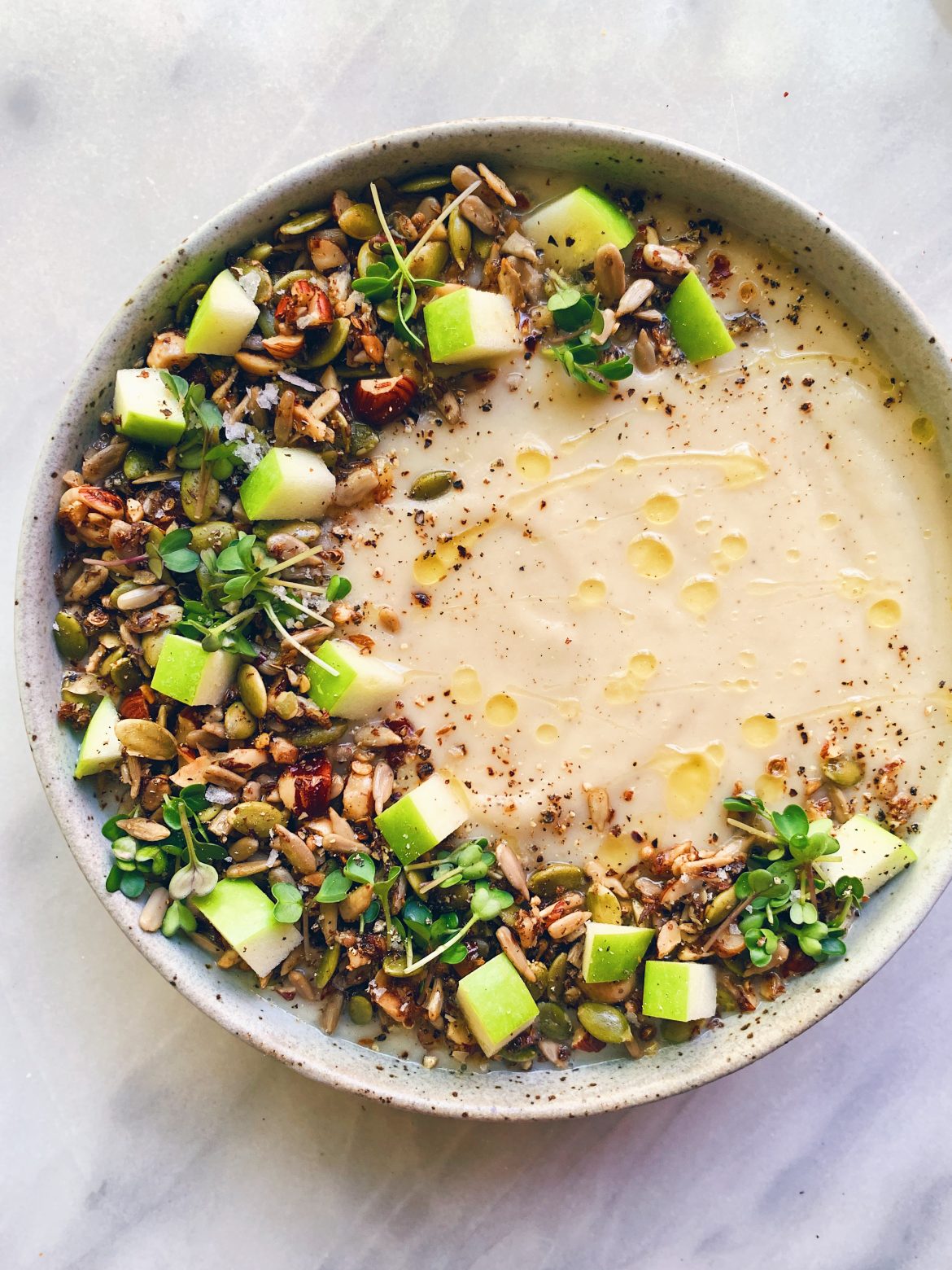 Celeriac (Celery Root) Soup with Savory Granola
[Makes 8-9 cups]
For the soup:
⅓ cup olive oil
8 cups celery root (about 3 large), cut into 1" chunks
1 ⅓ cups shallot or red onion, diced
2 large cloves garlic, minced
2 Tablespoons fresh ginger, minced
1 medium Granny Smith apple, cubed
1 ½ teaspoon ground coriander
6 cups filtered water
Salt + pepper, to taste and season with throughout cooking
For the savory granola:
1 cup raw pumpkin seeds
1 cup raw sunflower seeds
1 ½ cups raw hazelnuts, roughly chopped
1 Tablespoon coriander seeds, cracked in mortar and pestle
1 Tablespoon cumin seeds, cracked in mortar and pestle
2 teaspoons red chili flakes
1 teaspoon salt
½ teaspoon cracked black pepper
2 Tablespoon ground flax seed
5 Tablespoons filtered water
1 Tablespoon maple syrup
3 Tablespoons olive oil
Preheat oven to 300F.
In large heavy bottomed pot, heat the olive over medium heat. Once the oil is hot (careful not to let it smoke), add the shallots, garlic and ginger. Season with salt and black pepper, to taste. Saute over medium-low heat until the shallots are just translucent, about 5 minutes. Add the celeriac and green apple. Season with salt and pepper, and add ground coriander. Stir to coat then let everything saute for another 5ish minutes.
Add 6-cups water to pot. Cover pot, turn heat to medium and let simmer for about 30-35 minutes, stirring every so often.
Meanwhile, while the soup is simmering, prep granola ingredients. Whisk the ground flax seed and water together in a small bowl and set aside for about 5 minutes.
In a large mixing bowl with a rubber spatula, mix all ingredients together including flax 'eggs'.
Spread granola mixture evenly onto a parchment-lined baking sheet about ½" thick.
Bake granola for 20-25 minutes or until golden, turning with a spatula halfway through. Allow to cool completely before serving.
Once the soup is done simmering, using a ladle transfer soup mixture to high-speed blender and blend slowly increasing speed until completely smooth, working in batches if needed.
Serve hot soup topped with savory granola, salt and pepper. Enjoy!