Very surprisingly, broccoli was my favorite vegetable as a child. I, of course, preferred in lathered in butter, but who wouldn't? I also loved my mom's cream of broccoli soup, and I wanted to create my own vegan, gluten-free version of this classic. The creaminess comes from cashews and the nutritional yeast imparts a slightly cheesy flavor. I loooooove lemon and using lemon peel in my cooking, but if you find lemon peel to be too bitter for your palette you can always leave that out in this recipe. I garnished this soup with some roasted broccolini and mix of nuts, seeds and spices to add a bit of crunch.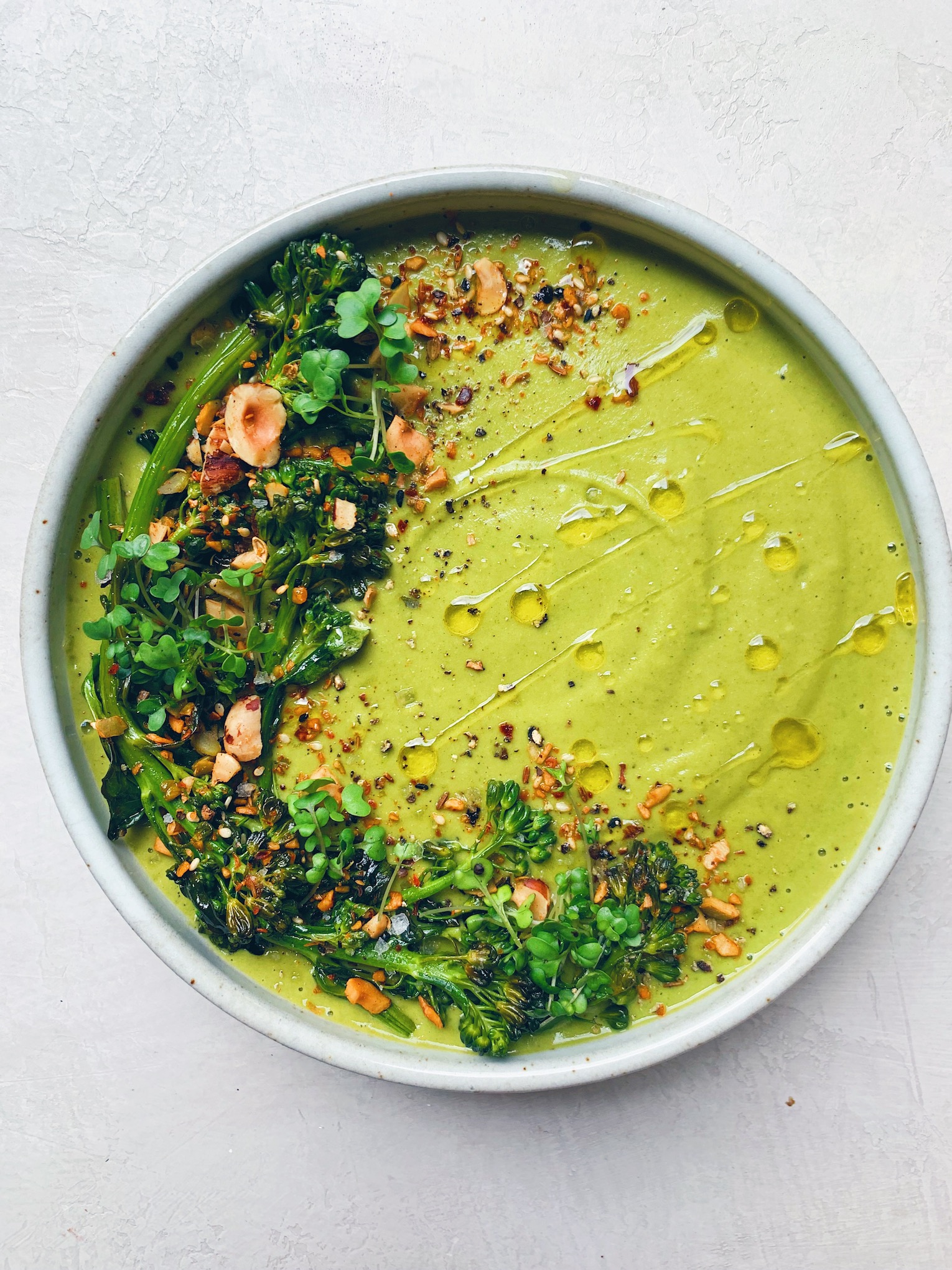 Creamy Broccoli Spinach Soup
[Makes about 2 quarts]
3 large heads of broccoli, roughly chopped (about 2 lbs – you can use stems too!)
4 cups low-sodium veggie or chicken broth
5 cups spinach, tightly packed (about 1 bunch)
1 medium yellow onion, diced
3 cloves garlic, minced
Peel from 1 medium lemon
1/4 cup oil
2 Tablespoons nutritional yeast
1 teaspoon red chili flakes
1 cup raw cashews, soaked in just-boiled water with lid on for about 15 minutes or until softened
S+P, to taste
Garnish ideas: roasted broccolini, toasted hazelnuts, Aleppo pepper, toasted sesame seeds, toasted pepitas
In a heavy bottom pot, heat 1/4 cup oil over medium heat. Once oil is hot, add onion, garlic and lemon peel then generously season with salt and black pepper. Sauté for about 5 minutes until onion starts to turn translucent.
Add the broccoli, another generous splash of oil to coat the broccoli then season again with salt and pepper. Sauté for 3-5 minutes without the lid stirring occasionally. Add the red chili flakes and then the lid to the pot. Let sauté covered for another 5 minutes.
Remove the lid and add the broth, spinach, nutritional yeast and cashews. Season again with salt and pepper, if desired. Bring to a simmer over medium heat. Once simmering, reduce heat slightly and let simmer for about 15 minutes or until broccoli is soft.
Transfer contents of the pot to a high-speed blender. Working in batches if necessary, blend ingredients until very smooth.
Transfer soup to bowls. Garnish with desired toppings and enjoy!