Cherry season is here! And this cherry grain salad is a must for the season! So simple and so delicious. The complexity of flavors is unique, being both spicy and slightly sweet from the fresh cherries. And for dessert, try the No-Bake Chocolate Cherry Bars. Both recipes highlight cherries in two different ways. This salad is perfect for a backyard BBQ or picnic. It would also be excellent with the addition of a nut-based cheese or feta. I recommend using sweet red cherries or any other cherries that are picked for the best flavor. Enjoy!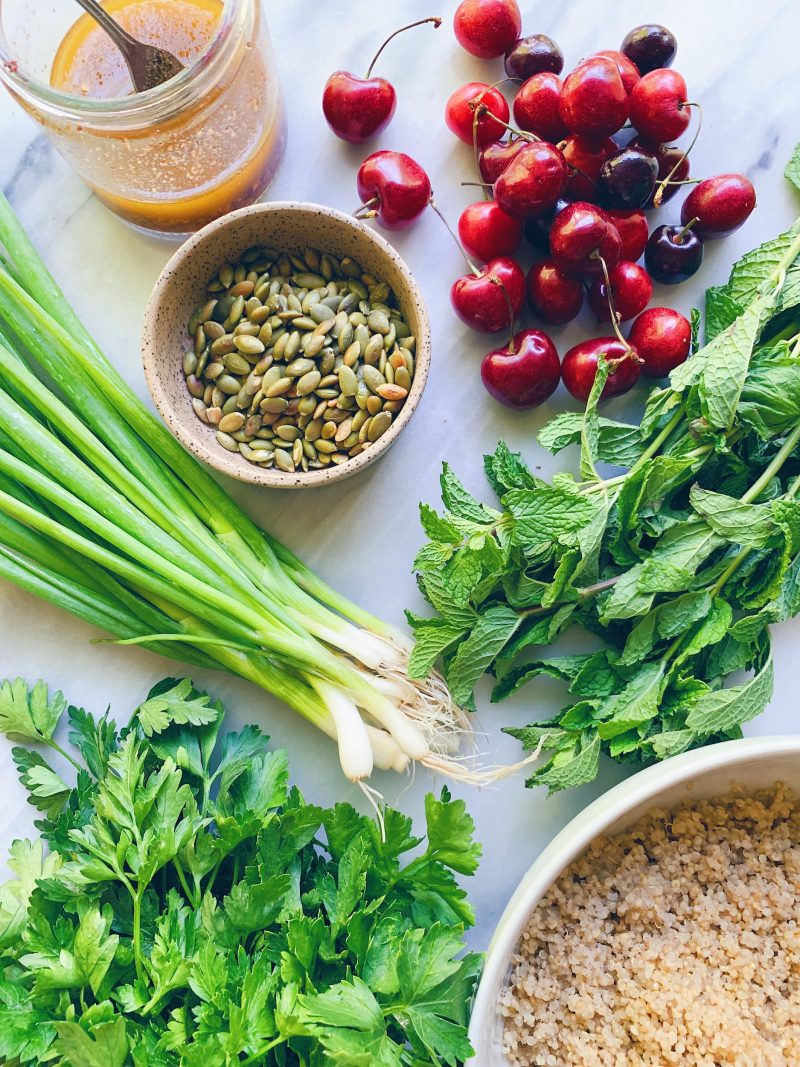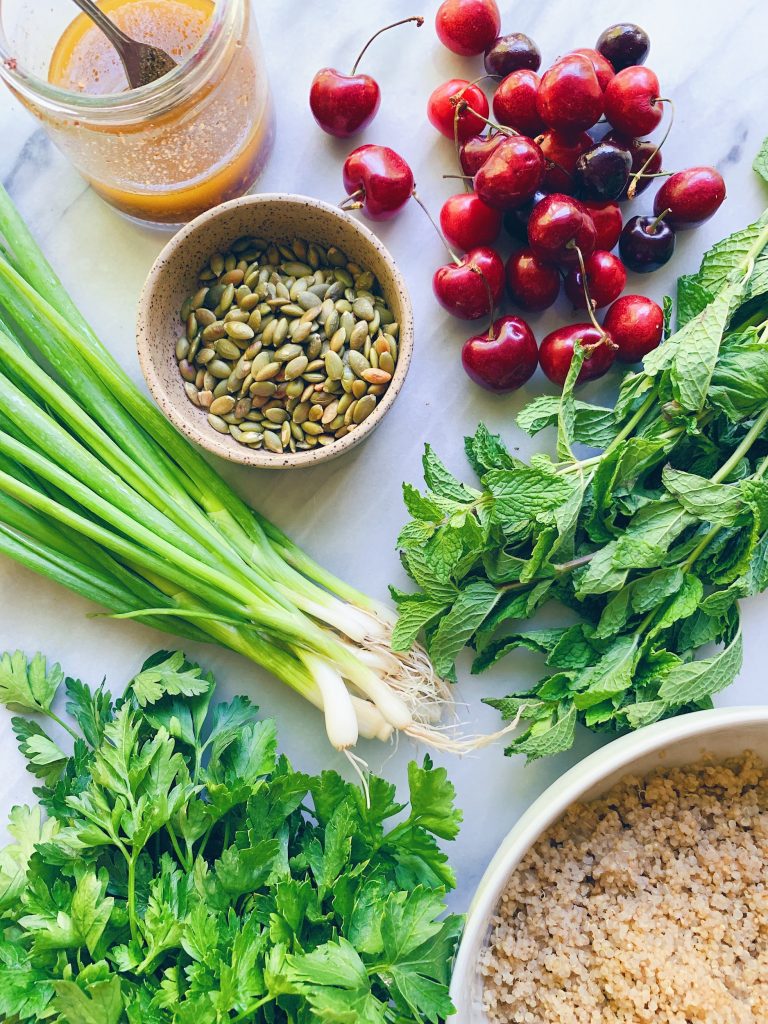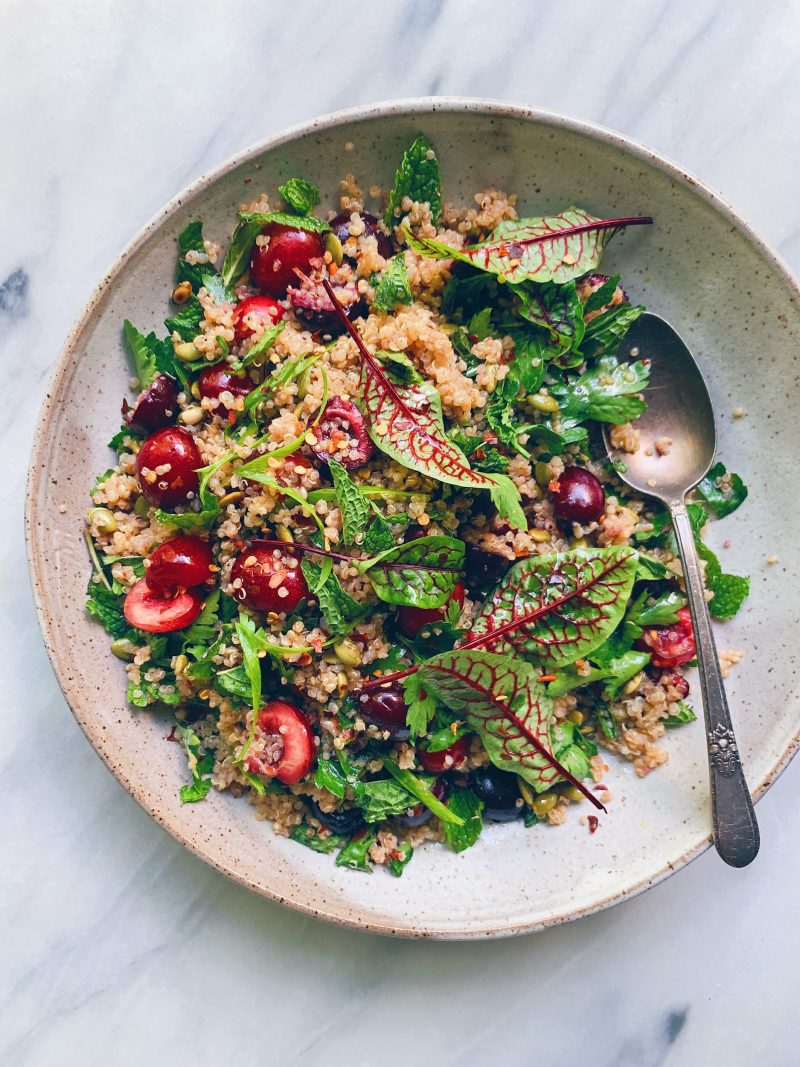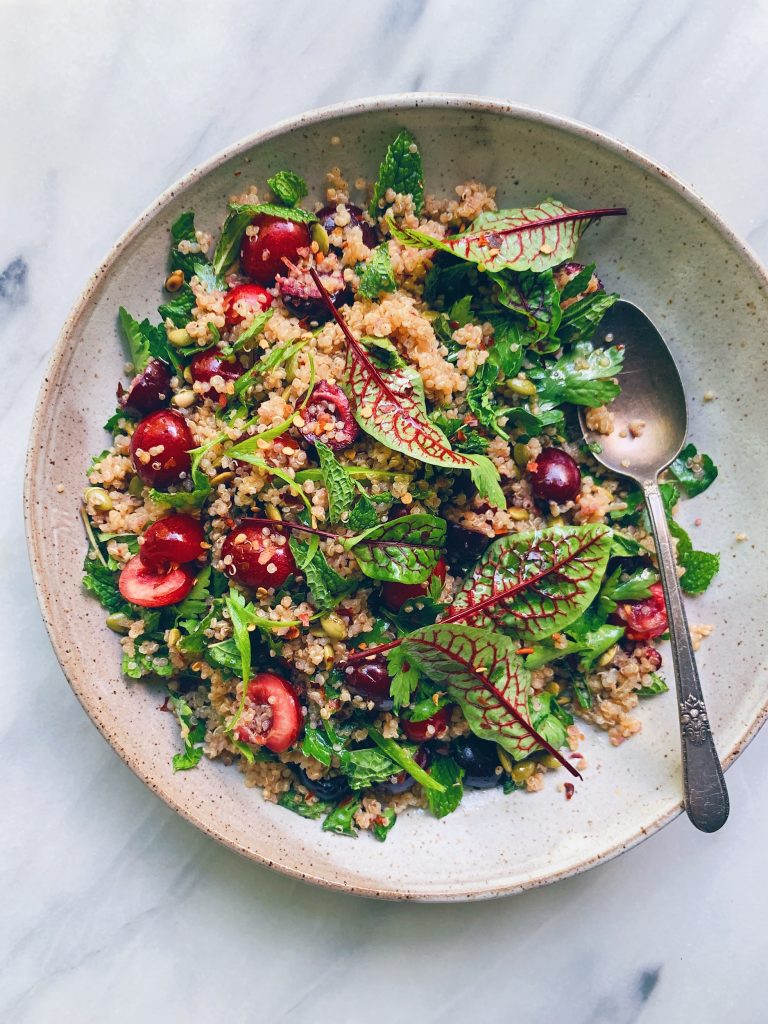 Herbed Cherry Grain Salad with Spicy Ginger-Chili Dressing
[Serves 4]
For the salad:
2 ½ cups cooked quinoa (about 1 cup dried) (or any other grain of choice: farro, millet, rice, etc.)
½ cup pepitas
8 oz cherries, pitted and cut in half
½ cup parsley, roughly chopped
½ cup mint, roughly chopped
2 scallions, green parts only, cut finely on a bias
Salt and black pepper, to taste
For the dressing:
⅓ cup extra virgin olive oil
3 Tablespoons red wine vinegar
1 teaspoon fresh ginger, grated on a microplaner
1 teaspoon dried red chile flakes
½ teaspoon ground sumac
½ teaspoon sea salt
½ teaspoon fresh ground pepper
Thoroughly rinse quinoa in a fine mesh sieve. Add quinoa and 1 ¾ cup water to a small pot. Bring to a low boil over medium-high heat. Once water begins to boil, turn down heat to low, cover the pot and let cook for 15-18 minutes. Remove cooked quinoa from heat and allow to cool completely. Can be made ahead.
Toast the pepitas in a dry skillet over medium heat for 5 minutes or until golden.
Whisk all dressing ingredients together in a small bowl until smooth.
Add quinoa, pepitas and pitted cherries to a large serving bowl. Toss with the dressing. Light fold in fresh herbs then salt and pepper to taste.