One of my favorite summer dishes to make are these beautiful salad rolls. Rice paper rolls are a super versatile, finger-food friendly way to incorporate healthy foods at picnics and other small gatherings. They're also super easy to make and fun to see how they each turn out!  The best part: no oven necessary. 
For these summer wraps I grabbed whatever looked tasty at the market, and I encourage you to do the same! Mix and match your greens, herbs, fruits and vegetable for whatever is in season in your area.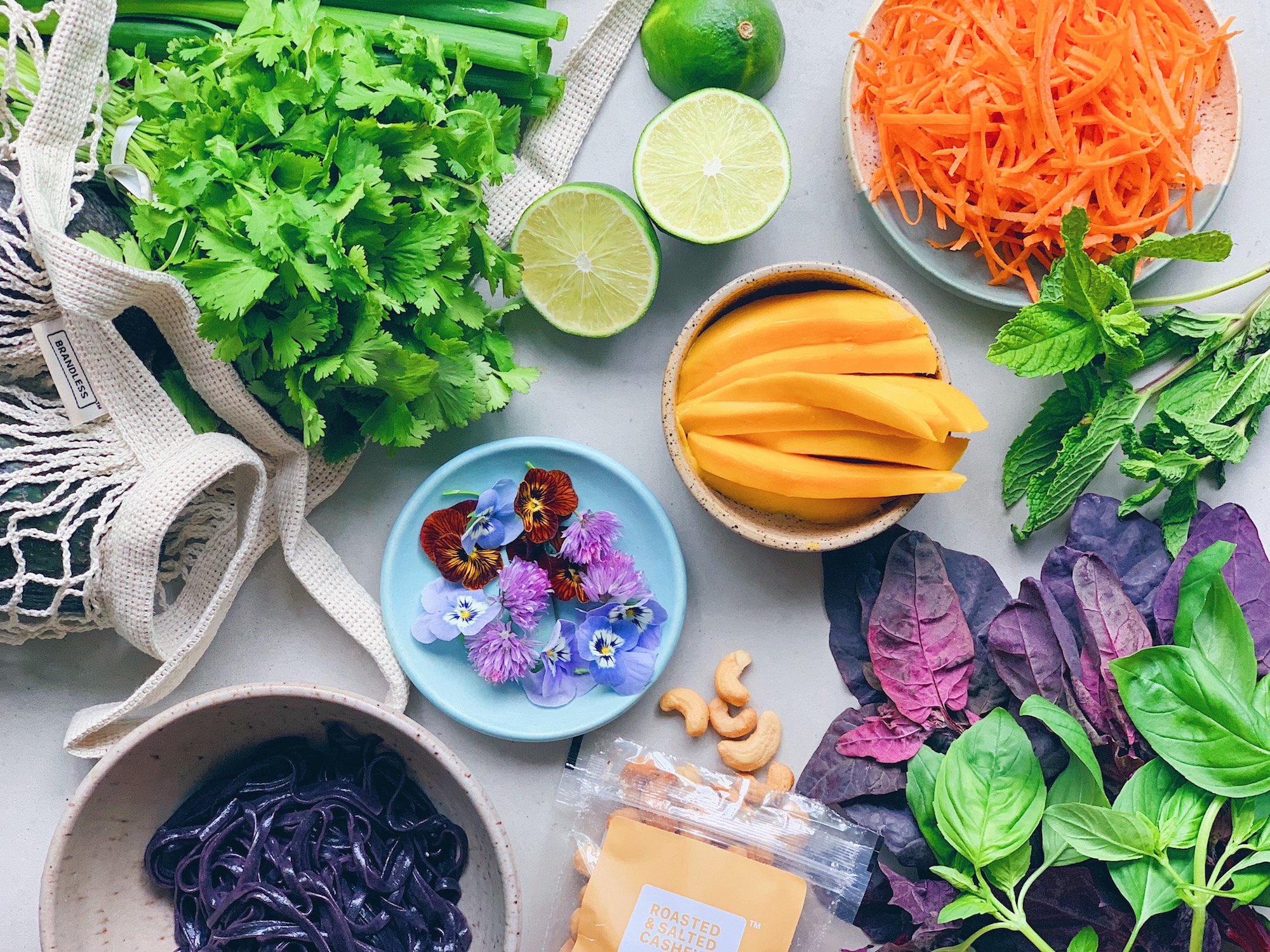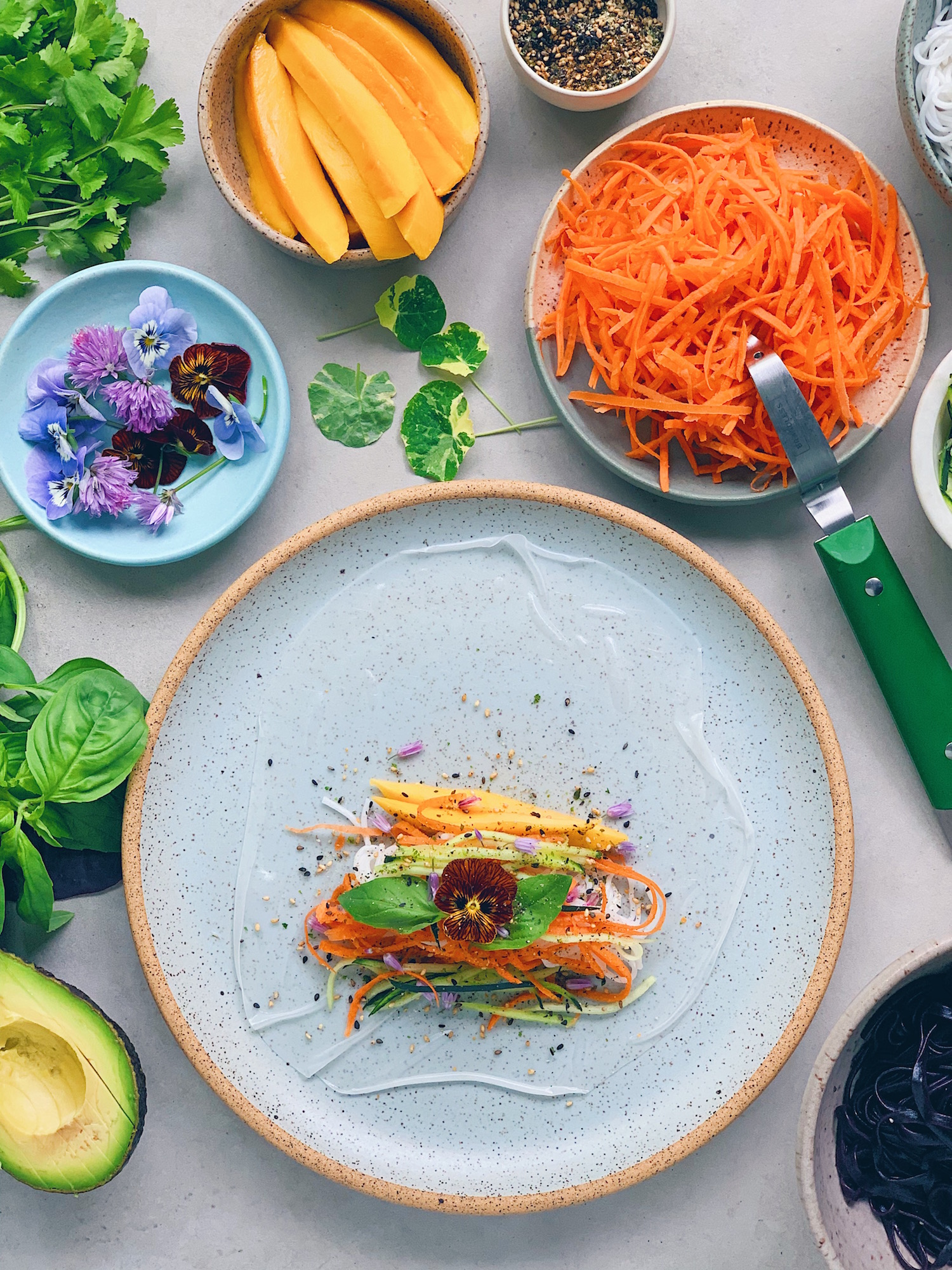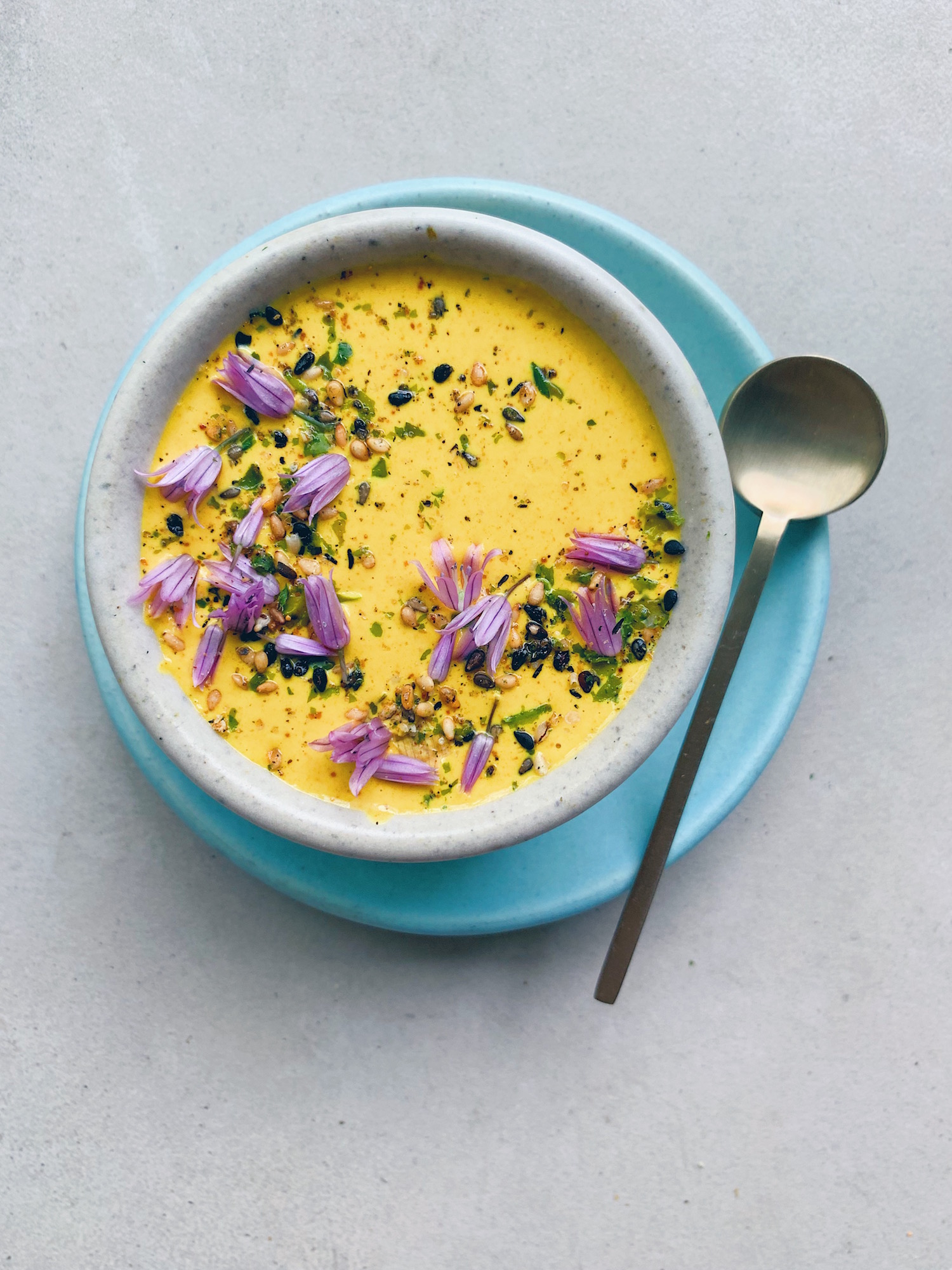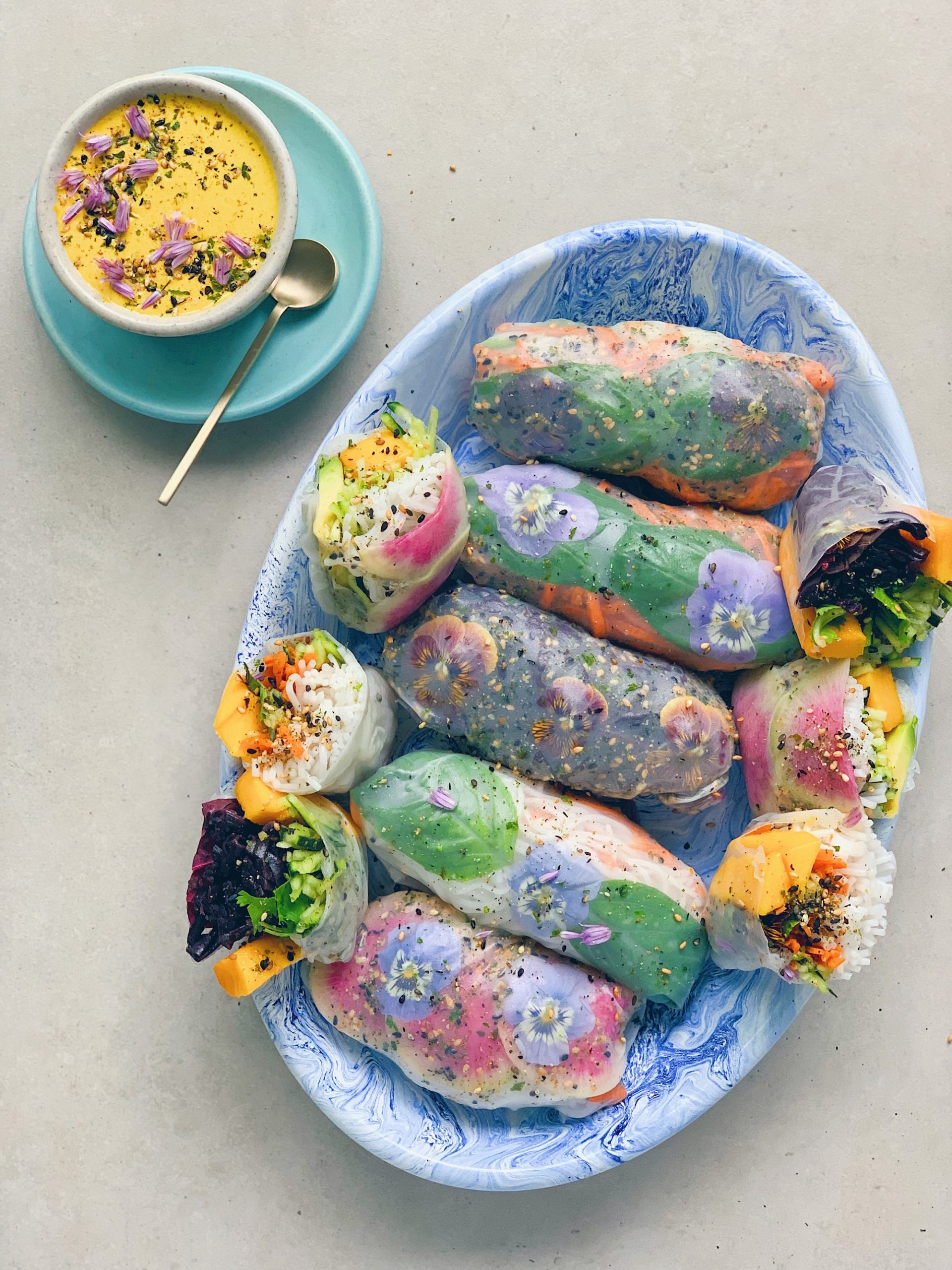 Summer Salad Rolls with Tahini-Turmeric Dipping Sauce
[Makes 12 Rolls ]
For the wraps:
½ package black rice noodles
½ package vermicelli noodles 
4 tablespoons coconut oil, divided
½ cucumber, julienned
1 large carrot, julienned
1 watermelon radish, thinly sliced
1 avocado, thinly sliced
1 ripe mango, vertically sliced
½ cup fresh basil leaves, loosely packed
½ cup fresh mint leaves, loosely packed
½ cup cilantro leaves with tender stems, packed
12 small red cabbage leaves
12 (8′-9′) rice paper rounds
Edible flowers and sesame seeds, for serving 
For the dipping sauce:
⅓ cup tahini
3 tablespoons lime juice 
1 teaspoon ginger, grated on a microplane
¼ teaspoon toasted sesame oil 
1 teaspoon ground turmeric 
1 teaspoon coconut aminos 
For the wraps:

Cook black rice noodles and vermicelli according to package directions.  Keeping separate, toss each in 2 tablespoons of coconut oil. 

Fill a medium bowl or pie pan with warm water. Working with 1 rice paper round at a time, soak rice paper in water, turning occasionally, until just pliable, about 30 seconds. Transfer to a work surface. 

Arrange edible flowers or watermelon radishes across center of each round and top with a few leaves of each herb then add cucumber, carrot and mango. 

Arrange a small handful of vermicelli or black rice noodles over. Place 1 cabbage or lettuce leaf over, torn or folded to fit. 

Fold bottom of rice paper over filling, then fold in ends and roll like a burrito into a tight cylinder. Transfer roll, seam side down, to a platter. Repeat with remaining rounds.
For the dipping sauce:
Combine all ingredients into a small bowl plus ¼ cup of water and whisk until thoroughly incorporated. 
Alternative Ingredient Pairing Suggestions
– Bell peppers, basil, cilantro, scallions, cucumber, mango, mint
– Strawberry, basil, mint, pistachios, edible flowers
– Radish, avocado, microgreens, strawberry, cucumber
– Black rice noodles, mango, basil, orange slices, toasted almond
– Cabbage, carrots, basil, cilantro, black rice noodles
– Cucumber, avocado, cilantro, lettuce, lime, coconut