Well these might be the dreamiest bars I've ever seen or made! If you know me, you know I'm a sucker for muted tones and pastels. I thought with spring here and Easter right around the corner, Wu Haus needed a sweet pastel treat. These beauties are sweetened with coconut nectar. I always air on the side of less sweet, but you could certainly bump up the amount of coconut nectar in the filling. If you've never heard of or used sunflower or soy lecithin, it's used here as a stabilizer. It works really well in raw desserts to help them keep their shape without having to store them in the freezer. If you don't have any or don't want to use it, the recipe is just fine without it. Just make sure to store in the freezer if you aren't using lecithin.
If you end up making these (or any of the recipes on this blog), I would love to see them! If you use Instagram, use #WuHaus to show me your creations.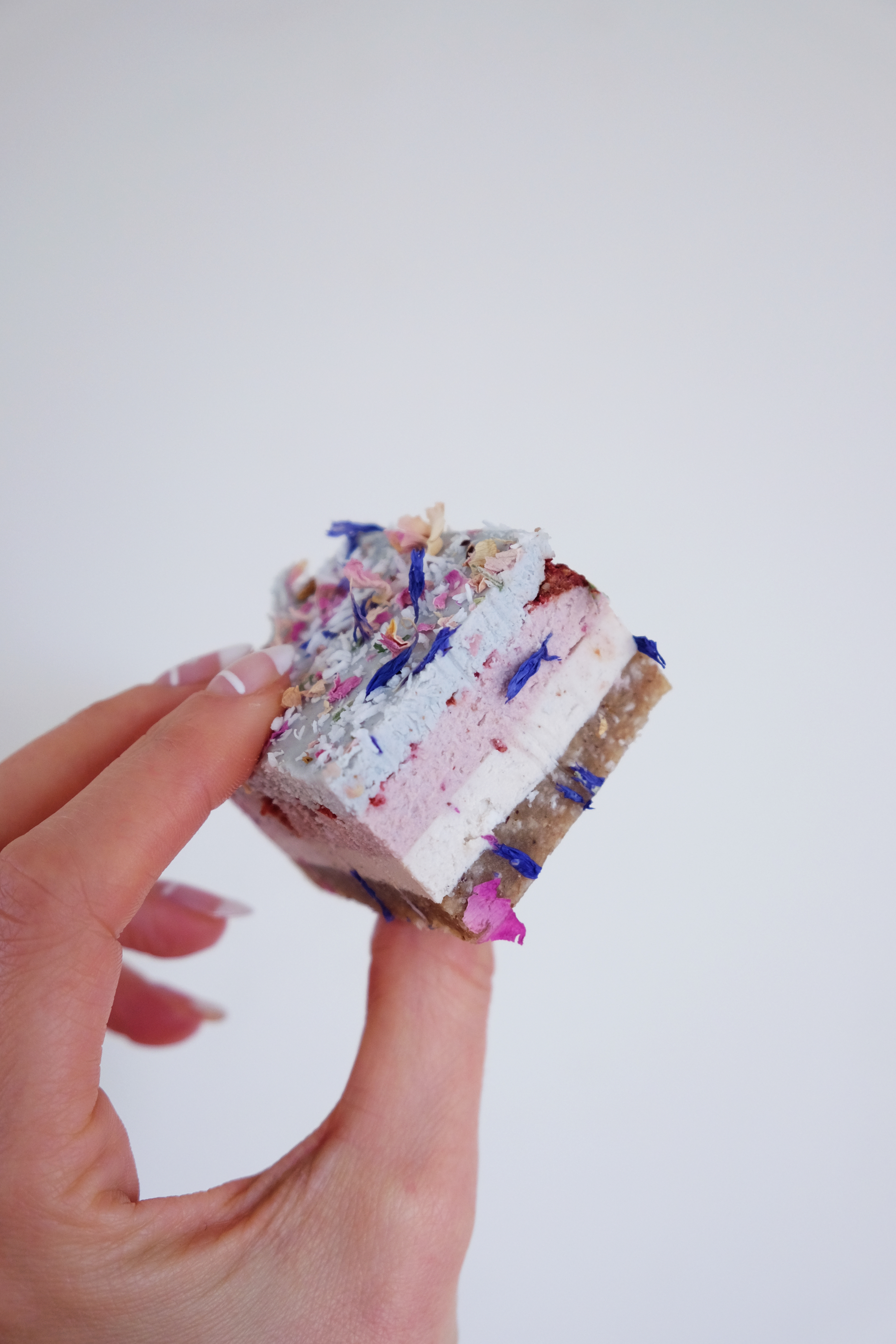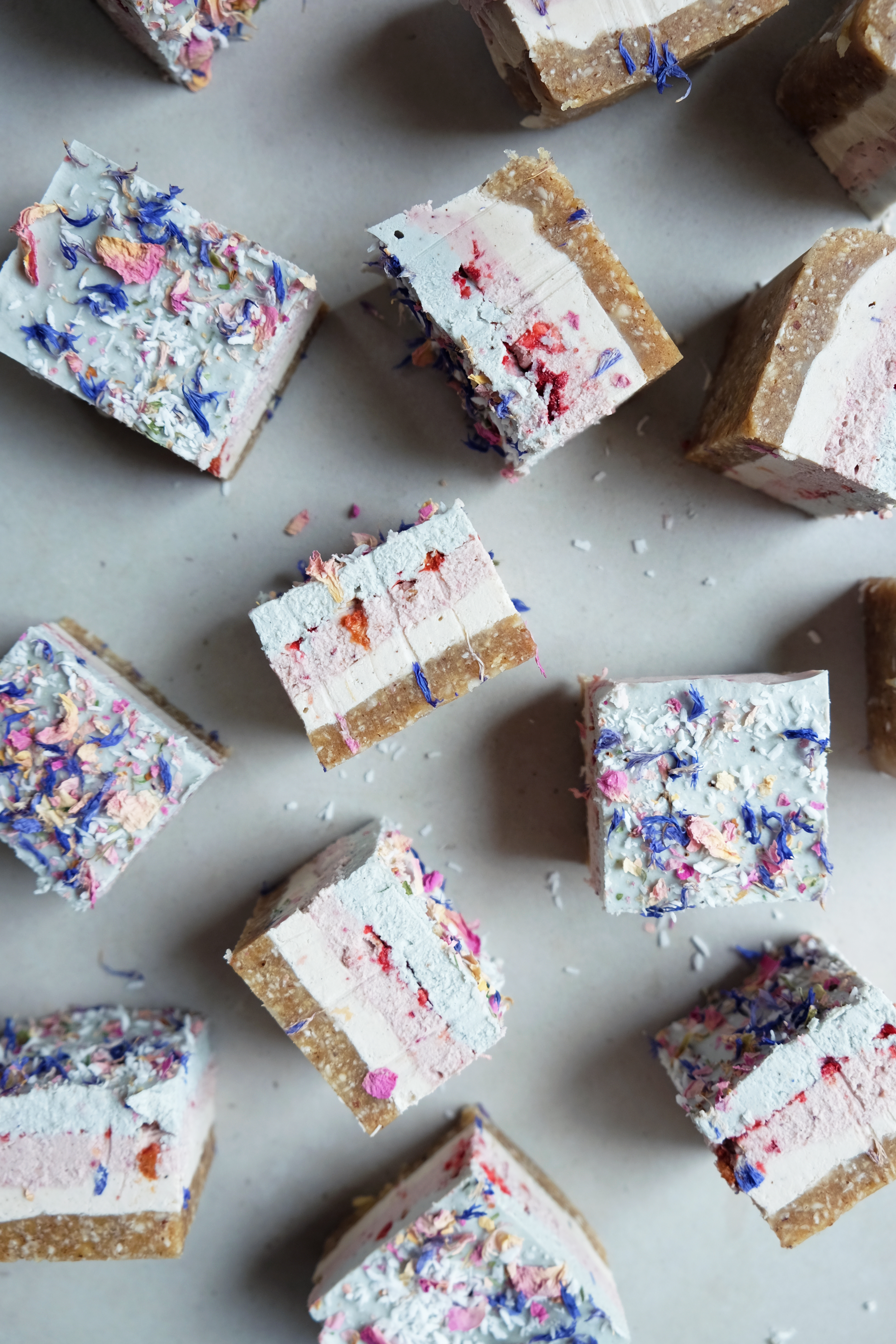 Coconut Cashew Dream Bars
[Makes 16 bars]
For the base:
1 cup raw walnuts
1/2 cup raw Brazil nuts
1 cup finely shredded coconut
1/4 cup coconut nectar
1 Tablespoon coconut oil
1/8 teaspoon pink salt
For the filling:
3 cups raw cashews, soaked in the refrigerator overnight
3 Tablespoons coconut oil
1 can full-fat coconut mylk, use all of the liquid and 1/2 of the cream
2 Tablespoons coconut butter
1 teaspoon vanilla bean powder
1 teaspoon lecithin granules OR 1 Tablespoon liquid sunflower lecithin (optional)
1/2 cup freeze dried strawberries, crushed
1/2 teaspoon blue algae powder
In a food processor, process the walnuts and Brazil nuts into small pieces. Add all the other ingredients for the base and process into a sticky dough.
Line an 8×8 cake or brownie pan with parchment paper or plastic wrap. (This makes removing the bars from the pan easier.) Press the mixture into bottom of cake pan evenly to create your base layer. Transfer to freezer to allow to chill while making your filling.
Drain and rinse the soaked cashews. In a high-speed blender, blend the cashews, coconut oil, coconut mylk, coconut butter, vanilla bean powder and lecithin (if using) until very smooth, about 2-3 minutes. [Note: you may have to stop and start your blender and use a rubber spatula to help this process along.]
Divide filling into 3 bowls. Using a rubber spatula, spread the contents of 1 of the bowls on top of your base to create a cream-colored first layer. Transfer back to freezer to allow to chill while making the other layers.
Create the pink layer by blending the contents of 1 of the bowls and about 1/2 of the freeze dried strawberries. Set aside.
Create the blue layer by blending the contents of the last bowl and the blue algae powder. Set aside.
Once your first layer has set for about an hour, using a rubber spatula spread the pink layer over the set cream layer. Sprinkle then press the rest of the freeze dried strawberries onto the pink layer. Allow to set in the freezer for about another hour.
Spread the blue layer over the pink layer using a rubber spatula. Top with dried rose petals, cornflowers and finely shredded coconut. Allow to set in the freezer for about another hour.
Remove from freezer. Using the parchment or plastic wrap, pull up to remove the "cake" from the pan. Using a sharp knife, cut into 2″ x 2″ squares. Bars will keep in the refrigerator for 2-3 days, or in the freezer for a month. If you didn't use lecithin, I would recommend storing in freezer.