Wu Haus Candle 02 is a collaboration with Kelly Crosby of CROSBY Elements and ceramic artist Amelia Wrede Davis. Only 100 are available; get yours here.
Smell is such a powerful sense. It helps you recognize poisonous substances. It helps you fully appreciate the flavors of your food. It can also transport you to different memories and places.
With the release of Wu Haus Candle 02, I'm curious to know what memories it might bring up for you. Maybe the pink grapefruit notes remind you of spending summer afternoons with your grandmother on her porch, eating perfectly pink segments of fruit while letting the world go by. Or perhaps the sandalwood takes you back to the first time you hugged your partner and took a long breath in to soak up the scent of their cologne. Or maybe these scents don't recall anything specific yet, but become your future path back to this summer and all the memories you're about to create.
For Candle 02, I once again partnered with the amazing Kelly Crosby of CROSBY Elements to create a scent that celebrates the beginning of summer and all the wonderful smells associated with this time. Here's how Kelly came up with scent notes of geranium, cedarwood, sandalwood, rose, pink grapefruit, hinoki wood and black peppercorn to create a perfectly balanced scent for the summertime:
"We're transitioning from spring into summer, so we wanted to do something sweet and floral, but also had that warmth of summer. So to have that musky richness to it, we have sandalwood, Virginian cedarwood, and hinoki wood. The brightness comes from rose, geranium and pink grapefruit. I don't typically gravitate towards a floral candle, but when it's blended with these beautiful woods, they go really well together."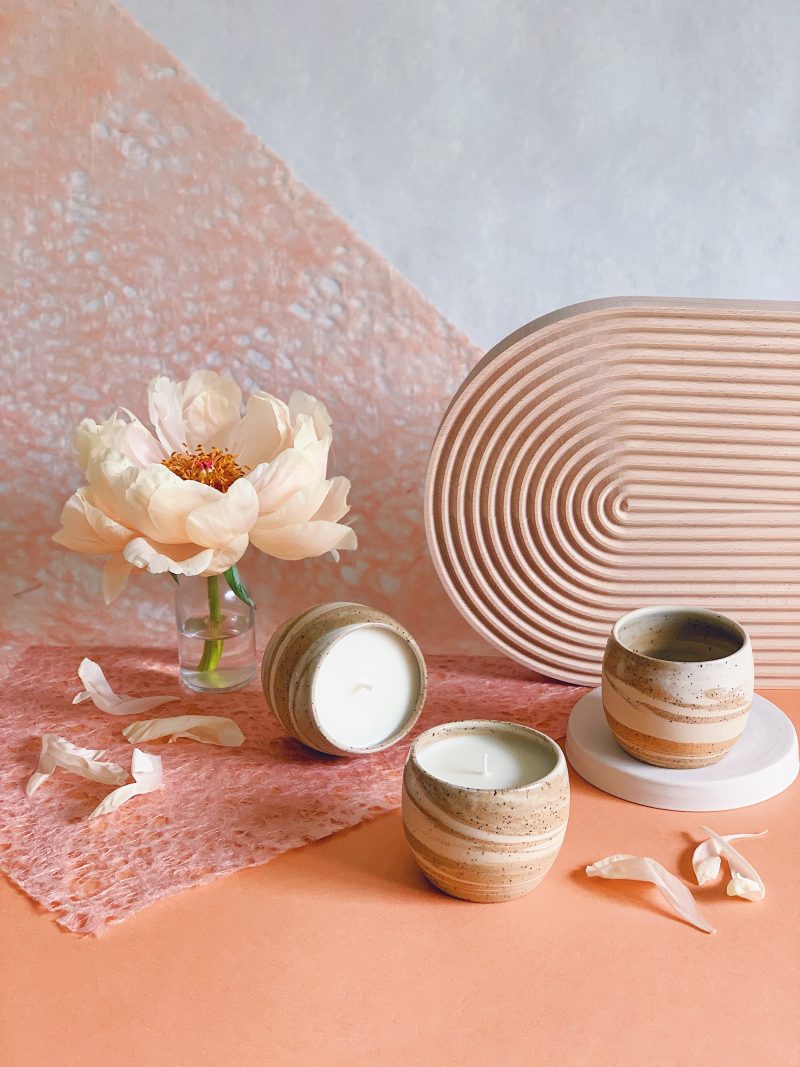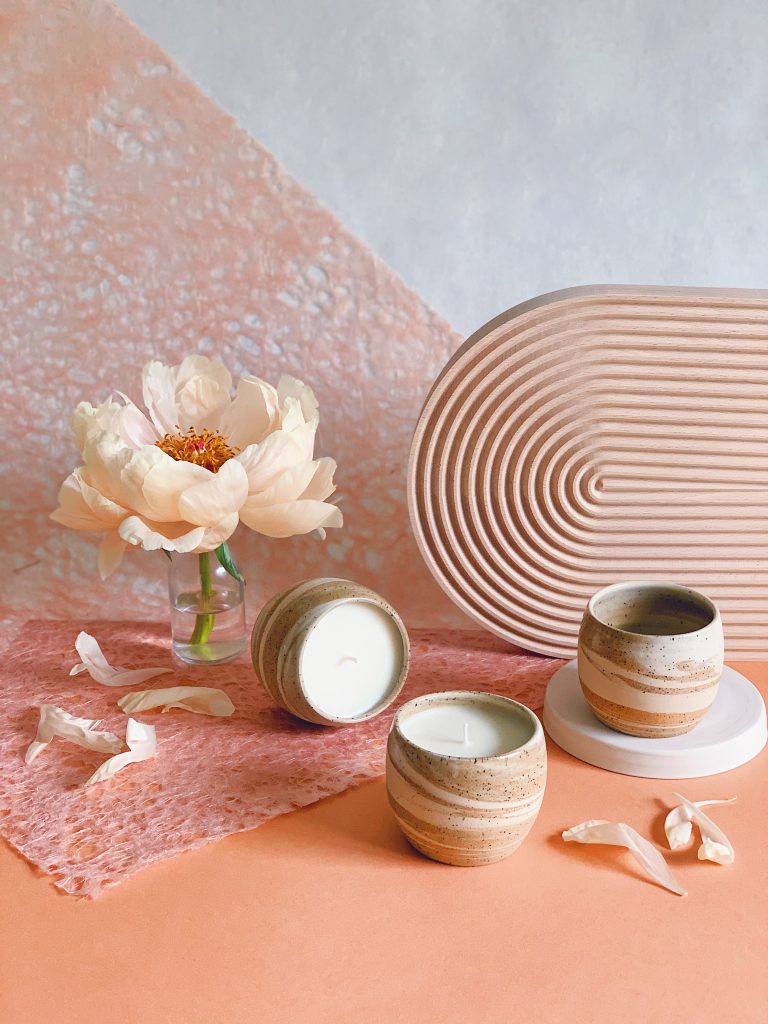 For the vessel, we collaborated with the talented Amelia Wrede Davis, a beautiful soul currently residing in Tacoma, Washington. We initially connected via Instagram a few years ago, and I completely fell in love with her pieces. Anyone who knows me knows my love for desert tones and neutral palettes, and Amelia's work is dedicated to honoring the earth and letting its natural beauty shine through. Not only do I love the classic look of her pieces, but her commitment to environmental causes and sustainable business practices are also incredibly inspiring.
Candle 02 features the marbled clay that Amelia also uses for her limited O'Keeffe Country collection. I love the way the white and tan colors swirl together. It's really beautiful – each one unique. I hope this vessel becomes part of some of your favorite memories, first as a candle, then as whatever you choose it to be.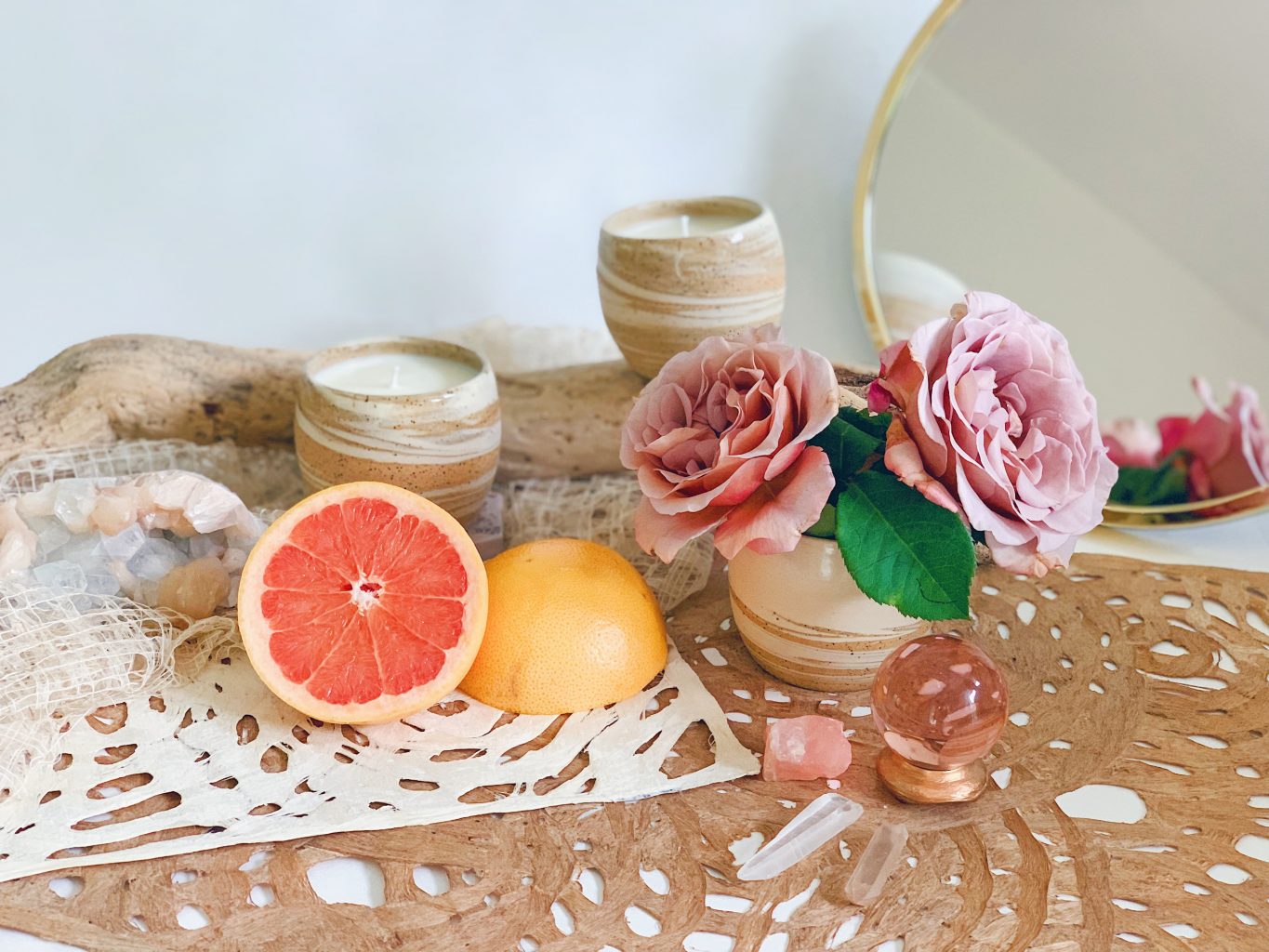 Here's more about Amelia and her work:
Wu Haus: How did you start your business?
Amelia Wrede Davis: I began working with clay my first year of high school. I immediately fell in love with it. I was at a time in my life where I didn't realize how much I needed a contemplative creative outlet. Clay is an incredible teacher in this way. Throwing on the wheel became a sort of therapy for me – seeing how when I wasn't centered in my body or present with what was right in front of me, I would also struggle to center the clay. That combined with the beauty of making functional objects and being connected/in relationship with a grounding material from the earth had me hooked. I've been throwing consistently for coming up on 12 years now.
WH: What techniques do you use?
AWD: All of my pieces are wheel thrown by me in my home studio in Tacoma, Washington. My aesthetic lingers where earthly meets utilitarian. I love refined, functional designs and timeless hues that can compliment any space or mood. All of my pieces embrace bare clay and feels of landscapes that are close to my heart –whether it be in hue, texture, shape or overall vibe.
My business ethos is rooted in sustainability – I practice zero-waste shipping with 100% plastic-free and recyclable/biodegradable materials and offset my carbon footprint while traveling for markets. I see these vessels as a vessel for positive impact, whether it be through shipping materials, purchasing supplies only from small or local businesses, donating monthly sales percentages and pieces for auction to important non-profits, inspiring folks to reduce single-use containers, recycling clay, and cultivating conversations around compassion, consumerism, and mindfulness.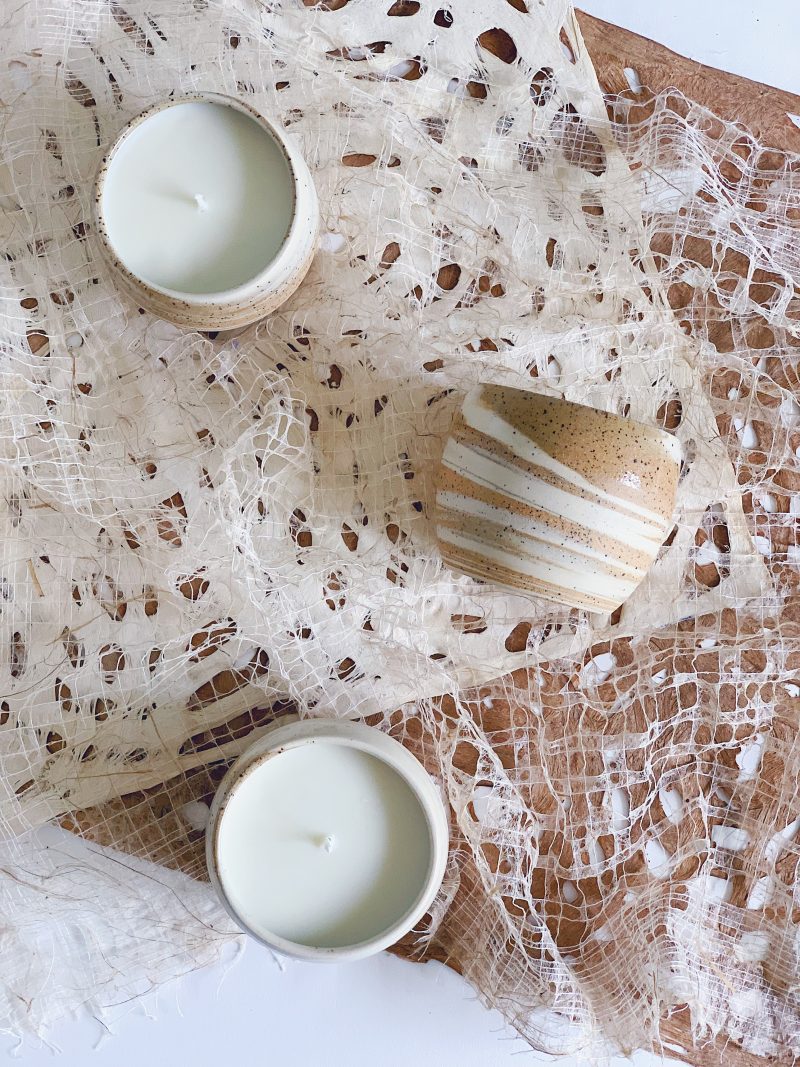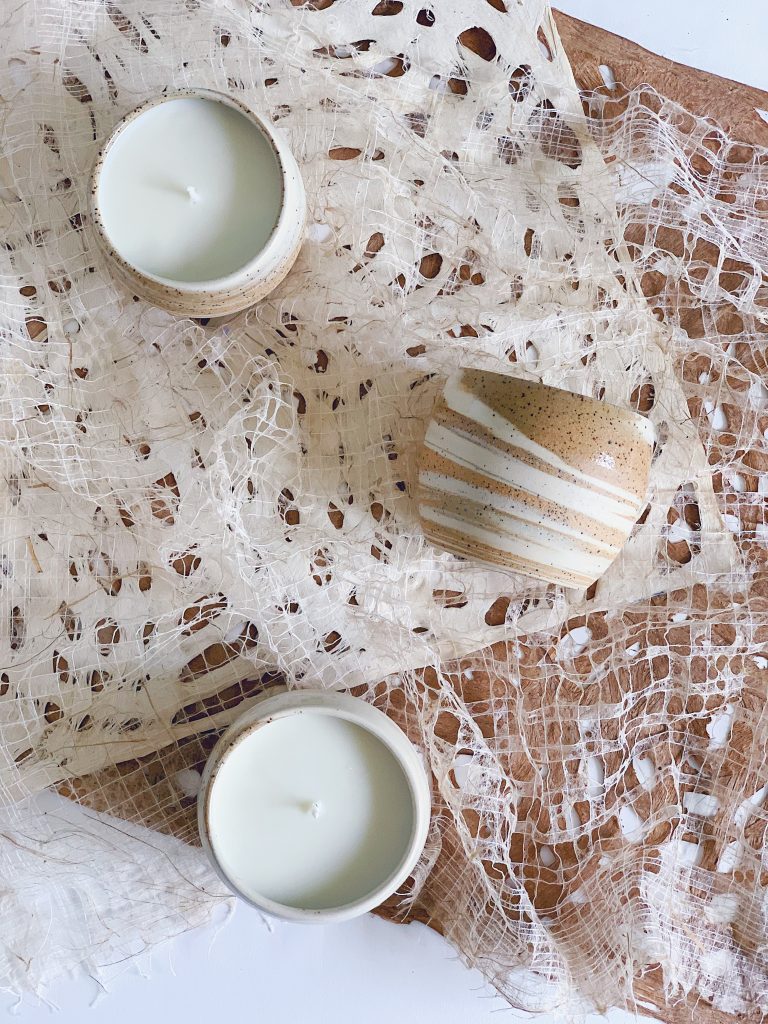 WH: Where do you draw your inspiration from?
AWD: I went to school for environmental studies and that has been my greatest teacher and source of inspiration. The natural world, both in the sense of design and feel, but also the notion of slowing down and making room for pause. I take a long walk with my dogs each day in the woods or down at the beach here along the Puget Sound, and it has always been my recharge time. I brainstorm, troubleshoot and let my imagination go wild in this place. I'd say my creative process cycle often times begins there and ends there.
Because my work with clay is about so much more than clay to me (it is also a spiritual/environmental practice and way of life), my influences really come from all over. I also find inspiration in cooking seasonally, plant medicine, slow fashion/slow, circular business models, abstract expressionism, and permaculture. I spent a few years organic farming in my "formative" years – being both in sync with the earth and also deep in the slow food movement.
I am incredibly moved by the innate connection between food and pottery and all that it inspires. I have seen firsthand how they have the capacity to shift habits around single-use plastic, eating on the run, and creating community with loved ones or friends. There is a thread woven through each of my designs and what purpose I envision it to nurture: whether it be creating time each morning to slow down with one's tonic or coffee in a favorite mug, sharing laughter and stories with loved ones over a meal, or inviting a close friend for heartwarming conversations and herbal tea out of a carafe…there is a narrative surrounding each piece in regards to nourishment of good, fresh food that ultimately keeps me forever inspired.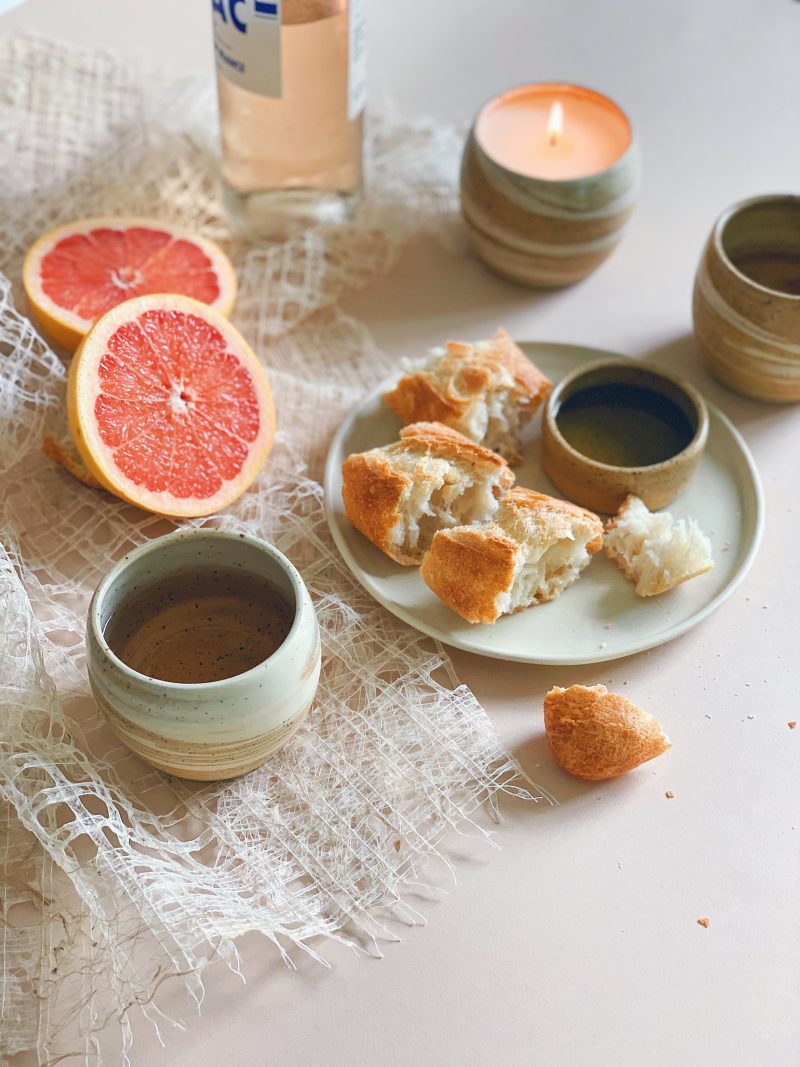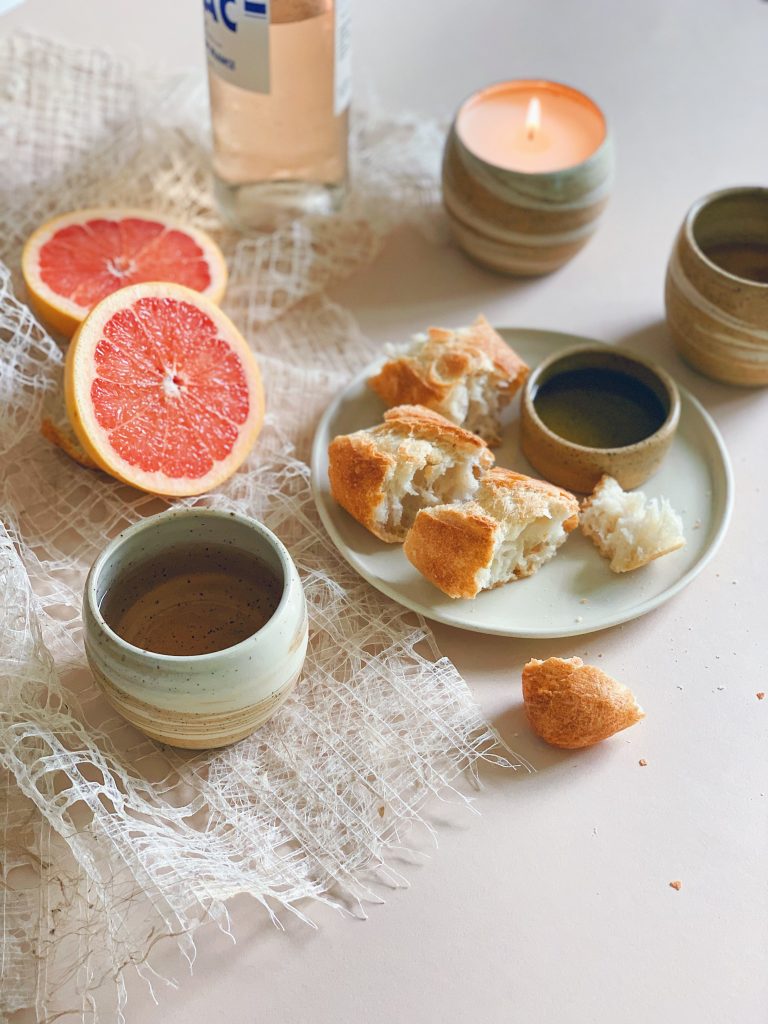 WH: What was your process for the Wu Haus collaboration?  
AWD: Alison and I brainstormed together for the floral scent she was planning to house in my piece, and we wanted to create something feminine, uplifting and warm. The shape is also soft and has a body-like curve. Each one has a unique marbling pattern – no two are alike.
We quickly settled on the colorway that is part of my O'Keeffe Country Collection. These pieces came to life for me out of my love for and pilgrimages down to Abiquiu, New Mexico, that began while I was living in Colorado. This place quickly became very special for me, and a symbol for a renaissance of spirit I had during my first trip down there. I was coming out of a tough relationship and voyaged down with my dog (who was coincidentally rescued from New Mexico a year prior), and was in a place of needing to find myself again without that of a significant other. I felt closer to myself than I had felt in a long time – and deeply aware of the legacy that Miss O'Keeffe led as an autonomous woman aligning her life and art with her natural surroundings. Independence, groundedness, and the freeing feeling of being "home" is the landscape of Northern New Mexico for me. And in that way, I feel it has been the most empowering place for me as a woman and human. I feel very carried by her spirit when I am there, as well as many other female artists who have had a similar connection to this transformative place. So I hope this piece will, too, stand as a symbol for both femme empowerment as well as connecting to the Mother and truly aligning with her in all that you do.
WH: What do you love about candles?
AWD: For me, lighting a candle symbolizes keeping my internal flame/hearth warm and strong. I am often susceptible to burnout or low energy dips/waves and have incorporated a practice of lighting candles – especially while eating or relaxing after a long day. I visualize the flame within me and watch how it, too, flickers and dances to adapt and move with what is happening around it. Most days my output/input ratio is far from balanced and this is one tool (out of many) in my toolbox that has helped me to cultivate more input and recharge my batteries.
On a recent trip to Denmark, I also fell in love with how every cafe, coffee shop, bar, etc. we stopped at there had a candle on each table (with a real, good ol' flame – not a plastic, battery-operated one). It made each meal/pastry/coffee/beer feel just that much more special and festive.