In the middle of May, I was lucky enough to travel down to Berkeley with the super talented, Ashley Marti, to assist on a cookbook shoot for Ten Speed Press. It was a whirlwind of a trip and a ton of hard work, but I left feeling inspired and with a wealth of knowledge having watched Ashley in her element for several days. Some of you may have seen Ashley's gorgeous roasted yams, but if you haven't, here they are. This recipe is inspired by and dedicated to her. Thanks for being an amazing teacher and friend, Ashley.
The recipe makes 6 servings. If you want a bigger meal, these would pair well with a yummy garden salad, or if you only have 2-3 people, each person could have a whole yam. Either way, I hope you enjoy this delicious, hearty meal.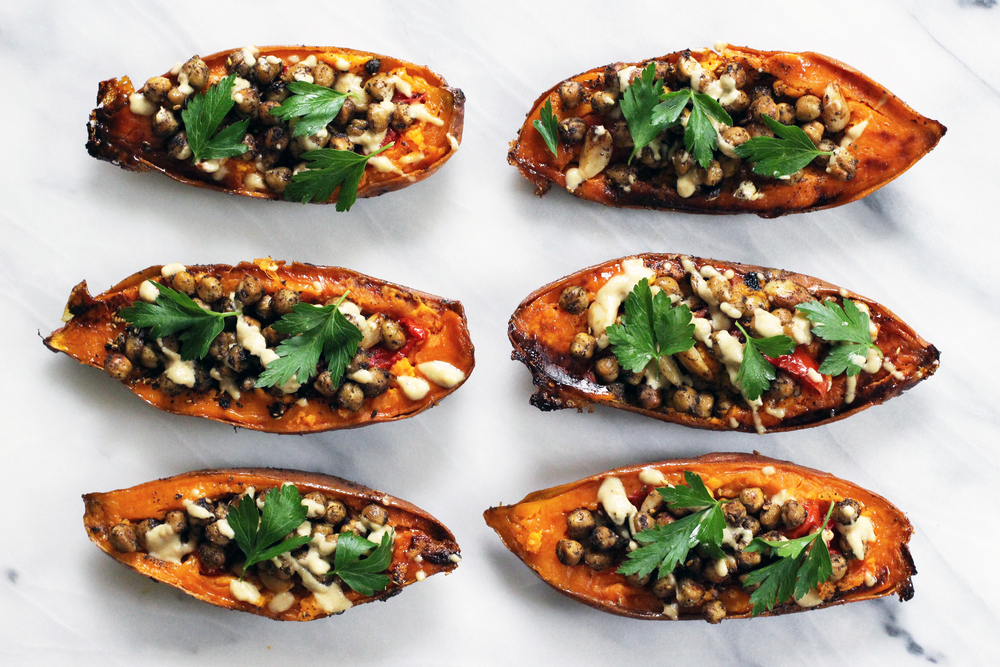 Baked Yams with Za'atar Chickpeas, Roasted Garlic and Tomato Drizzled with Tahini
[Serves 6]
For the yams:
3 jewel yams, halved
15-20 cloves of garlic
Avocado oil
For the chickpeas:
2 cans of chickpeas
2 tablespoons za'atar
1 teaspoon chili powder
2 tablespoons avocado oil
1/2 teaspoon salt
For the roasted tomatoes and garlic:
1 pint cherry or grape tomatoes, halved
15-20 garlic cloves
Olive oil
Salt + pepper
Thyme and oregano, fresh or dried (optional)
For the tahini drizzle:
3 tablespoons tahini
1 tablespoon lemon juice
1-2 tablespoons water
Italian parsley to garnish
MAKE AHEAD! Preheat the oven to 250°. Halve the tomatoes and peel the garlic. Toss both with olive oil, salt, pepper and herbs (if using). Spread the tomatoes on a parchment-lined baking sheet seed-side up. Add the garlic cloves to the baking sheet, too. Note: The garlic cloves will likely be done before the tomatoes, so you may want to separate them before cooking to make it easier to remove them during cook time. Roast the tomatoes in the oven for 90 minutes. Check on the garlic after about 35-45 minutes. The cloves should be soft.
Preheat the oven to 425°. Halve the yams. Using your hands, coat all sides with avocado oil. Roast the yams on a baking sheet with the skin facing up for about 45 minutes.
Drain and rinse both cans of the chickpeas. In a medium-sized bowl, mix together the chickpeas, za'atar, chili powder, avocado oil and salt. Spread evenly over a parchment-lined baking sheet. After the yams have been in the oven for 25 minutes, add the chickpeas to roast for the remaining 20 minutes.
While the yams and chickpeas are roasting, mix together the tahini, lemon juice and water until smooth. Set aside.
Once the yams are out of the oven, gently mash the centers with a fork. Layer the chickpeas, roasted tomatoes and garlic on top of the yams. Drizzle each with the tahini sauce and garnish with Italian parsley. Serve immediately.