I created this recipe a while back and have been dying to share it with you guys! These Baked Quinoa Patties with Herbed Tahini Sauce are a weekly staple at our haus. I love making a double batch to have extras in my fridge for easy lunches during the week. The sauce can also be used as a dressing for your favorite salads or a dip for your next snack platter. I originally made these into quinoa balls, but they work great as patties too. Feel free to swap out the dill for any other herb you like, and same goes with the herbs in the sauce.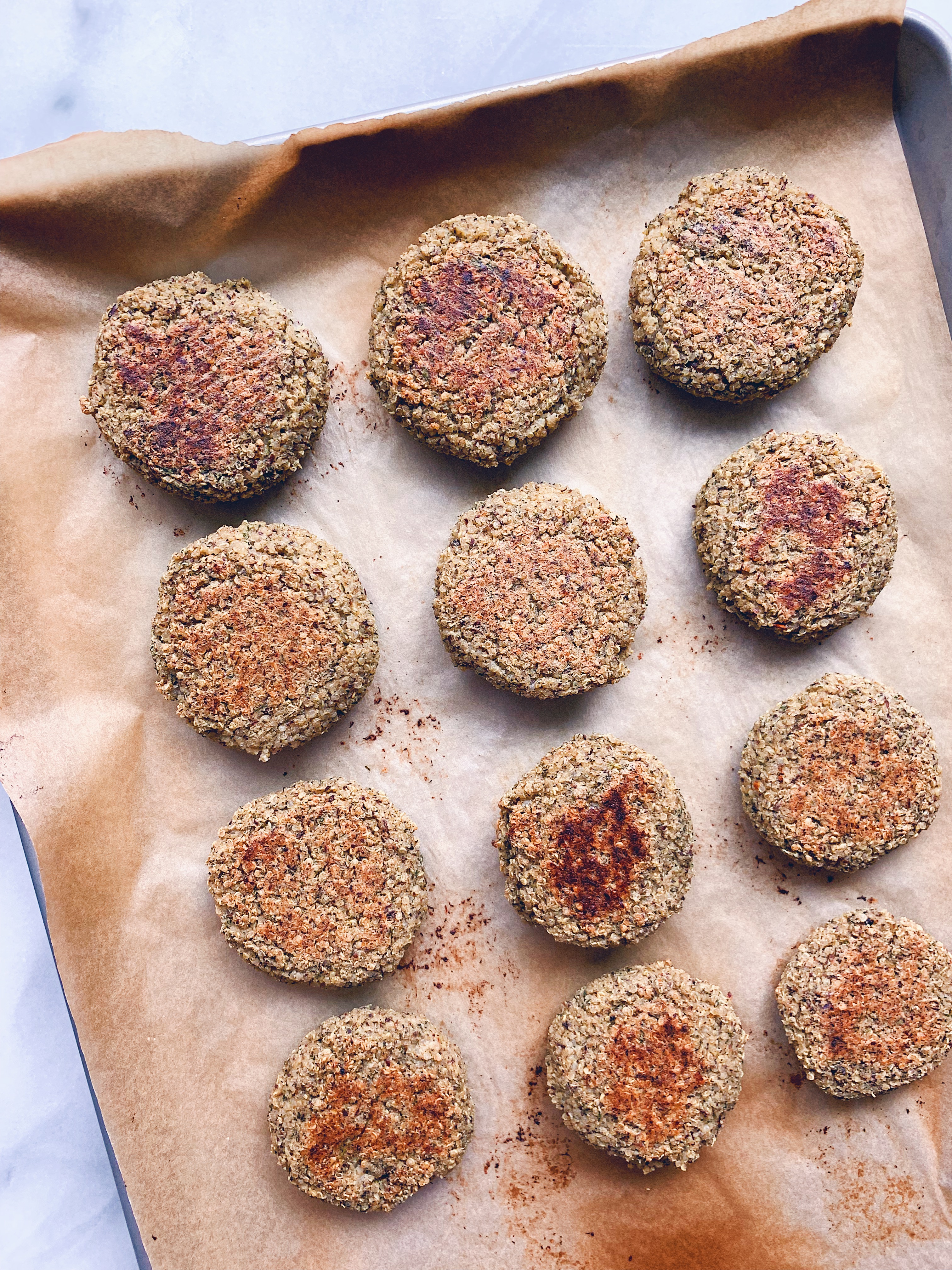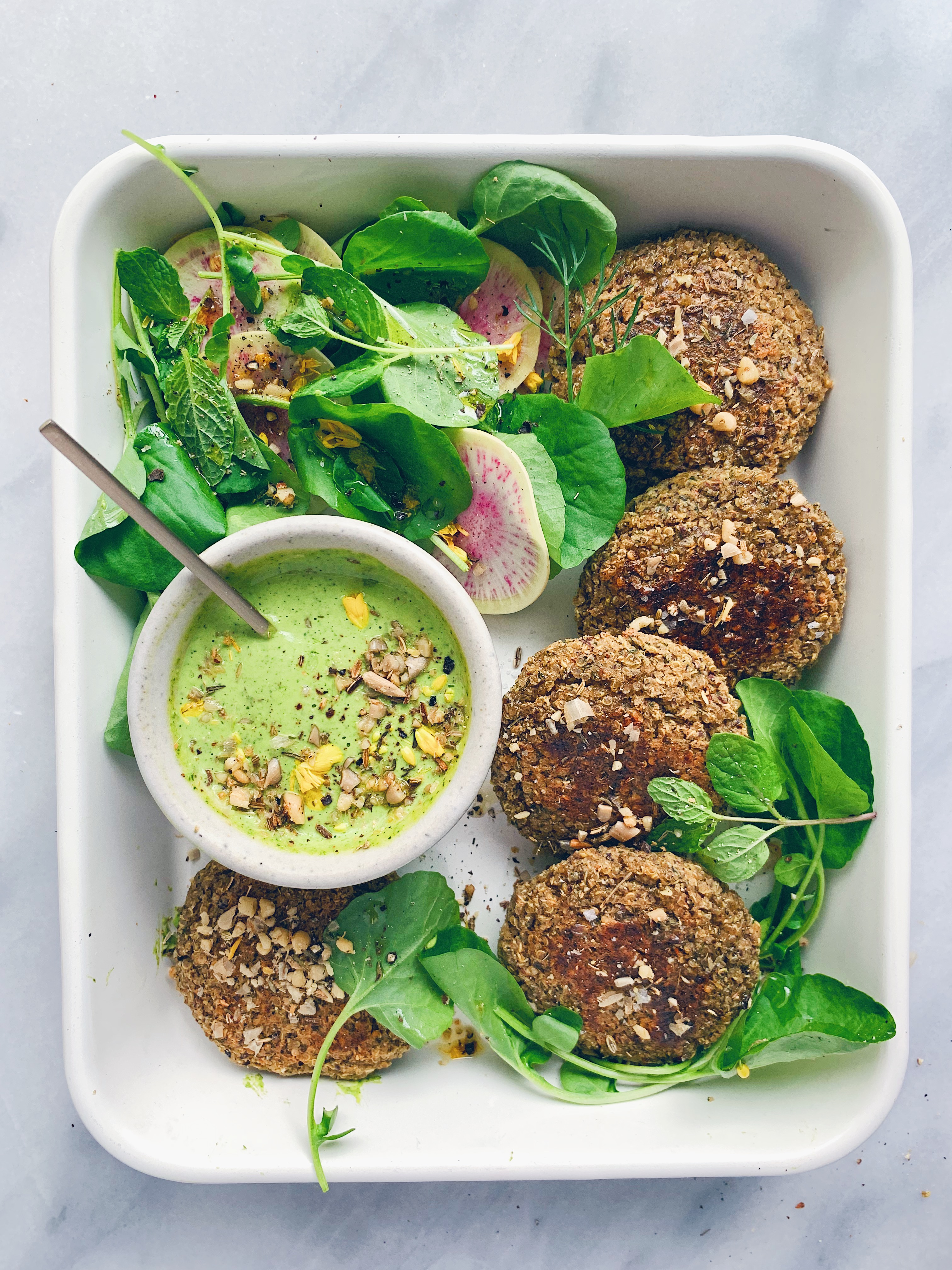 Baked Quinoa Patties with Herbed Tahini Sauce
[Makes 12 Patties]
For the flax eggs:
1/2 cup water
3 tablespoons ground flaxseed
For the quinoa patties:
1 cup dried quinoa (which is about 2 cups when cooked)
1/2 cup water
¼ cup almond flour
1 cup fresh dill, loosely packed
2 Tablespoons tahini
2 cloves garlic, minced
2 teaspoons ground sumac
¼ teaspoon red pepper flakes
1 teaspoon Kosher salt
1/2 tsp black pepper
1 Tablespoon olive oil
For the herbed tahini sauce:
1 cup fresh parsley, tightly packed
1 cup fresh mint, tightly packed
1 cup fresh cilantro, tightly packed
1/4 cup lemon juice
1 clove garlic, chopped
1/2 cup tahini
1/2 cup water
1 teaspoon salt
1 teaspoon Aleppo pepper
1/2 teaspoon black pepper
Preheat oven to 450°F.
Heat one cup quinoa and a little less than 2 cups of water in a small saucepan over medium-high heat. Bring to a boil. Once boiling, turn heat down to low and cover the pan with a lid. Cook quinoa for 15-18 minutes. Once done, fluff with a fork, transfer to a bowl and let cool completely.
In a small bowl, whisk together ground flaxseed and ½ cup water with a fork and let sit at least 5 minutes.
Once cooked quinoa is cooled, add all ingredients except water to a food processor. Process for a minute or so then slowly add the 1/2 cup water while the machine is running and process into a sticky 'dough'.
Working a ¼ cup at a time, form dough into 12 small round patties. Alternatively, you could roll into balls.
Place patties or balls on a parchment lined baking sheet and bake for 15-18 minutes, flipping halfway.
While the quinoa patties are baking, make the herbed tahini sauce. Add all ingredients to a high-speed blender and blend until very smooth (1-2 minutes).
Serve quinoa patties with salad greens, any other desired veggies and herbed tahini sauce. Enjoy!