The Wu Haus Kitchen is finally done!!! And I'm beyond excited to be sharing the results with you today on the blog. After 9 weeks of renovations that had us cooking all our meals off a $14 hot plate in the dining room, we're finally moved back into our brand new kitchen and absolutely loving it. I'm thrilled with how it turned out, and it was more than worth any of the chaos that came with remodeling.
First and foremost, I have to give MAJOR props and endless gratitude to our amazing contractor, Forrest, who worked his ass off on this project. My husband definitely put some time and elbow grease in, which was great, but for the most part, Forrest did everything on his own, from demo to the Venetian plaster walls to wiring the lighting to installing the new sink and plumbing to making the open shelving. It's really quite amazing to work with someone who knows how to do literally everything.
I'd also like to thank my good friend and designer Jacob Schaeperkoetter-Cochran of Young American for helping me bring my vision to life. Jacob has a brilliant eye for design and offered so much guidance and advice on making this kitchen the most beautiful it could be. It was so fun working with him on our kitchen and watching as his plans became reality over the past several weeks.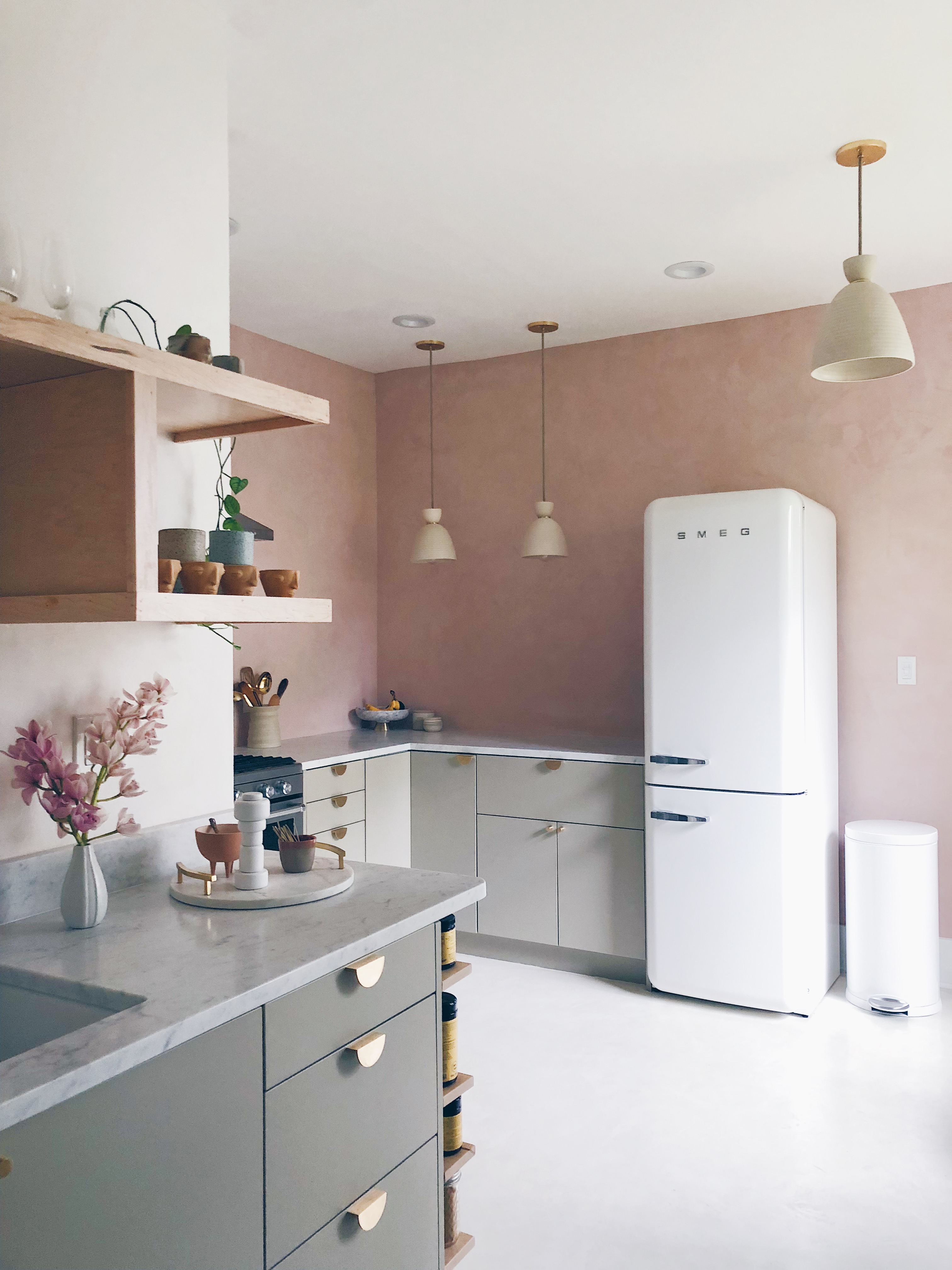 Starting this project, I had a very clear vision of what I wanted. I played around with different layout ideas, but without changing the structure of the room too much, this layout made the most sense. We removed one wall that enclosed a "butler's pantry" and took out the corner by the old refrigerator that we thought was the old oil-heat chimney. On our first day of demo, we soon found out that the "chimney" was actually my husband's closet in our second bedroom. Oops. Not quite sure how we overlooked that. Anyways, we decided to roll with the original design of the kitchen and worry about the closet situation later. Still haven't figured out where my husband's new closet will go…I'll keep you posted on that!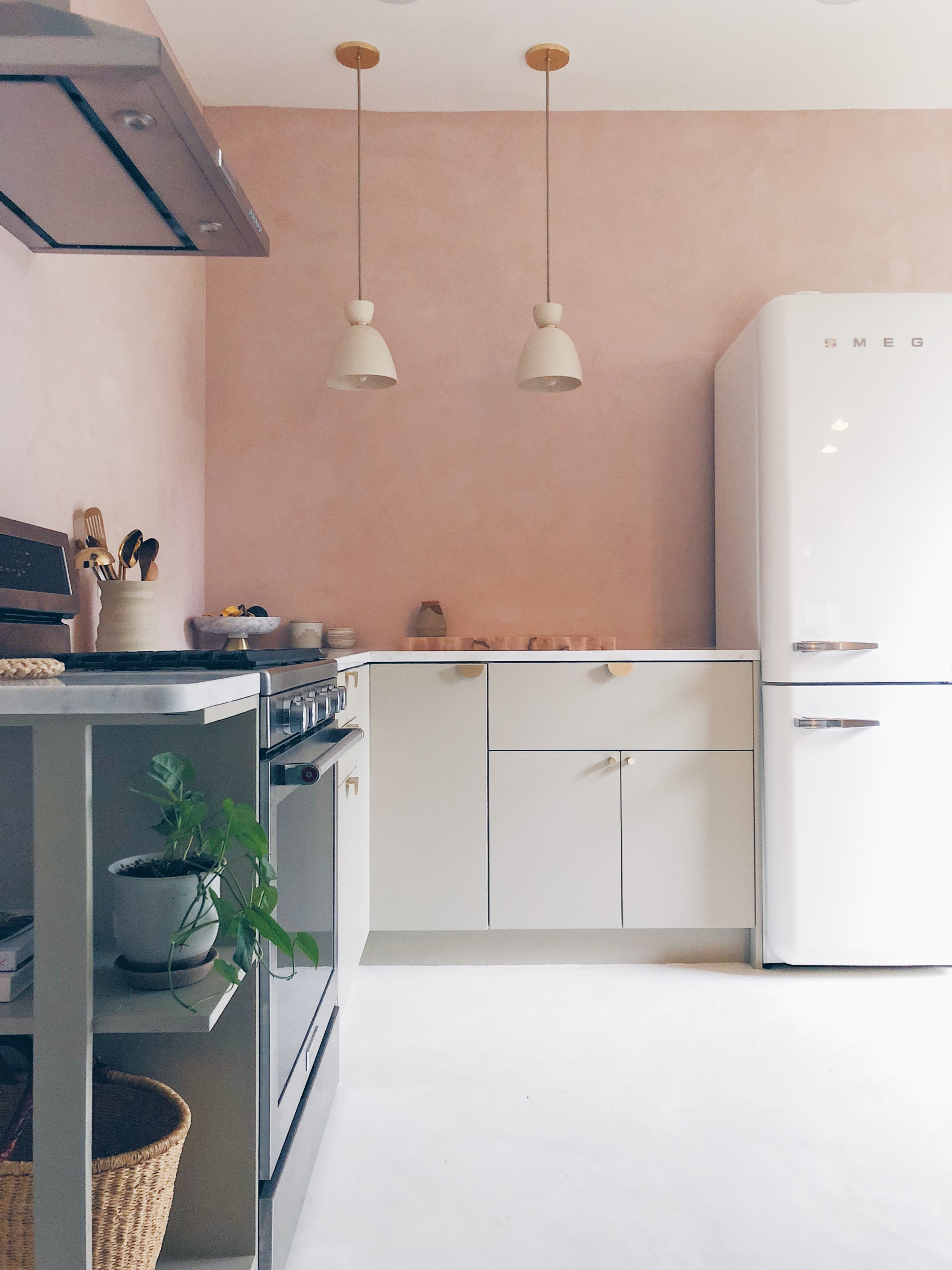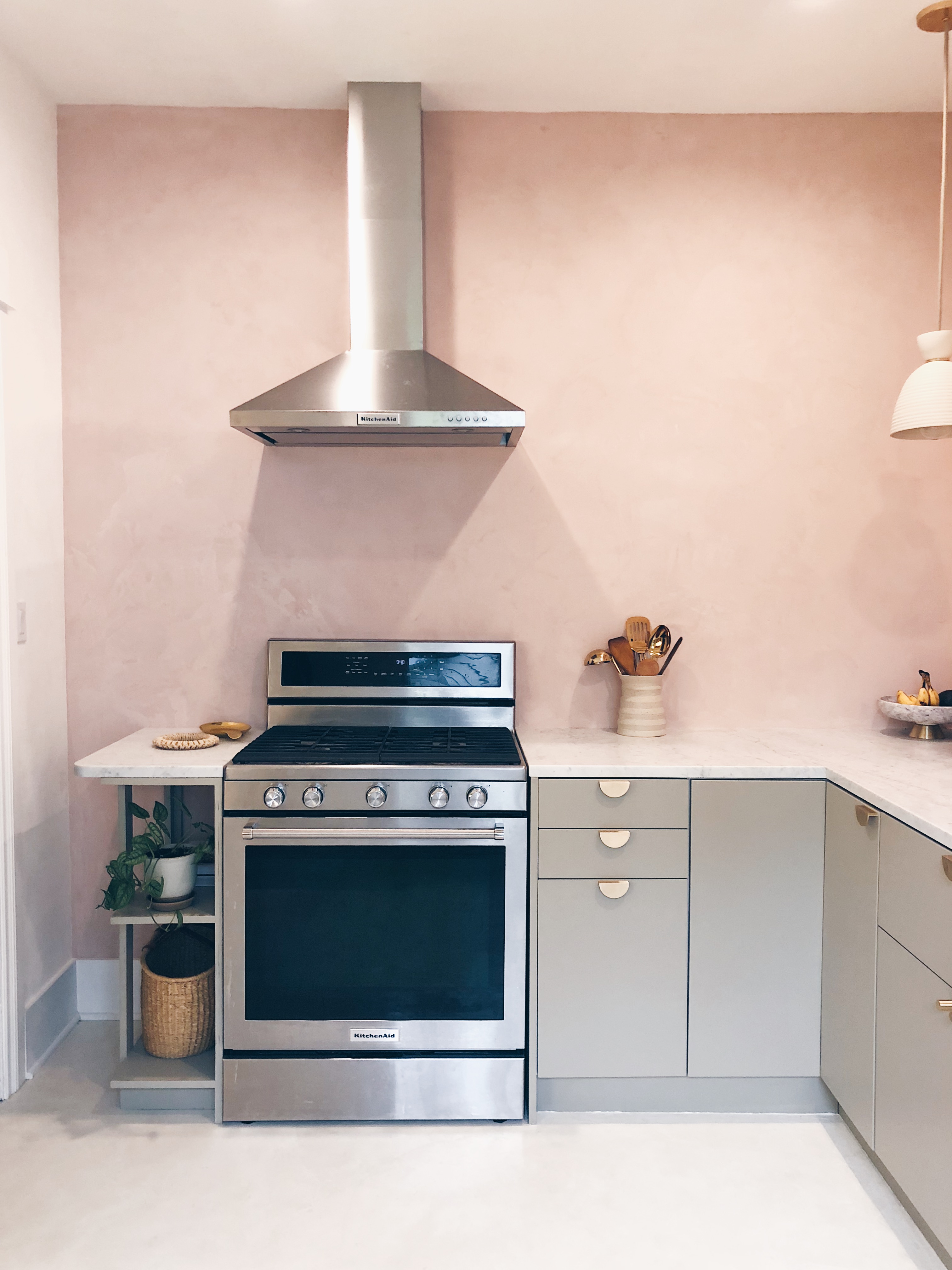 All of the amazing pendant lighting came from Rejuvenation. The pendants I chose are a collaboration with Portland-based ceramics studio, Pigeon Toe. During this whole process, I got to go tour Pigeon Toe's studio and see how the ceramic pendants are made. I love supporting two Portland-based brands, and Pigeon Toe is woman-owned and operated. At one point, I felt like we went overboard with the lighting, as we also did recessed cans and under cabinet lighting, but now that I'm in the space working, I'm SO glad we went with all these lighting options. The pendants really allow for mood lighting, while the cans and under cabinet lighting is great for working. Since our kitchen is north facing and there's only one window, having good lighting really makes a massive difference.
We decided to do the floors pretty last minute, like 4 weeks into the project, but I think it was one of the best decisions we made. Looking at it now, I think the finished floor really lends to the whole vibe and aesthetic of the kitchen. If we had kept the orange-hued wood floors that are in the rest of our haus, I think it would have really detracted from the finished look. It took Forrest a bit to get it just right, as Skimstone is essentially like a plaster application where you hand brush it on. Skimstone is a great option if you want something that looks like concrete.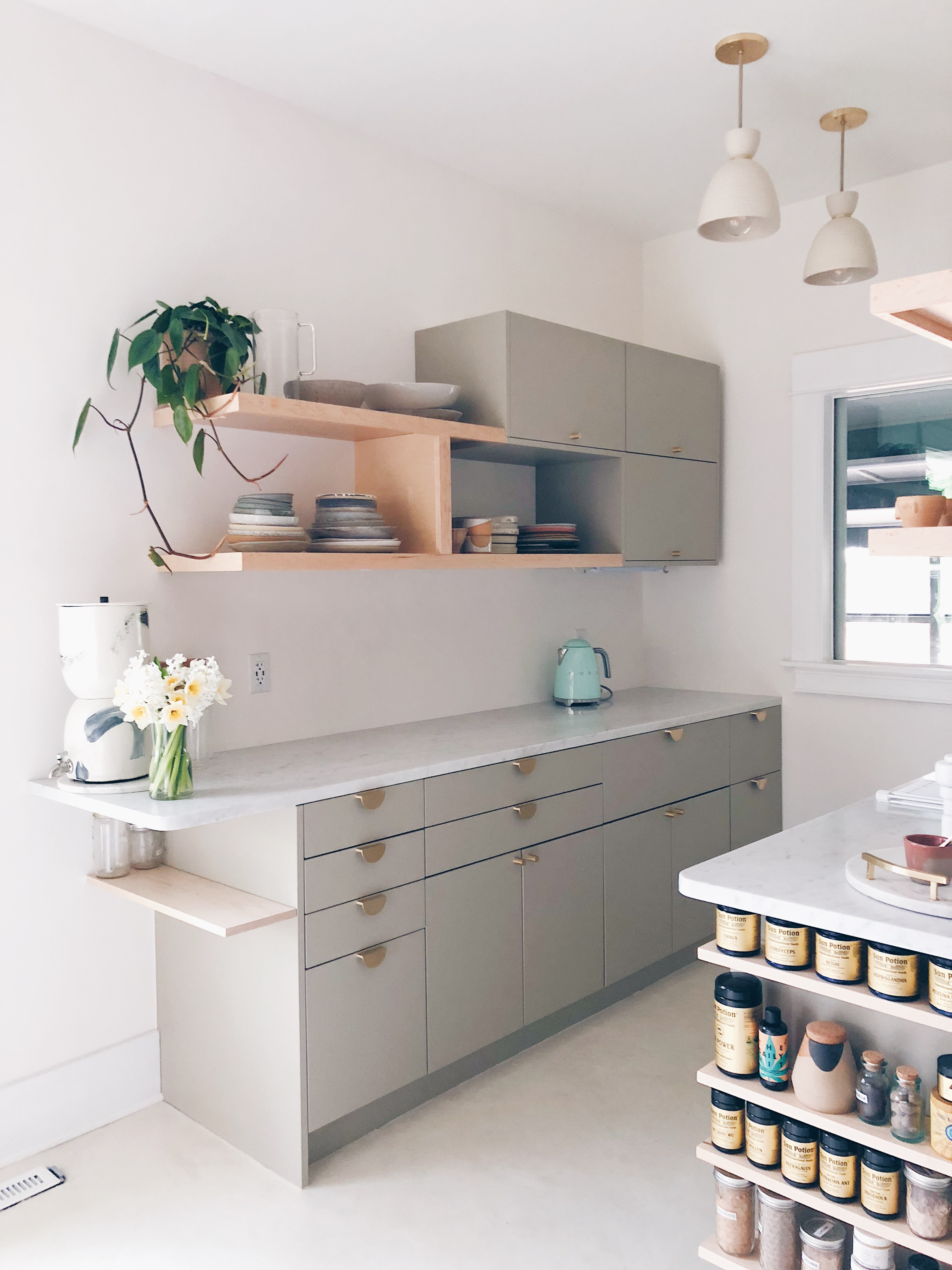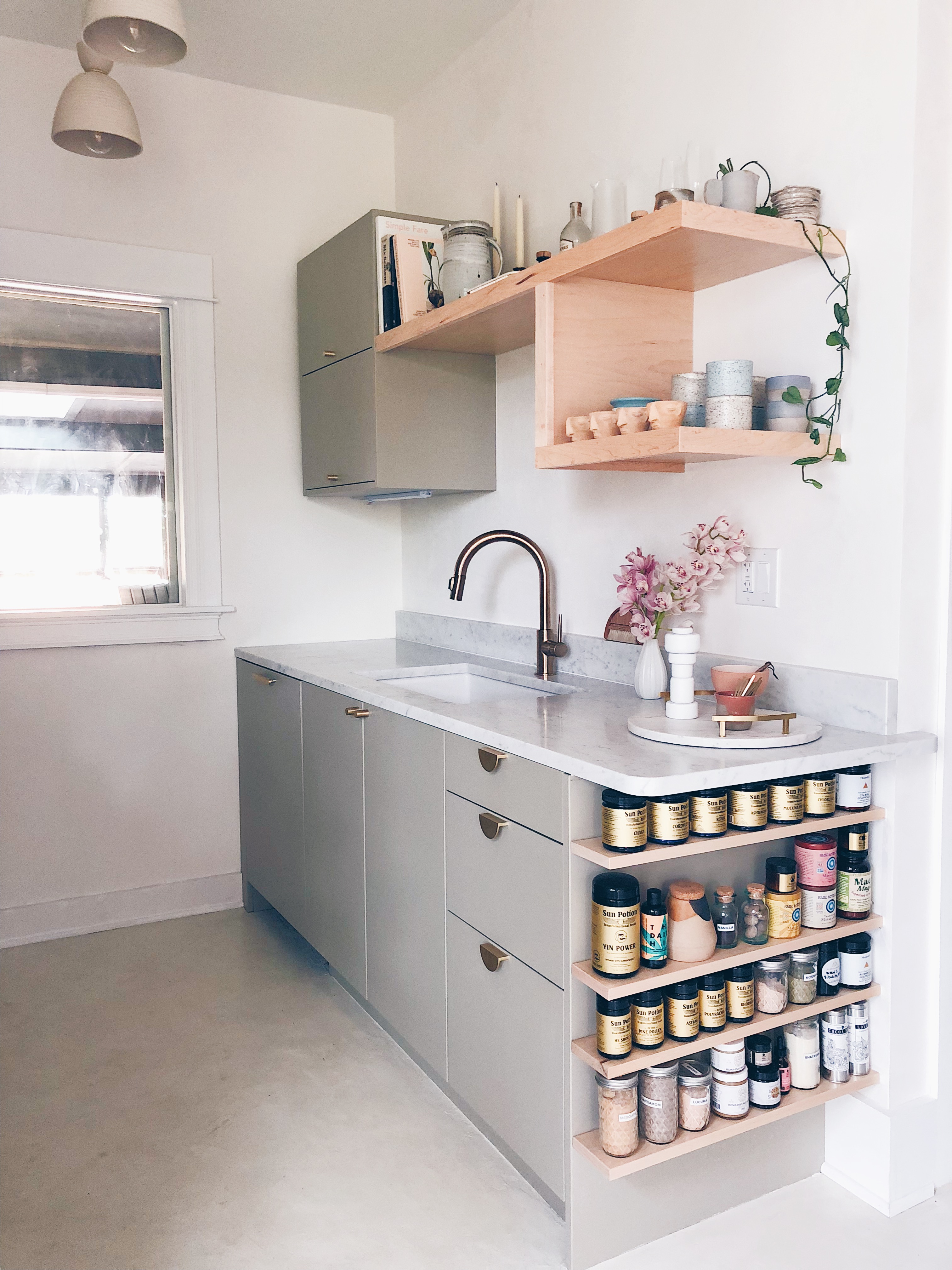 I knew from the get go that I wanted marble countertops, and despite pretty much everyone advising me against it in the beginning, I'm so glad I stuck to my guns. If you aren't familiar, marble etches form acids like lemon, vinegar and tomatoes and can stain easily. Personally, I love the way marble ages. The stains tell a story over time, and I think lend to a beautiful aged look. It's definitely not for everyone. If you are type A or a particularly messy cook, I would suggest going with something more forgiving like quartz or granite.
We spent a good amount of our budget on the countertops, the refrigerator and other design details. Where we chose to save money was on the cabinets. Custom cabinetry can get really, really expensive, so we decided to use IKEA Sektion frames and use semihandmade custom fronts/doors. I'm SO happy with how they look, and that we decided to go this route. Semihandmade has lots of options and I found them incredibly easy to work with.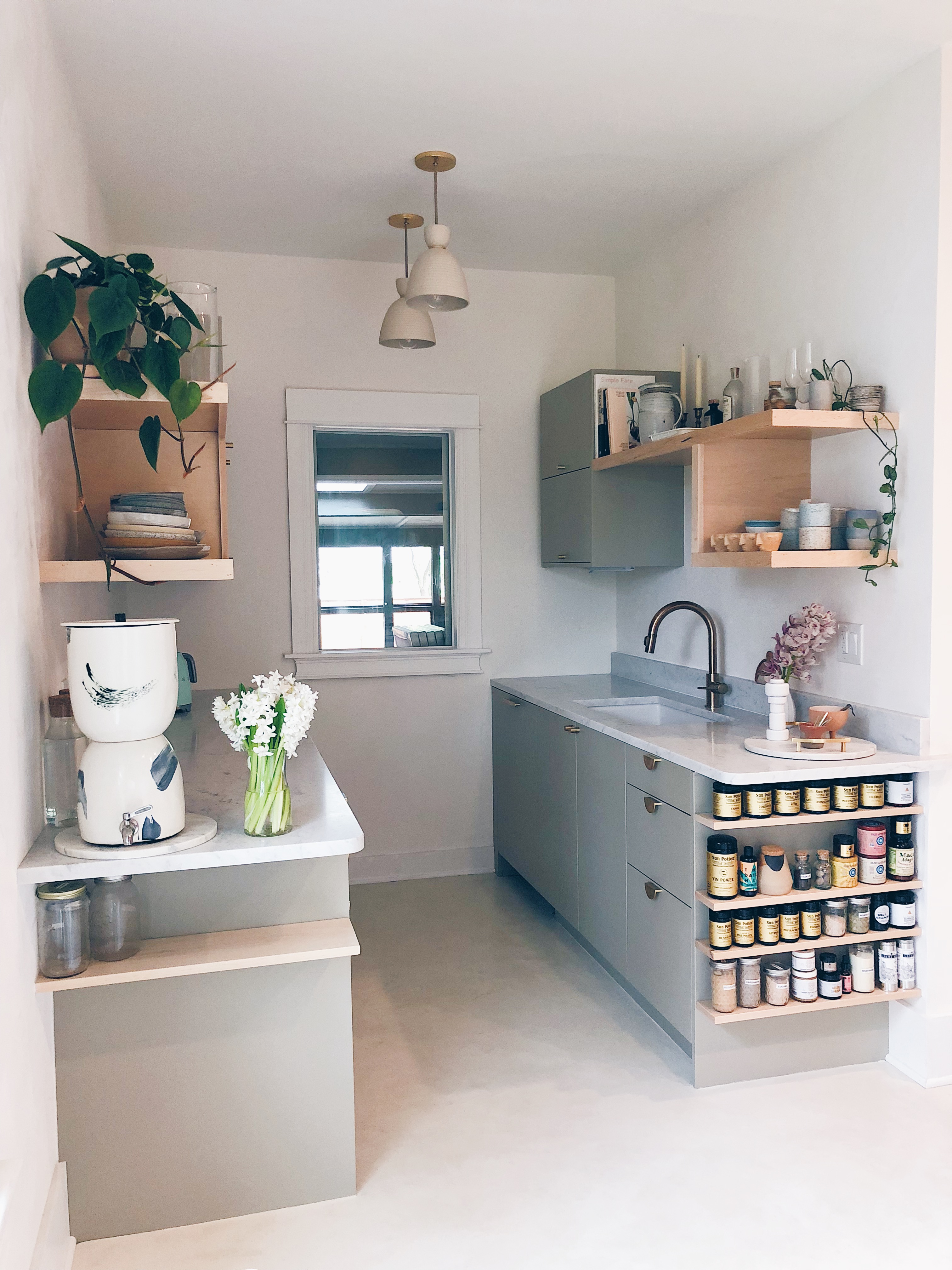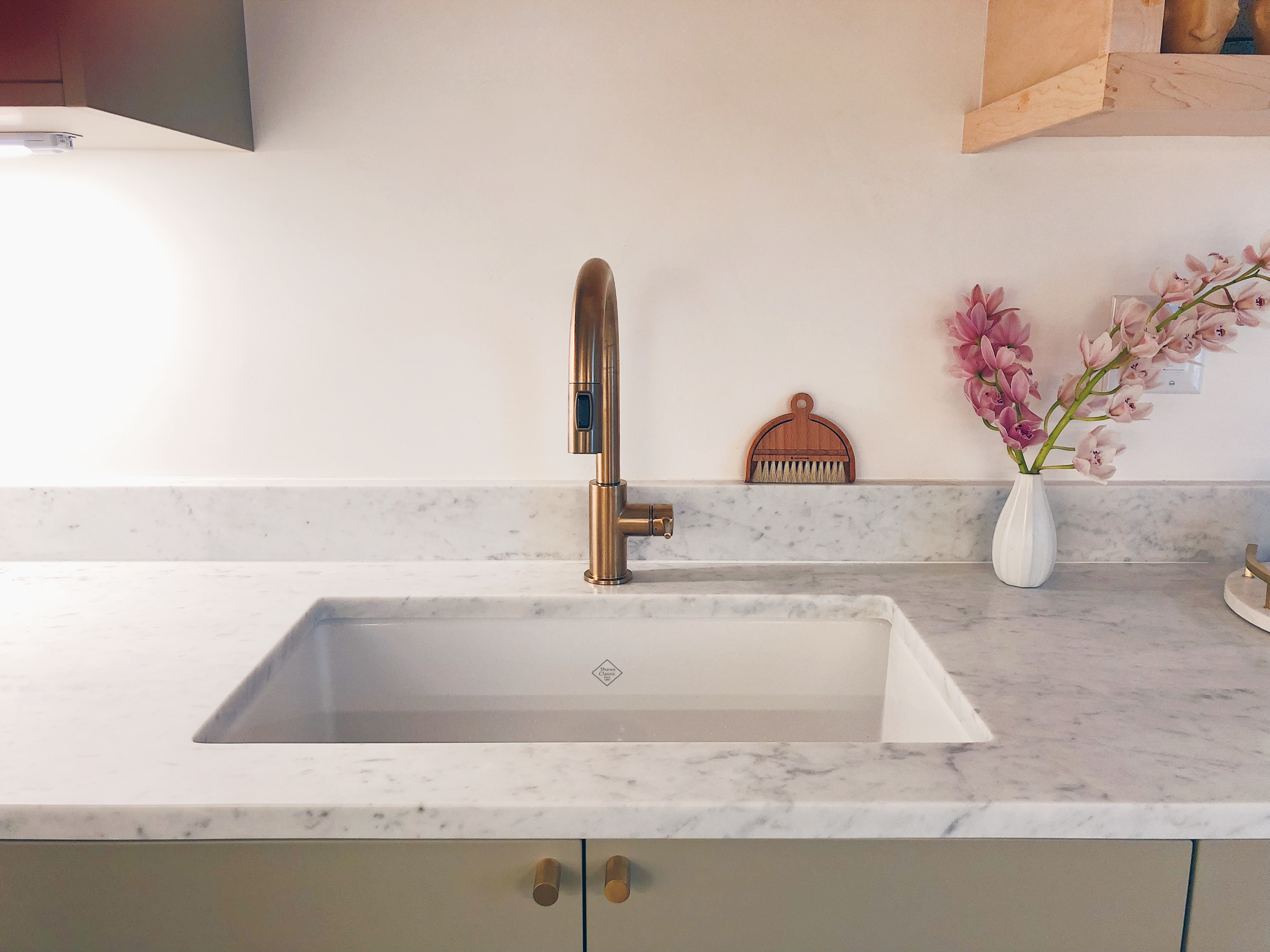 The BEFORE photos…Haha I guess I should have put these at the beginning of the post, but come on, I've been just dying to show you the AFTERs, so I had to get right to it. Honestly, our old kitchen doesn't look so bad, but since I spend most of my day in this space and it's essentially my office, I really wanted to up level the space and make it into something I feel incredibly inspired by.