I want to start this post by saying how grateful I am that I live in a place that has access to clean, running water. The fact that I'm able to use a water filter in my home is a privilege. There are so many people on this planet that do not have access to safe, clean water. If you have the means, please consider donating to charity : water, a non-profit that works to bring clean water to developing countries.
Water is an essential component of human, plant and animal life, as well as the planet as a whole. Our bodies are composed of 70% water, and the earth is composed of 71% water. Water is a part of almost every function of the body, including those on the cellular, tissue and organ levels, as well as circulation, digestion and elimination. Water also carries important minerals throughout our bodies. To maintain optimal health, we should be drinking 8 glasses of water per day. I personally drink at least 3 liters of filtered water a day. Staying very well hydrated gives me energy and vastly improves the quality of my skin and digestion. Being someone who is conscious of what I put in and on my body and how that effects how I feel on a daily basis, I'm also passionate about the quality of water I'm drinking.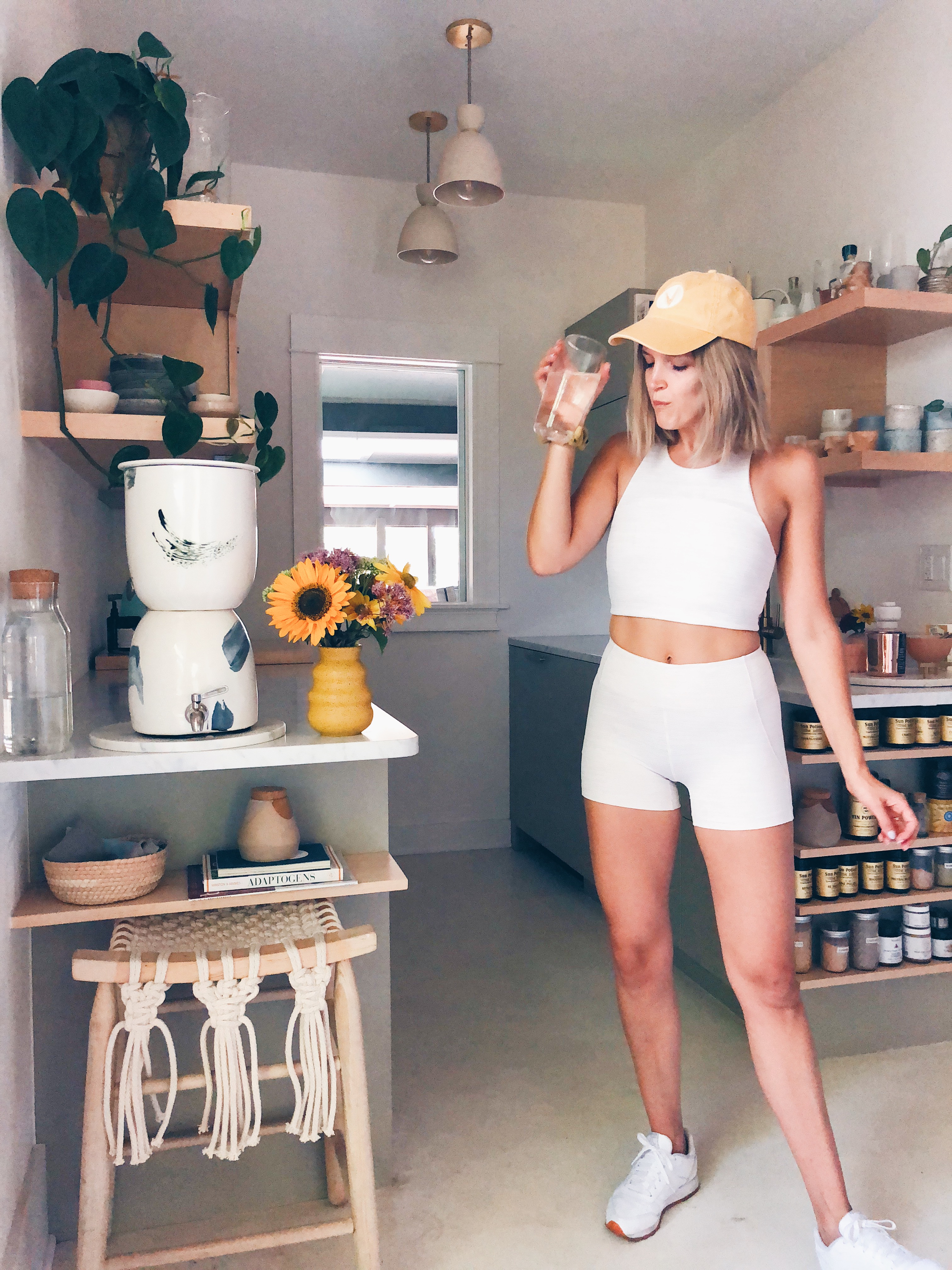 I was introduced to the Berkey Water Filtration System a couple years ago. At the time I was using your standard Brita filter, cycling through filters every 2-3 months. Of course, this was a step up from the days of drinking out of plastic water bottles. When I think of the years back in the late 90s and early 2000s when it was "cool" to drink out of plastic water bottles, I literally feel sick to my stomach. Ugh. And unfortunately, after spending some time in Houston recently, I realized that drinking out of plastic water bottles is still the reality for the majority of people. Buying a water filter and using a reusable water bottle is such an easy way we can help cut down on plastic use, and also save our own money. The Berkey Black Filter is relatively affordable for how powerful it is and how much water each filter can purify before needing to be replaced. (See more about cleaning and replacing filters below.)
Berkey Water Filters can remove:
Lead – Removed to greater than 99.9%.
Iron – Removed to greater than 99.9%.
Mercury – Removed to greater than 99.9%.
Chlorine – Removed to greater than 99.9%.
Bisphenol-A – Removed to greater than 99.9%.
Chloramines – Removed to greater than 99.9%. 
Pharmaceuticals – Removed to greater than 99.5%. 
Petroleum Contaminants – Removed to greater than 99.9%. 
Methylcycohexane-methane – Removed to greater than 99.9%. 
Pesticides – Removed to greater than 99.9%.
Heavy Metals – Removed to greater than 99.1%.
Coliform and e-Coli – Removed to greater than 99.9%.
There's also a Fluoride Removal Filter that can be added to remove [PLEASE NOTE: The regular-size WALTER only fits the Berkey Black Filter, not the fluoride filter.]:
Fluoride: Sodium Fluoride, Sodium Fluorosilicate, Fluorosilicic Acid (aka Hydrofluorosilicic Acid)
Arsenic: V and pre-oxidized Arsenic III
Other residual heavy metal ions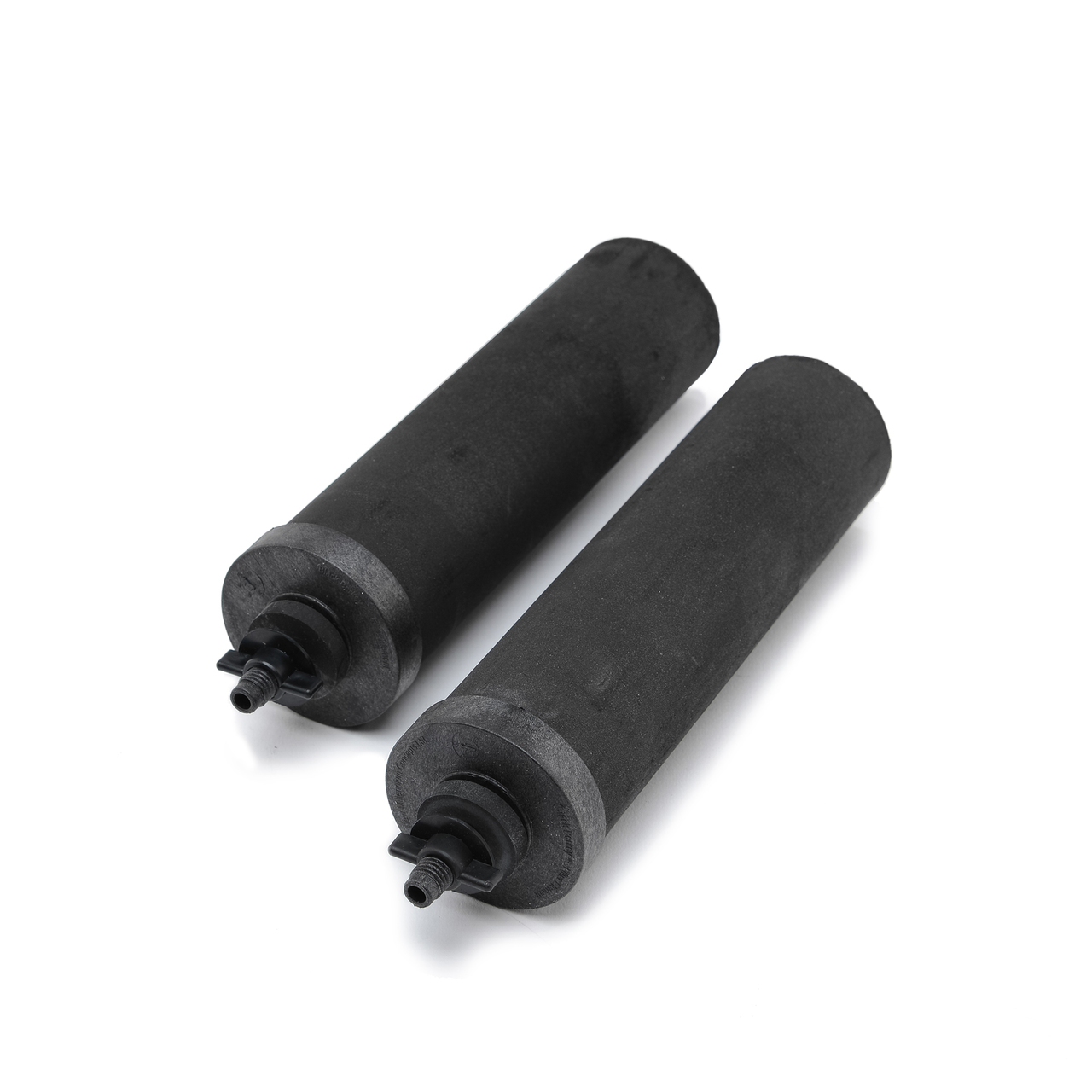 The Berkey Black Filters can purify about 3,000 gallons of water before needing replacement. When the flow of water starts to slow, you can also clean your black filter. The black filters can be cleaned up to 100 times before needing to be replaced. Cleaning the Black Filter is super simple. Just dissemble your filtration system. Clean the Black Filter under running water using a designated scrub sponge or small brush (a new toothbrush works). Rotate the filter with one hand while using the other hand to light scrape clean, or exfoliate as you will, the Black Filter. Reassemble your filtration system, and be amazed at how fast your purified water is flowing again.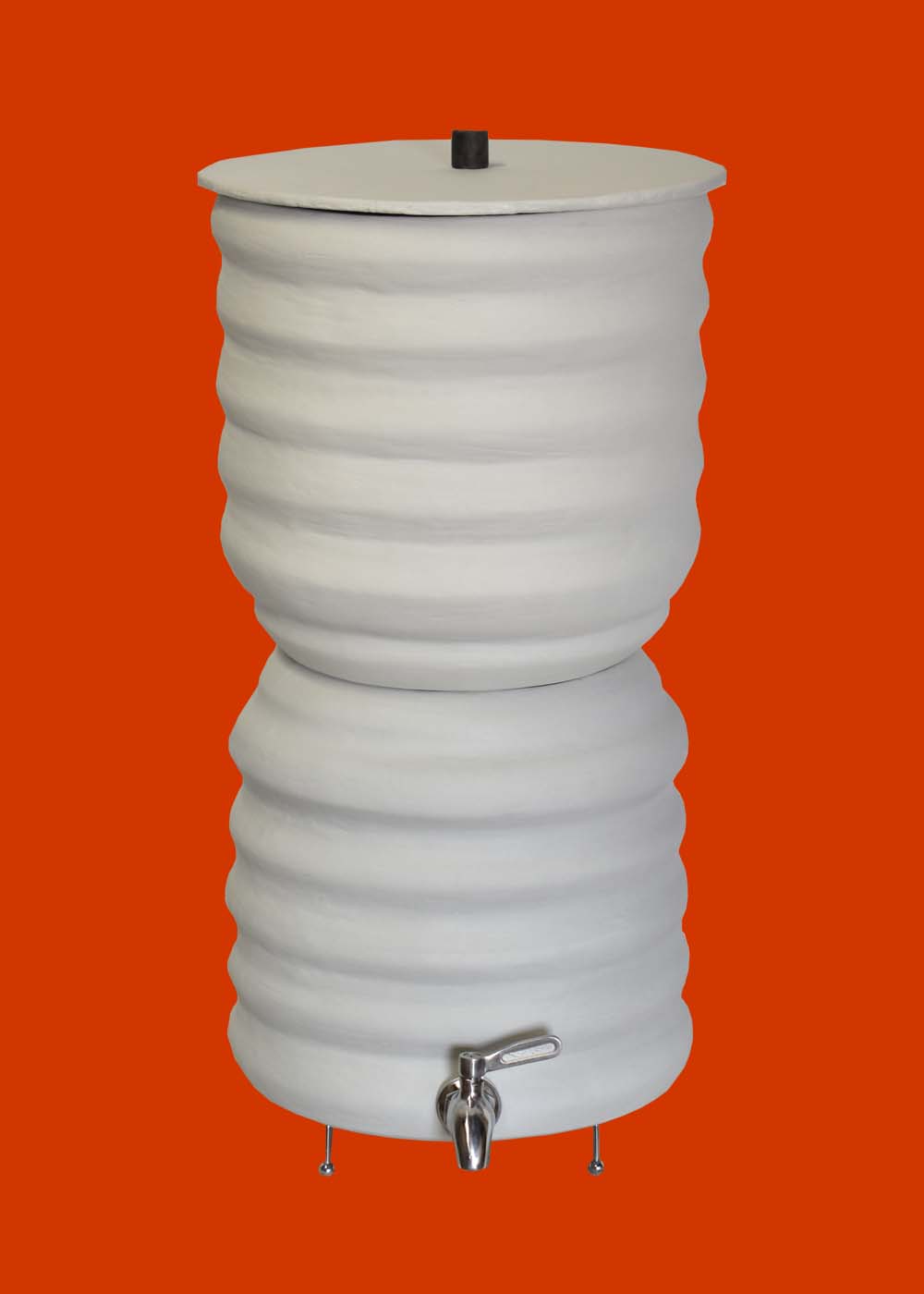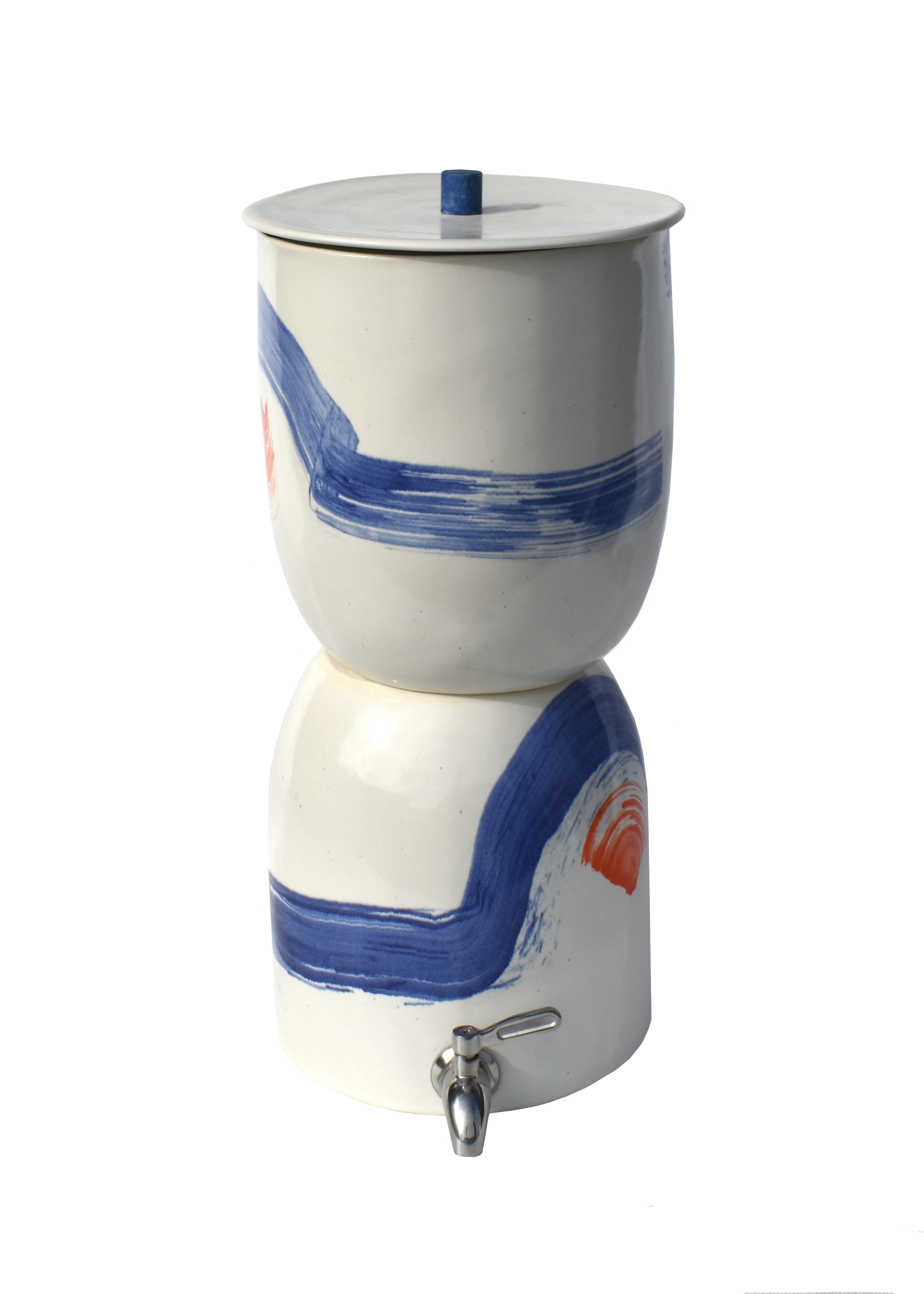 WALTER! We got our WALTER about a year ago, and we could not be happier. WALTER is an amazing ceramic filtration set up that was made to house the Berkey Black Filter. The best of both worlds: a stunning handmade ceramic vessel and an amazing water purification system. The Berkey Black Filter easily screws into the top chamber of WALTER, and the purified water collects in the bottom chamber, ready for you to drink! Cassie, the woman behind WALTER, is offering all Wu Haus readers $20 off their purchase of WALTER (includes everything on site except the all black WALTER) for the next 2 weeks (after that $10 off) with promo code: WUWALTER . [PLEASE NOTE: The regular WALTER only fits the Berkey Black Filter, not the Fluroide filter.] Here's a little insight into Cassie's inspiration behind creating WALTER:
Q: What inspired you to create WALTER?
A: My best friend came home from Brazil with the most beautiful terra cotta water dispenser and I was obsessed with it as an object. I wanted to remake in my own way and but include the most effective filtration available. After a bit of research I found Berkey and designed WALTER to fit their Black Filter. I knew that there wasn't anything on the market that was aesthetically pleasing AND had the best purification and filtration, so I set out to change that.
Q: Why is drinking filtered water important to you?
A: Well, I try to be as thoughtful as I can with what I choose to put in my body, so it only makes sense to be intentional with our base element, water. What I have really become interested in is the accidental ritual that happens when you use WALTER to purify. It really becomes a mindful measuring of intake and outtake, in this very calming way. It slows everything down and makes you more conscious….and has actually helped everyone in my house drink more water! If you are putting effort into your water quality you inherently think about it more. You value it more and you want it more.
Q: What's next for WALTER? Any new products/styles on the horizon?
A: We recently launched the BIG WALTER, which houses two filtration elements and can accommodate a fluoride filtration attachment in the lower chamber. Dual filters means it can purify more water, faster than the original WALTER, so it's perfect for larger families and offices. I envision it taking the place of the conventional water cooler (no more water deliveries and plastic jugs). It makes way more sense financially, has zero carbon footprint and it's gorgeous!