Oh the holidays! I love to hate them and I hate to love them. This time of year brings up a lot of emotions for many of us. Feelings of grief, sadness, resentment, loneliness. Having moved to Oregon almost 15 years ago, I've spent the holidays away from my blood family most years. I've been alone on the holidays, spent them with friends, other people's families. I've worked retail jobs and skipped the holidays all together. You name it.
As I've gotten older, I've felt the pressure and anxiety surrounding the holidays ease. I've taken what I love about the holidays – sharing food with friends or family – and I've left what does not serve me. I've lowered my expectations and have learned to just enjoy the day for whatever it ends up being. Most of all, I use this time of year as a moment to really slow down, stop and think about how grateful I am for all that I have in my life. If the holidays are hard for you, I want you to know I support you and love you. There is no pressure for these days to be something that does not resonate with you. Live fully in your truth, your sadness, your grief, your power, your love, your anger, whatever it is you are going through.
Like I mentioned, my favorite part about the holidays is sharing food with family and friends. December is usually packed with social engagements for me. I try to invite as many people as I can over for intimate meals, to talk, to share with one another about how the year has been, the hardships, the triumphs. It's a great time to check in with the people in our lives. My favorite part about food is its powerful ability to bring people together. And my favorite way to entertain or share food is with an elaborate spread of mostly veggies and fruit that people can pair with various spreads and dips. Eating with their hands, casually and informally.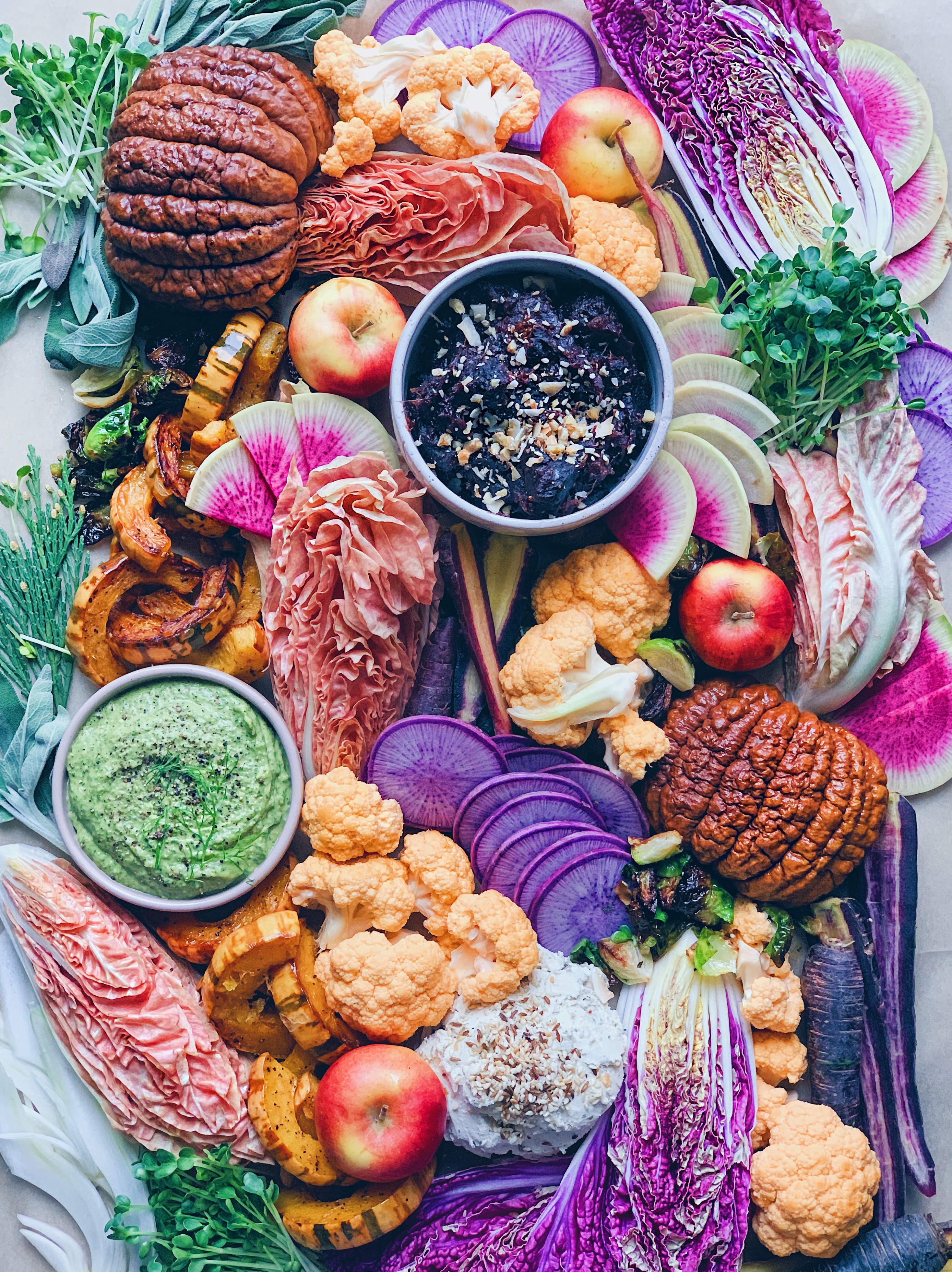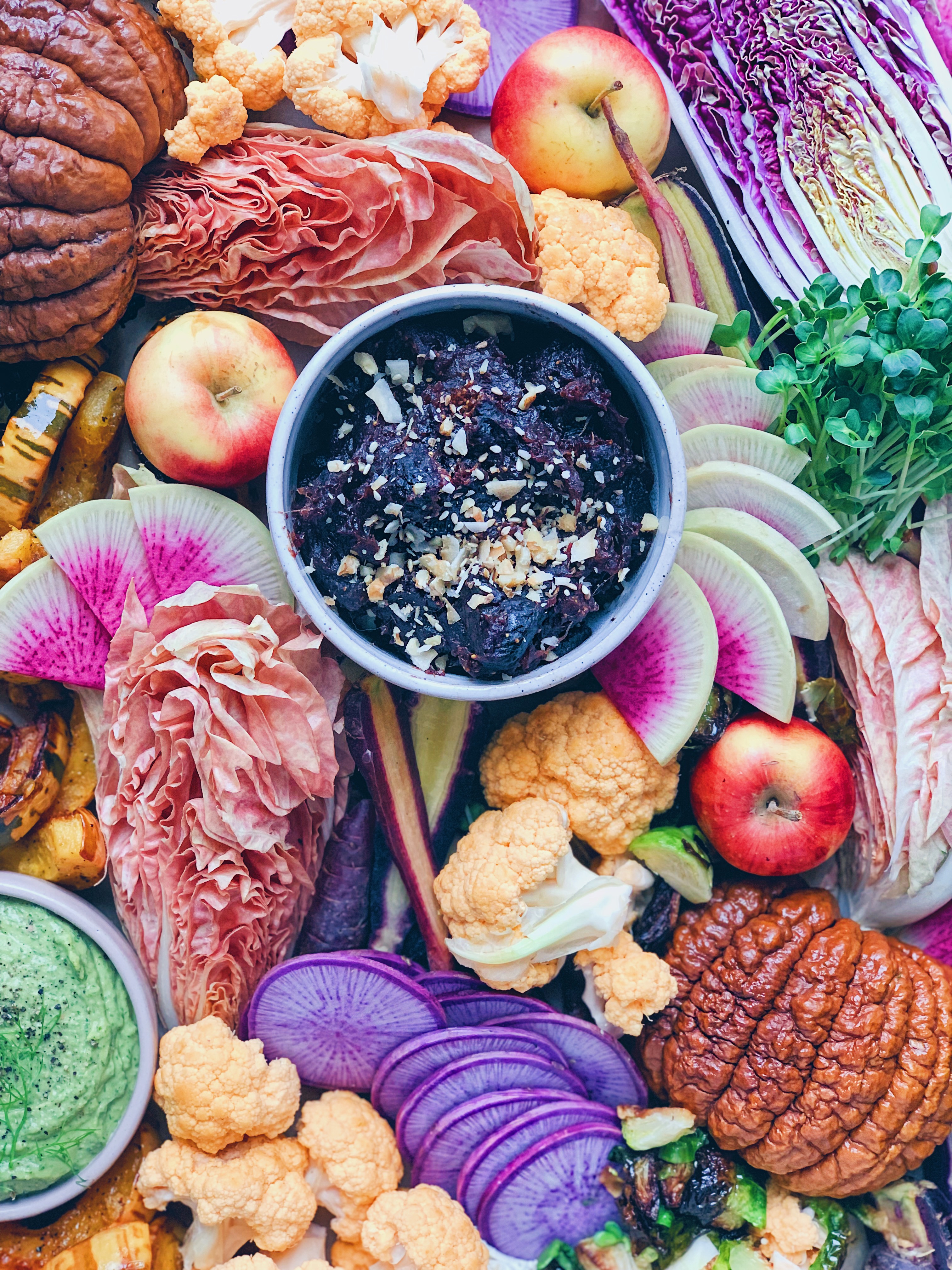 These fig and date conserves are perfect for serving on your holiday snack board or charcuterie. I especially love the conserves paired with nut cheeses, regular cheese, meats and smeared on bread. The spices add warmth and depth to the flavor while the apple cider vinegar, lemon and orange give a bright acidity that makes the conserves pop! I especially like this flavor profile for the holidays, but it would be nice all winter long. I get all my herbs and spices from Mountain Rose Herbs. The have pretty much every one you would ever need. The quality is top notch, and everything is available in bulk quantities. If you don't move through your spices very quickly however, Mountain Rose also sells everything in smaller portions too. Most of their products come in quantities ranging from 1 oz to 1 lb. Herbs and spices should be enjoyed fresh, so I typically do an inventory of my spices and herbs every 6-8 months.
Spiced Fig and Date Conserves
[Makes about 2 cups]
1 1/2 cup dried mission figs, cut into small pieces
1 cup medjool dates, pitted
2 cups water
1 Tablespoon apple cider vinegar
1 Tablespoon lemon juice
1 Tablespoon freshly squeezed orange juice
2 teaspoons orange zest
1/2 teaspoon cinnamon
1/2 teaspoon vanilla bean powder (or 1 teaspoon vanilla extract)
1/4 teaspoon freshly grated nutmeg
1/4 teaspoon cardamom
1/4 teaspoon sea salt
In a small sauce pan over medium heat, bring the figs, dates, water and all other ingredients to a low boil. Reduce heat and allow ingredients to simmer for about 20 minutes stirring every 3-5 minutes.
Once the conserves have cooked down for 20 minutes, put the lid on the sauce pan, and allow to simmer for another 10 minutes, stirring once or twice to be sure the bottom doesn't burn.
Let cool completely. Using a potato masher, mash the conserves to desired consistency. Place in an airtight jar and store in the refrigerator for up to a month.