You guys!!! These No-Bake Lemon Poppy Seed Glazed Donut Holes are seriously a dream come true. After I made them this morning, I gave one to my husband. He took a bite and said, "This is why I love you." These little snacks are sweetened with dried unsweetened and unsulfured apricots and a small amount of coconut nectar. The base is made with gluten-free oats and walnuts. If you don't do walnuts, you could try subbing soaked sunflower seeds. I haven't tried this substitution, so if you do, I'd love to hear how they turn out. I seriously love how many amazing products I can get from Mountain Rose Herbs. I love stocking my pantry and spice cabinet with their bulk goods. The vanilla bean powder in these donuts is definitely  a splurge (and I think a worthy one), but the recipe works great with vanilla extract as well. Enjoy!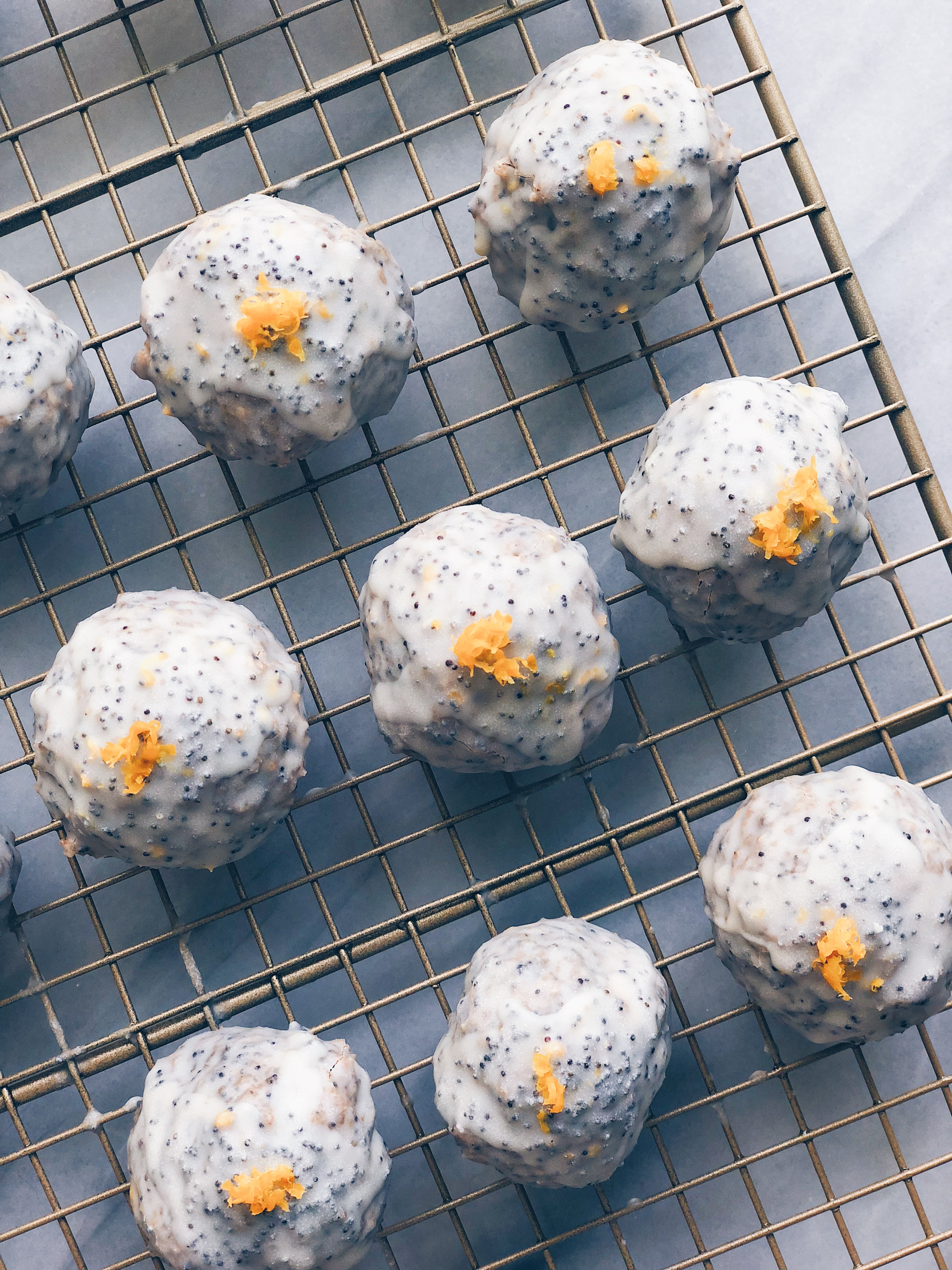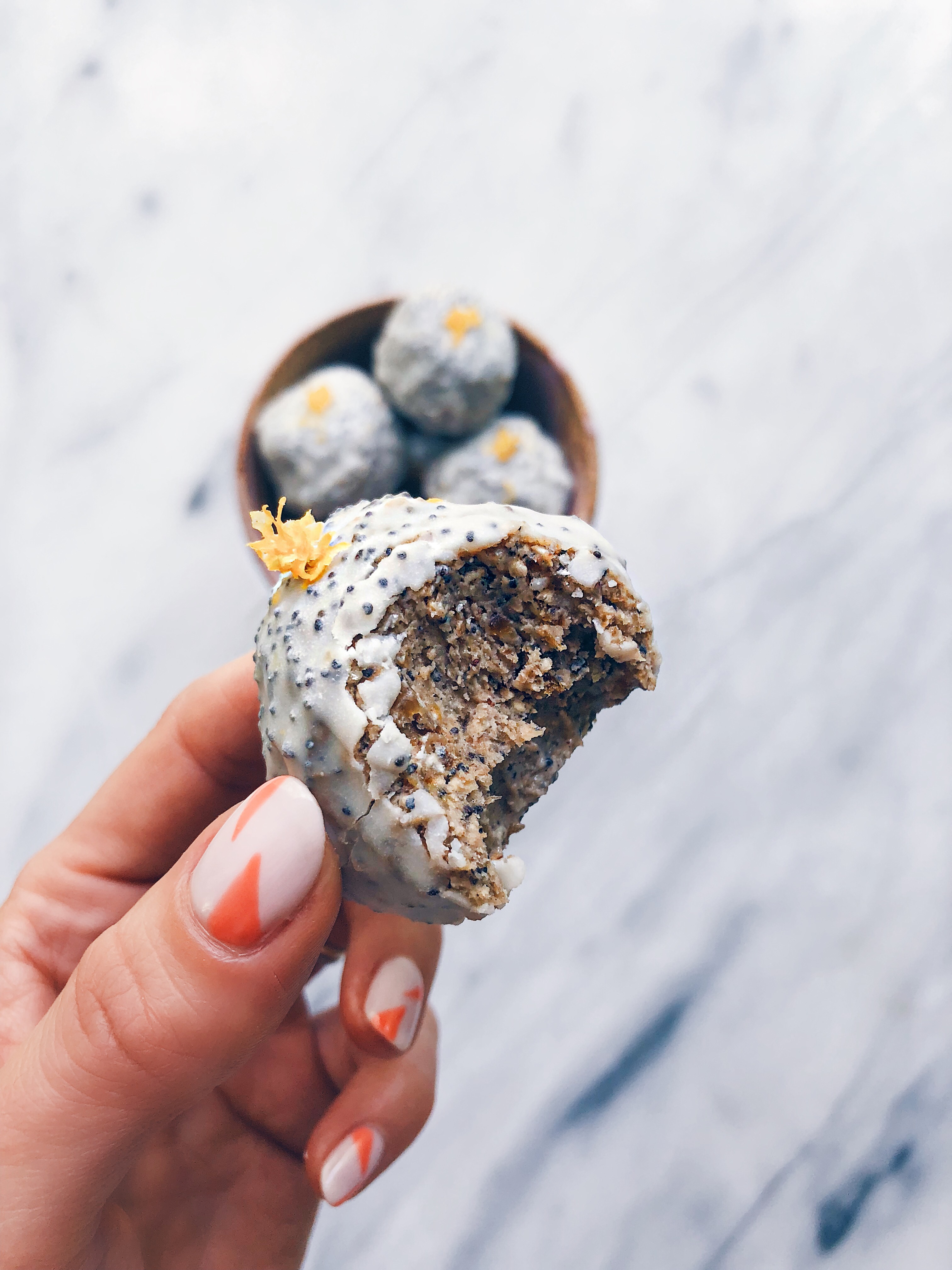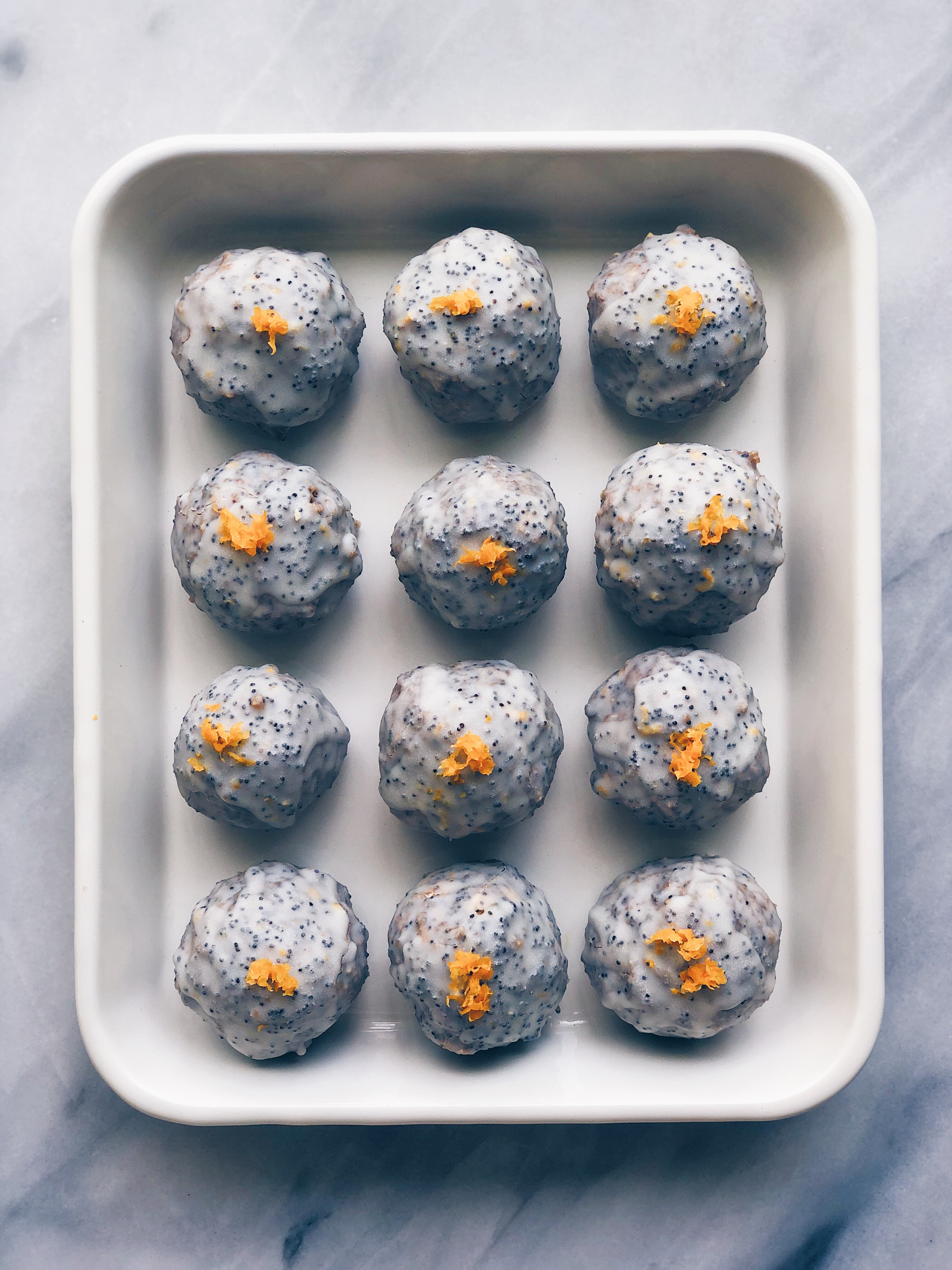 No-Bake Lemon Poppyseed Glazed Donut Holes
[Makes about 16 donuts]
Donuts:
1 ¼ cups gluten-free rolled oats
1 ½ cups raw walnuts
2/3 cup dried unsweetened and unsulfured apricots
1 teaspoon vanilla bean powder (or 2 teaspoons vanilla extract or inside of 1 vanilla bean)
¼ cup melted coconut butter
¼ cup melted coconut oil
2 Tablespoons coconut nectar
¼ teaspoon Himalayan pink salt
Juice from 2 medium-size lemons
2 teaspoons lemon zest
¼ cup poppy seeds
Glaze:
6 Tablespoons melted coconut butter
2 Tablespoons melted coconut oil
2 teaspoons poppy seeds
1 teaspoon lemon zest + more for garnish
Add all donut ingredients except poppy seeds to a food processor and process until dough forms and all ingredients are well mixed. Add the poppy seeds and pulse a few times until well combined. Dough will be wet and sticky.
Form into about 16 balls of about 1 Tablespoon each. Place on a parchment paper lined tray and freeze for about an hour until firm.
Once the balls are firm and chilled, make the glaze. Place a smaller bowl into a large bowl of hot/just boiled water to melt the coconut oil and butter and to keep everything liquified as you glaze the donuts. Add all ingredients to the smaller bowl and whisk until smooth. Dunk each donut in the glaze and roll until fully coated and return to the parchment-lined tray. The glaze should harden almost immediately since the donuts will be cold from the freezer. If the glaze doesn't harden because you are in a warm climate, place the tray back into the freezer to harden.