This plant-based pasta primavera is all I want to eat lately! So creamy and satisfying and uses some of my favorite spring veggies. I love the optional dukkah topping, but the dish is great without it as well. If you are allergic to nuts but okay with coconut, you could try making the cream sauce using a can of coconut milk instead of the cashews and nut mylk. The cashew cream sauce is a great base to use for making other types of sauce. You could add fresh herbs or different spices to create new variations. Happy weekend, everyone!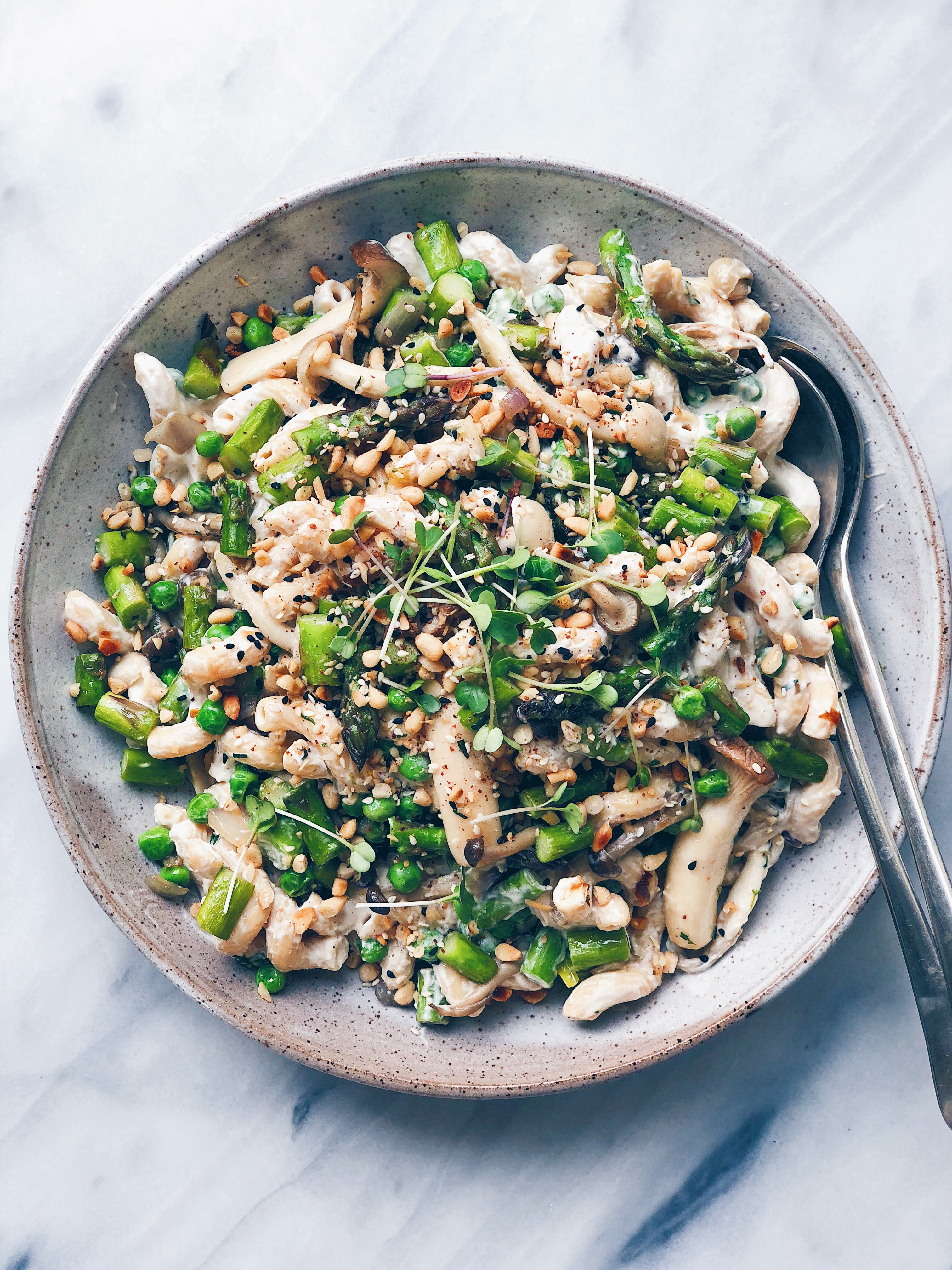 Plant-based Pasta Primavera
[Serves 3-4]
Cashew cream sauce:
1 cup raw cashews, soaked at least 4 hours then drained and rinsed well
½ lemon, juiced
1 cup unsweetened, unflavored nut mylk (I used Malk Unsweetened Cashew Milk)
3 roasted (or raw) garlic cloves
2 teaspoons nutritional yeast
1 teaspoon salt
1/2 teaspoon black pepper
Pasta:
1 package of your favorite pasta (I used Banza Cavatappi)
1 Tablespoon avocado oil, or your favorite cooking oil
1 lb asparagus, cut into 1" pieces
3 shallots, diced
16 oz fresh peas (you can substitute frozen peas)
12 oz mixed mushrooms (shitake, trumpet royal, button, etc.), sliced
½ lemon, juiced
2 Tablespoons fresh thyme, minced
2 teaspoons red chili flakes (optional)
Salt and pepper, to taste
Optional Dukkah Topping:
½ cup pine nuts, toasted in a dry skillet, very roughly chopped
3 Tablespoons sesame seeds, toasted in a dry skillet until golden
2 teaspoon nigella seeds, toasted in a dry skillet until fragrant
1 teaspoon dried thyme
½ teaspoon sumac
½ teaspoon salt
½ teaspoon pepper
Combine the cashew cream ingredients in a blender and blend on high for about 2 minutes or until very creamy. Store in refrigerator for up to 3 days.
Heat a large pot of water and cook pasta according to directions. Rinse and set aside.
While pasta is cooking, in a large skillet, sauté the shallots in the olive oil until translucent. Add the mushrooms and asparagus and sauté about 5 minutes until vegetables are cooked, but the asparagus are still firm. Add the peas and fresh thyme and cook on low heat until the peas are warm.
If making the dukkah, toast the nuts and seeds until golden and fragrant. Roughly chop the pine nuts. Mix all ingredients together. Store in an airtight container.
Add the cooked pasta and your desired amount of cream sauce. Mix until all the ingredients are well combined. Season with salt and pepper or the dukkah to taste and a generous squeeze of lemon. Enjoy!