I had SO much fun collaborating with my talented friend, Shannon Sims of Food Art Love, on this rainbow snack board shoot. Everything I know about making an insanely gorgeous spread of snacks I've learned from Shannon. When we decided to create a completely vegan food gradient board, we both were giddy with excitement. I love playing with color and gradients, and Shannon is a rainbow queen! Snack boards are one of my absolute favorite items to entertain with. They're so much fun to make, an impressive visual and conversation starter for any gathering and pack a nutritional punch.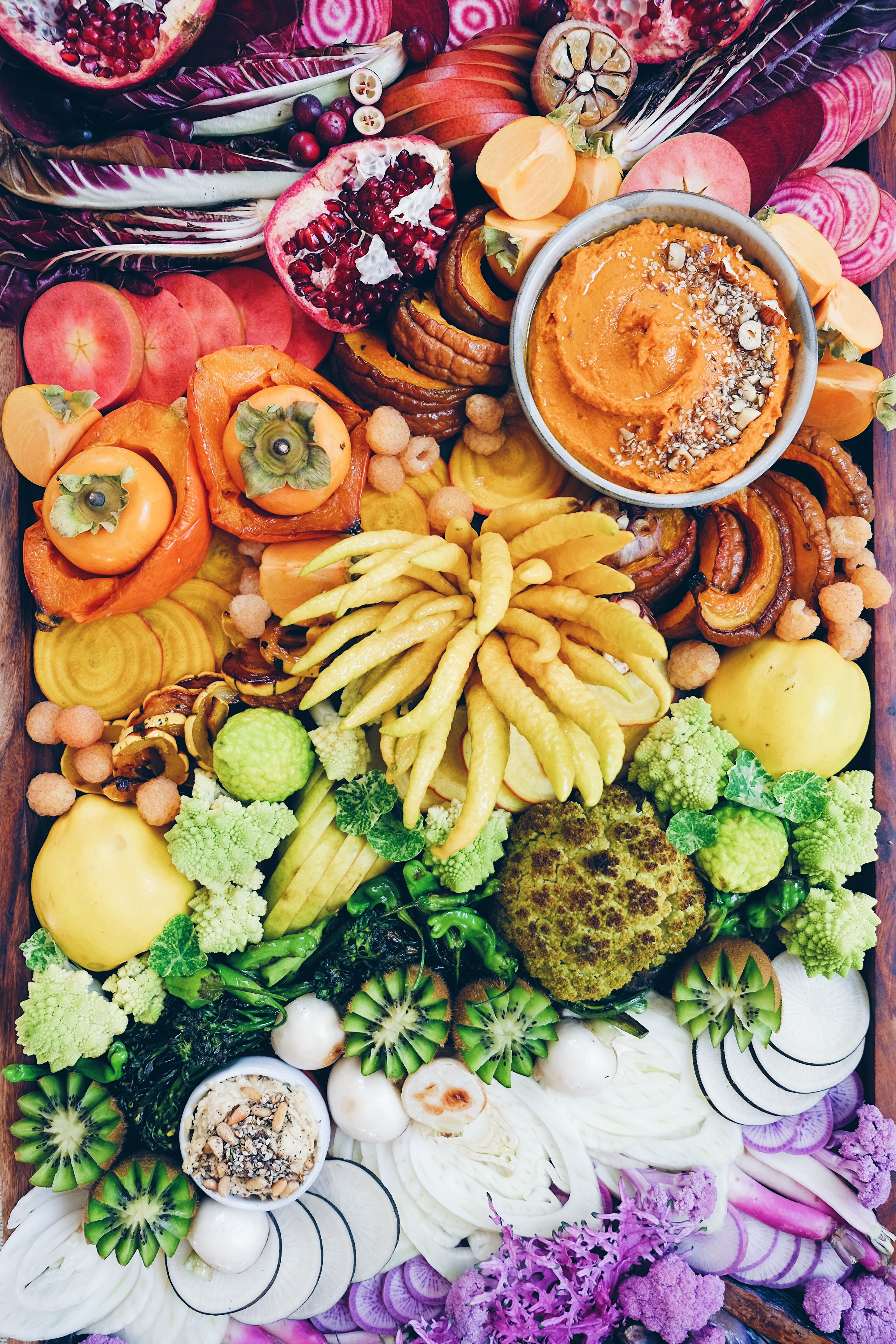 Here are Shannon's top tips for creating an impressive snack board:
– Consider planning to attend your local farmers market to source your ingredients the weekend before you make your platter. If shopping at the grocery store, feel for veggies that are crisp and firm, if it is soft to the touch, skip it and try something else. If you are lucky to have a winter market where you live, these options will be the freshest, most affordable, and likely the best variety of unique and visually interesting things.
– Consider color; try to select a variety of different colors when you are shopping. Remember colors are not only BEAUTIFUL to look at but also represent a rainbow of nutritional diversity! When you have all your prepared material ready for assemble, try setting down your first color/produce item and then ask yourself what color you would love to see next to that color? (A question borrowed from visual artist Flora Bowley's intuitive painting process). This will help you avoid accidentally having two or three white or tan colored vegetables all next to each other (unless this is what you're going for). Play with c o n t r a s t. Let it be fun and creative and don't be afraid to step back and look at it from a few feet away to get the "big picture"!
– Consider shape; how you cut (or leave whole) a produce item will either invite or dissuade someone to reach for it. Whole items add beautiful visual focal points, but are not always practical for actually eating. For example I love cutting vegetables like sweet potatoes or fingerling potatoes into long slender wedges allowing you to repeat shapes and create visual cohesion. Cutting things into manageable slices or wedges also encourages people to interact and eat the food.
– Consider texture; do your best to bring forward, or highlight the "personality" of a fruit of vegetable and provide a variety of different textures and flavor profiles. Slow roasting consentrates sweetness and makes things softer — ideal for winter squash and potatoes, etc. Leaving things raw keeps them bright and crunchy — ideal for radishes, carrots, kohlrabi, etc. Steaming is a great middle option to keep everything from being covered in oil or being cold and completely raw. Steaming is also a great option for more delicate things like romanesco or purple cauliflower that will lose their vibrant color with too much cook time. (See suggestions below!)
– Lastly, don't overthink it! Let this be a FUN and creative exercise where things are heaped and piled in a way that looks (and feels) pretty effortless. It doesn't need to be perfect! Plan out an idea ahead or just dive in and improvise – I find this is often when I do my favorite work. Enjoy the process. And the results.
These are just some suggestions to get you started. Get creative! The more flavors the better.
RAW: Radish, fennel, endive, beets, cucumber, carrots, kale, green beans, olives, nuts
ROASTED: Whole garlic bulbs, broccolini, cauliflower, romanesco, any variety of squash, potatoes, yams, shallots, celeriac, parsnips, leeks, tomatoes, eggplant, brussel sprouts, asparagus
SEARED + SAUTÉED: Radicchio, turnips, padron or shishito peppers, mushrooms
PICKLED: Carrots, apples, cucumbers, onions, radishes, green beans
FRUIT: Apples, pears, persimmons, berries, figs, pomegranate, grapes, dried apricots, citrus, kiwi
DIPS: Hummus, romesco, roasted carrot dip (see below!), caramelized fennel dip
CHEESE: Depending on the size of your board, you may want to have a variety of cheese. Be sure to include a hard cheese, a soft cheese, a goat cheese and a vegan/non-dairy nut-based cheese.
MEATS: Smoked salmon or trout, cured meats, cooked sausage, sliced turkey or any other deli meat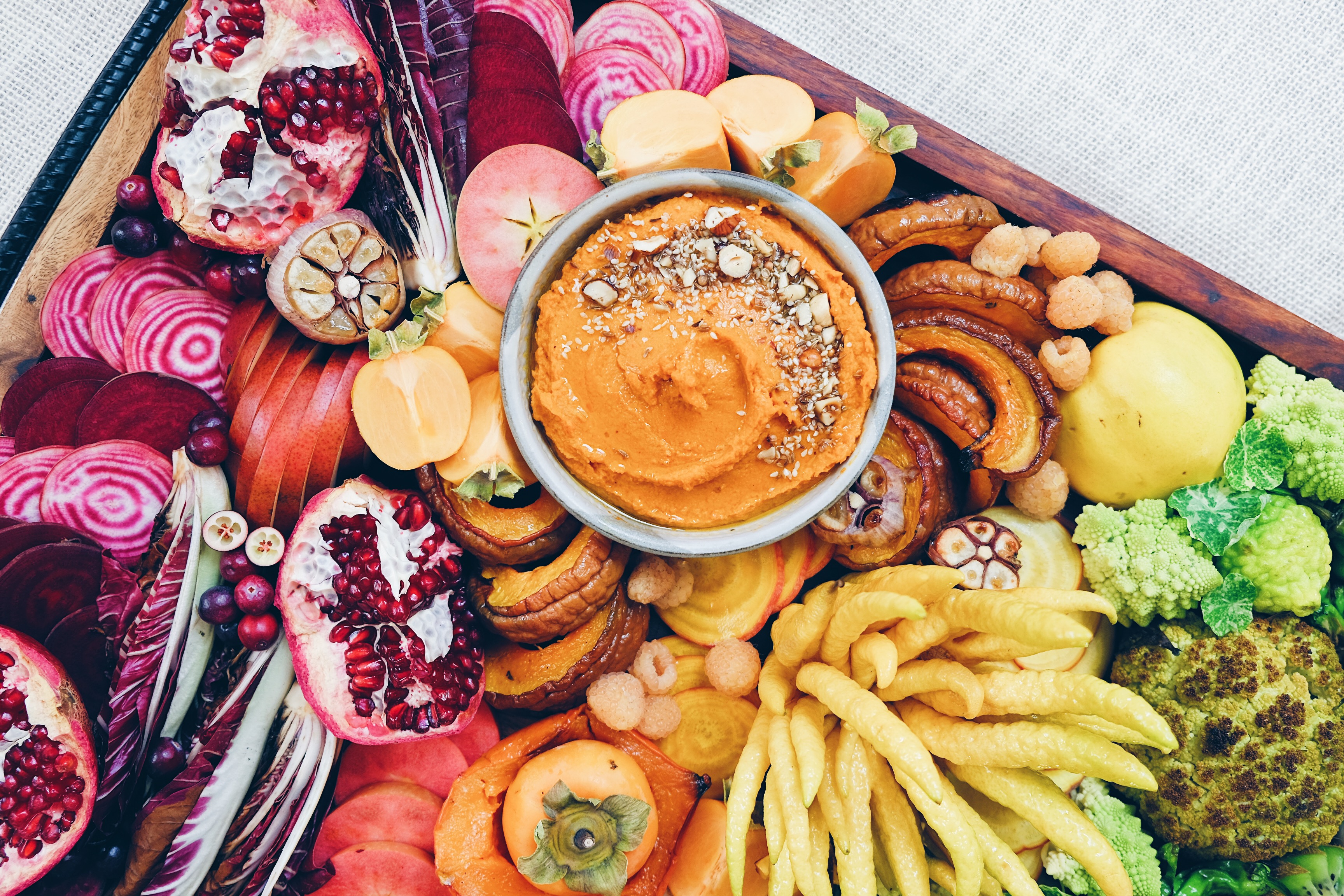 Roasted Carrot Harissa Dip
[Makes 5 cups]
3 pounds of carrots, roughly chopped
2 cans of white beans, drained and rinsed
6 roasted garlic cloves OR 3 raw cloves
1/2 cup extra virgin olive oil
2 Tablespoons harissa
4 teaspoons smoked paprika
4 teaspoons salt
4 teaspoons apple cider vinegar
Juice of one lemon
Preheat oven to 400°. Roast chopped carrots in preheated oven for 25-30 minutes or until soft and golden.
Combine all ingredients in a food processor and blend for about 2 minutes until smooth.