These last couple of days have felt so surreal. I've been feeling a spectrum of emotions. Yesterday was especially difficult. Today, I'm trying to take a step back from all the emotions and focus on actionable change. What can I do to help my local, national and global community? For starters, I set up monthly payments of $10 to both Planned Parenthood, Environmental Defense Fund and the ACLU. It's only $30 a month, but think about what a difference that would make if everyone donated even just $5 a month. I know we are all working our asses off and so many people struggling to make ends meet, but these organizations need us more than ever right now. This is where I chose to start. In the days ahead, more participation, energy and commitment will be needed. Today, I'm also focusing on how many amazing, passionate, caring, loving and kind people there are in the world that are dedicated to progressive change. This is no time to wallow in our sadness. Now more than ever, we must be strong together.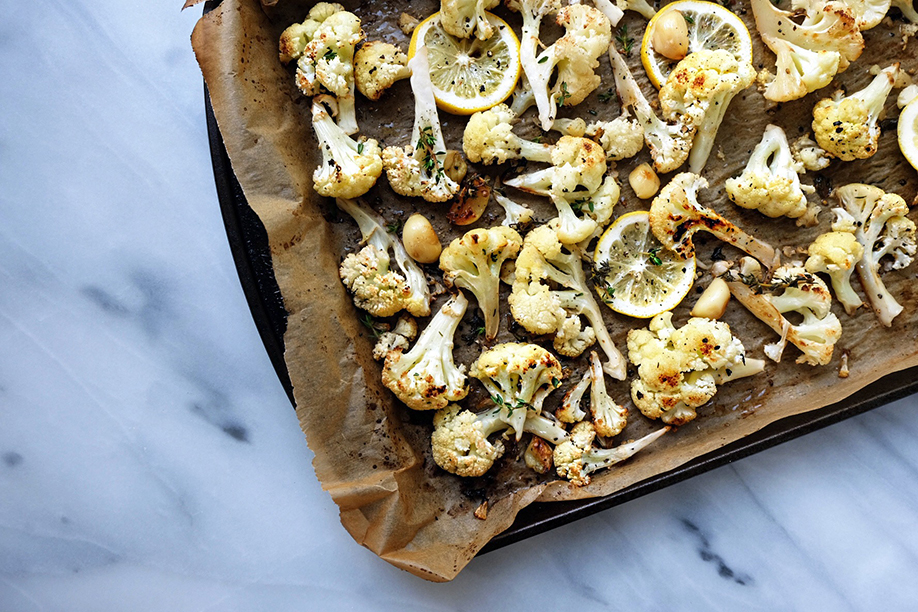 One of my favorite things about food is its ability to bring us together. My other favorite thing about food is its ability to offer comfort, warmth and nourishment. All things we need right now. I hope this recipe brings you even the smallest sense of warmth. Share and enjoy it with your friends, family and neighbors.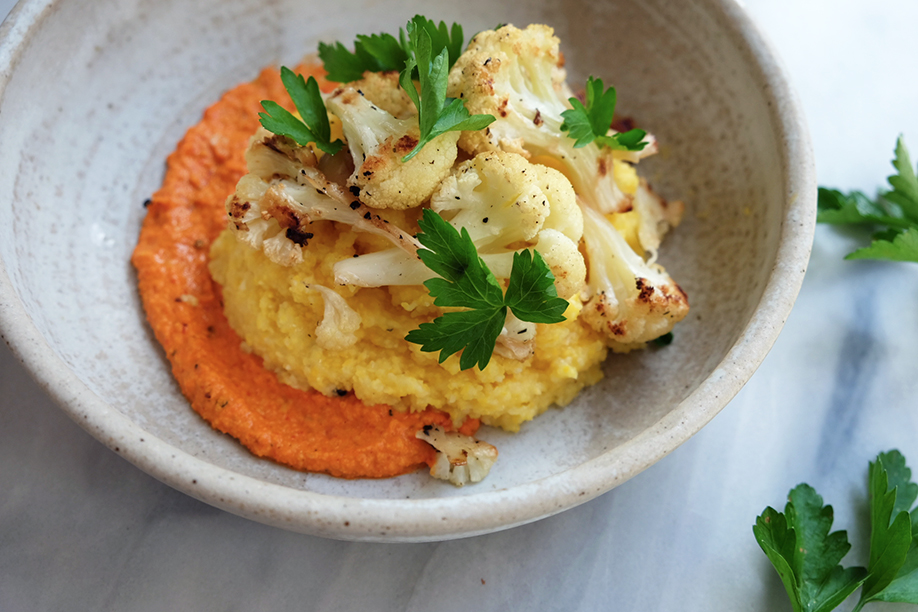 Romesco with Roasted Cauliflower and Creamy Polenta
[Serves 4]
For the romesco:
2 1/2 jarred roasted red peppers
1 cup blanched almonds
1/4 cup cashews, soaked in very hot water for 10 minutes
1/4 cup extra virgin olive oil
2 cloves garlic, chopped
2 Tablespoon lemon juice
1 teaspoon smoked paprika
Salt + pepper, to taste
1/2 teaspoon red chili flakes, after blending
For the cauliflower:
1 large head of cauliflower, cut into florets
3 Tablespoons avocado oil
1 small lemon, cut into 1/4″ slices
10-12 cloves of garlic
Several sprigs of fresh thyme
Salt + pepper, to taste
For the polenta:
1 1/4 cup polenta
3 cups water
1 teaspoon salt, for cooking
Salt + pepper to taste
Optional: 2 Tablespoons butter or non-dairy margarine
Blend all romesco ingredients except for the red chili flakes in a high-speed blender until desired consistency. Note: I like mine smooth but still chunky. That sweet spot in the middle.
Preheat the oven to 400°. Toss the cauliflower and garlic in the avocado oil. Season with salt and pepper.
Spread the cauliflower and garlic on a lined baking sheet. Place the lemon slices and fresh thyme evenly over the baking sheet. Roast in the oven for 25-30 minutes until cauliflower is golden brown and tender-crisp.
In a medium-size pot or dutch oven, bring water and 1 teaspoon salt to a boil. Gradually stir in polenta. Reduce heat to low and simmer gently, making sure to stir frequently to prevent sticking. Towards the end of cooking melt in the butter/non-dairy margarine, if using, and season with salt and pepper.
To serve, spread a generous amount (2-3 Tablespoons) of the romesco down on a bowl or plate. Scoop a serving of the polenta next to the romesco. Top with the roasted cauliflower and garlic, and garnish with fresh Italian parsley. Serve immediately.