A few weekends ago, a small group of Portland-based bloggers, myself included, gathered on Sauvie Island just outside of the city for a holiday brunch sponsored by Bob's Red Mill and Tillamook. With so much connection happening via social media, it was so refreshing and inspiring to meet up face-to-face with a group of talented ladies and engage in meaningful conversation over delicious food.
We each made a dish to bring to the brunch, and today we're all finally sharing the recipes we created. Below you will find my recipe for Cranberry-Ginger-Lime Chia Parfaits. Here is the rest of the menu from our Portland Holiday Brunch with links to the delicious recipes.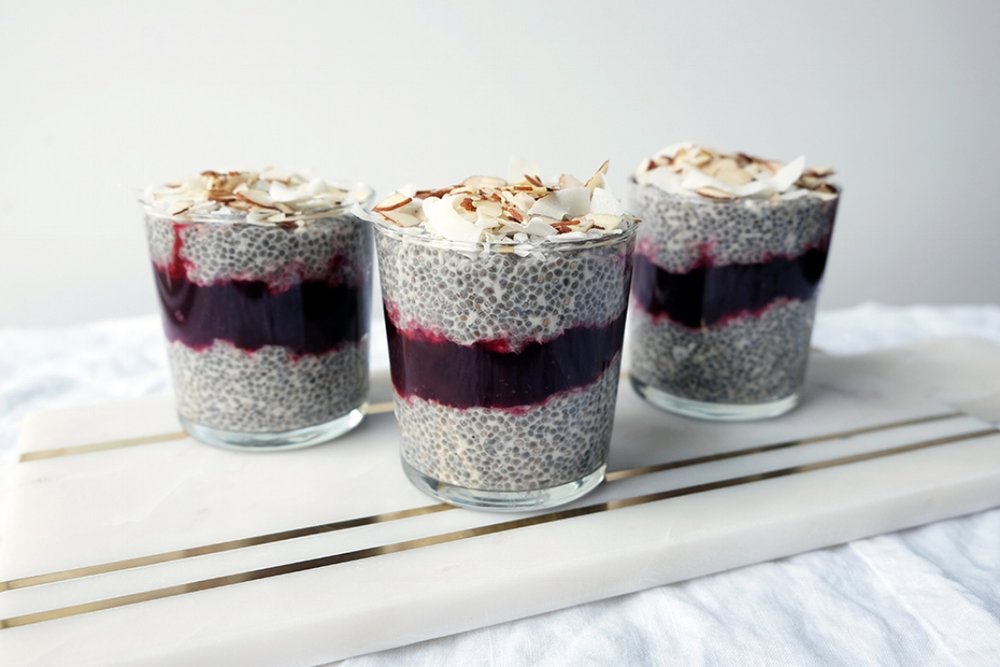 Cranberry Chia Parfaits
[Serves 6]
For the chia pudding:
¾ cup Bob's Red Mill chia seeds
4 cups coconut (or any nut) mylk
1/2 cup dried shredded coconut
1 1/2 teaspoons vanilla extract
For the cranberry-ginger-lime sauce:
12 oz package fresh cranberries
½ cup unsweetened cranberry juice, or water
¾ cup yacón syrup (maple syrup or raw honey work too)
1 teaspoon lime zest
2 Tablespoons lime juice
2 teaspoons fresh ginger, minced
To garnish:
Dried coconut chips
Slivered almonds
In a medium-sized bowl, whisk together the chia seeds, nut mylk, shredded coconut and vanilla extract until well combined with no lumps. Let stand 3-5 minutes. Mix again before placing in the refrigerator covered for 30-45 minutes or overnight.
Stir together water, yacón syrup, lime peel, and lime juice in a heavy, medium saucepan. Bring to boiling, reduce heat and simmer for 3 minutes.
Add cranberries and ginger and continue to simmer for 10-12 minutes or until berries have popped and mixture starts to thicken, stirring occasionally. Remove from heat and allow mixture to cool completely.
To make parfaits, using a spoon layer chia seed pudding and cranberry sauce in small glasses. Top with dried coconut chips and slivered almonds.