These Paleo Breakfast Nachos are definitely my new favorite dish to make for brunch. They're relatively easy to make and are extremely satisfying. The key for success with this recipe is using a mandolin to uniformly and thinly slice the sweet potato chips. I have this mandolin, and I can't say enough good things about it. I use it for slicing veggies multiple times a day. Just be careful of your fingers! The other key for success here is making sure the chips are spread out over the baking sheet without any overlapping. You will most likely need 2-3 baking sheets to make this happen. This will allow them to get nice and crispy. These are dairy-free, cheeseless nachos, which may seem like an oxymoron, but the gooey eggs take the place of any cheese, and I seriously didn't even notice or care that there was no cheese or cheeze involved.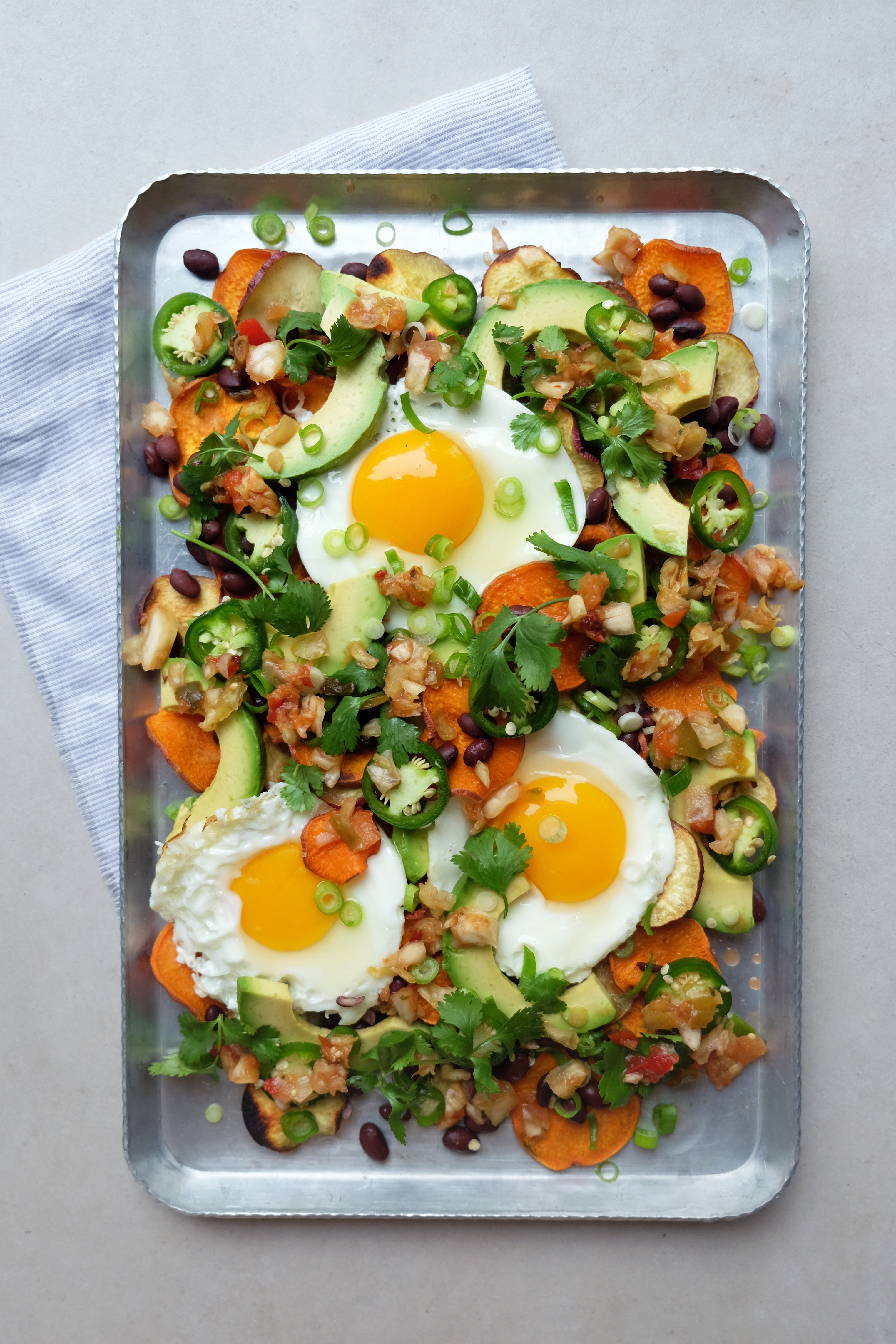 Paleo Breakfast Nachos
[Serves 2-3]
2-3 medium sweet potatoes, sliced thinly using a mandolin
2 Tablespoons avocado oil
1 teaspoon salt
3 eggs, cooked sunny side up or however desired
1 cup black beans
1 avocado, sliced
1 jalapeño, sliced into rounds
2 scallions, thinly sliced
1/3 cup cilantro, chopped
1/3 cup salsa (I used this fermented kind)
Preheat oven to 425° Slice the sweet potatoes 1/8" thin using a mandolin. In a large mixing bowl, toss to coat with the avocado oil and salt.
Spread sweet potato slices on 2-3 rimmed baking sheets making sure that none of the slices are overlapping. Bake in the oven for 10-15 minutes, flipping once halfway through.
Meanwhile, prep the veggies and cook the eggs. To make a sunny side up egg: oil a small cast iron pan and heat over medium. Once the pan is hot, turn down the temperature. Crack the egg into the pan and allow to fry for about 3-5 minutes or until the egg white is mostly set. To finish the egg, cover pan with lid, turn off heat and allow to sit for another 1-3 minutes.
Once the sweet potatoes are finished, remove from oven and pile onto one baking sheet. Cover with black beans and avocado slices. Carefully slide each of the eggs on top of the chips. Top with jalapeño, scallions, cilantro and your favorite salsa. Enjoy!