Very excited about this Grain-Free Mango Puffy Waffle recipe, which I am sharing just in time to celebrate National Mango Day (July 22)! As part of my year-long partnership with the National Mango Board, this recipe features juicy mangos in one of my favorite breakfast foods. (In case you missed the first mango recipe from this partnership, you can check it out here.) The puffy waffle (aka the Hong Kong Egg Waffle or bubble waffle) is definitely having a moment, and the good news is they're super easy to make at home. I use this stove-top waffle iron to make all my puffy waffles, and it works great every time. I love this recipe especially because the delicious chunks of mango fit perfectly in the bubbles of the waffle, so you get a bit of mango in every bite.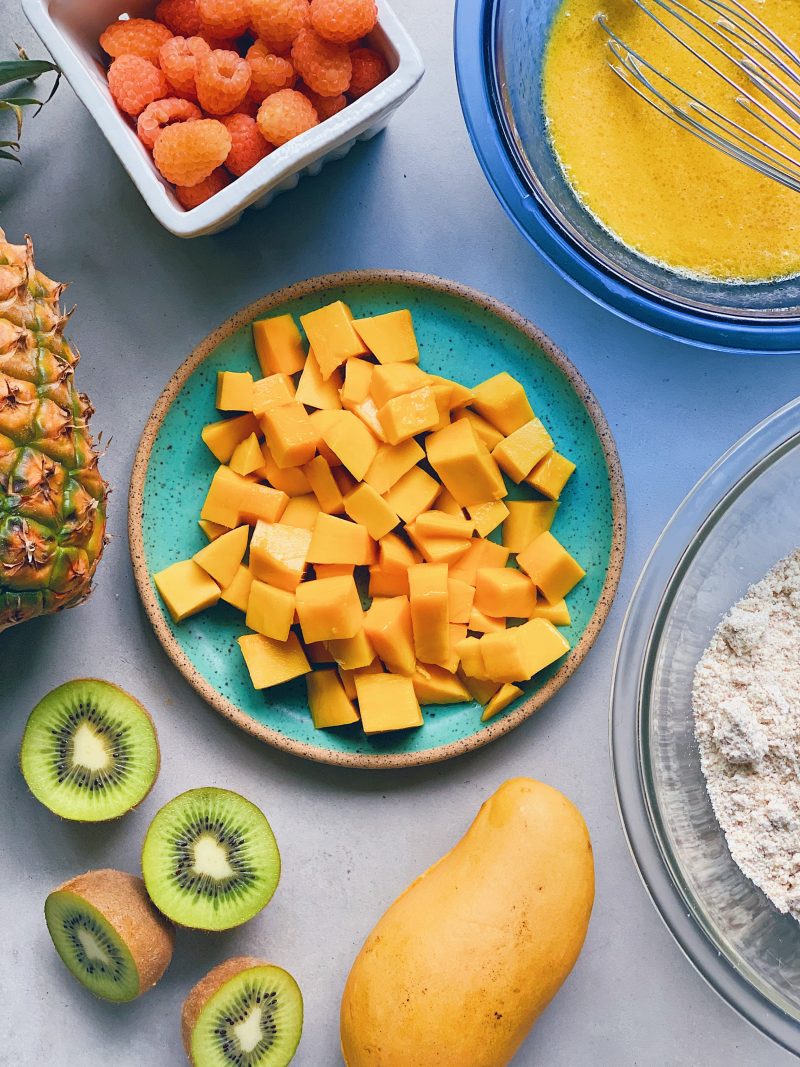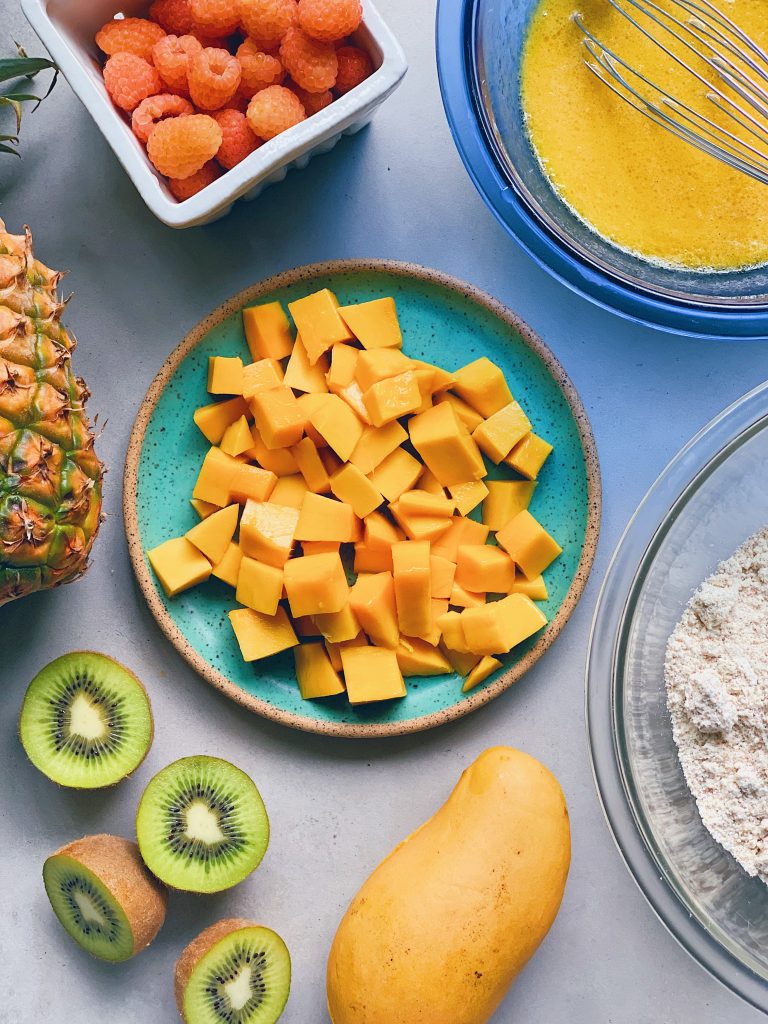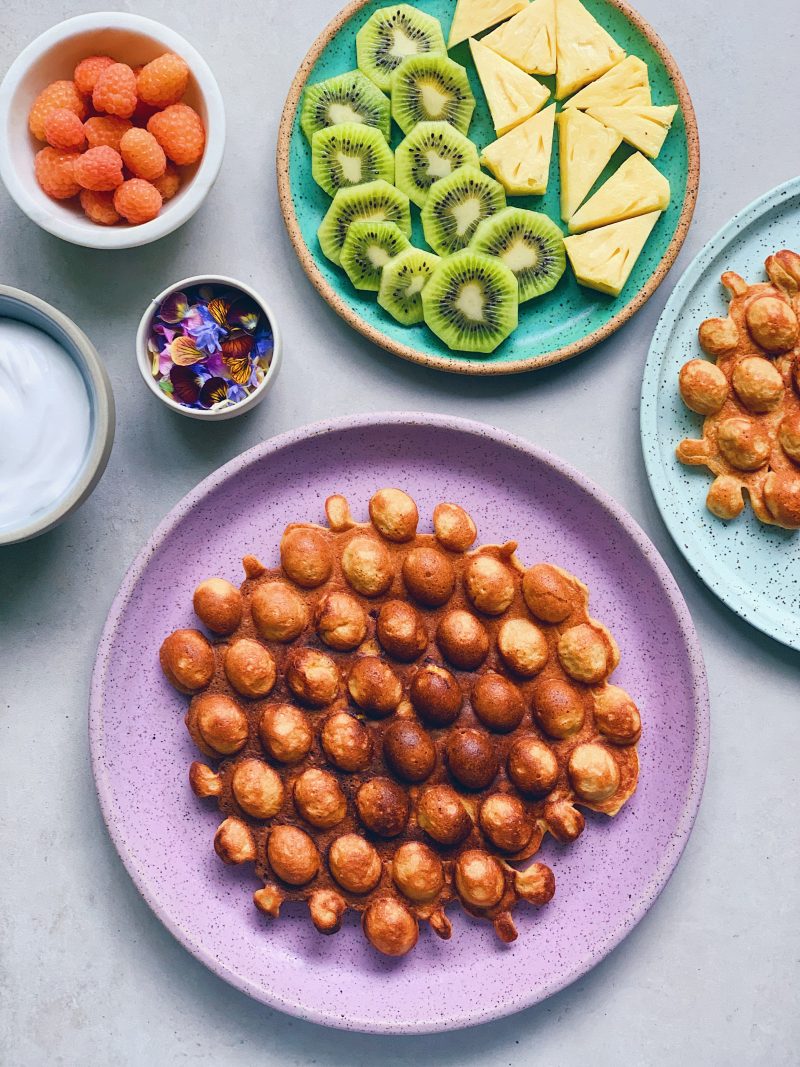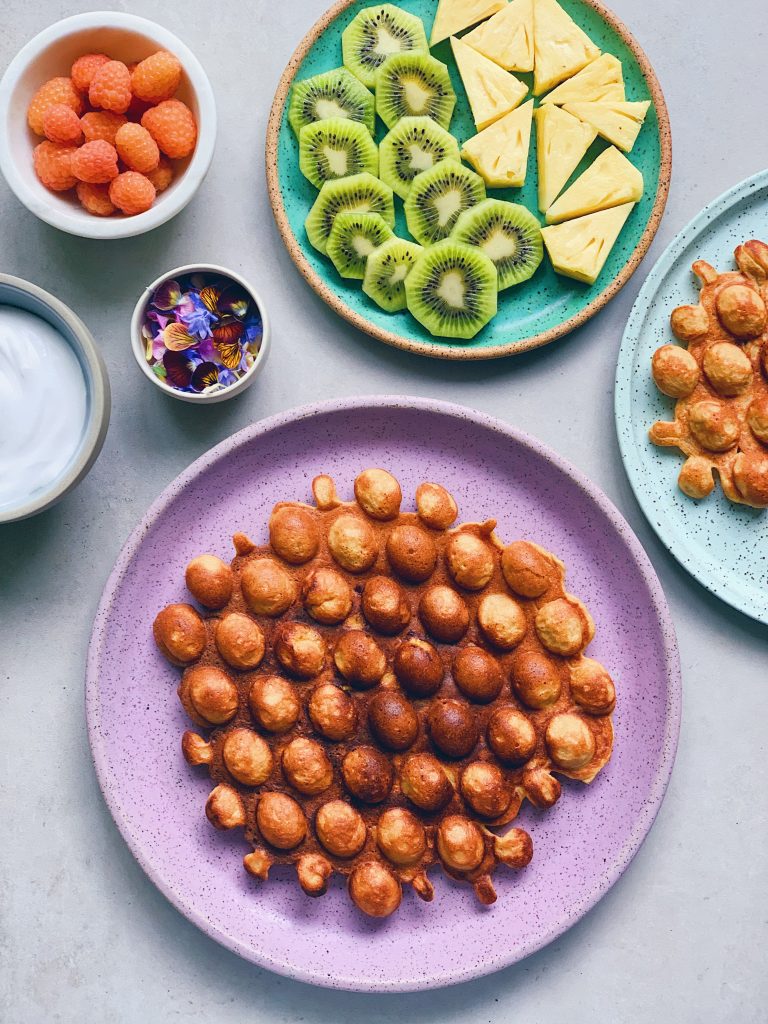 For this recipe, I used Honey or Ataulfo mangos, but you could use any variety as mangos are in season all year round. Read all about the different mango varieties and when they're in season, here. Just be sure it's at peak ripeness. When picking a mango, don't focus on color, as it is not the best indicator of ripeness. While some varieties have a red color, others are golden yellow or have hints of green. Instead of focusing on color, squeeze the mango gently; a ripe mango will give slightly. Ripe mangos will also sometimes have a fruity aroma at their stems. Always judge by feel!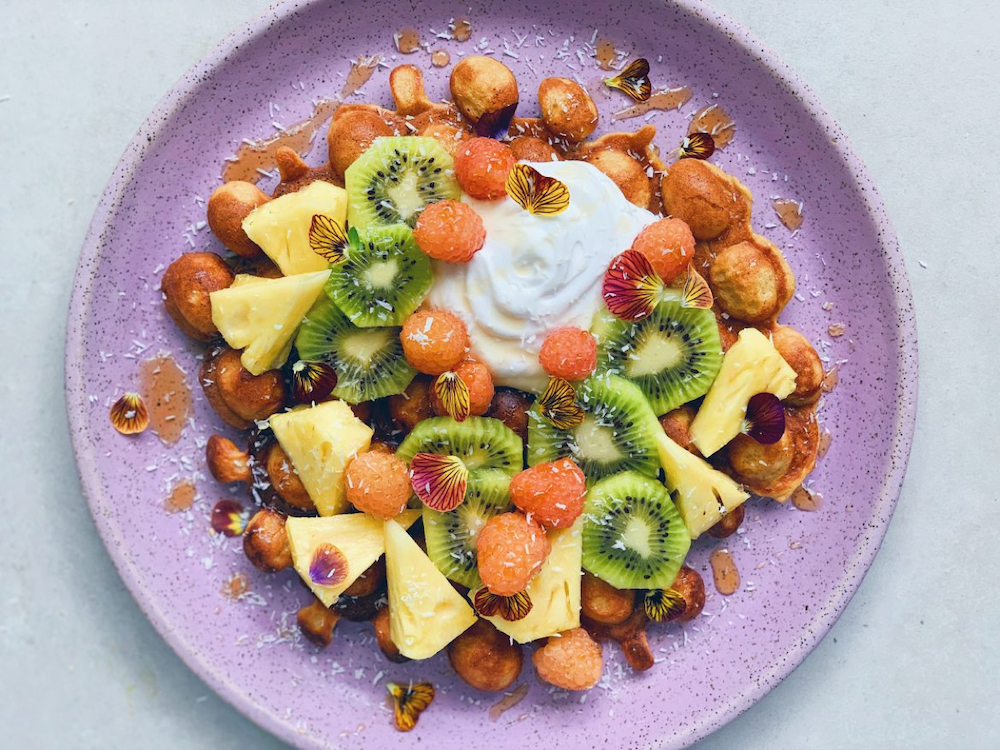 Keep unripe mangos at room temperature. Mangos shouldn't be refrigerated before they are ripe. They will continue to ripen at room temperature, becoming sweeter and softer over several days. If you want to speed up the ripening process, place mangos in a paper bag at room temperature. Once ripe, mangos should be moved to the refrigerator, which will slow down the ripening process. Whole, ripe mangos may be stored for up to five days in the refrigerator.
Feel free to top these grain-free mango puffy waffles with whatever your heart desires. I used a variety of fruit, coconut yogurt, maple syrup, shredded coconut and edible flower petals.
[This post is sponsored by the National Mango Board. However, all thoughts and opinions are my own.]
Grain-Free Mango Puffy Waffles
[Makes about 6 waffles]
2 cups almond flour or almond meal
1/2 cup tapioca flour
¼ cup coconut sugar
1 teaspoon baking soda
1 teaspoon baking powder
⅛ teaspoon salt
4 large eggs
3 tablespoons coconut oil, melted (or any other cooking oil)
1 ⅓ cup nut milk or water
2 teaspoon vanilla extract
1 cup of ripe mango, cut into half-inch cubes
Serving suggestions: sliced fruit, coconut yogurt, edible flower petals, shredded coconut, maple syrup
In a large mixing bowl, mix together almond flour, tapioca flour, coconut sugar, baking soda, baking powder and salt.
In a separate small mixing bowl, whisk together eggs, melted coconut oil, nut milk and vanilla.
Add the wet ingredients to the dry ingredients and mix until thoroughly combined. Using a rubber spatula, gently stir in the cubed mango. To cut a mango into cubes, check out this tutorial.
Lightly grease waffle iron with coconut oil or any other cooking oil, then preheat over medium heat.
Once waffle iron is hot, pour about a cup of waffle batter into the center of the waffle iron. Spreading slightly with ladle or spoon. Slowly close the top to the waffle iron. The batter should spread to the edges but not overflow. If it overflows, adjust the amount of batter you add on the next waffle.
Cook the waffle on one side for about 3-4 minutes then flip waffle iron over to cook the other side. At this point, you can slowly peel open the waffle iron to see if the waffle is golden on one side. Continue to cook the waffle for an additional 3-4 minutes, or until golden on both sides.
Remove waffle using tongs and a spatula. Place on a preheated baking sheet in a warmed oven (170°) while you cook the rest of the waffles.
To serve, top with desired toppings (fruit, yogurt, maple syrup, shredded coconut, edible flowers, etc.).