With so much devastation the world over and days that feel oppressive and discouraging, I always turn to food to lift my spirits, nourish my body and reconnect with those I love. In these trying times, we need each other more than ever. As fall approaches, I'm planning to re-start up a supper club with some friends that we put on hold for the summer. Now is a good time to gather around the table, have engaging conversations and be grateful for all we do have. Together is the only way we can heal.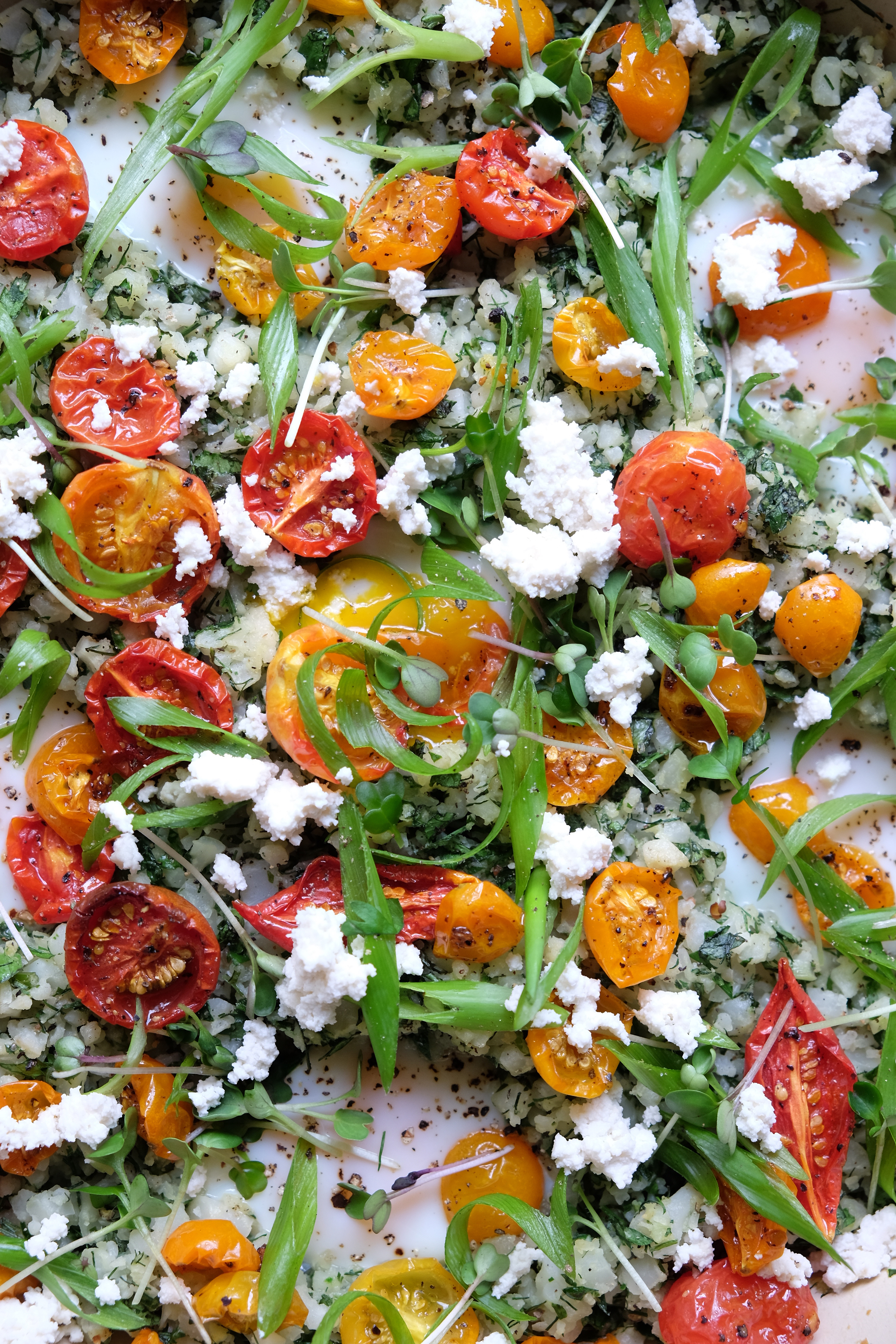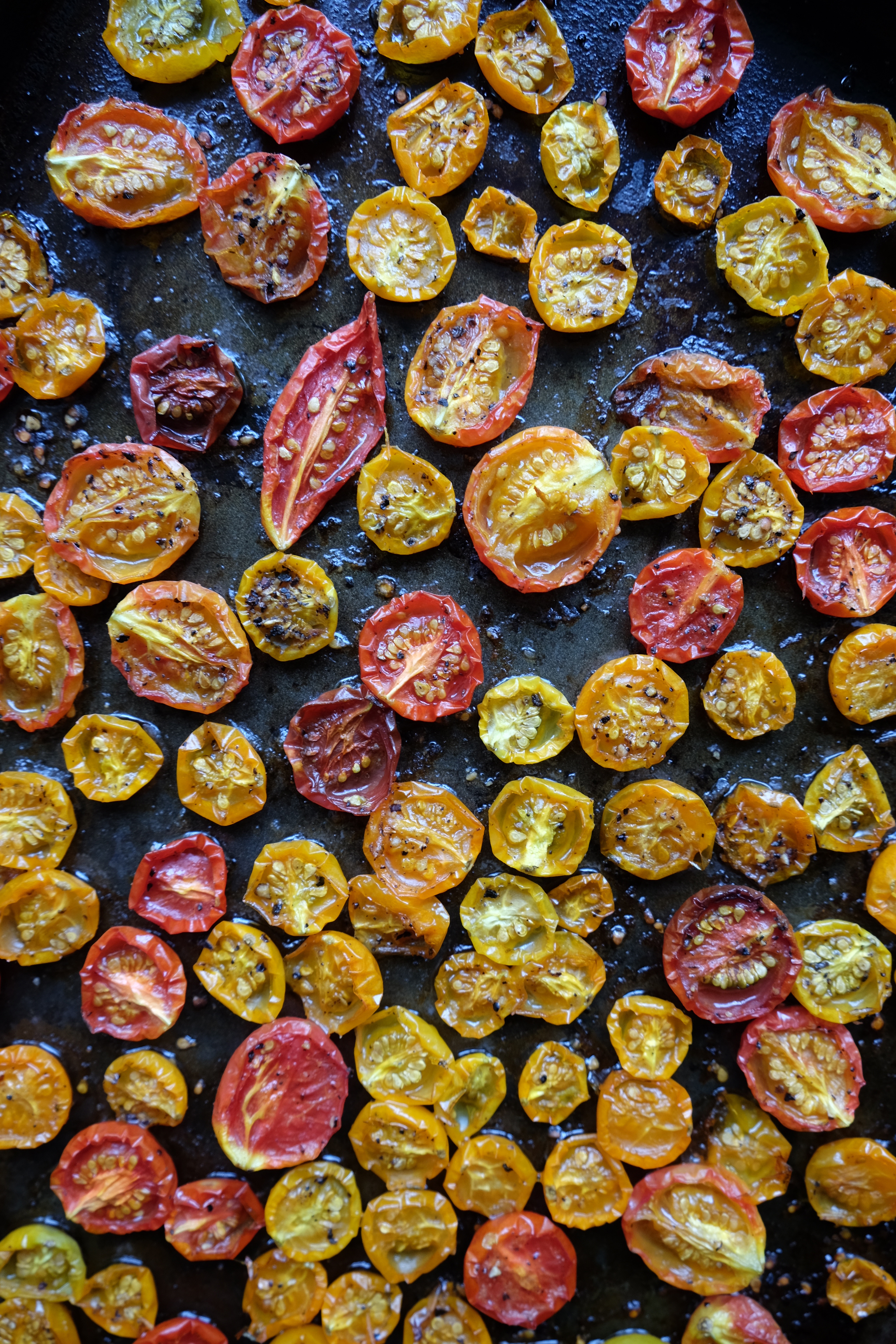 I don't know about you, but I'm always looking for healthy brunch ideas. And I love hosting my friends for brunch. I used to love going out, but afterward I would always feel tired, sluggish, overly full and ready for a nap. These days, I favor brunching at home and keeping it on the lighter side. This recipe is so freaking good, easy to make and healthy.
Roasted tomatoes are some of my favorite end-of-summer treats. They are sweet little gems that burst with flavor. I love adding them to just about any meal I prepare. You can roast a couple pints at a time and keep a container full in your refrigerator to use throughout the week. My favorite variety of tomatoes are sun gold (the yellow ones), so if those are available to you, I'd definitely recommend those.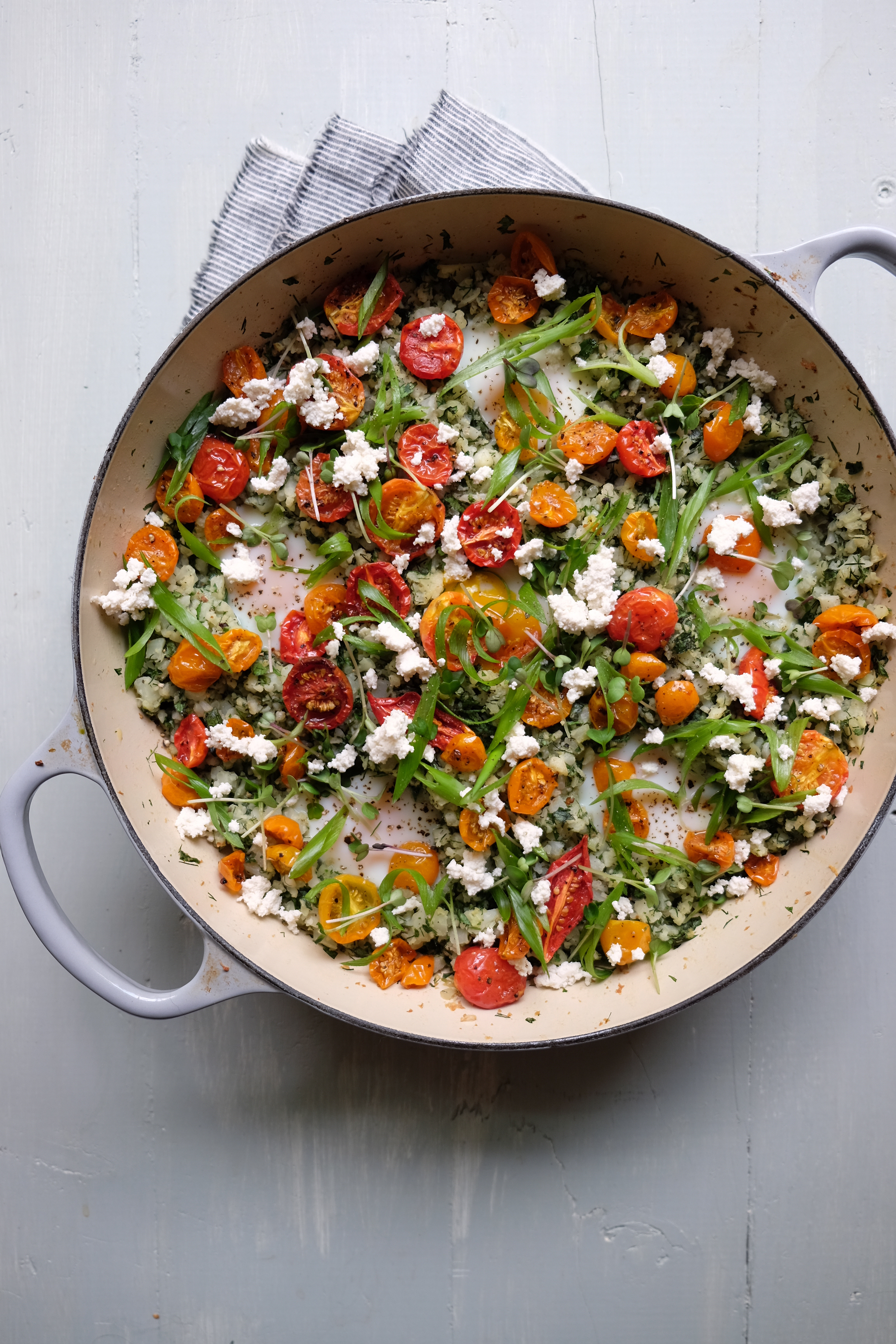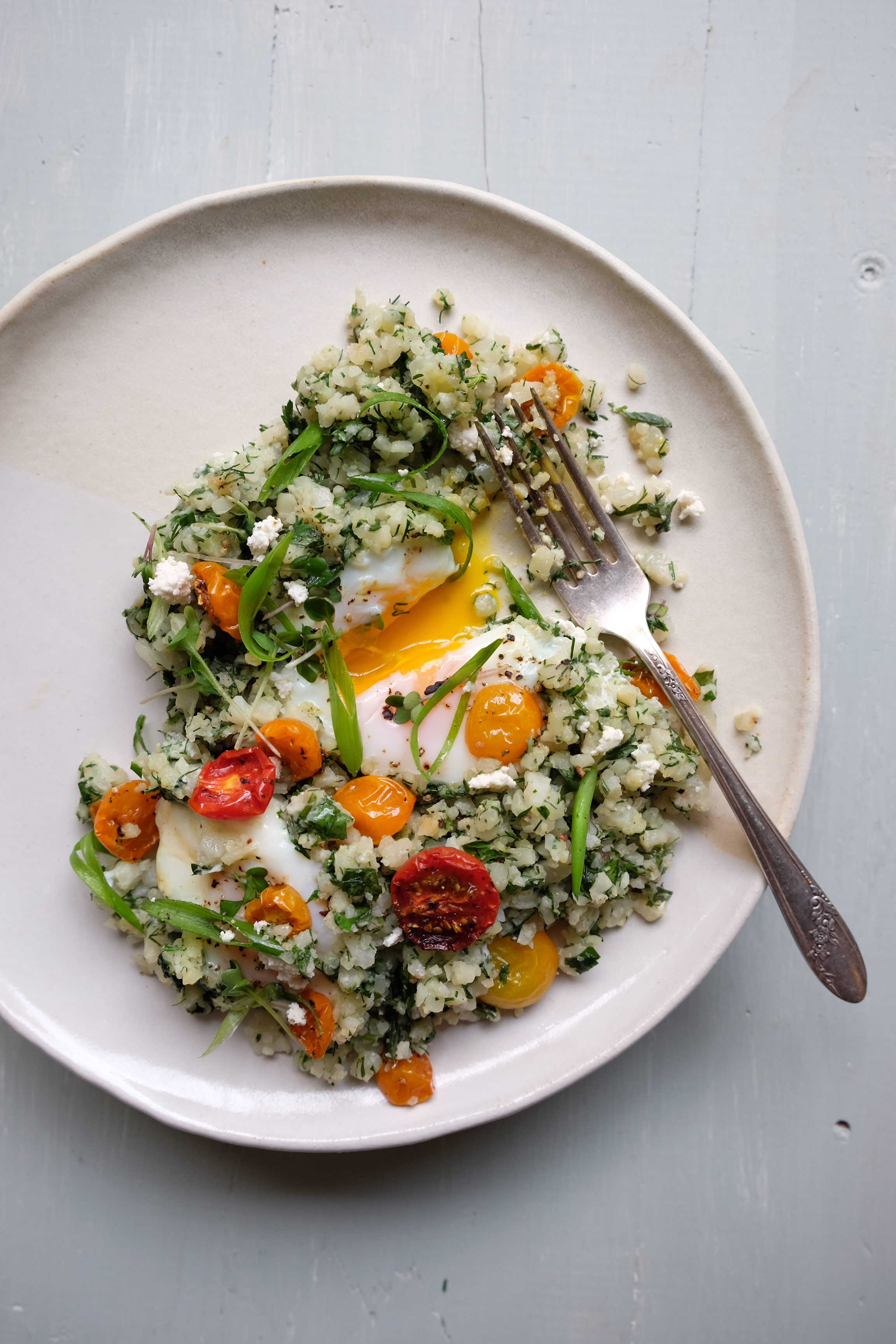 Baked Eggs and Herbed Cauliflower Rice Skillet with Oven Roasted Tomatoes
[Serves 4-6]
For the tomatoes:
1 pint sun gold or cherry tomatoes
1 Tablespoon avocado oil
Salt + pepper, to taste
For the skillet:
1½-2 pounds cauliflower, cut into florets then riced
2 Tablespoons avocado oil
1 teaspoon salt
½ teaspoon black pepper
⅓ cup fresh dill, finely chopped
⅓ cup fresh Italian parsley, finely chopped
⅓ cup fresh cilantro, finely chopped
6 pastured eggs
To garnish:
3 scallions (green part only), cut thinly on bias
Almond milk ricotta or any other crumbly cheese you like
Radish sprouts
Preheat oven to 250°. Halve tomatoes, toss in oil, salt and pepper. On a rimmed baking sheet, spread the tomatoes with the seeds facing up. Roast in the oven for 90-100 minutes. Tomatoes should be shriveled a bit and slightly golden in some areas. Once they're done, remove from oven and set aside.
Preheat oven to 350°. In a food processor, working in small batches, pulse cauliflower florets into rice consistency. Be careful not to over process or cauliflower will become mushy.
In a heavy-bottomed skillet that is oven safe, heat 2 Tablespoons oil over medium heat. Add cauliflower rice and sauté for 2-3 minutes stirring occasionally until cauliflower is mostly unfrozen. Cover pan with a lid and let cauliflower steam for another 3-5 minutes or until tender but not mushy.
While cauliflower is cooking, prep the herbs. Once cauliflower is done, remove lid from pan, turn heat to low and throughly mix in the herbs, salt and pepper.
Spread the cauliflower mixture so it's even in the pan. Turn heat off. Create 6 holes and drizzle a bit of oil in each one. Crack one egg into each hole. Bake skillet in the preheated oven for 10-13 minutes or until egg whites are set.
Remove skillet from oven, top with roasted tomatoes and desired garnishes. Serve immediately. Enjoy!