Okay guys, I'm so excited to share my new favorite breakfast with you. I was never a fan of overnight oats or oatmeal, but I have a special place in my heart for rice. So I wanted to create a warm, nourishing breakfast rice bowl that works with a variety of toppings. And speaking of toppings, this grain-free granola recipe is my go-to. It's lightly sweetened and perfectly crunchy. You can combine these two recipes for the ultimate breakfast bowl, or you can make and serve them separately. I like to this this is the sweet counterpart to the savory congee recipe I shared with you recently.
Both recipes make fairly decent-sized batches, so I like to make them on Sunday to eat through the week. The rice porridge can easily be reheated in a saucepan on the stovetop. Feel free to add a splash of extra coconut milk when reheating if you want it a bit more runny. I topped this bowl with the granola, half of a banana, a dollop of Coconut Cult, bee pollen and some raw wildflower honey.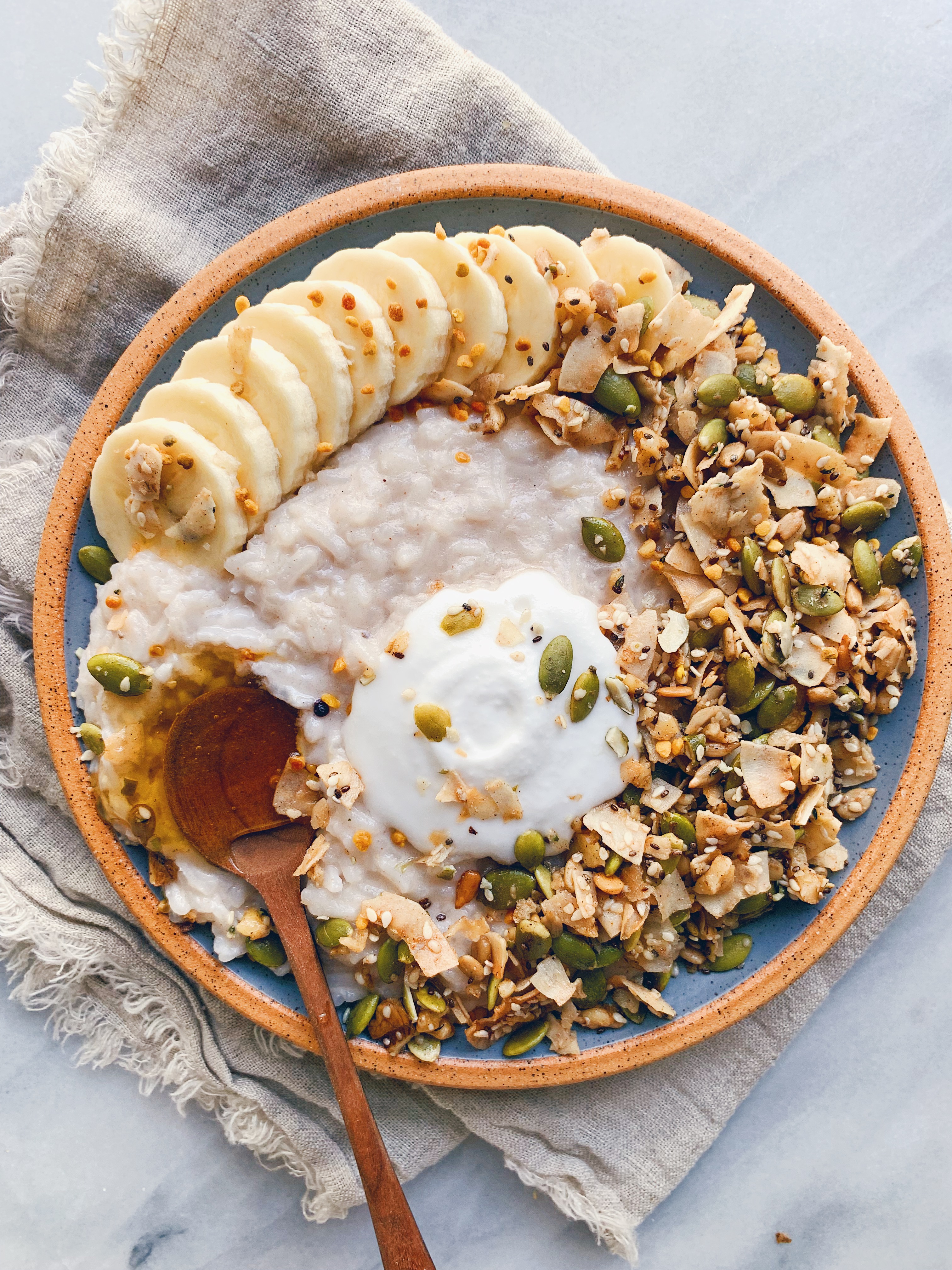 If you're not into walnuts, you can sub any other nut in the granola. If you prefer the granola to be nut-free, you can leave out the walnuts all together. Granola can be stored in airtight container(s) in your pantry for a week or so. If you want to change the flavor profile a bit, you could add in more cinnamon, a 1/2 teaspoon of cardamom or any other spices of your choosing (nutmeg, turmeric, cloves, etc.). Eat it by the handful, serve with your favorite milk or top a porridge, smoothie or yogurt bowl. Enjoy!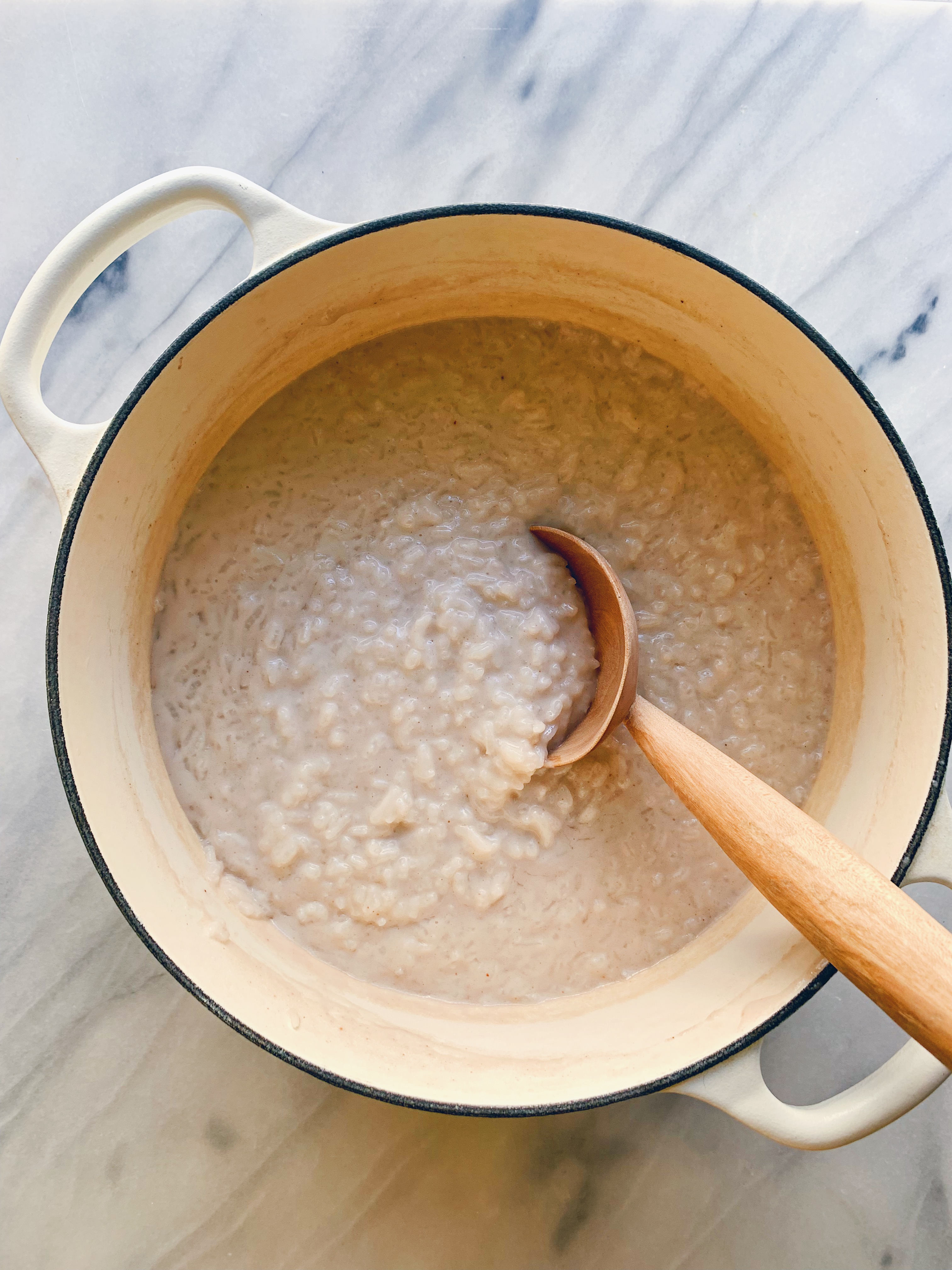 Coconut Rice Porridge
[Serves 6-8]
1 cup jasmine rice, rinsed very well until water runs clear
2 cans full fat coconut milk (I use Native Harvest Simple, free of gums)
2 cups water
1 teaspoon vanilla extract
1 teaspoon lucuma powder
¼ teaspoon sea salt
2 Tablespoons maple syrup
Rinse rice in mesh sieve under cold water for several minutes until water runs clear. Add rinsed rice, coconut milk, water, vanilla, lucuma and sea salt to a medium saucepan. Whisk together all ingredients until smooth and well combined.
Over medium heat, bring the mixture to a low, rolling boil, making sure to stir frequently as to not burn the milk or rice. Once boiling, reduce to medium-low and allow to simmer uncovered for 20-25 minutes. Stir frequently with a rubber spatula or wooden spoon. At the last 5 minutes of cooking, gently stir in the maple syrup.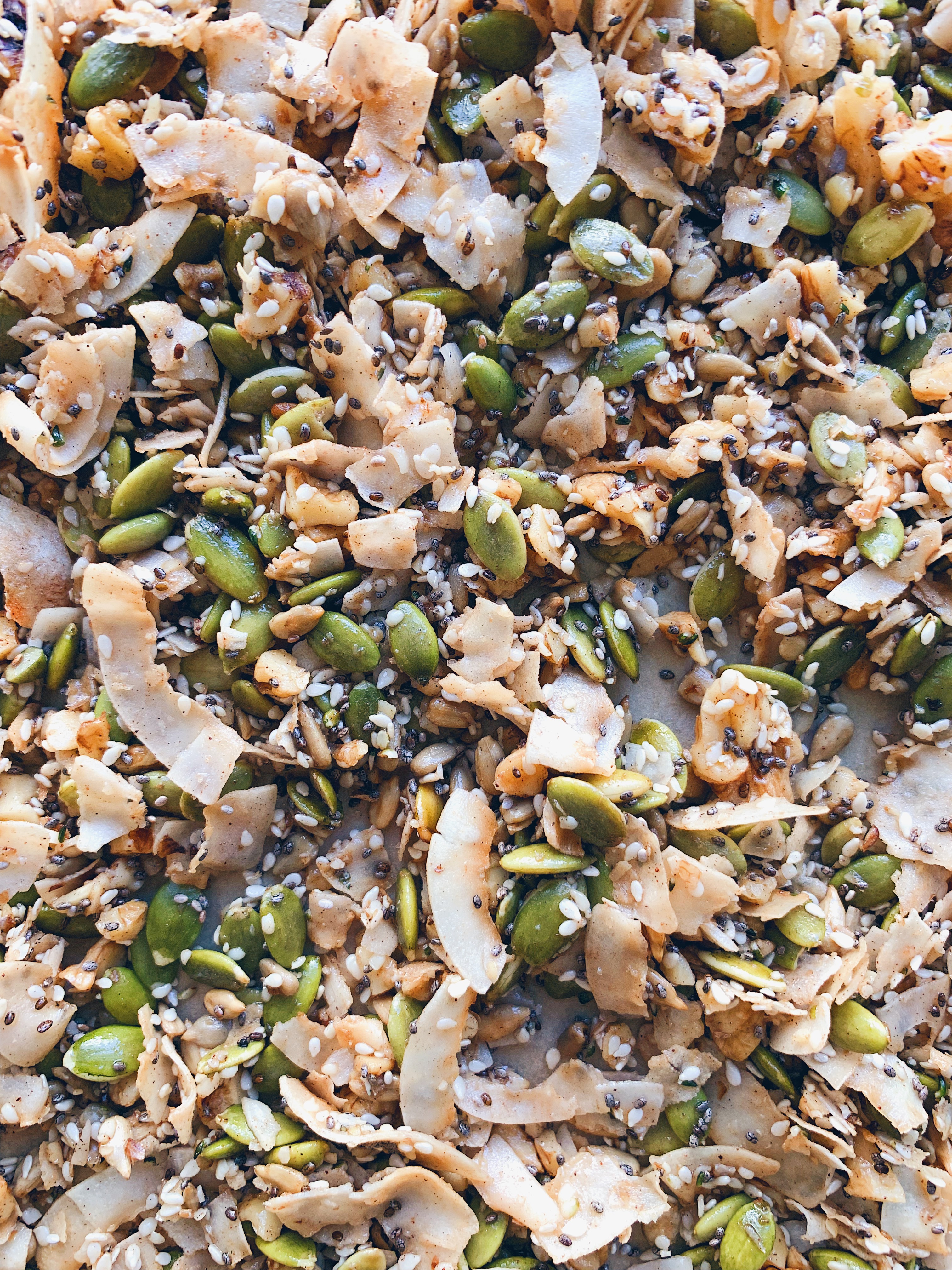 Grain-Free Granola
[Makes about 6 cups]
3 cups unsweetened, untoasted coconut chips
1 ½ cups raw pumpkin seeds
1 ½ cups raw walnuts, chopped into small pieces
¾ cups raw sunflower seeds
⅓ cup raw hulled sesame seeds
¼ cup hemp seeds
¼ cup chia seeds
⅓ cup maple syrup
¼ cup coconut oil, melted
1 Tablespoon vanilla extract
1 teaspoon sea salt
½ teaspoon cinnamon
Preheat oven to 300°F. Chop walnuts into small, uniform size pieces. Add to large mixing bowl with all other seeds.
In a small mixing bowl, whisk together the maple syrup, vanilla, sea salt and cinnamon. Pour evenly over nut and seed mix and gently toss to coat. Lastly, pour melted coconut oil over granola mixture and gently toss to coat.
Spread granola in a thin, even layer over two parchment-lined baking sheets. Bake in preheated over for about 25 minutes or until granola is golden, stirring once halfway through baking time. Allow to cool completely before transferring to airtight containers for storing.