I'm already dreaming up all the different versions of this recipe I'm going to make over the winter. Working on a sweet-ish breakfast version next! Thank you to the genius and always inspiring, Heidi Swanson of 101 Cookbooks for the original congee recipe. For this version, I really wanted something lemony (because duh, I always want something lemony) so I tweaked Heidi's recipe to be more Italian inspired. I recommend using low-sodium veggie broth, as the regular varieties have more than double the sodium, so I always just prefer to add my own salt to taste to the low-sodium variety. This meal is hearty and warming yet still feels bright and fresh.
Congee is great to make on a Sunday for meals throughout the week. When reheating, simply add a bit of water or broth to prevent sticking/burning. If you don't have an Instant Pot (you should probably get one 
 ), you can make this recipe in a slow cooker (I'd guess 8 hours cooking time on low) or in a heavy bottomed pot on the stovetop by bringing all ingredient to a low boil, reducing the heat and simmering, stirring every so often, until congee is at desired consistency.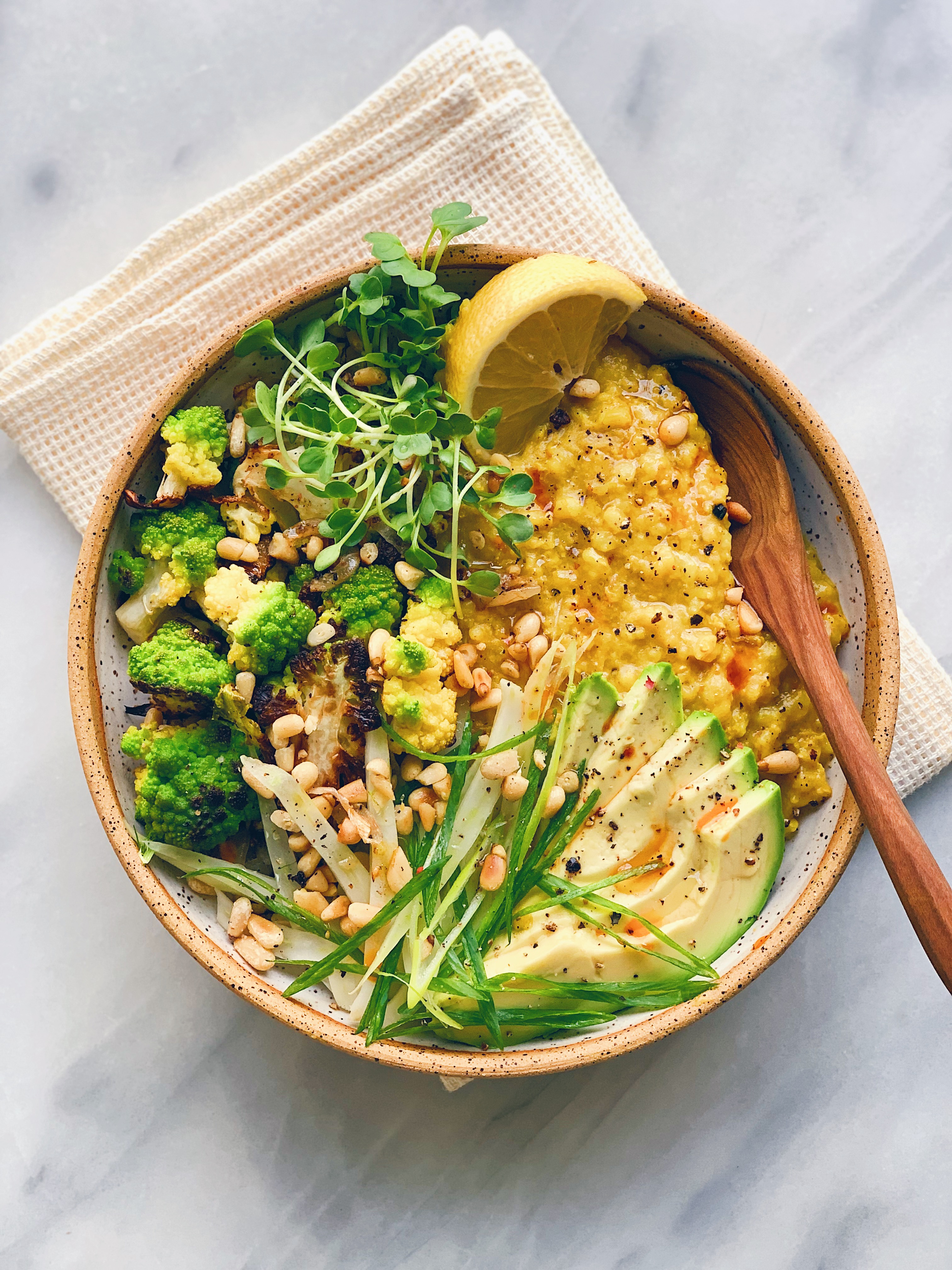 Lemon-Turmeric-Ginger Congee with Roasted Romanesco, Shaved Fennel, Avocado and Pine Nuts
[Recipe adapted from Heidi Swanson's original recipe on her blog 101 Cookbooks]
[Serves 8]
For the congee:
1 cup brown rice, rinsed well and drained
1/2 cup white jasmine, rinsed well and drained
1/4 cup millet, rinsed well and drained
9 cups low-sodium veggie broth
6 cloves garlic, cut in half
1 Tablespoon fine grain sea salt
1 1/2 teaspoon turmeric
3" piece of ginger cut into large chunks (big enough to pick out before eating)
1 large lemon, skin peeled into long strips
1 teaspoon freshly ground pepper
[Note: If you don't have an Instant Pot, you could make this in a slow cooker cooking for about 8 hours. Alternatively, you could make it on the stove top in a heavy bottomed pot over low heat simmering until desired consistency.]
For the bowls: (Adjust quantities based on how many people you're serving)
1 large head romanesco (or broccoli or cauliflower), cut into small florets
3 shallots, sliced
1 bulb fennel, shaved fine
2 scallions, green parts only, sliced very thin
1/4 cup pine nuts, toasted in a dry skillet until golden
To garnish: radish sprouts, sliced lemon, chili oil, culinary toasted argan oil (or any nutty tasting oil you can find)
Combine the rices and millet, broth, garlic, salt, turmeric, ginger, lemon peels and pepper in the Instant Pot or slow cooker. Secure the lid, set the pressure release valve to SEALING. Press MANUAL and set for 30 minutes at high pressure.
Meanwhile, preheat oven to 400. Toss romanesco and shallots in liberal amount of avocado (or another cooking) oil. Roast for about 25 minutes or until golden and tender.
Once Instant Pot is done, let the pressure NATURAL RELEASE (30-40 minutes), meaning do NOT move the valve to VENTING. Gently shake or tap the pressure cooker, and then carefully open away from you.
Serve congee into bowls and top with desired toppings. Drizzle with chili oil and argan oil. Salt and pepper to taste. Serve each bowl with a lemon wedge. Enjoy!
[Note: Congee will keep in your refrigerator for up to 5 days. To reheat, simply add a bit of water or broth to a saucepan with the congee and heat over medium.