Beyond excited to announce that I'm partnering with a few of my favorite brands to give one lucky person a chance to win the ultimate Smoothie Starter Pack!  Grand prize includes:
+Vitamix Ascent 2500
+2 Mazama hand blown pint glasses
+3 of my favorite products from Amazing Grass
+A variety of herbs, smoothie toppings and add-ins from Mountain Rose Herbs
+Smoothie Queen sweatshirt and pin
To enter, must be following @alison__wu, @vitamix, @shopmazama, @amazinggrass and @mountainroseherbs on Instagram. Then simply leave a comment below on this blog post telling me what would be in your dream smoothie. Contest open to US residents only. Winner announced May 9, 2017.
[GIVEAWAY IS NOW CLOSED! Congratulations to winner Carissa P!]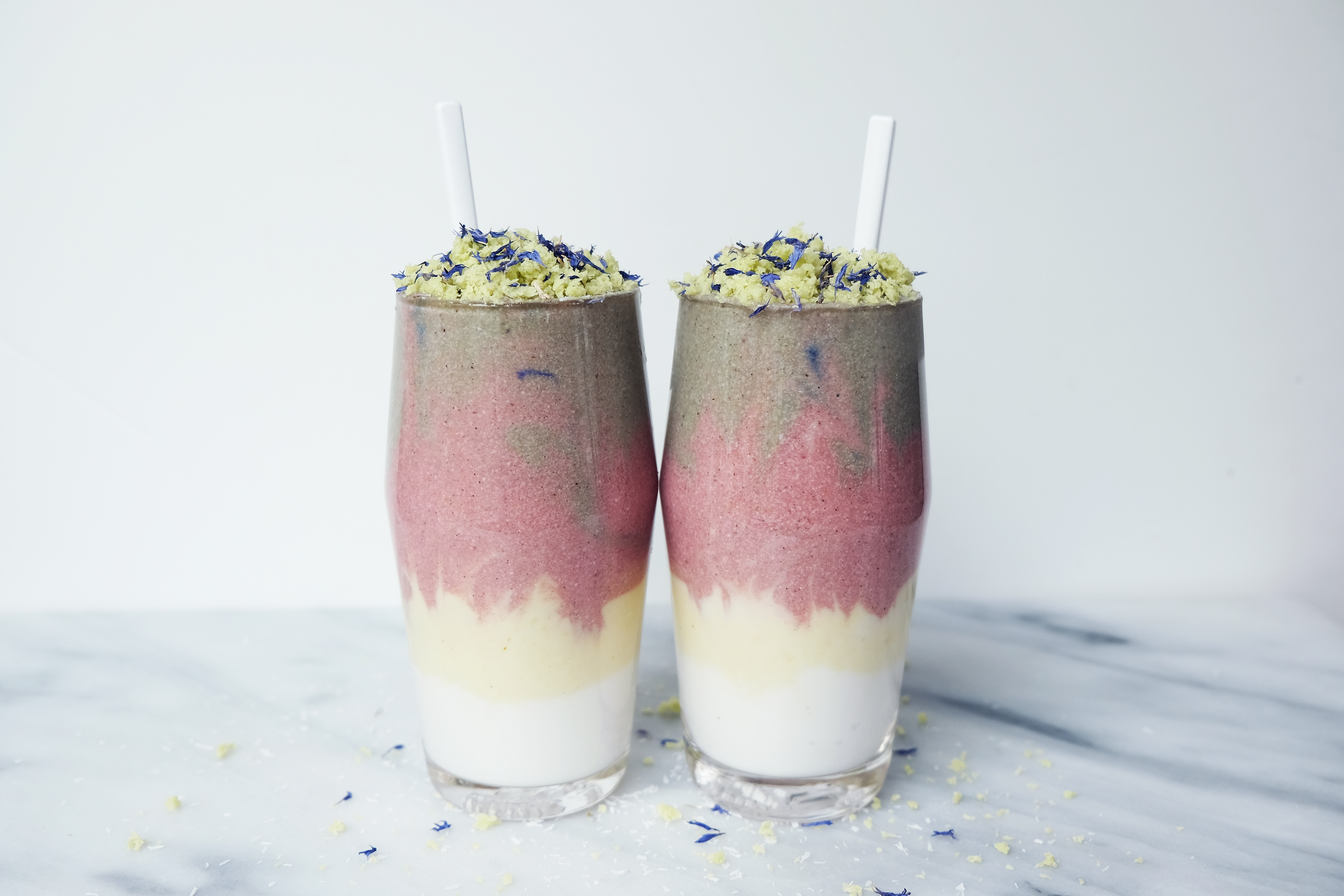 And now, about this smoothie! Same smoothie, styled 2 different ways. Either way, delicious. Super simple recipe and a great base for adding colors. Feel free to change the colors based on what ingredients you're working with. Enjoy the recipe and good luck on the giveaway! XO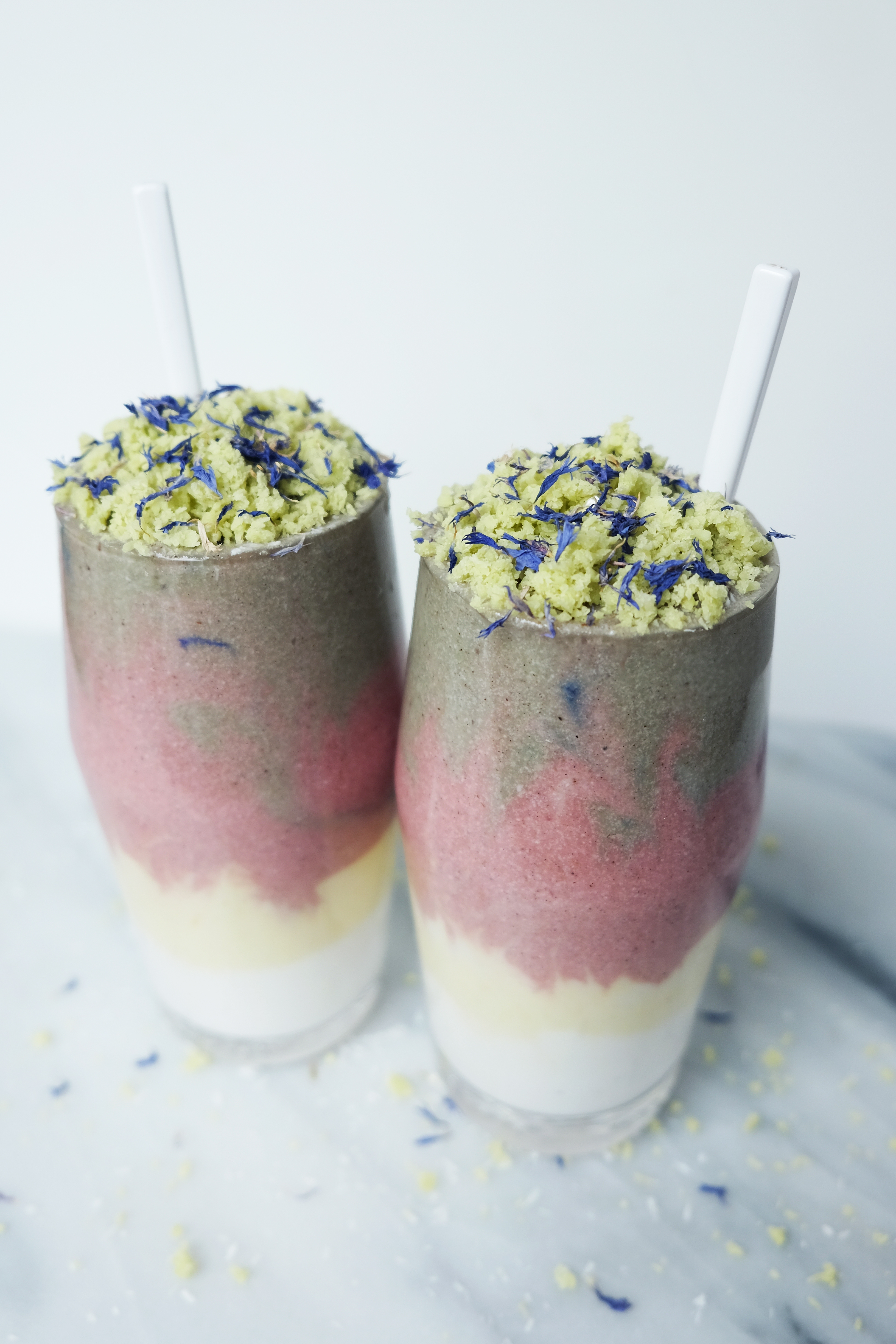 Spring-Inspired Layered Smoothie
[Makes 2 large smoothies or 4 smaller smoothies]
2 bananas
2 medium-sized zucchini, peeled and chopped into 1″ rounds
2 Tablespoons coconut butter
2 scoops collagen powder or vanilla protein powder
1/2 cup coconut yogurt + more for layering
3/4 cup almond mylk
Optional: 1/2 teaspoon of any of your favorite adaptogens – I added ashwagandha, maca and astragalus
For the greyish layer: 1/2 teaspoon blue algae powder + 2 frozen blackberries
For the yellow layer: 2 Tablespoons freeze dried mango + a sprinkle of turmeric
For the pink layer: 1/2 teaspoon pitaya powder OR 1 teaspoon grated beet
To garnish: raw matcha macaroons (I used this brand), frozen berries and/or dried cornflowers
1.) In a high-speed blender, blend bananas, zucchini, coconut butter, collagen/protein powder, coconut yogurt, almond mylk and adaptogens (if using) until smooth. Divide between 3 bowls.
2.) To make the greyish layer, blend contents of 1 bowl, blue algae powder and blackberries until well combined. Pour into bowl and set aside.
3.) To make yellow layer, blend contents of 1 bowl, freeze dried mango and turmeric until well combined. Pour into bowl and set aside.
4.) To make pink layer, blend contents of 1 bowl and pitaya powder or beet until well combined. Pour into bowl and set aside.
5.) Using a spoon layer some coconut yogurt on the bottom of your glasses then do the same with the yellow, pink and greyish layers. If you want a tie dye affect, use a chopstick to swirl the smoothie against the glass. Top with garnishes and enjoy!