Adaptogens played a big role in my life and wellness routine last year. After taking an adaptogens workshop at Spiritweavers Gathering, I felt inspired to find ways to regularly add them into my smoothies. If you've never heard of them before, adaptogens are botanical medicine that aid in our body's ability to adapt to stress and our environments. They promote increased physical endurance and mental focus, a strong immune system, a balanced mood and so much more.
This Adaptogenic Golden Mylk Smoothie combines one of my favorite flavor profiles with astragalus and chaga. Don't feel limited to using (just) those two. There are so many powerful adaptogens out there, and I always encourage people to explore and discover the ones that resonate most with them. This smoothie is great for the winter months with warming ginger and turmeric. If you prefer a lighter version, try making this Cashew Golden Mylk and adding the adaptogens. Some of my other favorites adaptogens are maca, rhodiola, moringa, reishi and matcha. What are your favorites?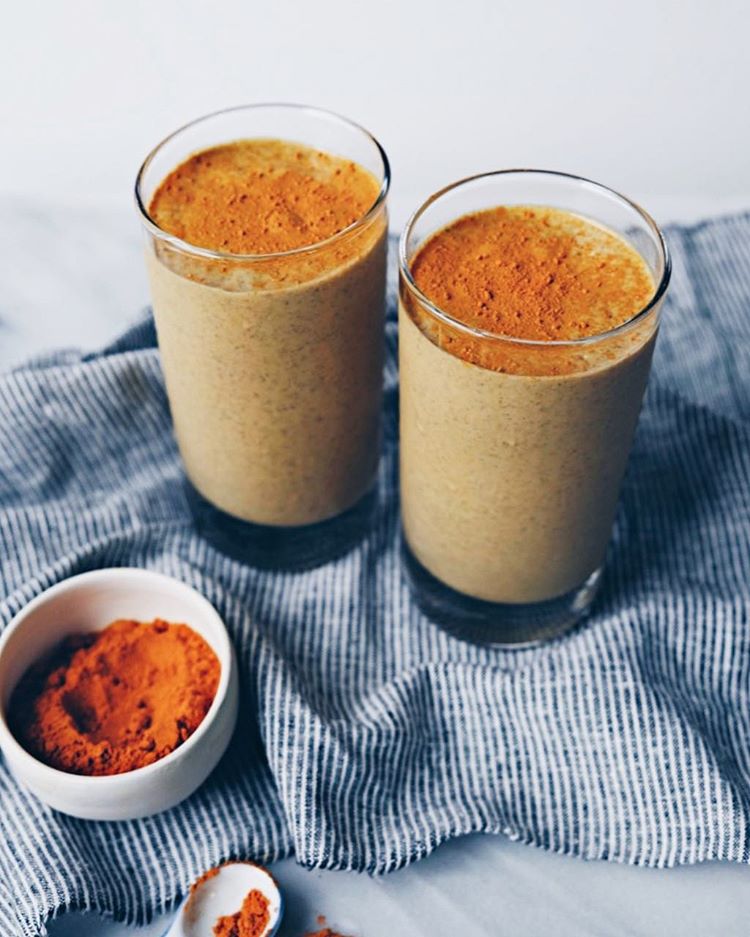 Adaptogenic Golden Mylk Smoothie
[Serves 2]
1 frozen banana
1 cup zucchini, peeled and chopped into 1″ rounds
¼ cup nut butter
1 Tablespoon chia seeds
2″ piece fresh turmeric
2″ piece fresh ginger
1 teaspoon ground turmeric
1/8 teaspoon black pepper
1 vanilla bean, seeds scraped out, or 1 teaspoon vanilla powder or extract
¼ teaspoon cinnamon
1½ cups nut mylk
3 ice cubes
¼ teaspoon astragalus powder
¼ teaspoon chaga powder
3 dates (optional)
Optional garnish: Ground turmeric and/or bee pollen
In a high-speed blender, blend all ingredients on medium until smooth.
Serve sprinkled with ground turmeric and/or bee pollen. Enjoy!